Reader Rodney asked the following question on the "Ask Lucky" page of the blog:
Lucky: After traveling places with my kids in economy, Ive decided to book a First Class ticket to Beijing on Air China. What are some rules to remember when sitting in the "front row"? Attire? Does/Don'ts? Thanks in advance for the tips!!
I wrote a post last week about maximizing international first class travel in terms of how to make it most pleasant for yourself, but it occurred that I don't think I've ever written a post about general first class etiquette… and there's probably a reason for that.
Now I've provided some very helpful PSAs over the years when it comes to flying, like:
😉
But as I sit down to answer Rodney's question I realize I don't really have any etiquette tips, and I'm not sure if I'm just going crazy, am jaded, or am off base.
I don't think the "rules/norms" of flying in first class really differ from economy. If anything you have more leeway. I mean, we're talking about a cabin where the airline gives you pajamas and slippers, so you can totally fly like a 15 year old girl every time without getting weird looks (though ideally change out of the pajamas before landing — there's an etiquette tip for you, from personal experience).
It's also easier to be considerate when you have a lot of space. You're flying Air China, and they have an especially private first class cabin.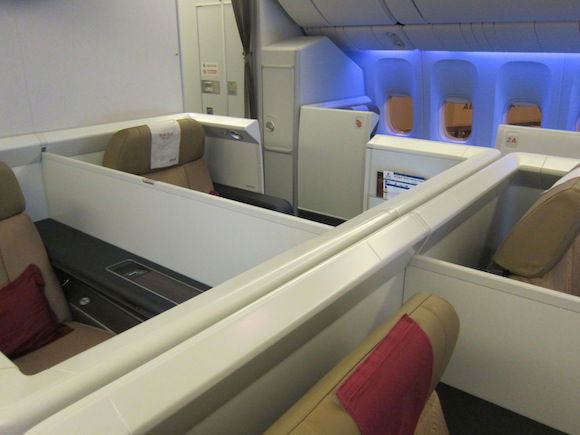 Air China 777-300ER first class
I think maybe 20 years ago the "culture" in first class was different. But the tech industry has really changed business culture, whereby it's okay to dress like crap, and if anything, shows "power" (not saying I agree, but I do think there's something to it). I mean, people even used to dress up just to fly, even if it was economy.
I'd say the only "minor" tips I have are to use the "personal" reading light instead of the "overhead" reading light whenever possible, as it shines more direct light. And most first class cabins are kept completely dark, so light is more noticeable. The same applies to the window shades.
As far as traveling with kids goes, that's more Mommy Points' area of expertise than mine. I think the etiquette for traveling with kids in first class varies substantially based on how old they are, but in general I think as long as parents try to look after their kids/keep them entertained, it's all good.
I realize this post is basically saying a lot about nothing, but I'm curious about what you guys think, because hopefully you can provide a better answer than I can. Is there any "real" first class etiquette aside from just applying common sense to the travel experience?