I was flying from New York to Miami a couple of days ago and had an interesting seatmate. To start, he had a rather unique "fashion sense," but that describes 90% of the people traveling between New York and Miami…
As boarding finished up he started a conversation in Spanish with someone four rows away, for all to hear.
Then after takeoff the flight attendant came around with the drink cart:
FA: "What would you like to drink?"
Passenger: "What ya got?"
FA: "We have juice, coffee, water, cocktails, etc."
Passenger: "I'll take whatever ya got."
FA: "Well, which of those would you like? We have juice, coffee, water…"
Passenger: "Yes."
FA: "Yes to which to one?"
Passenger: "Something to drink."
Since she noticed he was speaking Spanish earlier in the flight and he had an accent, she assumed he maybe wasn't understanding her, so she said:
FA: "Agua, cafe, jugo?"
Passenger: "I speak English."
Sadly it was the same game when it came to ordering breakfast.
FA: "For breakfast did you want the eggs or cereal?"
Passenger: "What?"
FA: "Eggs or cereal?"
Passenger: "Yes."
But the real fun came after the breakfast service when he decided to nap. I don't know whether he just bought the wrong size button down or if he took the captain's announcement to "make yourselves as comfortable as possible" a little bit too literally, but…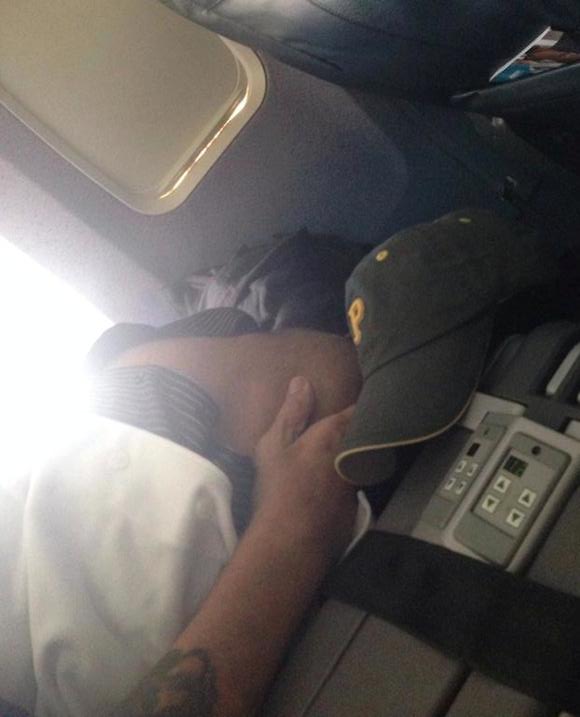 The best part was that the flight attendant walked by, noticed it, and looked mortified. The guy was sound asleep, so the flight attendant leans over to me and says "I'm so sorry."
The flight attendant then grabs a blanket and places it over the guy's stomach. The guy wakes up while he's doing it, says "oh, thank you so much," and proceeds to take the blanket off his stomach, bunch it up, and put it behind his head as a pillow. Oy! I don't know whether he didn't realize that he might as well have been shirtless, or if he thought he was just being sexy, or what…
Then 15 minutes later the flight attendant did the same thing again, except this time the passenger stayed asleep. 10 minutes later he went to use the lavatory, and when he returned he was back to struttin' his stuff.
I've witnessed a lot of bad airplane etiquette in my years of flying, though this was among the worst.
What's the worst etiquette you've witnessed by a fellow passenger?