I always enjoy writing about travel etiquette on the blog, as it generates some interesting discussions. In this post I wanted to briefly share my (perhaps controversial) thoughts on airplane dress etiquette. Perhaps this is partly a response to some of the comments that were left on my Garuda Indonesia first class trip report, about the fact that I wore green "sneakers" on the flight.
For example, here's a comment left by Andrew:
this shouldn't bother me but it does….sneakers? for someone who complains frequently about level of service and attention to detail, you have a role to play too in not dressing like you are going to the gym, and i think you of all people should know to dress better for J/F class flying.
And a comment left by CJ:
Really?? You're flying a top-notch, SkyTrax 5-Star Airline in F and the best you can do is wear Asics "sneakers"? Wow. Please tell me you weren't wearing "sweat pants" to match.
So let me share my general opinion on "dressing up" while flying, and then I'd love to hear what you guys think.
What you should and shouldn't wear on a plane
Personally I think the same clothing "etiquette" rules should apply in economy, business, and first class. I'm pretty easy-going, so I think:
You should wear clean and non-smelly clothes
You should cover everything that needs to be covered (every so often we see people get kicked off flights for exposing a bit too much of themselves)
You should wear close-toed shoes; I've seen too many people with gross feet wear open-toed shoes (personally I don't mind if people are barefoot if they take care of their feet, but that's the problem with self-selection — everyone thinks they have nice feet)
Again, I don't think the above should be "rules," but those are my thoughts on the general guidelines of what to wear when flying. Most everything else is fair game, regardless of what class you're traveling in.
Why you shouldn't have to "dress up" to fly first class
A lot of people choose to dress up when they fly in premium cabins. I totally respect that and see why they do it, though hope they also respect when other people choose not to.
So let me make the simple case for why you shouldn't feel like you need to dress up to fly. If you're expected to "dress the part" in first class, why do airlines distribute pajamas and slippers, and encourage you to change into them before takeoff? For those who believe you should have to dress up to fly, do you oppose changing into them?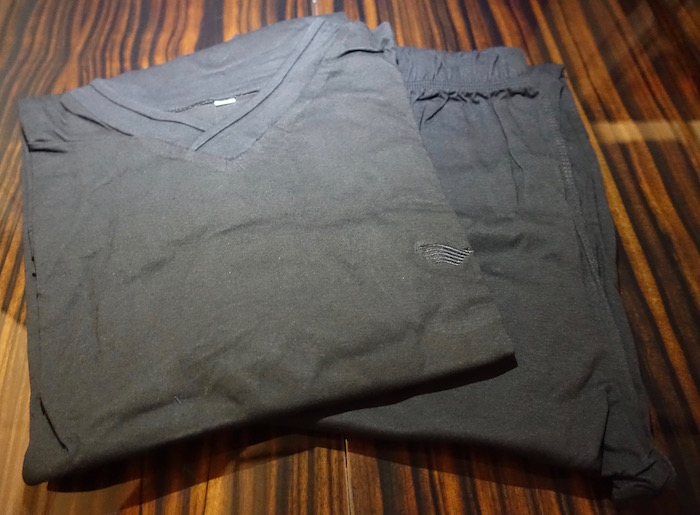 A lot of people like to draw parallels to dining in top restaurants, etc., though last I checked, most restaurants don't give you pajamas and slippers to change into before your meal.
Others reference the "good old days" of flying, where people dressed up. I don't know how many decades we're going back with that argument, but if we're going to go back several decades, then it's important to recognize that flying was a completely different mode of transportation then. 50 years ago airplanes weren't sleeping quarters, but rather they were restaurants, social clubs, and cigar bars. Flying also wasn't something that many people did weekly, but rather something that was rarer, and inflation adjusted, significantly more expensive.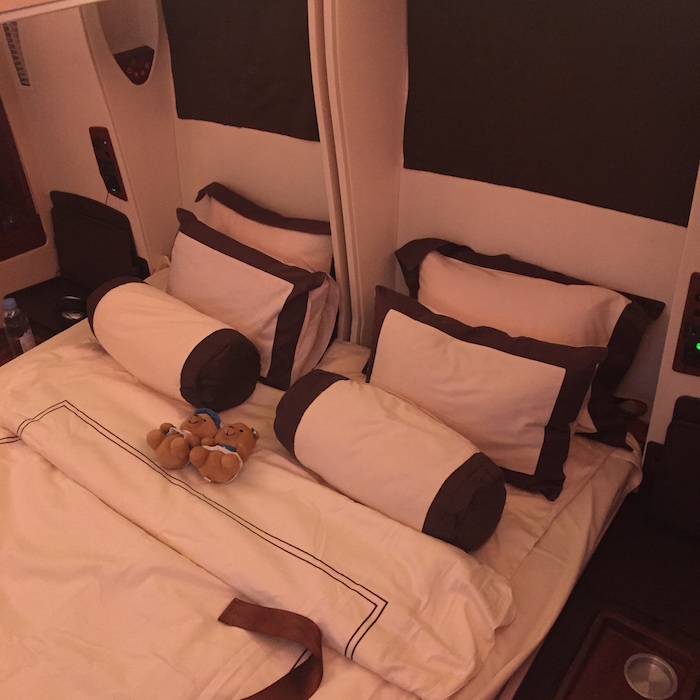 Bottom line
I respect everyone's right to dress how they want on a plane, whether that's in a suit or (clean) sweats and a t-shirt. Personally I don't follow the logic of those who are horrified by people dressing down for a long flight, when many airlines encourage passengers to change into pajamas and slippers once they're onboard.
I'll gladly continue sometimes wearing sneakers and sweats in first class (and other times jeans, dress shoes, and a button down — it all depends on my mood and the type of travel day I'm having) with no regrets…
Where do you guys stand on this? Do you dress up to fly, and do you think you should have to dress up in a premium cabin?