I've written in the past about fifth freedom routes. For those of you not familiar with fifth freedom routes, these are flights where an airline from one country has the right to operate between two other countries.
These are often operated in conjunction with longhaul flights back to the airline's home country. To give a few examples: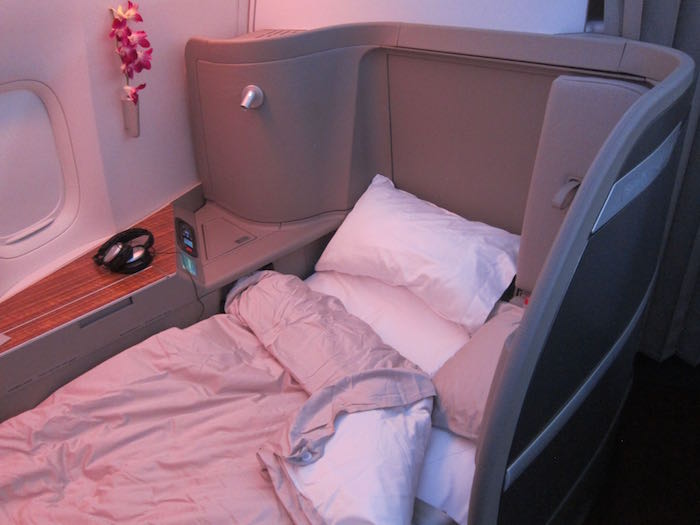 Cathay Pacific's 777 first class — not bad for a coast-to-coast flight
Those are just a few examples, and also happen to be among my favorite fifth freedom routes in the US.
For fun I thought it would be cool to look at some fifth freedom routes available in Europe. Why Europe, specifically? Because for regional flights, Europe arguably has among the worst business class products in the world. On most European airlines, business class is simply economy class with a blocked middle seat and better service.
So which fifth freedom flights are available within Europe? Here are five of my favorites on a map: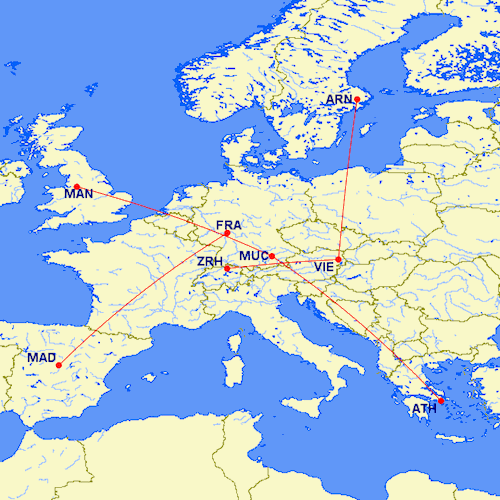 And here are the details of these flights:
LAN Chile Madrid to Frankfurt
LAN operates a flight from Santiago to Frankfurt via Madrid, and you can book just the segment between Madrid and Frankfurt. I took this flight just last week. The flight is operated daily by a 787 with the following schedule:
LA704 Madrid to Frankfurt departing 3:15PM arriving 5:50PM
LA705 Frankfurt to Madrid departing 7:30PM arriving 10:05PM
Best of all, fares on this flight are usually quite cheap in business class, so it's a great way to rack up oneworld miles. Plus, you can't beat having a flat bed with a great Chilean wine on such a short flight.
Unfortunately this route is being cut in June 2020.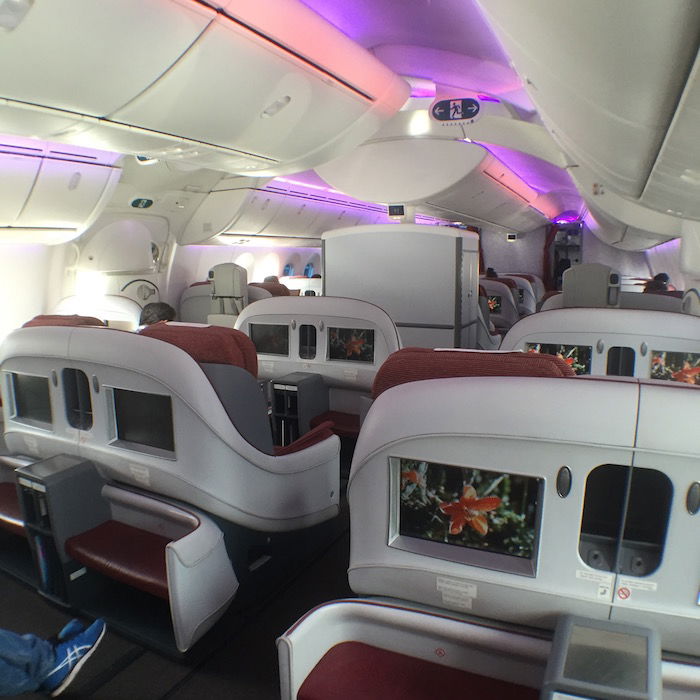 LAN's 787 business class
Singapore Airlines Munich to Manchester
This is the only intra-Europe flight where you may be faced with the tough question of "Dom or Krug?" Singapore Airlines operates a three cabin 777-300ER between Munich and Manchester daily, which is in conjunction with their flight from Singapore. The flight's schedule is as follows:
SQ328 Munich to Manchester departing 6:10AM arriving 7:25AM
SQ327 Manchester to Munich departing 8:45AM arriving 11:50AM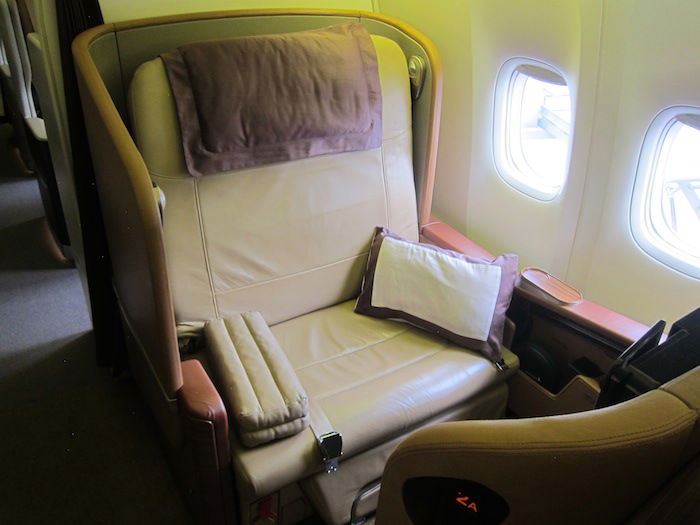 Singapore's 777 first class
Ethiopian Airlines Vienna to Stockholm
While perhaps not the most glamorous of the fifth freedom routes, it is a unique and fun one. Ethiopian flies between Addis Ababa and Vienna, and then offers continuing service to Stockholm, rather than having the plane sit on the ground all day in Vienna. Instead the plane "only" has about 12 hours of downtime in Stockholm.
The flight operates with the following schedule:
ET724 Vienna to Stockholm departing 6:50AM arriving 8:05AM
ET725 Stockholm to Vienna departing 8:15PM arriving 10:20PM
This flight is typically operated by a 787 (which Ethiopian is installing flat beds on), though is also sometimes operated by a 777, which already features flat beds.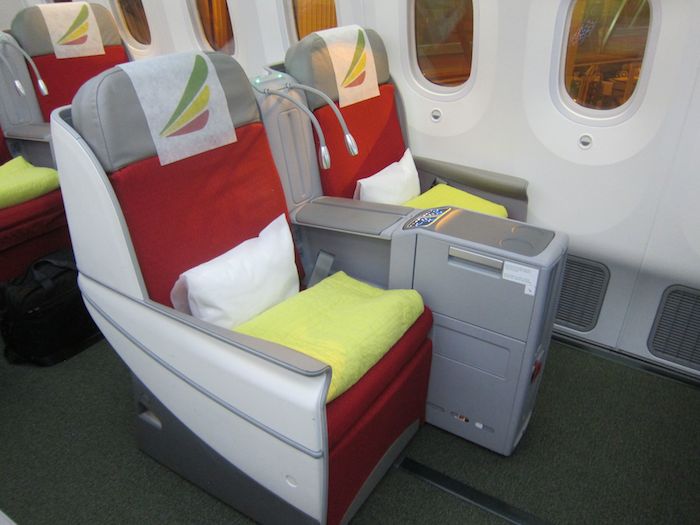 Ethiopian's 787 business class
Korean Air Vienna to Zurich
This flight is interesting in that Korean Air essentially operates a "triangle" route. They fly from Seoul to Vienna to Zurich to Seoul. So this fifth freedom flight is only useful from Vienna to Zurich, and not the other way around.
The flight is operated by a Boeing 777-300ER, featuring Korean Air's fully flat first class product. The schedule is as follows:
KE933 Vienna to Zurich departing 6:10PM arriving 7:35PM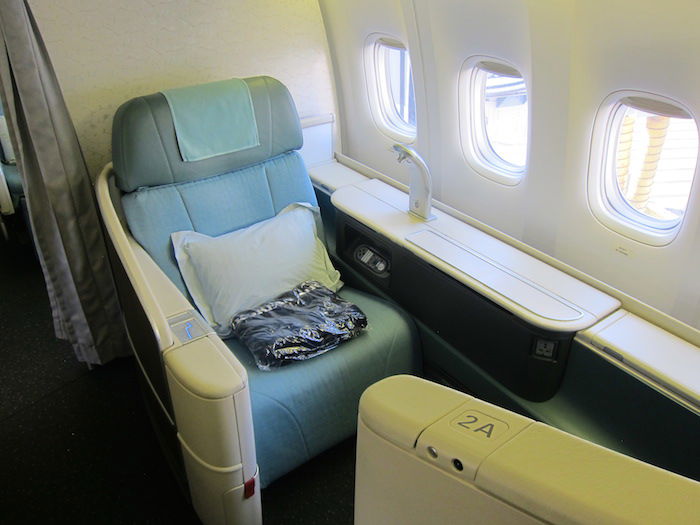 Korean Air's 777 first class
Air China Munich to Athens
Air China operates two intra-Europe fifth freedom flights, between Vienna and Barcelona, and also between Munich and Athens. Both are operated by A330 aircraft. The Munich to Athens flight operates with the following schedule:
CA961 Munich to Athens departing 6:55AM arriving 10:30AM
CA962 Athens to Munich departing 11:30AM arriving 12:55PM
It's a fun way to get to Greece, and certainly better than Lufthansa's regionally configured aircraft in the market.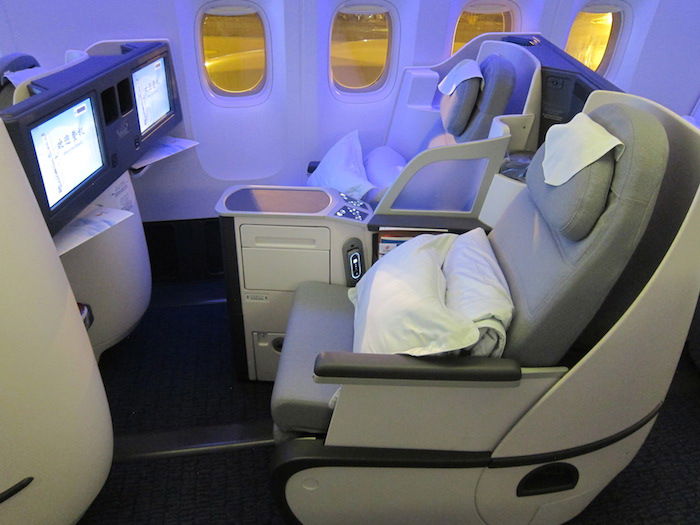 Air China's 777 business class
Bottom line
These aren't the only fifth freedom routes within Europe, though they are among my favorites. Keep in mind that airlines operating fifth freedom routes often have much better fares than the airlines offering multiple frequencies in a market. So fifth freedom routes not only often a superior inflight experience, but will often also save you money.
While it may take some effort to get onto one of these flights due to the lack of frequencies, it sure can be a treat when you manage to book one.
Which fifth freedom flight do you most want to take?