Last June Taipei-based EVA Air joined the Star Alliance, which was really exciting news. Not only do they release a ton of business class award space, but they actually have a really solid business class product as well, featuring reverse herringbone seats.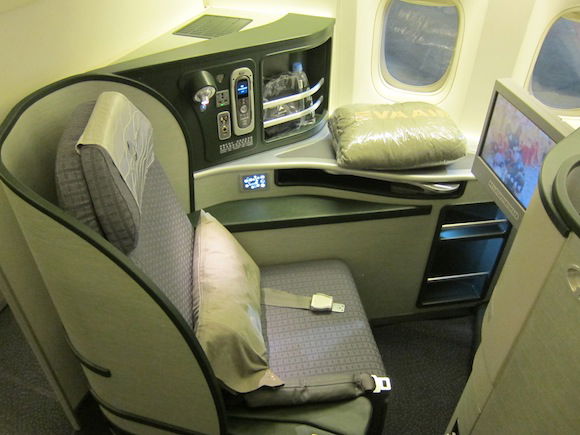 EVA Air 777-300ER Royal Laurel Class
As I reported when I first flew them last July, I found them so close to offering the best business class product in the world. The seats, service, entertainment, and amenities were all top notch. The only slight downside was their catering, which was lackluster.
Here are the trip reports I've written about my EVA Air flights so far:
Last week there was much hubbub about EVA Air simultaneously taking delivery of two latest generation 777-300ER aircraft, which are the 16th and 17th in their fleet. These new planes will fly the following routes:
It will initiate one of the new aircraft as BR31 on Mondays' and Tuesdays' New York – Taipei flights, boosting service on the route from five times a week to daily. It will use the second as BR11 on Taipei – Los Angeles service, flying Tuesday, Wednesday, Thursday, Friday and Saturday, adding three flights/week to the 17 it now operates. It will also raise both Toronto and Vancouver frequency from three flights a week to four.
There are a couple of things that are especially awesome about these new planes, including that they're equipped with Wi-Fi:
EVA's new Boeing 777-300ERs are the first in the world to be equipped with Panasonic's latest generation eX3 inflight entertainment system and Global Communication Suite (GCS). With this system, EVA now offers passengers SMS roaming service to send and receive short messages on their own mobile phones. The airline also now provides Sky Wi-Fi access. At an altitude of 20,000 feet or higher, passengers can send and receive e-mails, use instant messaging APPs and check in on social media.
EVA Air is also updating some aspects of their Royal Laurel service:
As it places its new 777-300ERs in service, EVA is also updating Royal Laurel Class service items. It is outfitting cabins with new noise-cancelling headsets that have better sound quality and enhanced noise-reduction performance. It has begun serving Fiji Water, a popular premium bottled product from the Fiji Islands. And it is stepping up efforts to make passengers comfortable and feel at home onboard its flights by offering pajamas.

EVA is also introducing two new colors for its sought-after and collectible Rimowa overnight kits, Crystal Green for inbound flights and Prosecco outbound.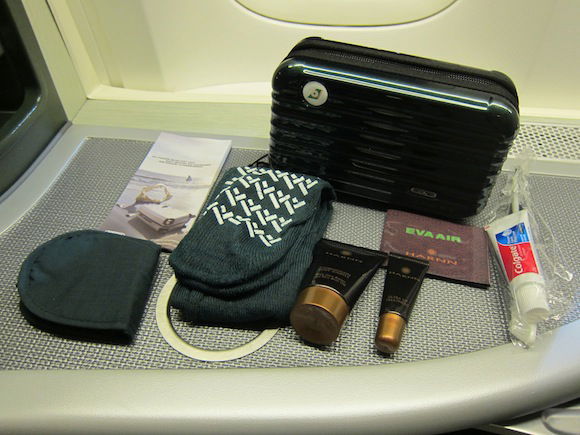 EVA Air current Royal Laurel amenity kit
So in addition to the current services, they'll be offering Royal Laurel passengers:
Pajamas
New colors of Rimowa amenity kits (if you're like me and collect Rimowa amenity kits, this is super awesome)
Fiji water
New noise canceling headphones
So that's awesome, and makes an already awesome and readily accessible business class product even awesomer.
But that's not the best part…
The best part of all this are the videos they put out about the new aircraft and their features.
First, there's a legitimate one just recapping what's interesting about the plane (it's pretty cool that EVA Air's chairman is a 777 pilot):
Then there's this one about the first commercial service of the plane on May 29, 2014:
Of course it's absolutely vital for a flight attendant to walk through the cabin with a "wifi" sign, or else passengers might not know about it.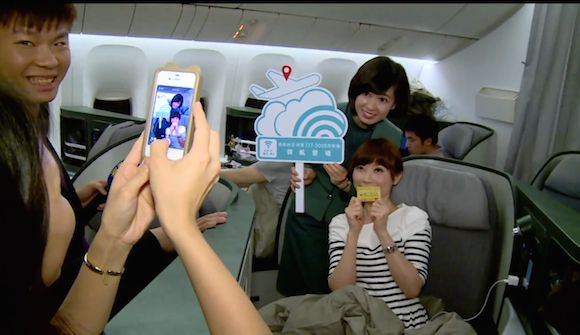 And just in case that doesn't do the trick, you might as well have the singing tooth fairy walk through the cabin to reinforce the concept. 😉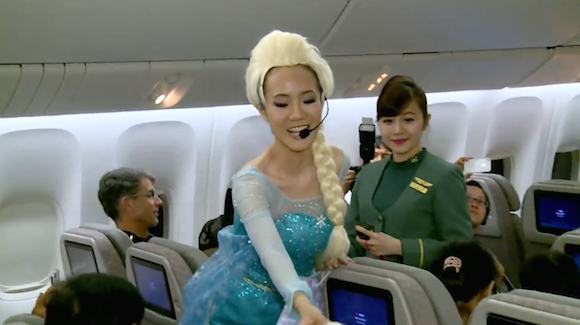 But quite possibly the best of all is this 20 minute video, of which I can't understand a word… but that doesn't make it any less awesome:
They're naming their campaign around the new 777-300ER "Amazingly Great," which just about makes them the second best entity in the world at describing things, other than me (you've gotta give me credit, my use of the word "phenomenal" when describing food in trip reports is… phenomenal).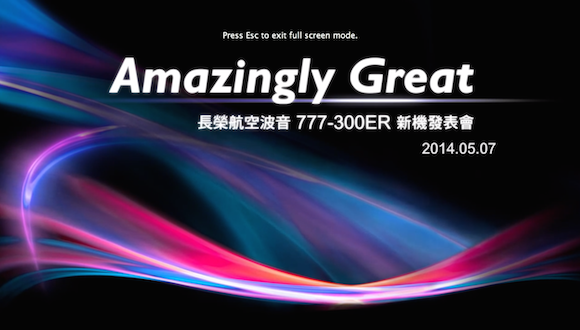 Then the Taiwanese Glee Club makes an appearance.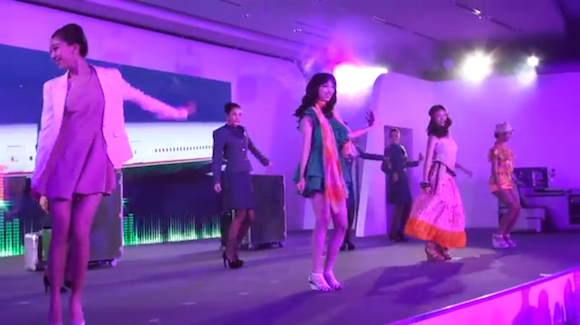 The dance routine continues to get better…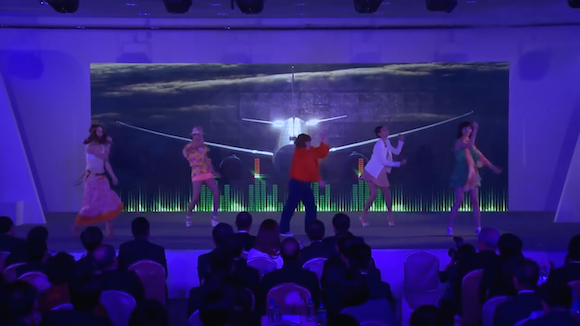 And better…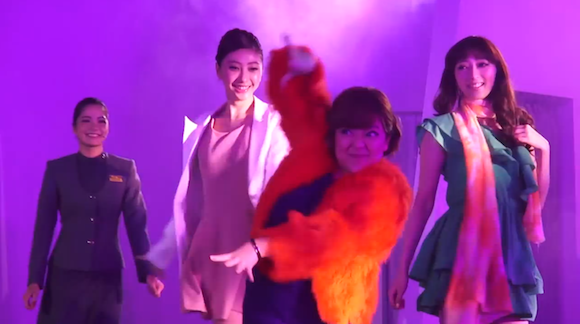 Then there's a Royal Laurel Class product demonstration. The only words in English (or more accurately, French) are "Dom Perignon," which seems to have some sort of "50 Shades of Grey" effect on her, as she begins to moan.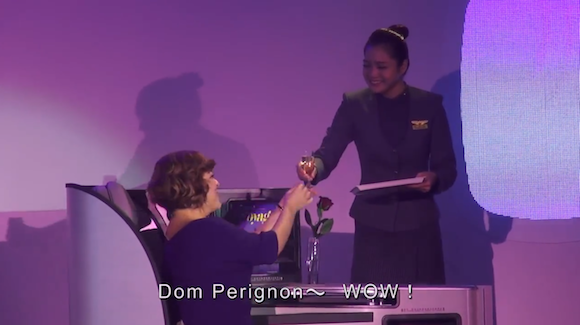 Then the crew brings her a laptop, which she pretends to type on while looking away (because obviously this is how you demonstrate that an airplane has Wi-Fi)…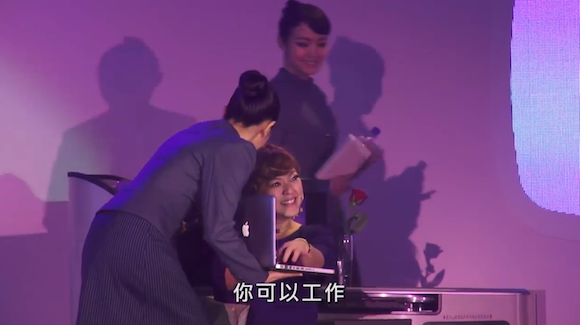 Then they bring her a bottle of Fiji water, which impresses her almost as much as the Dom Perignon…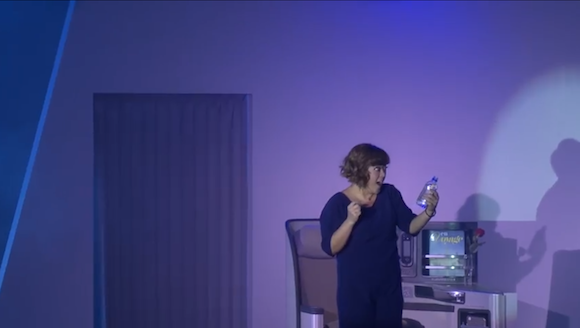 And immediately transports her to somewhere tropical…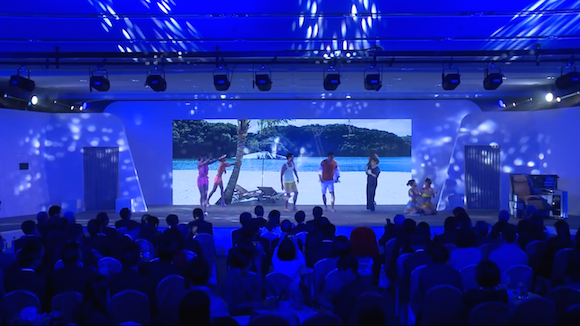 Then the "fiercest" Spider-Man I've seen in my life makes an appearance…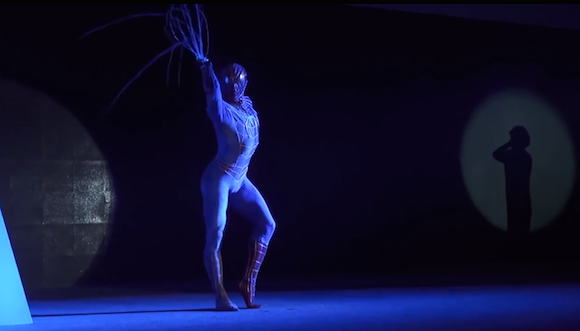 Then she gets robbed on stage…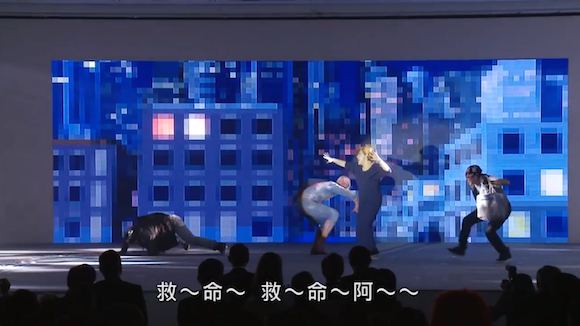 And that's not even the first half of the video…
ATTENTION ALL OTHER AIRLINES: THIS IS HOW YOU LAUNCH NEW PRODUCT OFFERINGS!!! If there's not a tooth fairy, flash mob, tropical beach, Glee Club, or live action movie, how damn good can your new product really be?!

If you haven't seen it, you really need to. Even if you don't understand a word they're saying.
(Tip of the hat to Victor)