A few weeks ago EVA Air announced that they'll be discontinuing Hello Kitty service to Los Angeles as of October 27, 2014. That's kind of disappointing, given that they just launched Hello Kitty service to Los Angeles roughly a year ago.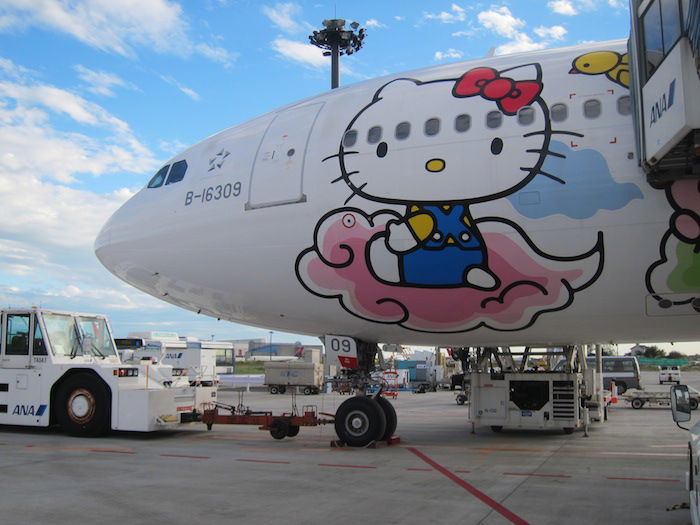 For those of you not familiar with EVA Air's Hello Kitty service, they operate select flights with Hello Kitty themed aircraft. I've had the opportunity to fly this service on two occasions:
Everything about the planes is Hello Kitty themed, from the interiors to the food to the toilet paper to the service.
Anyway, EVA Air had already announced at the time that they'd be sending the Hello Kitty 777-300ER to Paris instead (all the other Hello Kitty planes are A330s), though the exact schedule hadn't yet been announced.
Well, the schedule is now official, and it looks like EVA Air will launch three times weekly Hello Kitty flights between Taipei and Paris as of October 29, 2014.

The service will be operate the B87 service between Taipei and Paris on Wednesdays, Fridays, and Sundays, while it will operate the BR88 service between Paris and Taipei on Mondays, Thursdays, and Saturdays. These flights operate with the following schedule:
BR87 Taipei to Paris departing 11:50PM arriving 6:50AM (+1 day)
BR88 Paris to Taipei departing 11:20AM arriving 7:05AM (+1 day)
Unfortunately EVA Air doesn't seem to be releasing longhaul business class award space to partner airlines more than three (or so) months out anymore, so these flights aren't as easy to book as they used to be.
In all honesty, it is quite interesting that EVA Air seems to have some sort of metrics by which they evaluate the success of these Hello Kitty flights. Ultimately the marginal cost of operating them isn't high so I assumed it was basically a gimmick, though it does seem like they're doing something to quantify the success of these routes, or else they wouldn't be switching the 777-300ER Hello Kitty service from Los Angeles to Paris.
(Tip of the hat to Kevin)