Yesterday I wrote a post entitled "Emirates vs. Etihad First Class: Which Is Better?"
In the comments section of that post, an interesting discussion emerged regarding the merits of Skytrax. Wwk5d wrote:
Also, does anybody take Skytrax seriously? That thing is more rigged than FIFA.
And it went from there.
Etihad Airways is withdrawing from Skytrax
The timing of this is kind of funny, because just today Etihad Airways announced that they'll be withdrawing from Skytrax, which does air travel rating & reviews.
Via arabianbusiness.com:
Etihad Airways, the national airline of the UAE, said on Sunday it has sent a letter to Skytrax formally announcing its decision to withdraw from the organisation, including the Skytrax World Airline Awards and the Skytrax Audit.

The decision makes the airline ineligible for any further Skytrax World Airline Awards, including World's Best Airline, World's Best Business Class and World's Best Cabin Crew.

In the 2013 awards, Etihad placed seventh in Skytrax's list of the world's top 10 airlines, with UAE rival Emirates taking the top prize.

The decision was made after Etihad Airways carried out a review of the criteria and measurement of the Skytrax Airline Rating System, the airline said in a statement, without giving further details.
World's best airline 2013?
To get at the root of what (I assume) frustrates Etihad, lets take a quick look at the 2013 winners of the "World's Best Airline" award from Skytrax:
Emirates
Qatar Airways
Singapore Airlines
ANA All Nippon Airways
Asiana Airlines
Cathay Pacific Airways
Etihad Airways
Garuda Indonesia
Turkish Airlines
Qantas Airways
Is Emirates better than Etihad?
So is Emirates objectively better than Etihad? If we're talking about the overall onboard product, I think almost certainly not. I mean, Emirates is an airline that doesn't even have a flat bed business class product on over 75% of their fleet. With the exception of the A380, all their business class seats are angled flat at best.
Meanwhile Etihad does have a fully flat business class product throughout their longhaul fleet. So from the perspective of a business traveler, I'm not sure how you could argue with that.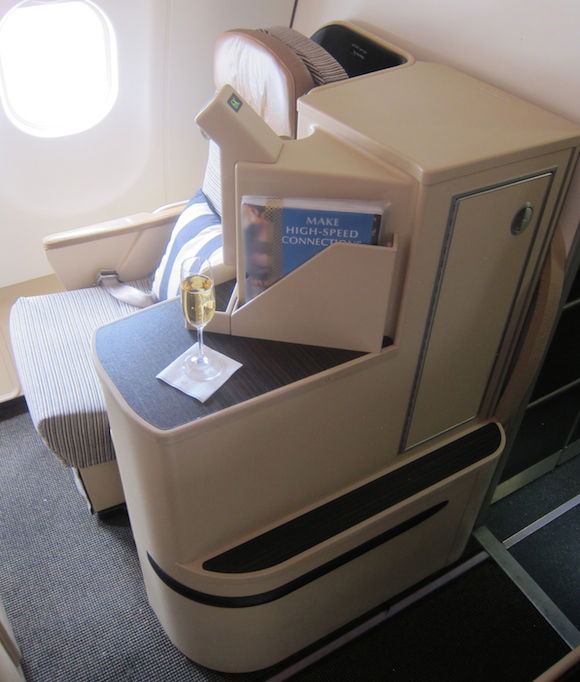 Etihad Airways business class
Qatar Airways has the world's best business class?!
It's also rather puzzling that Qatar Airways won the "World's Best Airline" award in 2011 and 2012, and in 2013 won the award for "World's Best Business Class."
A vast majority of their longhaul fleet is made up of 777s, which feature fully flat forward facing seats, which are about as "basic" as modern business class seats get. At Etihad Airways every longhaul business class seat has direct aisle access, while that's not the case at Qatar Airways. Beyond that, Qatar Airways has angled flat seats on many of their A330s and A340s, which they deploy on longhaul routes.
Looking at it objectively, can anyone argue that across the board Qatar Airways offers a better business class product than Etihad Airways? Anyone? I don't think so…
So is Skytrax rigged?
Does that mean Skytrax is rigged? Nope, I don't think so. This is simply what happens when you issue awards based on "popular votes." People haven't flown every airline, and they all use different criteria to vote.
I understand Etihad Airways' frustration. They consistently rank substantially below Emirates and Qatar Airways, which they don't deserve to. I mean, they're one spot above Garuda Indonesia (and how they're in the "top 10" opens a new can of worms, despite how gorgeous their new 777-300ERs are). I'd be sorta pissed as well.
But it's not really any different than the Freddie Awards, which offer loyalty programs awards based on popular voting (though there's also a "value vote" aspect to it).
It amazes me year after year how well Marriott Rewards does at the Freddie Awards. Objectively they're less rewarding than Hyatt and Starwood while having higher qualification tiers. But their members still love Marriott Rewards. There are only two major reasons I can think of:
They have hotels just about everywhere, so have a lot more coverage than Hyatt and Starwood
They do a great job managing expectations — if you don't offer a lot and go beyond that, then members will be delighted
Bottom line
I "get" Etihad's frustration. It makes sense. They're ranking way behind comparable airlines. But that's the joy of "popular" voting by consumers with an information bias.
Does that make Etihad a sore loser, or just smart for not wanting to be "ranked" unfairly? What do you guys think?