Garuda Indonesia isn't an airline I'd traditionally get excited about. At least it wasn't till they unveiled their new 777-300ERs, which look super sexy.

Here's a pretty cool video about the product (and does the guy narrating it have the coolest accent ever, or the coolest accent ever?):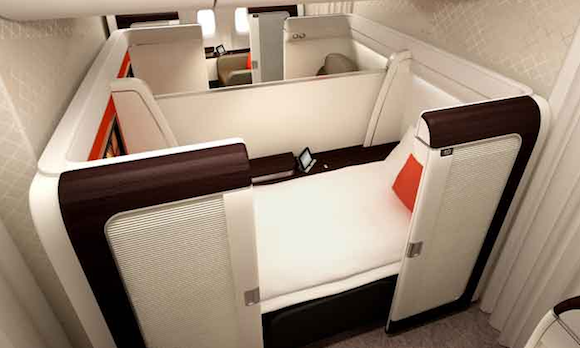 Garuda Indonesia's new 777-300ER first class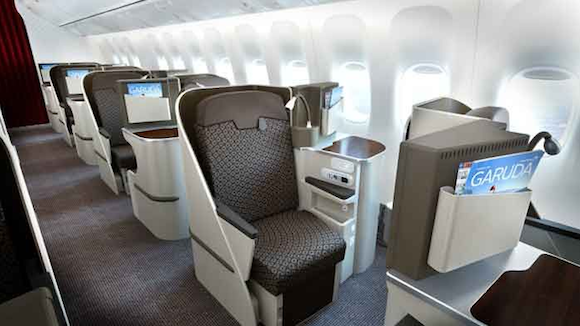 Garuda Indonesia's new 777-300ER executive class
And then check out this trip report someone on FlyerTalk wrote about their new first class product — looks amazing!
Anyway, Garuda Indonesia is set to join SkyTeam in March of 2014, though Air France/KLM Flying Blue has already announced a reciprocal agreement in advance of the official SkyTeam entry.
You can both earn and redeem Air France Flying Blue miles for travel on Garuda Indonesia as of November 1, 2013.
Flying Blue's accrual chart for travel on Garuda Indonesia looks as follows: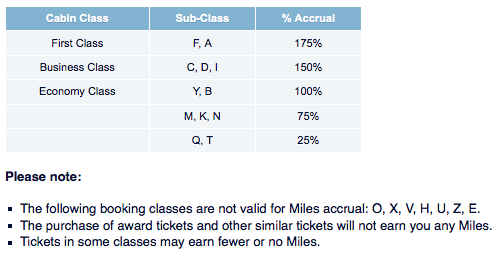 Not especially generous if you ask me, especially for discounted economy fares.
While I'm not so excited about Flying Blue redemptions on Garuda Indonesia as such (due to the fuel surcharges and fairly high redemption rates), it's great to now have a place to search Garuda Indonesia award space online, which I'm not sure was possible prior to this.
Garuda Indonesia presently flies their 777-300ER between Jakarta and Tokyo Narita. Unfortunately as far as I can tell there's no way to book their first class using miles (I'm not sure if they just don't release space to Air France, or if they don't in general, as it doesn't show up on the Air France website).
Business class is readily available on the route, however: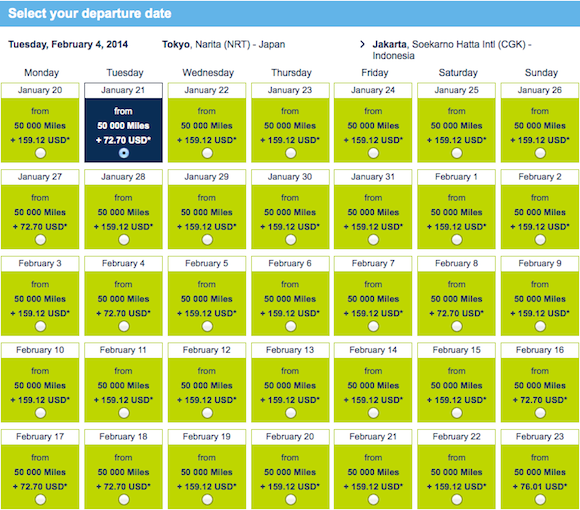 It's also worth noting that Korean Air's SkyPass program already partners with Garuda Indonesia and actually has fairly lucrative redemption rates. Here's their redemption chart for travel on Garuda Indonesia: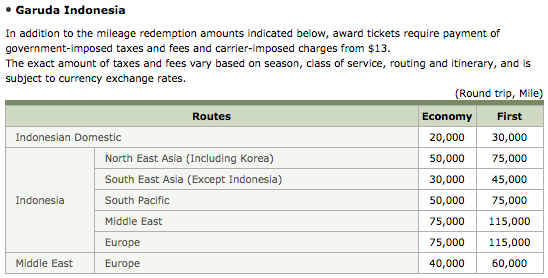 Based on my calls to Korean Air's SkyPass center, the catch is that the column listed as "first" is actually for their executive class, so unfortunately they don't publish redemption rates for Garuda Indonesia's actual first class product.
Travel on Garuda Indonesia in business class will be a great use of Delta SkyMiles. It could very well be that Delta and Garuda Indonesia launch a reciprocal agreement prior to their official join date in SkyTeam, or maybe they'll make us wait till then.
I'm also hoping that once they join SkyTeam they'll at least release first class award space, which should be bookable with Korean Air SkyPass miles (and they're an Ultimate Rewards transfer partner).