An Ethiopian Airlines flight earlier this week was a bit longer than usual. The reason? Both pilots were sound asleep, and didn't wake up until the autopilot disengaged, and a loud alarm went off.
Ethiopian Boeing 737 overshoots Addis Ababa Airport
The Aviation Herald reports on an incident that happened on Monday, August 15, 2022, on Ethiopian Airlines flight ET343 from Khartoum, Sudan (KRT), to Addis Ababa, Ethiopia (ADD). The flight was operated by a roughly 12 year old Boeing 737-800 with the registration code ET-AOB.
The relatively short 620-mile flight was blocked at 1hr50min, and was scheduled to depart Khartoum at 3:30AM and arrive in Addis Ababa at 6:20AM (with a one hour time change).
The flight departed as planned, and climbed all the way up to 37,000 feet. There was only one problem — the plane stayed at 37,000 feet even when it reached Addis Ababa Airport, because both pilots fell asleep. How do we know?
Air traffic controllers attempted to reach the pilots multiple times, without response
The plane continued on the approach course for runway 25L that was entered into the flight management computer (FMC); that means the plane made the correct approach, it just didn't descend at all (since altitude adjustments have to be programmed separately)
After overflying runway 25L at 37,000 feet (the runway is at an altitude of ~7,600 feet, so they were 29,000+ feet too high), the autopilot disconnected, and clearly that alarm woke up the pilots
After the pilots woke up, they ended up performing another approach, and touched down on runway 25L around 25 minutes later. Below you can see a visualization of the approach, with the purple line being the initial approach (at 37,000 feet), and then the turquoise line being the second approach (where the plane actually landed).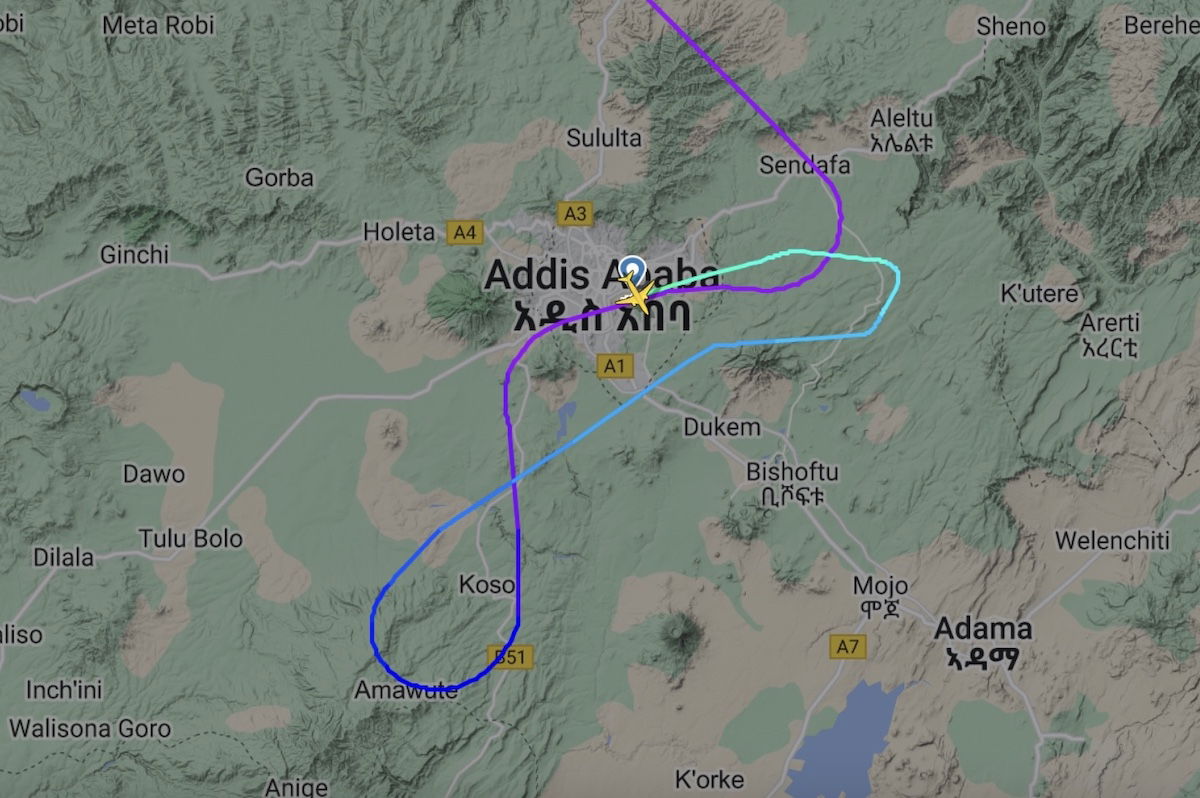 It's my understanding that both pilots have been suspended, pending the results of an investigation.
My take on this Ethiopian Airlines incident
First of all, unfortunately both pilots falling asleep probably happens more often than you'd expect (we're talking on flights without relief crews). We hear about these incidents every so often, and those are just the ones that are reported. Think of all the times both pilots doze off without anyone noticing.
In many cases airlines even allow "controlled rest," where one pilot can doze off at the controls for a limited period of time. Of course that concept relies on the other pilot being able to stay awake.
What makes this situation noteworthy is for just how long both pilots were asleep, as they missed their approach for 20+ minutes. They weren't woken up until the autopilot disengaged as they were over the runway (except way too high), and an alarm went off. It's kind of terrifying to wake up to the sounds of the autopilot disengaging, no?
Pilot fatigue is a huge issue across the industry, and I think it's easy enough to see the factors that contributed to that here. Presumably the pilots were doing an overnight turn to Khartoum, so you can imagine why they'd be tired at this point in the morning.
Then there are Ethiopian Airlines specific factors. While the airline has become a huge success story for African aviation, unfortunately the airline doesn't have a great reputation with pilots or with its overall safety culture (just check out the discussions on pilot forum PPRuNe).
There are plenty of reports of pilots flying well over 100 hours per month, and on top of that pilots work on a system of "X days on, X days off" (often 20 days on and then 10 days off), so they do a lot of flying in short periods of time. That obviously contributes to fatigue as well.
Bottom line
An Ethiopian Airlines Boeing 737 overshot Addis Ababa Airport earlier this week, after both pilots fell asleep. The pilots didn't respond to air traffic controllers, and only woke up when the autopilot disengaged as they were over the runway at Addis Ababa Airport (only 29,000+ feet too high).
Fortunately the plane landed safely, but this sure is a scary incident. Sometimes it's better that we don't know what's happening on the other side of the cockpit door…
What do you make of this Ethiopian Airlines pilot story?