Yesterday I had the chance to fly from Dubai to Brussels in Emirates' brand new first class, which debuted in early December. As of now the new first class is only available on flights to Brussels and Geneva, and it's scheduled to be available to London Stansted when that route launches this summer.
I've flown nearly all the first class products in service nowadays, and Emirates' old first class was already one of my favorite experiences in the sky.
So, how does Emirates' new 777 first class compare? I had high expectations coming in, but they were exceeded. This product is a game changer, in my opinion.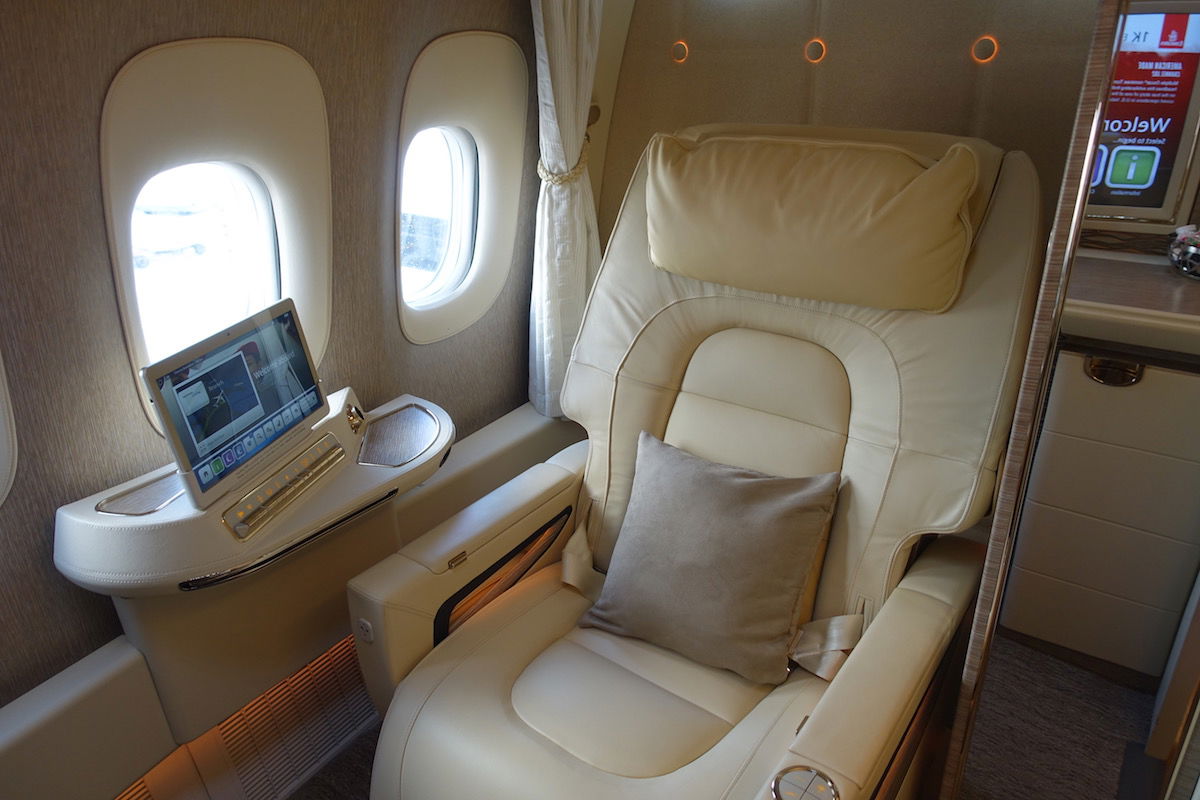 Emirates' new first class is the first fully enclosed first class suite in the sky, since other suites with doors don't have walls that go all the way up to the ceiling. The suite is spacious and doesn't feel claustrophobic at all — when the door is closed you can put your seat in bed mode and still stand next to it, so you can change into pajamas, etc., without leaving your suite. The suite is much more spacious than the old one was — not only have they gone from eight suites to six in the same area, but I also feel like they're using the space more efficiently.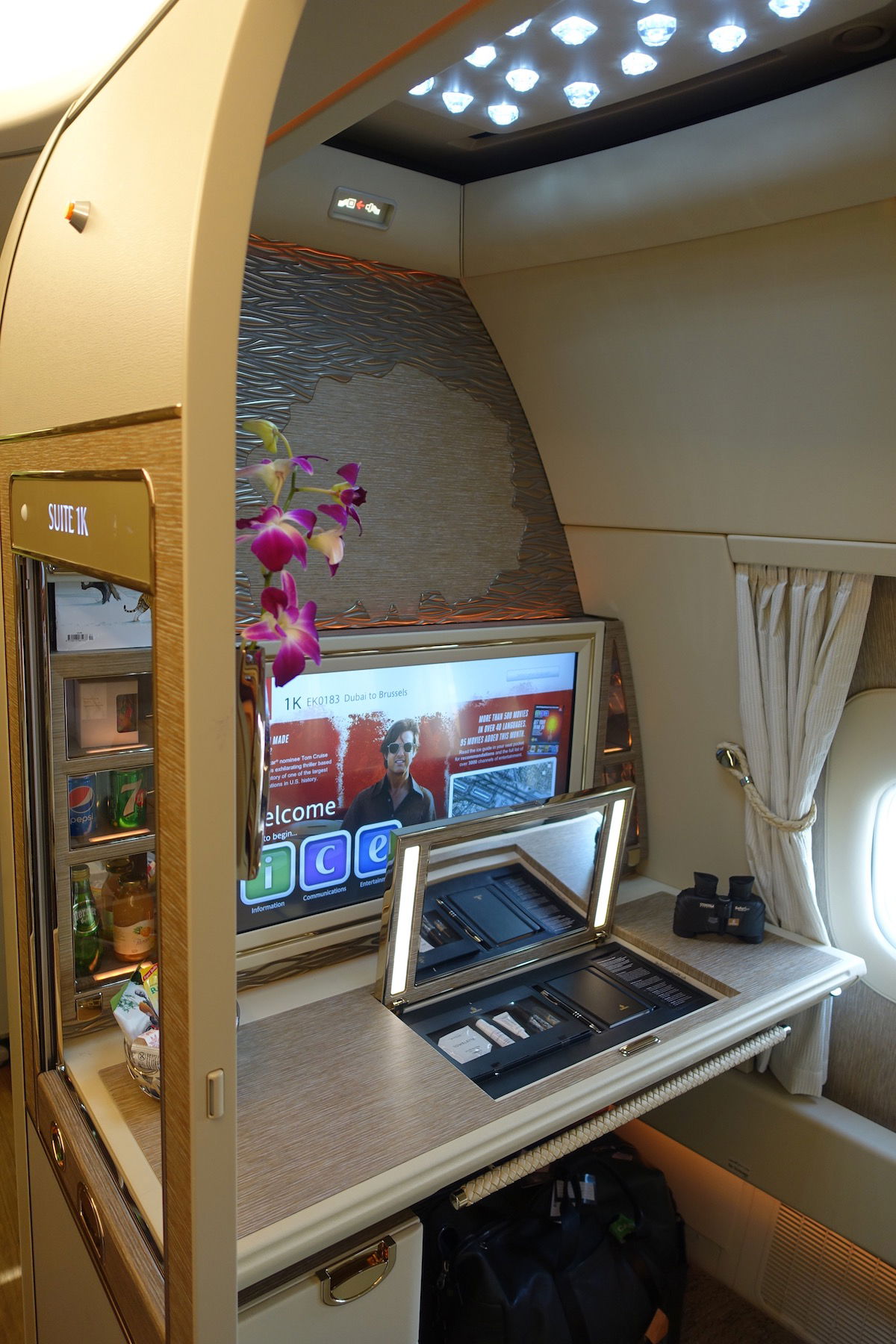 In terms of the finishes, I thought they were beautiful. Emirates' newer design features more understated finishes, which I appreciate. Don't get me wrong, the finishes are still a bit over the top, but not nearly as much as the tacky 90s cigar bar vibe you get in Emirates' old first class (which I oddly enjoy, in moderation)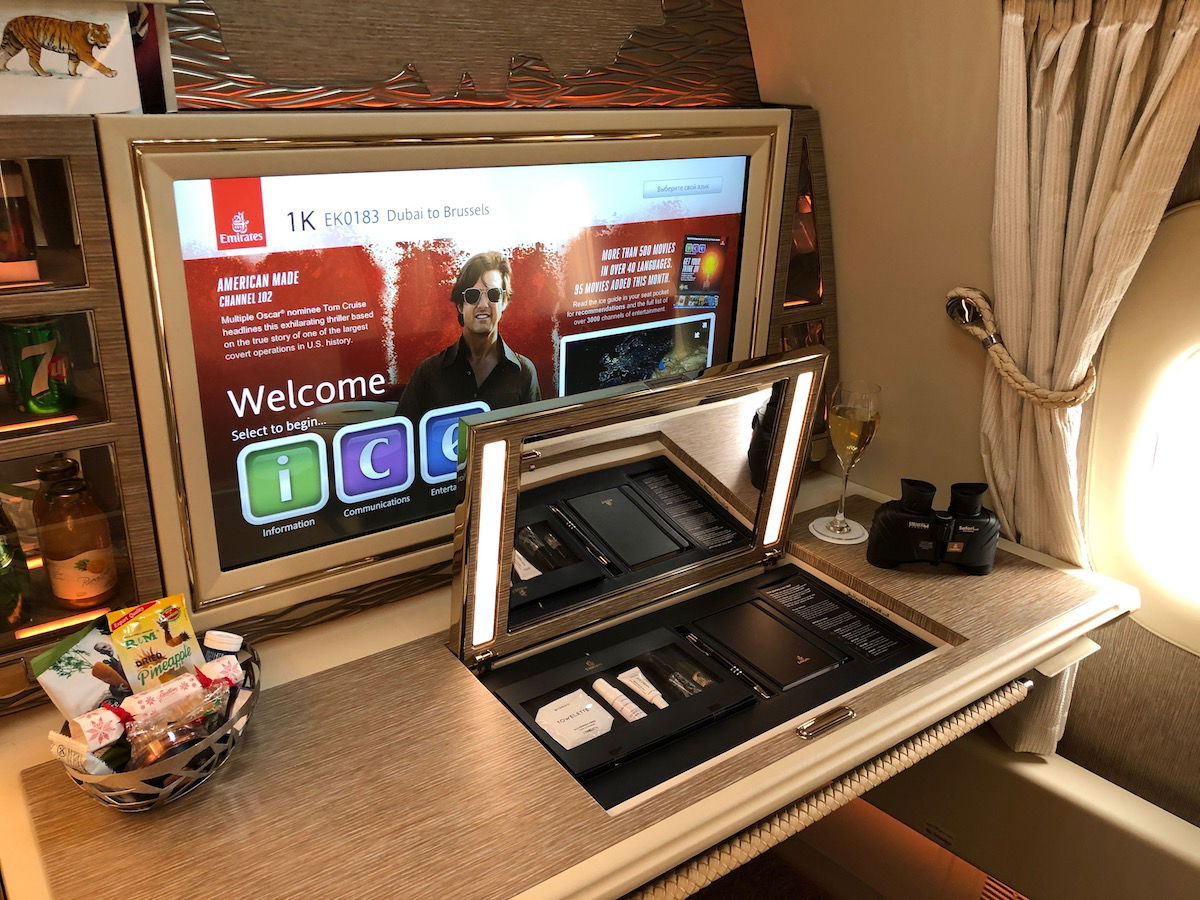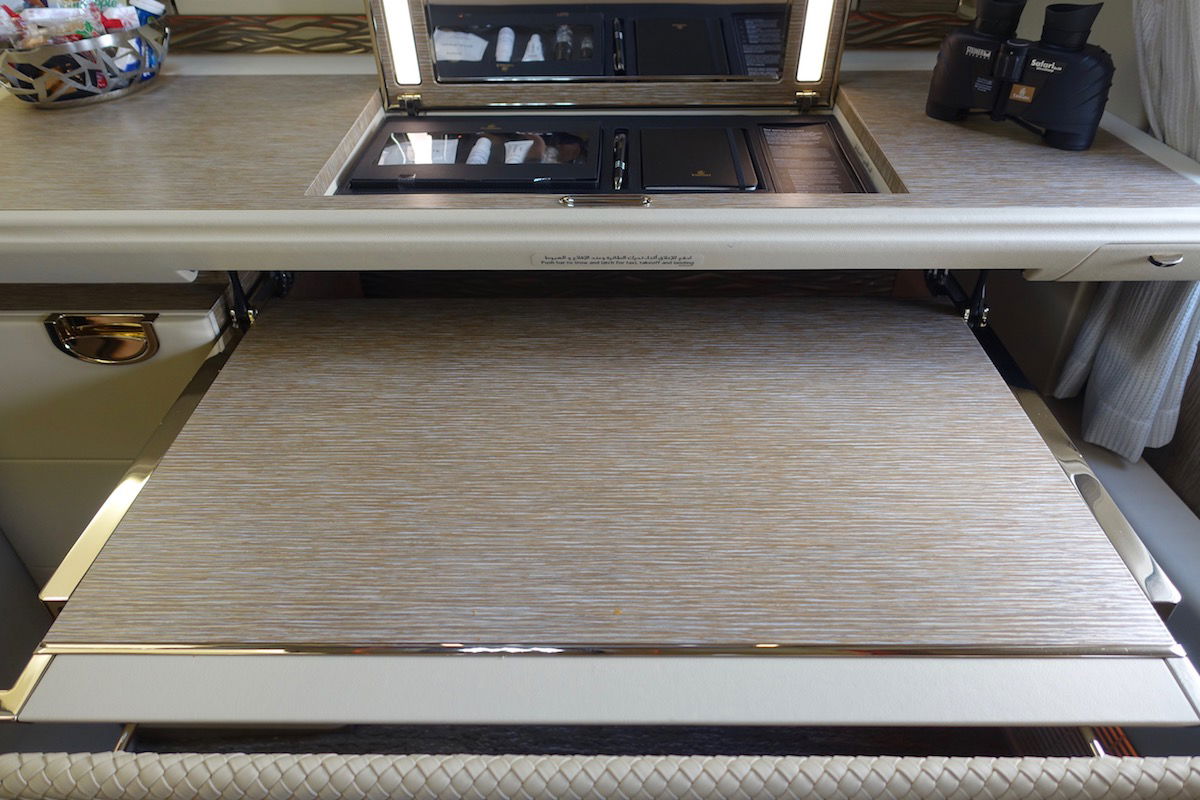 Aside from the sheer amount of space and privacy, I also felt like so much thought was put into the design of the seat. Everything was conveniently placed, and the amount of customizability was unreal. You can control all the lighting in the suite (the color, the intensity, etc.), the temperature (in reality you can only turn it up, and not down), etc. This can all be controlled from a panel to the side of the seat. Just to give a further example of the attention to detail, this monitor even has an indicator that shows whether the lavatory is occupied.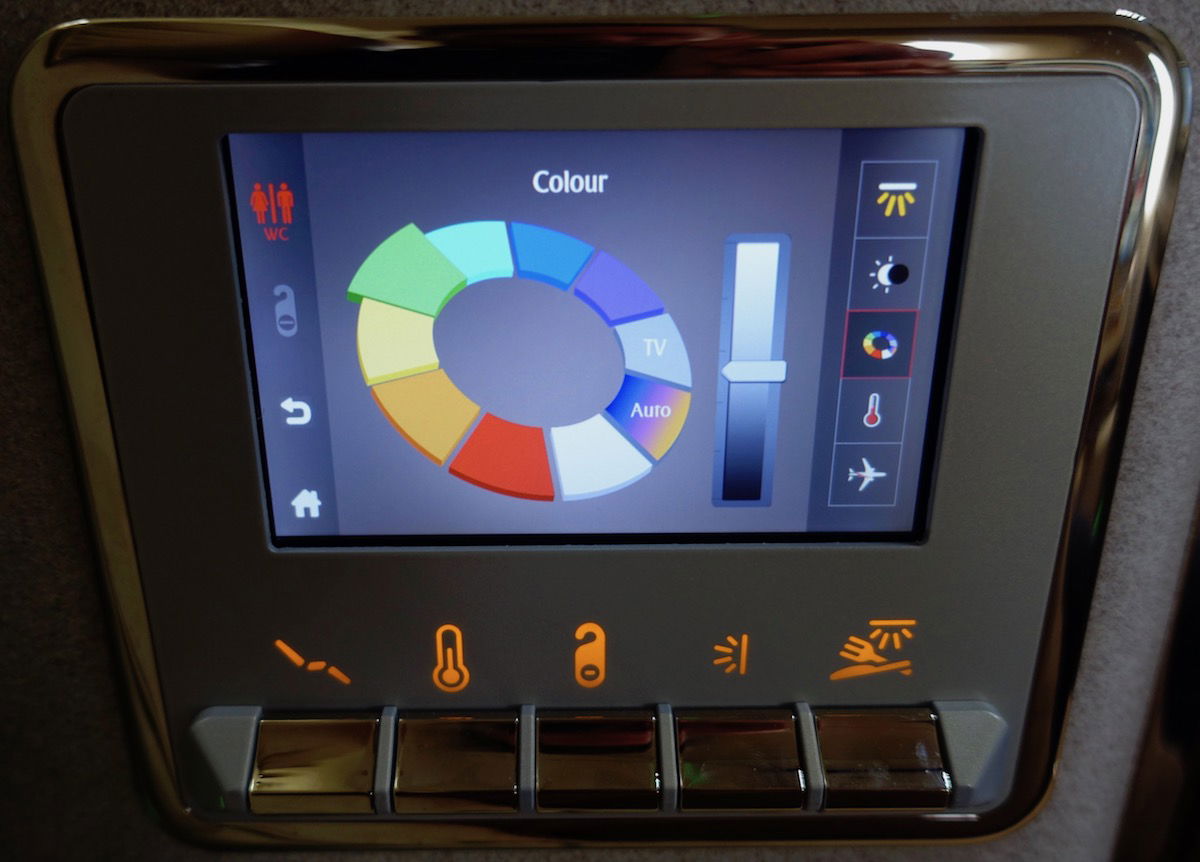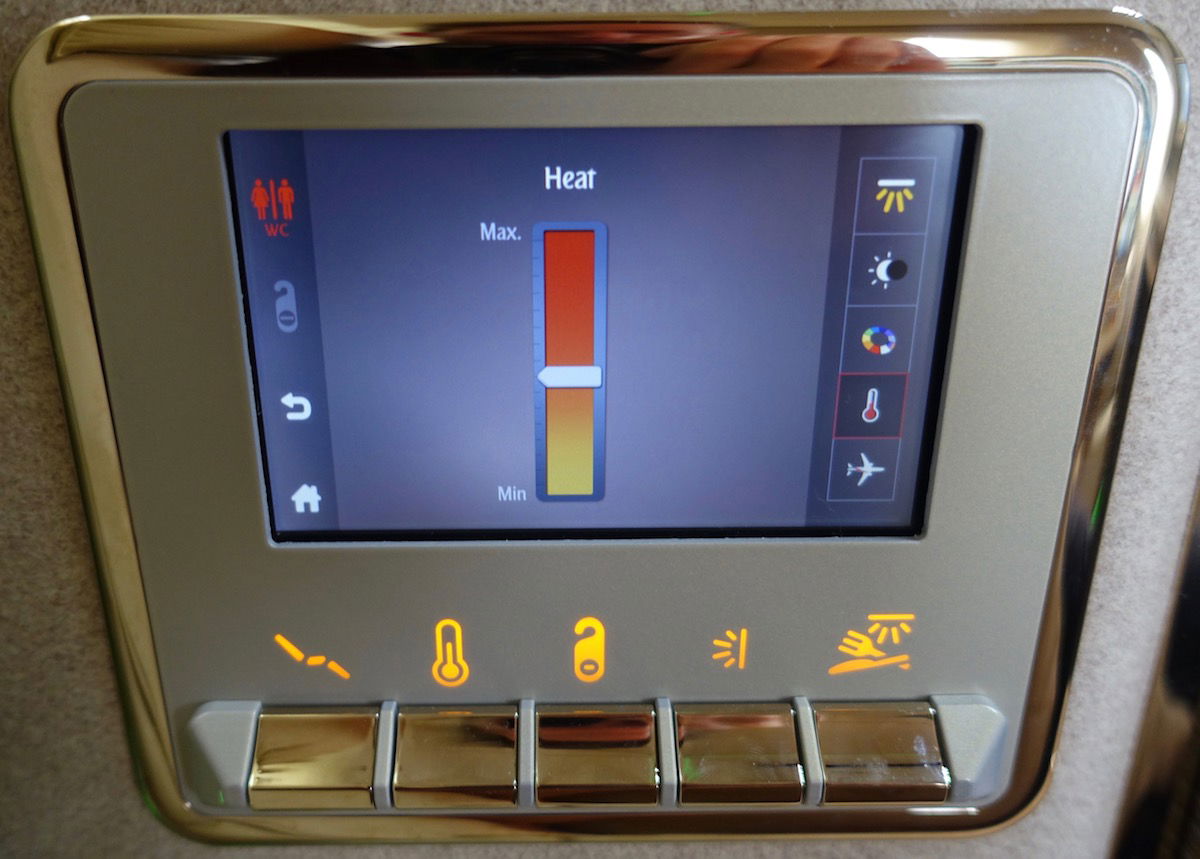 In addition to a massive personal television, there's a second monitor next to your seat where you can browse the entertainment selection, control all the lighting and seat features, order room service, etc.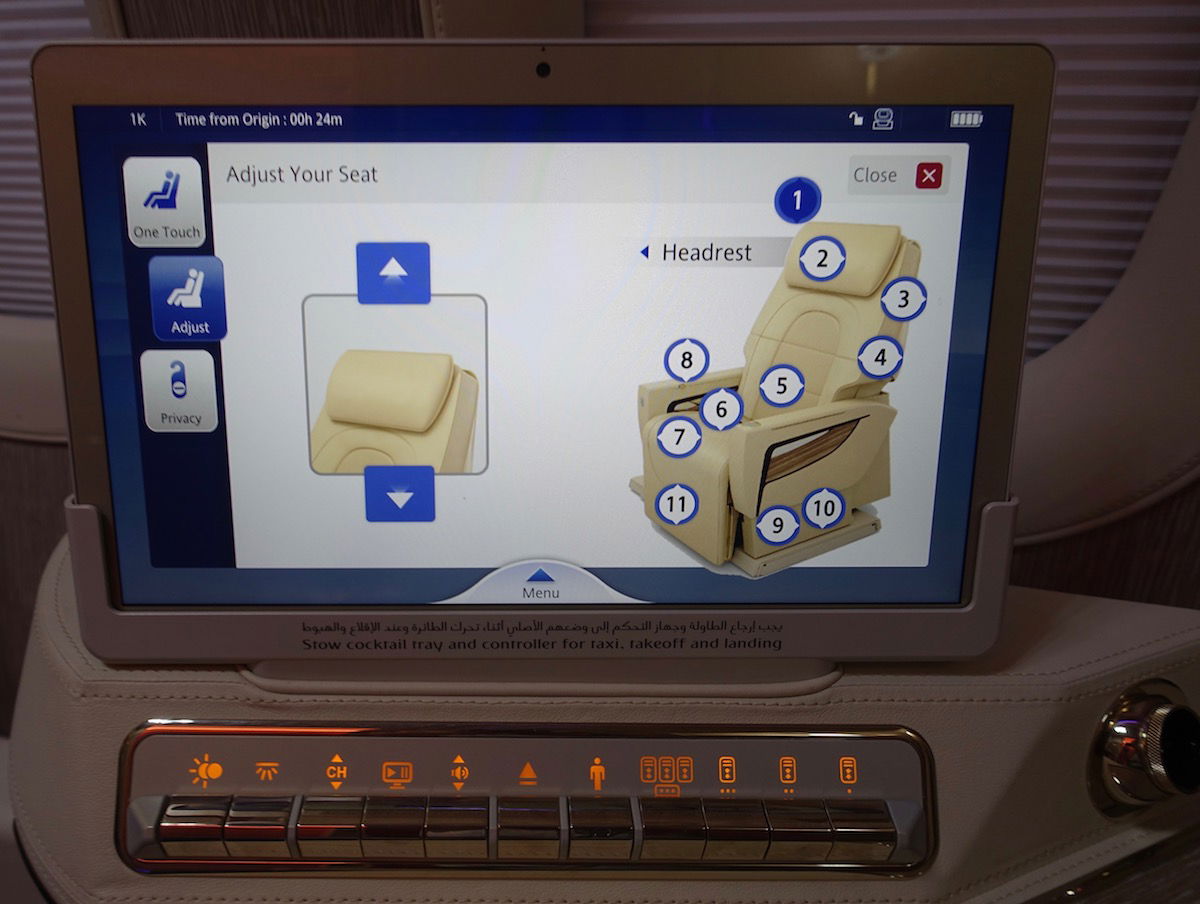 The seat has two large closets — one underneath the TV and to the side, which is big enough to store a full size carry-on, and then one to the side of the seat, which is a wardrobe.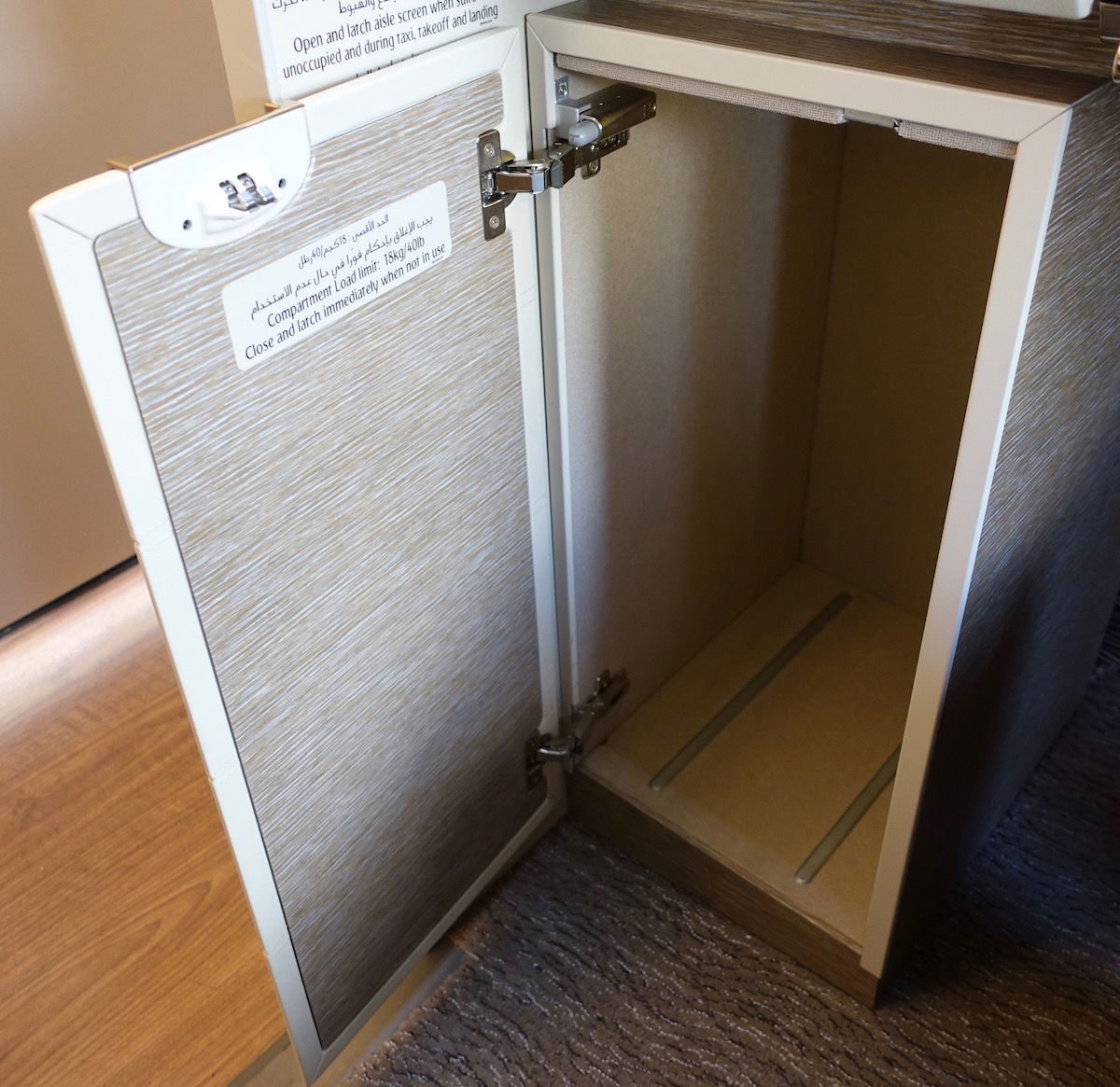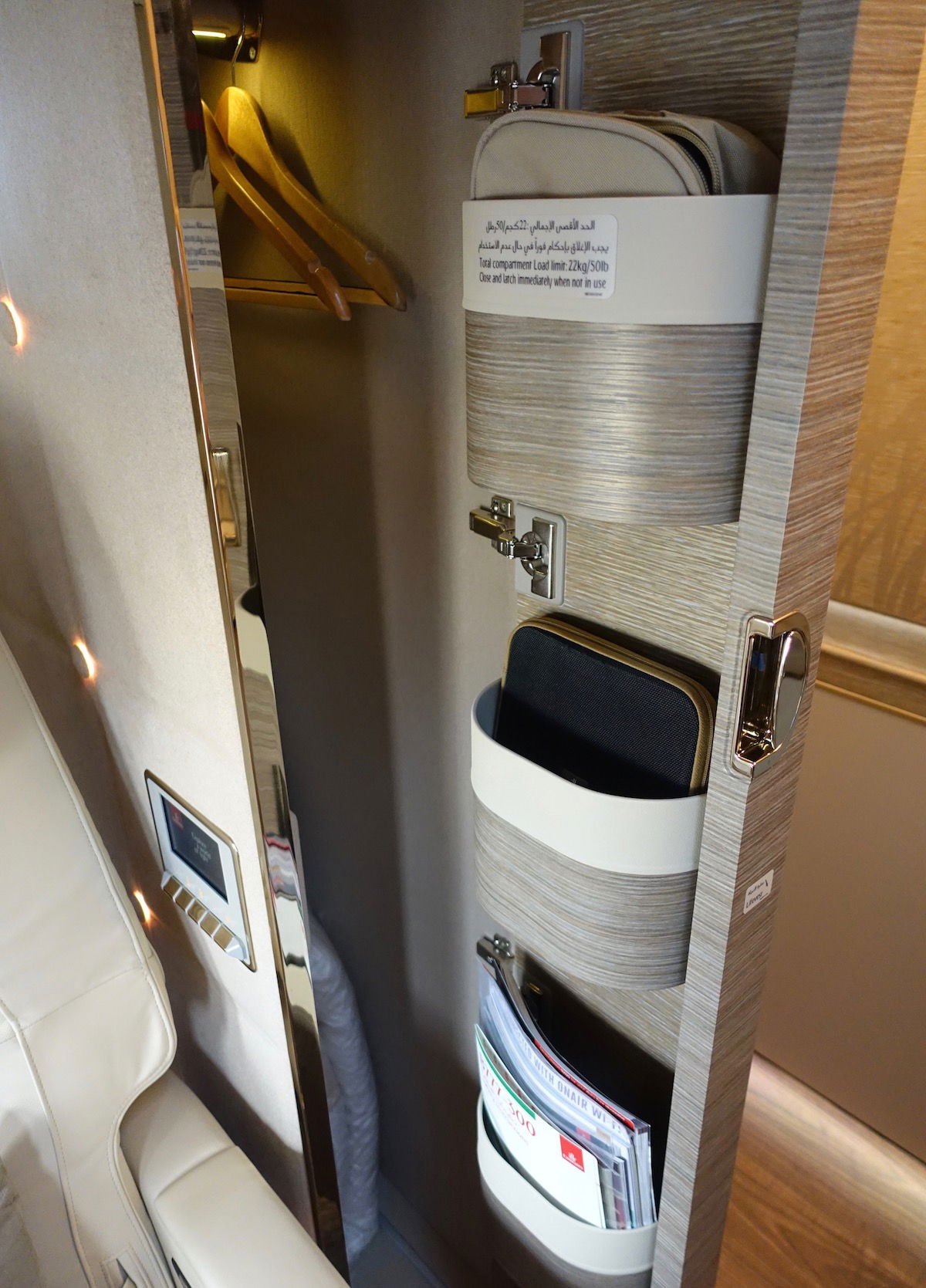 I tried the bed for a bit, and found it to be exceptionally comfortable. It was wide, spacious, and well padded. As far as I'm concerned it's one of the best beds in the sky.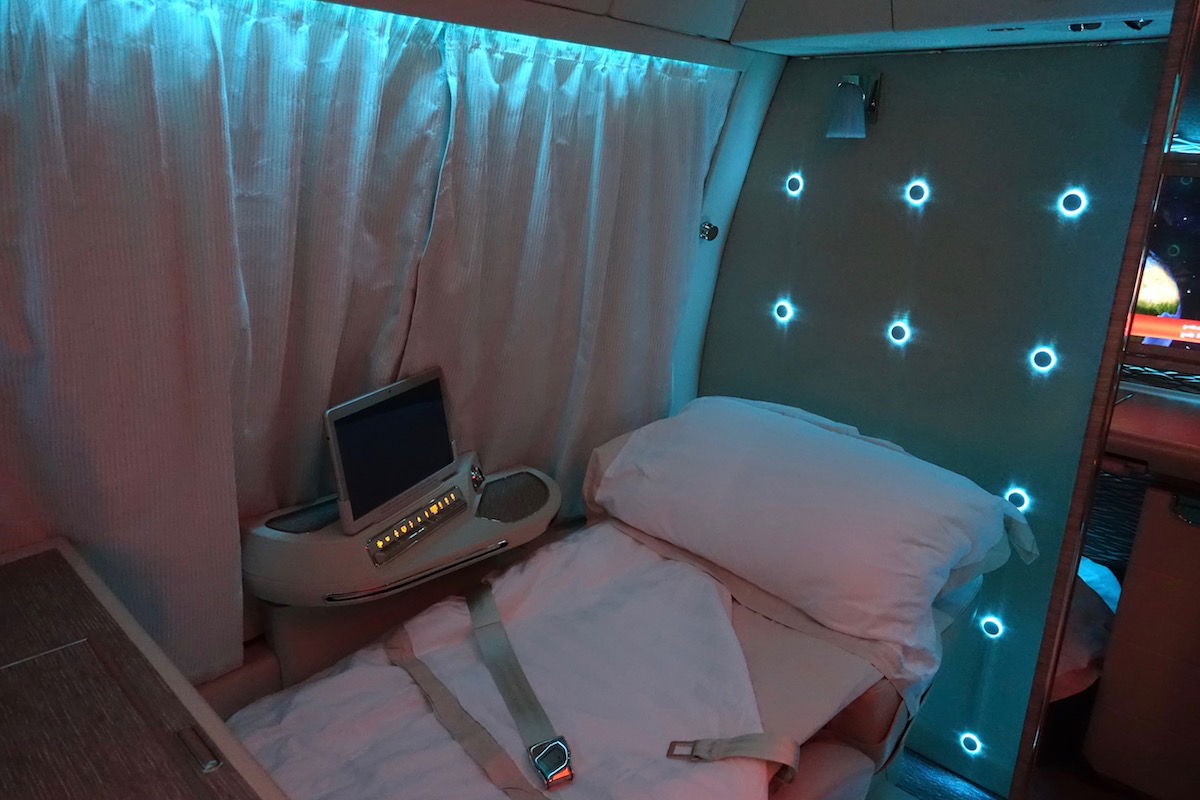 Emirates has also eliminated the disadvantage of being in a middle seat.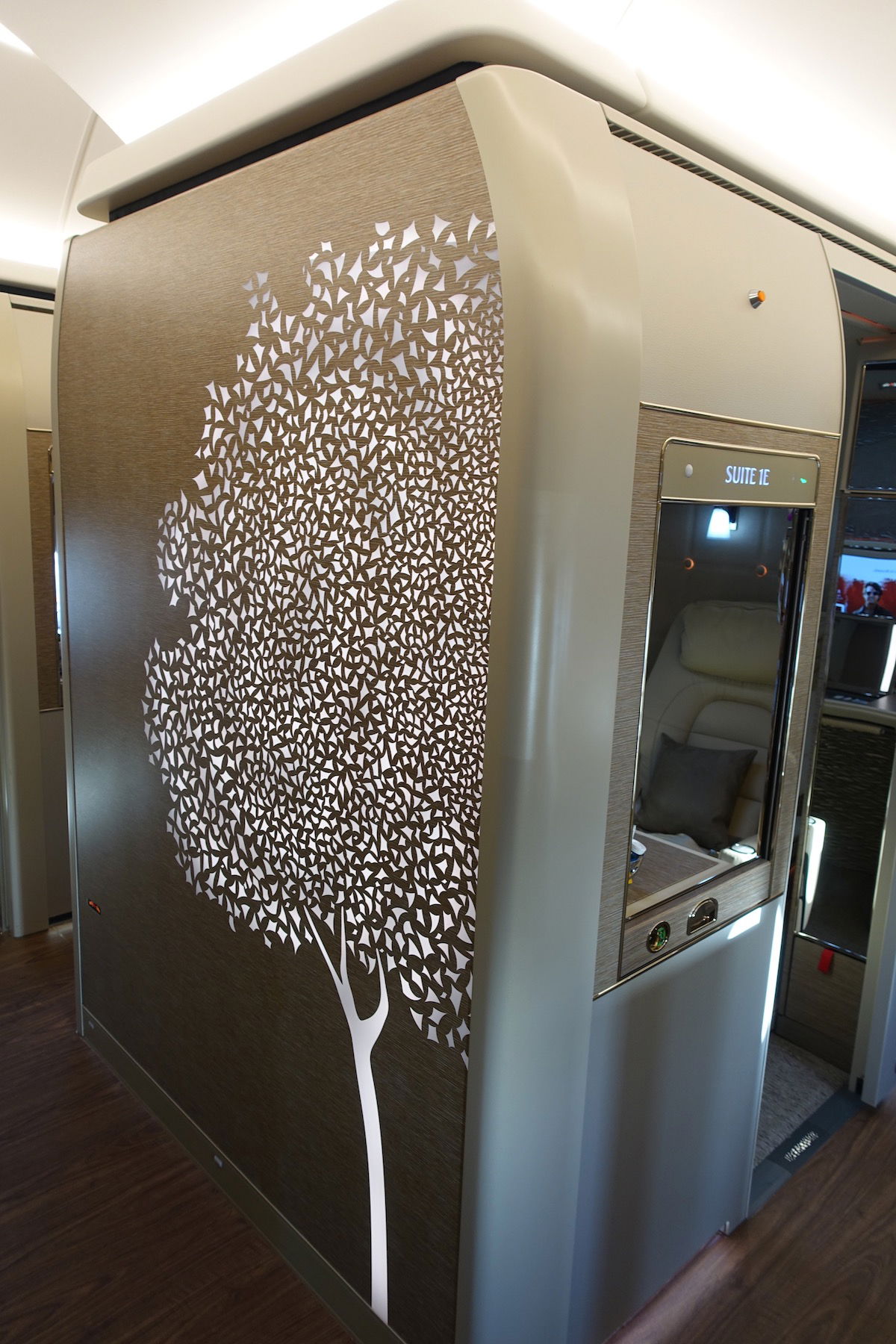 There are two suites in the middle, and they're actually marginally more spacious than the window seats (since the fuselage doesn't curve there), and they also have virtual windows, which is a novel concept that almost makes it worth selecting one of these seats over the usually superior window seats.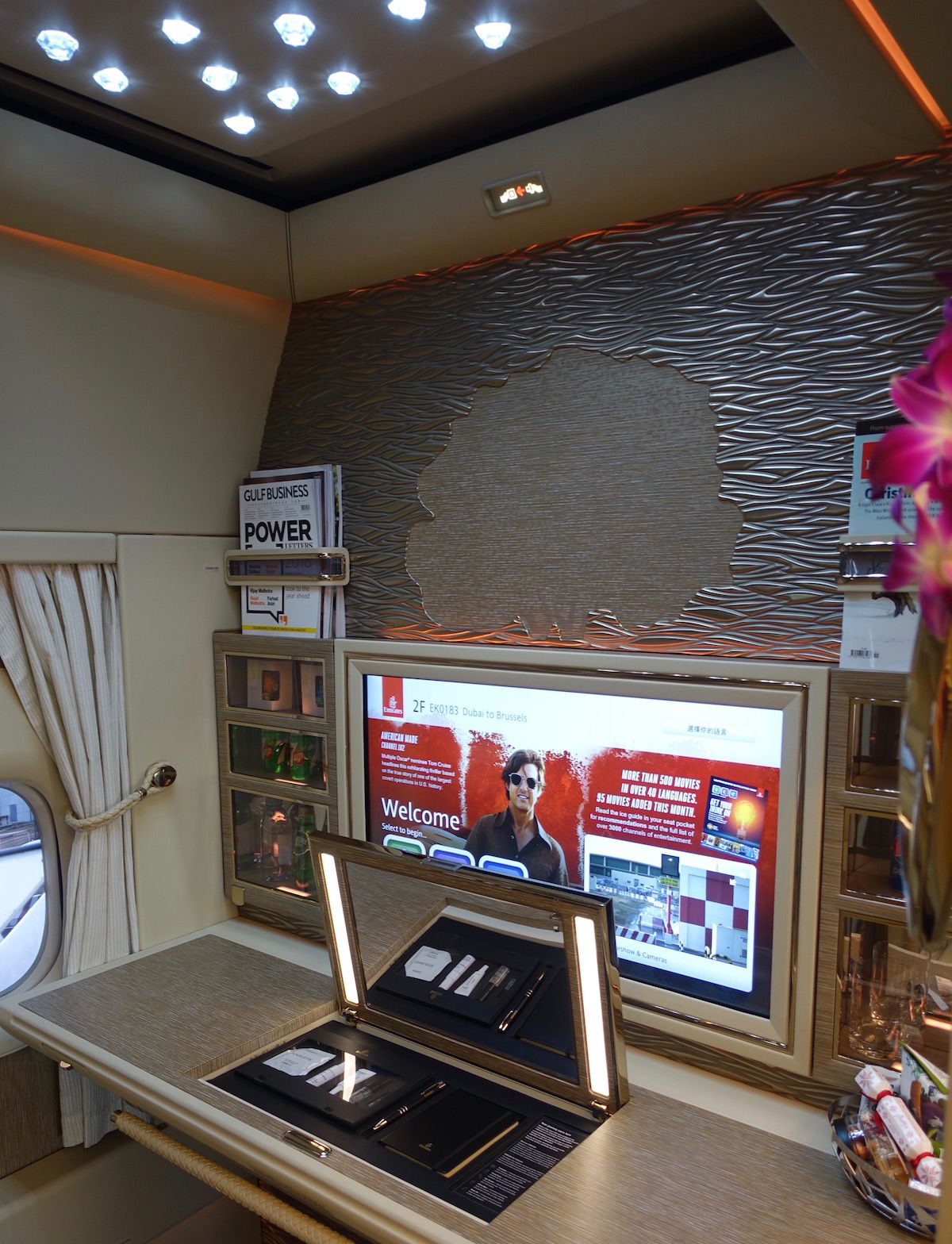 So, is Emirates' new first class a game changer (as the airline advertises), or is it a bunch of gimmicks? I definitely think it's a game changer, with a bunch of really cool gimmicks thrown in. While I haven't tried Singapore's new Suites yet (I will in a few weeks), this is by far the best first class hard product I've ever flown.
There's a very simple reason this product is a game changer. You have true privacy and customizability in a way that no other airline has ever offered in first class. That's largely thanks to the fact that you have a fully enclosed compartment. Why does that matter? You can make your compartment completely dark right after takeoff, even if others are awake and want to eat. Conversely, you can leave your window shades open without disturbing anyone else.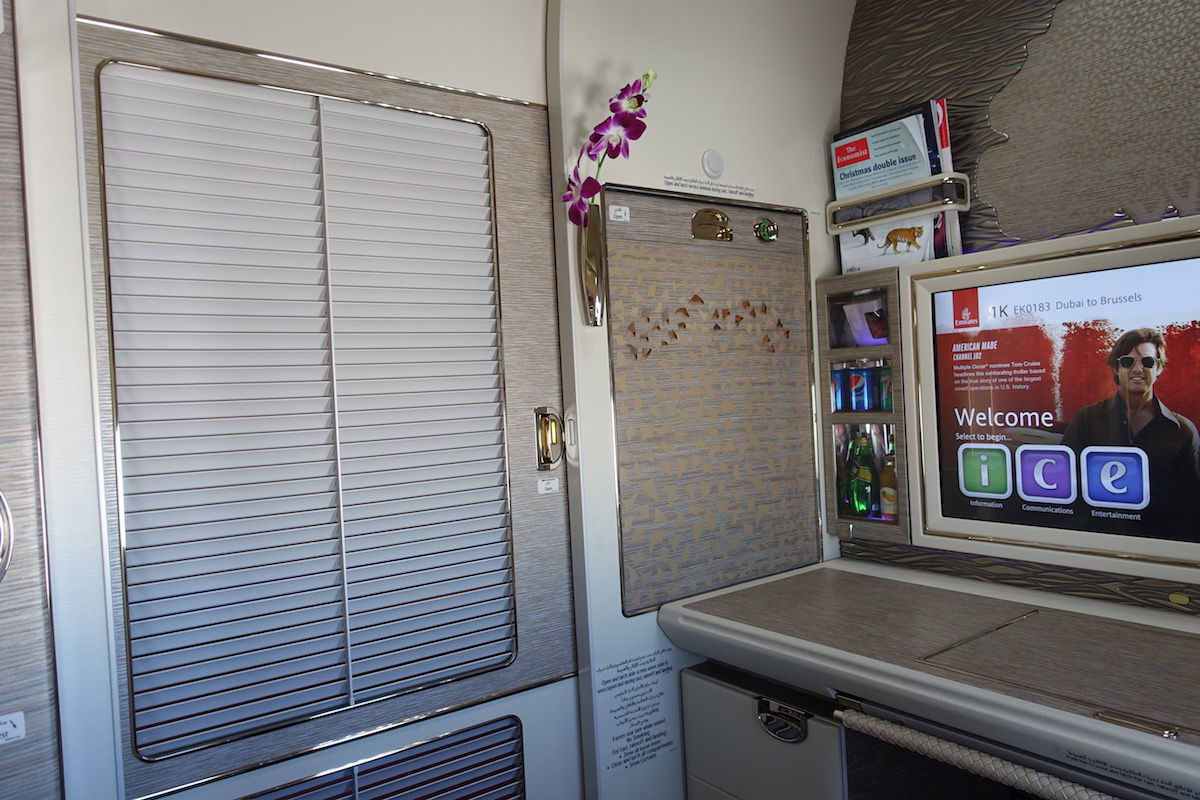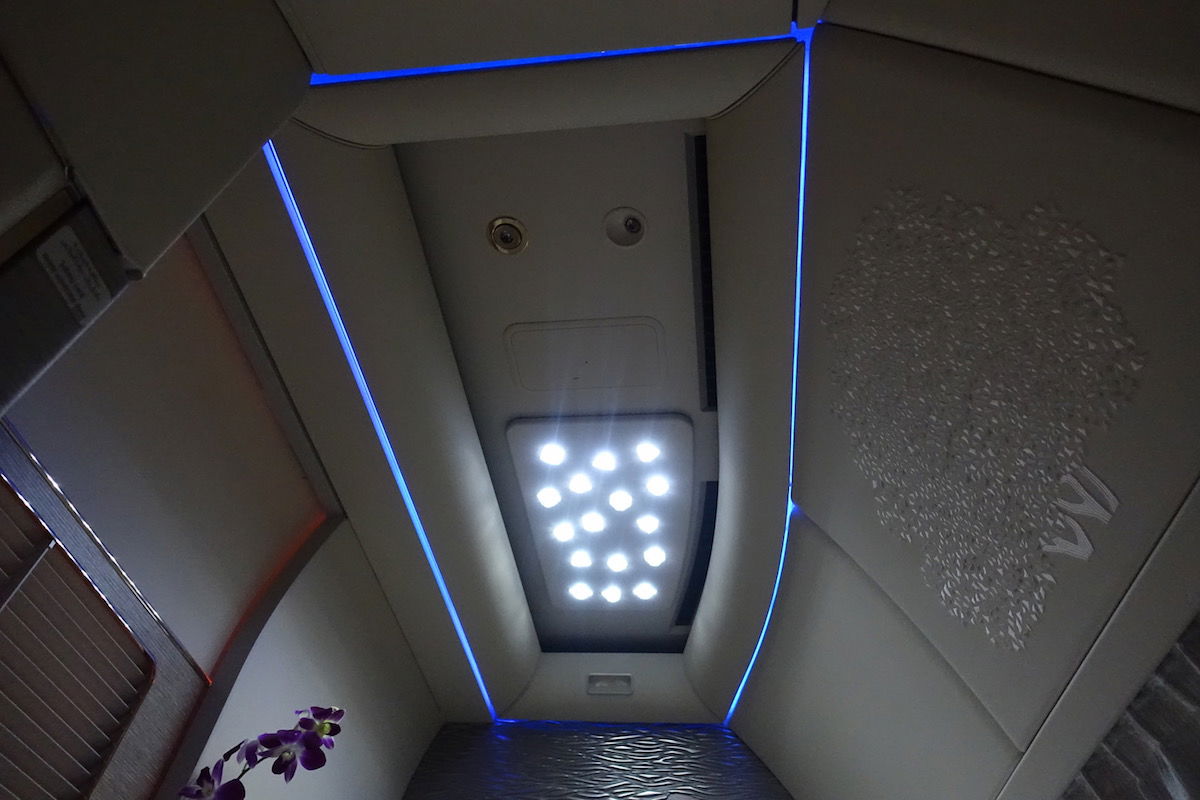 In first class your experience usually varies based on how full the cabin is, whether someone chooses to leave their window shade open when you sleep, etc. Even in first class, cabin lights are usually turned on a couple of hours before landing for the pre-landing meal, even if you want to keep sleeping. Even though first class on my flight was full, this was my first time ever not even realizing there were other passengers. The way I view it, this is a hybrid between a traditional first class product and Etihad's Residence, which is their private three room suite with butler service.
Very, very, very well done Emirates. You really put thought into every aspect of this seat.
I can't wait to try Singapore's new Suites in a few weeks and see how it compares, as I'm guessing these are now the two best first class hard products out there. My initial impression is that it probably won't impress me as much as Emirates' new product, because it's not fully enclosed, and because I question how functional the design is (the separate bed and seat look cool, but are they actually practical?).
What are your impressions of Emirates' new first class suite? Is it a game changer? Do you think Emirates' or Singapore's new first class product is better?