In late January India lifted their A380 ban. The ban was an attempt to protect local carriers from foreign competition. The reality was that local carriers weren't competitive to begin with, and that's the case regardless of whether the competition flies an A380 there or not. I mean, Jet Airways flies two 737s between Mumbai and Singapore daily. They can't compete with Singapore Airlines, regardless of whether Singapore Airlines is operating a 777-300ER or A380 on the route.
After the ban was lifted, the big question was which carrier would be the first to announce service. Most assumed it would be Emirates, given the amount of traffic they have to/from India. It wasn't. Instead Singapore Airlines was the first to announce scheduled A380 service to India.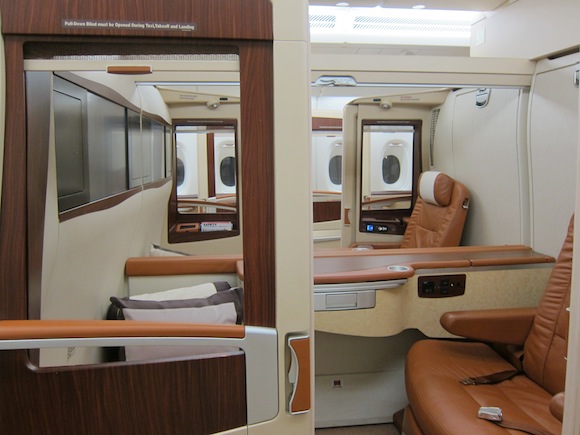 Singapore Airlines A380 first class
Specifically, as of May 30, 2014, Singapore Airlines will be launching once daily A380 service between Singapore and both Delhi and Mumbai. I'm kind of surprised they beat Emirates, given how much more service Emirates has to India than Singapore.
I'm booked on the inaugural flight in Suites Class, if for no other reason than the entertainment value of watching the ground handlers trying to pull the jet bridge up to the A380 for the first time ever.
It seems that Emirates won't be too far behind Singapore Airlines, and will launch A380 service to Mumbai as of July. Via Live Mint:
"Emirates plans to deploy an A380 on one of its existing daily services between Dubai to Mumbai, starting from July and is working closely with Mumbai Airport Authorities to make this deployment possible," Emirates said in a statement on Thursday. "In addition, we have plans to upgrade existing aircraft to larger capacity Boeing 777s to Delhi, Hyderabad and Mumbai starting from 1 June."
At just under 1,200 miles, this will definitely be one of the shorter A380 routes out there. Not quite as short as Emirates' new Kuwait A380 route, which will be the world's shortest A380 route at just ~500 miles.
Emirates hasn't yet loaded a schedule for the new service, though once they do I'll be sure to write a follow up post.
Tough to beat Emirates first class on such a short flight, especially with a shower!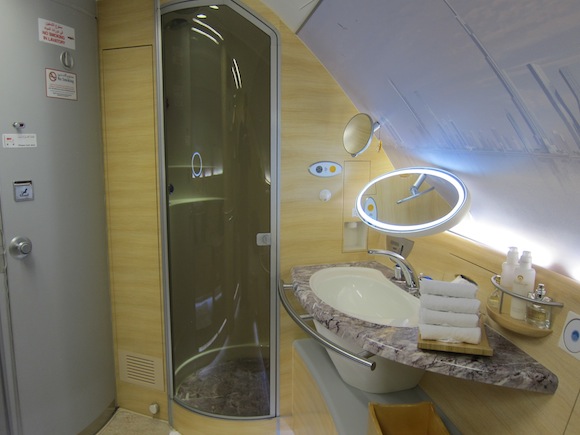 Emirates A380 first class shower