In late January India lifted their A380 ban. The ban was ridiculous, as it was an attempt to protect local carriers from foreign competition. The reality was that local carriers weren't competitive to begin with, and that's the case regardless of whether the competition flies an A380 there or not. I mean, Jet Airways flies two 737s between Mumbai and Singapore daily. They can't compete with Singapore Airlines, regardless of whether they're operating a 777-300ER or A380 on the route.
Beyond that, it's in India's best interest to have as many airline seats (and as much competition) into their country as possible. It makes airfare more affordable, which is ultimately good for locals and visitors alike.
Emirates, Lufthansa, and Singapore were the ones considering A380 service to India, and Delhi, Mumbai, Hyderabad and Bangalore are the four Indian airports equipped to handle the A380.
I certainly assumed Emirates would be the first to announce A380 service to India, though in fact Singapore Airlines beat them to it, and will be the first to commence A380 service on May 30, 2014.
As of May 30, 2014, Singapore Airlines will be launching once daily A380 service between Singapore and both Delhi and Mumbai. The A380 schedule will be as follows:
Singapore to Delhi:
SQ406 SIN-DEL 5:25PM-8:05PM
SQ403 DEL-SIN 10:05PM-6:10AM (+1 day)
Singapore to Mumbai:
SQ424 SIN-BOM 7:15PM-9:55PM
SQ423 BOM-SIN 12:25AM-8:20AM
In the process of flying A380s to India, they'll be reducing service on each route from three times daily to twice daily. So in the short term this actually represents a capacity reduction, as they're consolidating a 777-200 (266 seats) and 777-300ER (278 seats) into a single A380 (471 seats). Nonetheless it's a huge upgrade in terms of cabin comfort, and long term I'm sure this will lead to capacity increases.
Assuming you can find saver level award space, this means you can now redeem KrisFlyer miles for A380 Suites Class all the way from the US to India.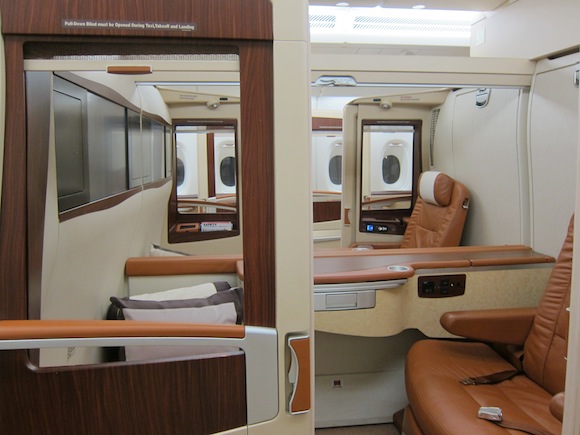 Singapore Airlines A380 Suites Class
The cost between the west coast of the US and India, for example, is 106,250 miles plus $505.26 (and that factors in the 15% online booking discount).
Anyway, I love India, so it's very exciting that they're finally getting some "proper" high capacity aircraft flying there!