Emirates has been making quite a few adjustments to their US flights lately.
In July Emirates will be taking the A380 off the Houston to Dubai route, replacing it with a 777. As of the same date, Emirates is adding a second daily A380 flight to Los Angeles. Emirates will also seasonally be downgrading their Dallas to Dubai route to a 777, though I wouldn't be surprised it that downgrade sticks, given that it's among the most poorly performing North American routes for the "big three" Gulf carriers.
Well here's a new aircraft "upgrade" announcement. Emirates will launch Airbus A380 flights between Washington Dulles and Dubai as of February 1, 2016. This replaces the existing Boeing 777-300ER operating the route, and represents a sizable capacity increasing.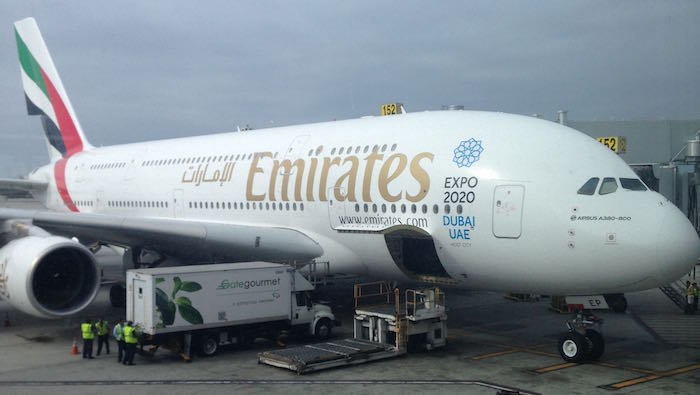 Emirates A380
The flight will continue to operate with the following schedule:
EK231 Dubai to Washington departing 2:20AM arriving 8:15AM
EK232 Washington to Dubai departing 10:15AM arriving 8:00AM (+1 day)
On one hand it's surprising they're upgrading this route with only a couple of weeks notice. On the other hand, they're launching the A380 flight less than a week after United is discontinuing their flight between Washington and Dubai. The nail in the coffin for United was that the GSA awarded the contract for the Washington to Dubai route for 2016 to JetBlue, through their codeshare flight with Emirates.
Emirates' President had the following to say about the service adjustment:
Sir Tim Clark, President Emirates Airline said: "Our service to Washington D.C. has been one of our most successful and profitable routes, with high demand across all cabin classes. Despite strong seat load factors, United has made the decision to withdraw from the route. The additional seats offered by our A380 will therefore restore capacity on the route, and ensure that American consumers and international travellers wishing to visit D.C. for business or leisure will continue to be served. We look forward to offering the award-winning Emirates A380 experience to our customers, and to continue contributing to the economic success of the city and its surrounding regions."
To put what he's trying to say another way:
😉
This aircraft change represents a nice upgrade for both first & business class passengers.
Emirates has a similar first class product on both the 777 and A380, though the 777 has only eight seats, while the A380 has 14 seats.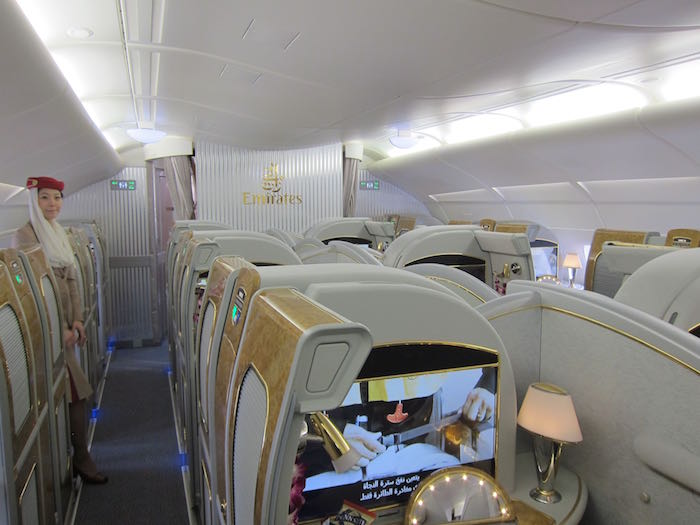 Emirates A380 first class cabin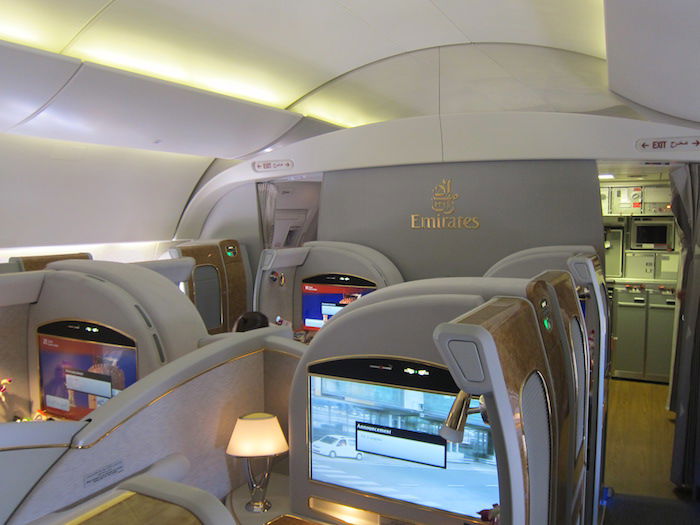 Emirates 777 first class cabin
The major difference is that 777 first class doesn't have a shower suite, and also doesn't have an onboard bar (which both first & business class passengers have access to).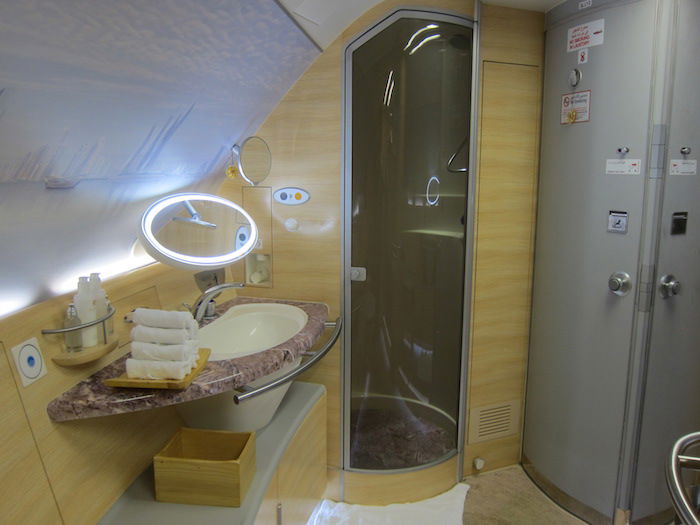 Emirates A380 first class shower suite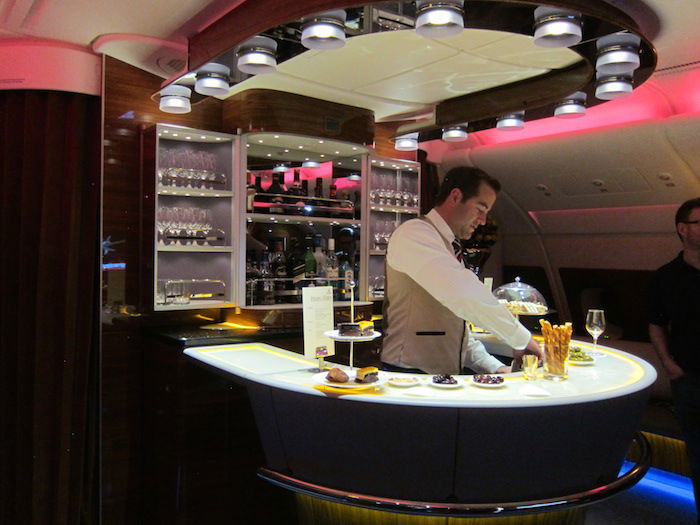 Emirates A380 bar
For business class passengers, Emirates has fully flat seats with direct aisle access in business class on the A380.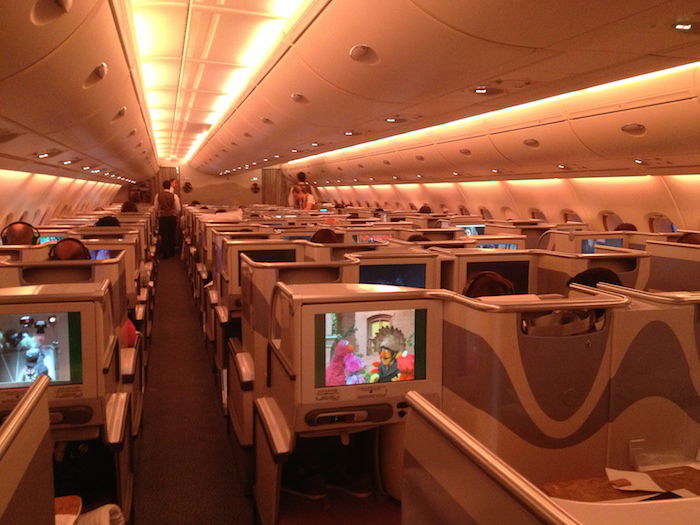 Emirates A380 business class
Meanwhile on the 777 they have angled seats with seven seats per row, meaning there's a middle seat in business class.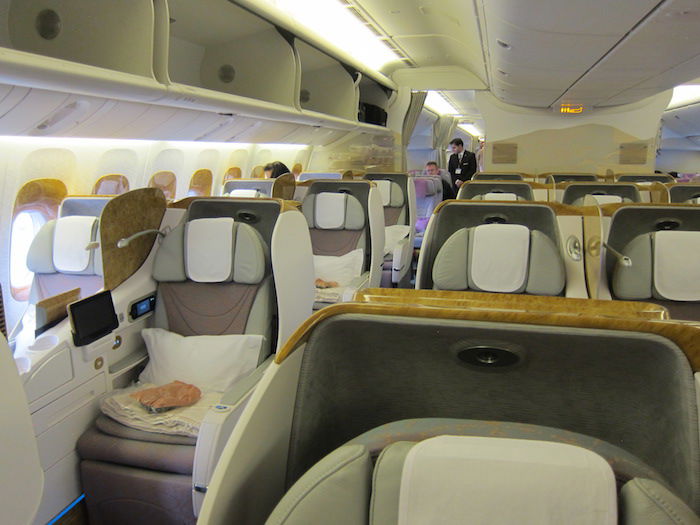 Emirates 777 business class
Bottom line
This is great news for travelers. On one hand I'm sort of surprised by the route upgrade, since this flight rarely seemed to be full. Even with the new GSA contract, the 777 still likely wouldn't have been full all the time. Still, Emirates has a lot of A380s to "play" with, so I'm not surprised to see the route upgraded.
Award availability on the route was excellent to begin with, and I suspect it will only get better with the A380 flying it.
Are you excited to see Emirates fly the A380 to Washington Dulles?