If you've been reading OMAAT for a while, you've probably figured out that we're rather big Hyatt homers around here. Ben, Tiffany, and I are longtime Hyatt Globalists, while Mike recently completed a status match. Sure most of us have status with other hotel chains as well, but I think that if you told any one of us that we could only keep one hotel status going forward, we'd all stick with Hyatt.
That said, there is one reader who continues to take umbrage with our Hyatt-ism. Perhaps the most devoted Hilton fanboy on the planet, DCS loves to tell us that we're all wrong and that Hilton actually has the best program. He swears that he gets upgraded to a suite on virtually every stay despite the fact that the Hilton program promises nothing of the sort.
I know this has been real head-scratcher for Ben to the point that he recently matched to Hilton Diamond just to experience it for himself. Since suite upgrades are probably the single most important factor in my choice of hotel loyalty programs, I thought it might be useful to share a little of my own analysis and why we've stayed with Hyatt for the past several years.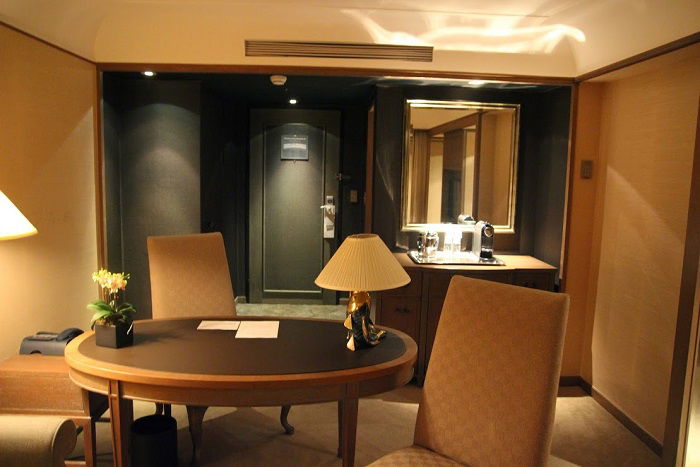 Grand Hyatt Seoul Suite (as a Hyatt Globalist)
Now before I get started, let me say that I have a great deal of respect for DCS and that I have no doubt that he is telling the truth.
As a fellow academic, I really appreciate his steadfast conviction and willingness to continually defend his position in thread after thread after thread. Of course I still don't follow his logic for valuing Hilton points, but then again, I usually need to read a journal paper at least six times before I start to understand what the hell is going on. And yes, I'm pretty sure that DCS has published journal papers on this topic. But I digress.
I'm just going to focus on the suite upgrade aspect in this analysis. That's it. I'm not going to think about club access, breakfast benefits, late checkout, or the fact that there are about 100 times more Hiltons in the world than Hyatts.
All that matters is how often I can get a suite without actually paying for one.
First, let's break down what the major chains say about suite upgrades for their top tier members.
World of Hyatt
Hyatt offers their top Globalist members four confirmed suite upgrades each year.
That means you can book a regular room on a revenue or cash-and-points rate, apply a Globalist Suite Upgrade, and then be confirmed in a suite at the time of booking. The hotel does need to have availability in the designated level of suite — and sometimes that suite isn't all that great — but otherwise it's a very legit benefit.
Note that DCS likes to play semantics with confirmed versus confirmable, the latter of which merely means that it can be confirmed, rather than it has been confirmed. Since there is no ability to waitlist for a suite in the Hyatt computers (hey, these guys can barely keep their server running), they either confirm immediately or you can't apply it. So you either end up confirmed in a suite, or you don't. There is no confirmable-but-not-yet-confirmed state commonly known as purgatory.
Hyatt delivers more or less what they promise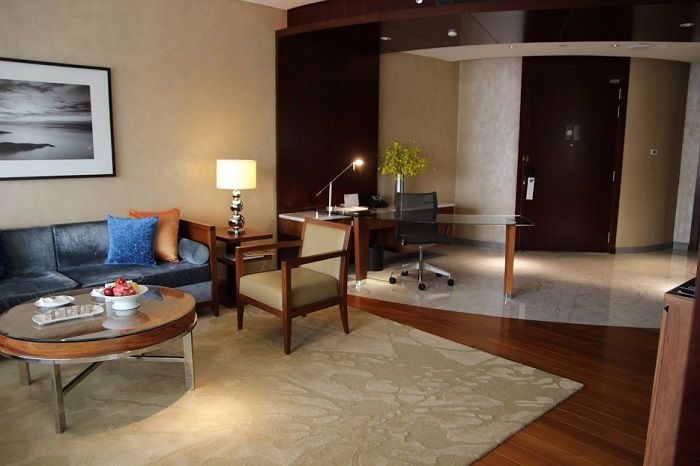 Grand Hyatt Kuala Lumpur Suite (as a Hyatt Diamond)
Starwood Preferred Guest
Starwood takes a different approach to suite upgrades for their top members. They state that one of their platinum benefits is "an upgrade to best available room at check-in — including Select Suites." That sounds grand in theory, but supposedly it doesn't always happen. Or you have to ask. And be persuasive. Or tweet them.
They do have some version of confirmed suite upgrades for Platinum Premiers, who stay 50 nights per year. These only confirm five days prior to check-in, however, rather than at the time of booking like over at Hyatt.
In other words, you might actually call these confirmable, rather than confirmed, given that they may or may not actually, you know, confirm.
Starwood promises a lot and sometimes delivers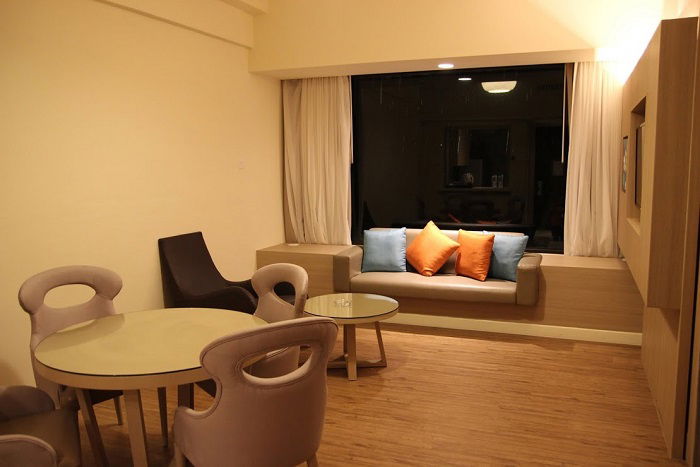 Four Points Penang Suite (as an SPG Gold)
Hilton Honors
Hilton takes an entirely different approach to suite upgrades, or perhaps it is no approach at all. They don't actually promise anything.
Complimentary room upgrades for Gold and Diamond Honors members may include the next-best available room from the room type booked.

Upgrades may also be rooms with desirable views, corner rooms, rooms on high floors, rooms with special amenities, or rooms on Executive Floors, as identified by each property. Room upgrades, for Diamond members only, may also include suites.
See, they manage expectations by saying may include suites. As in your upgrade may not. In which case you have nothing to complain about it.
DCS is actually very transparent about his approach and it's actually quite simple. He just asks for the upgrade. If they hesitate, he reminds them of how great a customer he is, that if they move him to a suite they'll have another cheaper room to sell, that his bow tie matches the decor of their largest suite, and so on and so forth. It seems that he always has some reason for why they should upgrade him. And apparently it works.
Hilton doesn't promise anything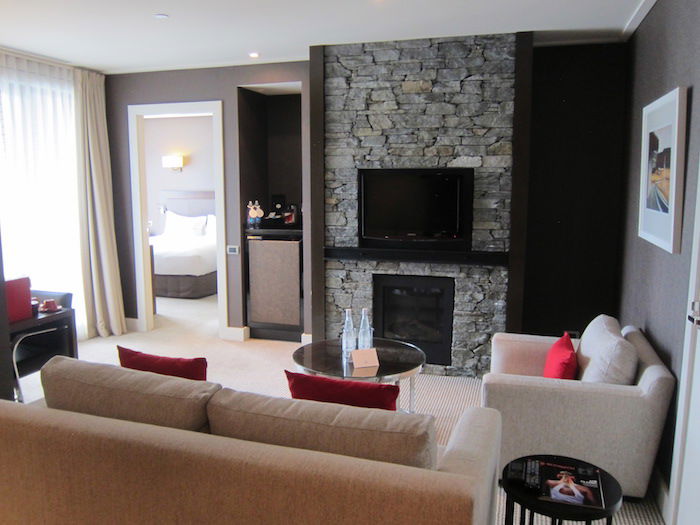 Hilton Queenstown Suite (courtesy of Ben as Hilton Diamond)
Pick Your Pleasure
The question then is which would we rather have:
Four confirmed upgrades per year as a Hyatt Diamond
Unlimited upgrades as an SPG Platinum
No promise of an upgrade whatsoever as a Hilton Diamond
I'm usually an all-you-can eat kind of guy, so SPG Platinum is very tempting. We almost always travel with our kids so having the extra space — ideally with some sort of divider… like a door — can make the difference between going to bed at 8pm and having some adult time.
We also have a lot of one night stays, way more than four Hyatt Globalist suite upgrades can cover.
At this point, you are probably screaming for us to choose Starwood.
You Don't Get What You Don't Ask For
We actually get lots and lots of suite upgrades at Hyatt properties just for the asking.
In general, if it's a one night stay, I don't even bother applying a Globalist Suite Upgrade to the room unless I have certs that are about to expire. Instead, I just assume that I'll get an upgrade at check-in — either because they have proactively upgraded me, or because I politely asked for it.
Since I usually have a GSU in my account, I figure I can always offer to use one if they get technical about it. Like if I ask for a suite upgrade, and they offer it to me for $100, I can then just tell them to deduct a GSU. The key is that it's not all that easy for them to do that — they have to actually call Hyatt Gold Passport and have them do it. (Hyatt and IT, you know.) Plus, to my knowledge, the hotel doesn't actually get any compensation for the GSU you used at their property, so there's no real motivation for them to phone it in.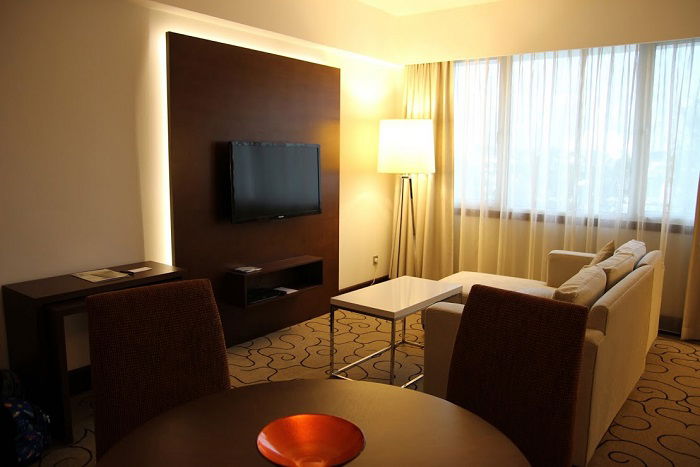 Radisson Brunei Executive Suite (as a Carlson Gold)
So what do we do with our Globalist Suite Upgrades?
We usually use our GSUs on international trips. These stays are often for multiple nights when it's generally harder to get a complimentary suite upgrade. Or the local culture may prevent the front desk staff from upgrading you, as I've heard is commonly the case in Korea and Japan.
International or multiple nights = GSU
Domestic or one night = take our chances
Bottom Line
I think that top elites are similarly likely to get a complimentary suite upgrade regardless of the chain.
In the case of Hyatt or Hilton (or Marriot or IHG) you'll probably have to politely (or persuasively) ask for it. With Starwood, you might get it automatically, or you might have to bust out the terms and conditions. But in the end, I actually think the odds are probably close to the same.
The difference then is that Hyatt also gives you four Diamond Suite Upgrades. You can use your GSUs when it really matters to you and play the suite lottery the rest of the time. It's the best of both worlds.
And this is the part that DCS and others miss. He fixates on the four official upgrades without considering that he'd likely still get all his usual complimentary upgrades too.
And frankly, if I were only getting four suite upgrades a year with Hyatt, I'd jump ship in a heartbeat. But it's really way better than that.
It's sort of unlimited + four
And that's why we stick with Hyatt (and breakfast is nice too. But I said I wasn't going to talk about that).
What do you think? Which suite upgrade program do you find the most compelling? Do you ask for upgrades at check-in?