Yes, perhaps it's a sad reflection of my life, but I actually feel allegiance to certain loyalty programs. There are programs I love and then programs I trust. There are several programs that fall into each category, but very few that fall into both.
World of Hyatt, for example, is one of the few programs I love and trust. They offer great benefits, and I trust that they deliver on them and also communicate major changes in advance.
I don't take it personally when a program devalues. It's just business. What I do take personally is when a program devalues without notice. Because that's just not how loyalty should work, in my opinion.
Similarly, I don't care if I never get another suite upgrade at a hotel again. I do, however, care if I'm lied to by a hotel about a published benefit.
Starwood's Platinum suite upgrade policy
Starwood has one of the more generous published suite upgrade policies of any program for their Platinum Premier members:
Upgrades to best available room at check-in, including Standard Suites.1

Subject to availability at check-in for the entire length of the stay, provided the room was not booked through a pre-paid third-party channel. Specialty Suites such as, but not limited to, premium view, Presidential, Honeymoon, and multiple bedroom suites are excluded. This benefit does not apply to all-suite hotels. Best rooms are identified by each property and may not include upgraded Towers level accommodations unless Towers level accommodations were booked originally. The upgrade benefit is available for one room for the personal use of the Member only, regardless of the number of additional rooms purchased by the Member. This benefit is not offered at Aloft and Element properties.
So at the time of check-in you're promised the best available room, up to a standard suite.
Booking the St. Regis Abu Dhabi
I'm in Abu Dhabi this week, and just checked into the St. Regis Abu Dhabi.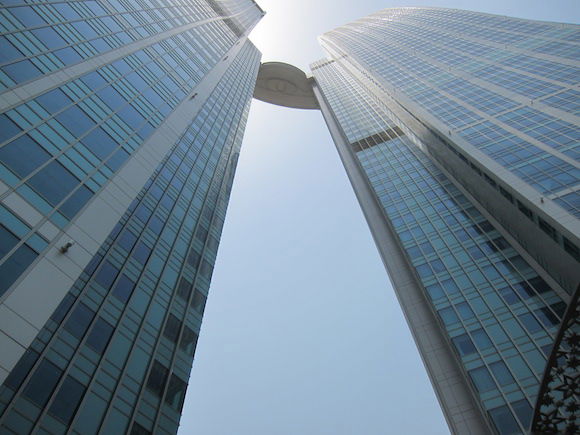 St. Regis Abu Dhabi
As I outlined last week, luxury hotels in Abu Dhabi are dirt cheap in summer. The St. Regis Abu Dhabi is presently offering a third night free when booking through American Express Fine Hotels & Resorts.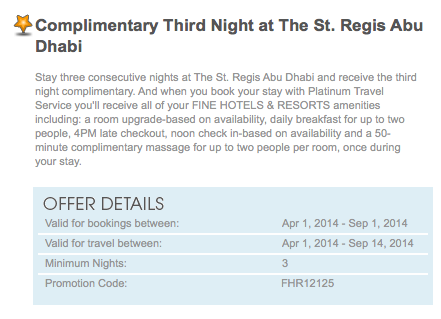 The flexible rate for the hotel is $185USD per night, not factoring in the third free night. So I'm basically paying $120USD+ per night for a St. Regis. Ridiculous, right?

In addition, the benefits for booking through Fine Hotels & Resorts are as follows:
Room upgrade upon arrival, when available
Daily full breakfast for two
Complimentary massage for up to two people, once during your stay
Noon early check-in, upon availability
4:00 pm guaranteed late check-out
But there's a reason hotels are so cheap this time of year — they're empty, because no one in their right mind would want to visit this time of year.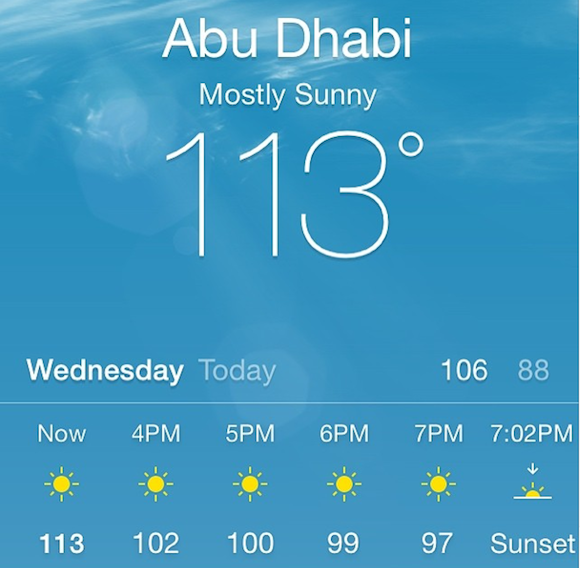 My check-in experience at the St. Regis Abu Dhabi
So I went to check-in today, and before heading to the hotel I noticed that they were still selling every single type of suite on the website, and lots of them.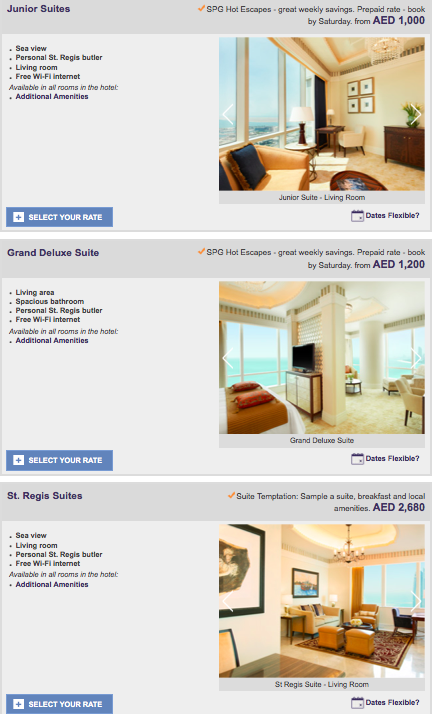 At this hotel the St. Regis Suite is the highest standard suite category, and they were selling nine junior suites and nine St. Regis Suites this morning, which is the highest number of suites that will show on spg.com.
At check-in I was helped by an associate who quickly processed my check-in.
Our conversation went something like this:
Associate: "Your room isn't quite ready yet, if you take a seat in the lobby I can let you know once it's ready."
Me: "No problem, do you know what kind of a room it is?"
Associate: "We have upgraded you to a sea view room."
Me: "Do you by chance have any Starwood Platinum suite upgrades available?"
Associate: "You booked through Fine Hotels & Resorts, so we only upgrade you one level."
Me: "So you're saying Platinum benefits don't apply on Fine Hotels & Resorts stays?"
Associate: "You get other benefits through American Express."
This directly contradicts the terms and any experience I've ever had with a Fine Hotels & Resorts booking. The terms clearly state that only third party pre-paid bookings don't qualify for upgrades. If anything, I've actually received better upgrades as a result of both having status and having booked through Fine Hotels & Resorts. The benefits are supposed to be stackable.
Me: "So if I cancel my booking and rebook on spg.com right now do I receive a suite upgrade then?"
Associate: "Maybe we can upgrade you to a junior suite then."
Me: "Okay, but not a St. Regis Suite?"
Associate: "No, we have none of those available."
Me: "I'm not trying to be difficult, but spg.com is still selling at least nine St. Regis Suites for tonight. If they're not available, what would happen if I were to book one?"
I really didn't want to be difficult but did genuinely want clarification, so asked for the front office manager. I wanted to know:
Is it true that the hotel doesn't honor Platinum benefits on Fine Hotels & Resorts bookings (which contradicts the terms & conditions and would be useful to know so I can tell people to stay away from this property)?
There are a minimum of nine St. Regis Suites for sale, so is there legitimately a massive availability discrepancy, or are they going out of their way not to give these to Platinum members?
The front office manager was with another guest, so it was 15 minutes before he could talk to me, which was fine. Once he was ready he backpedaled somewhat on what his colleague said:
They do honor Platinum benefits on Fine Hotels & Resorts bookings.
The (at least) nine St. Regis Suites which showed for sale online were blocked for other guests. He explained that they would upgrade someone that booked a Grand Deluxe Room to a St. Regis Suite, for example. I suppose that's one interpretation of Platinum benefits — not how I would interpret it, but fair enough.
So I was invited to enjoy a drink in the lobby lounge while they prepared my junior suite.
In the meantime I Tweeted the hotel, since I didn't think my message was getting through. My issue wasn't with the lack of an upgrade, but rather the misinformed associate:
@spg @StRegisAbuDhabi Your front desk needs serious training. First told Platinum benefits don't apply for Fine Hotels & Resorts bookings.
I don't care if I never get another suite upgrade in my life, I'd just rather not feel like I have to beg for something that they promise me in exchange for my loyalty.
Within about 30 minutes my junior suite was ready, and I was escorted to it. About 10 minutes after I got to the room the front office manager called me and told me a St. Regis Suite just opened up, and offered to move me.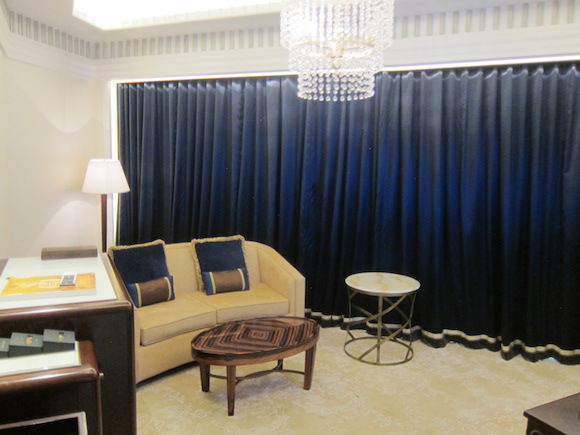 Junior Suite St. Regis Abu Dhabi
So in the end I did get a suite.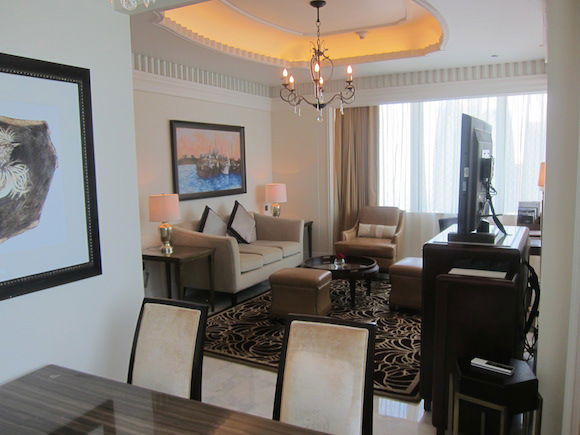 St. Regis Suite St. Regis Abu Dhabi
Clarifying what irked me about the situation
I'd like to clarify a few things:
In the grand scheme of things this doesn't matter. I would think this goes without saying, but someone always has to bring it up. One of my main goals with this blog is to help you guys make the most of your airline and hotel experiences. Not everyone has as much travel flexibility as I do, so the reason I review so many airlines and hotels is so that when you go on vacation with your valuable time, you're making the most of it.
There are a million problems in the world, and this ain't one of them! At the same time, if you're a Starwood Platinum member and in the area, chances are this data point would be useful. So take it at face value.
It's not about the suite upgrade… it's about the managing of expectations. If I never got another suite upgrade at Starwood in my life I would still be loyal to them, because there are enough other great things about staying with them. I'm also loyal to Hyatt, and they don't offer unlimited complimentary suite upgrades based on availability, but I still love them. Because my expectations are well managed.
If all room types were sold out last night and I just got a standard room facing a dumpster I would've been fine with that, because I got exactly what I was entitled to. But it just rubs me the wrong way when I'm loyal to a chain, they offer "unlimited suite upgrades based on availability," the hotel is selling as many rooms as possible of those eligible suites, and then denies you on multiple reasons, most of which have no basis.
I don't blame the associate. This is the most important point, and why I'm blogging about this. I don't want to get the associate in trouble, because I genuinely don't think it was her fault. The tone of the hotel when it comes to elite treatment is very much set by management. If they tell an associate to look at all room inventory when a Platinum checks in and to give them the best available room up to a standard suite, chances are that the associate will.
If they tell an associate to do everything they can to avoid providing upgrades, chances are the associate will. It's not Starwood's fault. It's not the associate's fault. At the end of the day it's up to the hotel's management to set their policies, so I suspect that's what's at play here.]
Bottom line
All things considered I still love Starwood. They have good hotels and elite recognition is generally excellent. That being said, I do consistently have issues with hotels following Starwood's policy on suite upgrades.
I'm curious, what would you have done in this situation? Taken the sea view room, escalated it, or something else?