Several weeks ago EgyptAir announced that the airline will be launching flights between Cairo and Washington Dulles as of June 3, 2019. The airline will operate the flight 3x weekly, with the following schedule:
MS981 Cairo to Washington Dulles departing 11:30PM arriving 5:40AM (+1 day) [Mon, Wed, Fri]
MS982 Washington Dulles to Cairo departing 12:00PM arriving 4:50AM (+1 day) [Tue, Thu, Sat]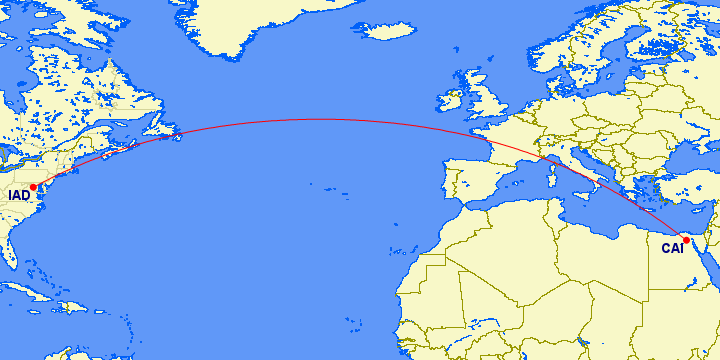 This only represents EgyptAir's second route to the US (after New York JFK), and third route to North America (as they also fly to Toronto). What's most exciting about the route to me is that EgyptAir will use a 787-9 for their Washington Dulles route.
EgyptAir is just about to take delivery of their first of six 787-9s, and this will be the first longhaul route that's scheduled to feature the plane. While EgyptAir hasn't yet revealed pictures of their new business class, we know that they'll offer reverse herringbone seats, which are a huge improvement over their current business class seats.
What we do know is that EgyptAir is very excited about the plane, and they've spent a lot of money creating accurate computer representations of what the plane will look like landing.
Anyway, while EgyptAir's flight to Washington has now been on sale for a few weeks, up until now the airline hasn't made any business class award seats available. That has finally changed.
EgyptAir now seems to have three business class award seats available between Cairo and Washington every single day the flight operates. This availability was loaded in the past 24 hours, so I'm quite excited about that.


As far as award pricing with some major programs, you can expect to pay the following for one-way business class between the US and North Africa:
Air Canada Aeroplan: 82,500 miles
Avianca LifeMiles: 78,000 miles
United MileagePlus: 85,000 miles
The great thing is that EgyptAir has a robust route network in the region, so this can be a great way to get to other points in Europe, Africa, Asia, etc.
There's potentially even a way to get significantly lower pricing. For example, I really want to review EgyptAir's 787 business class, and I know exactly how I'll do so. I'm going to Greece this summer.
I could book a one-way ticket from Washington to Cairo with Aeroplan miles for 82,500 miles:

Or I could book a one-way ticket from Washington to Cairo to Athens with Aeroplan miles for 57,500 miles:

This is possible because many programs charge based on your origin and destination, even if you transit a more expensive zone.
Anyone else plan to book a business class award on EgyptAir's 787 to/from Washington?