I don't envy the jobs of those who work in airline social media. People are generally grouchy when they fly, and people are even more willing to be mean online than in person. That being said, stuff that is posted online is "forever" (even if it's deleted later), so it's important for those who work in social media to think twice before they correspond.
I'd say that EasyJet today turned a non-story into a story with how they handled things.
A Twitter user posted about how an EasyJet plane traveling from London to Geneva had a row of seats without seatbacks, asking the question of how this can be allowed. As it turns out, he wasn't actually on the flight — his partner was, and sent the picture to him.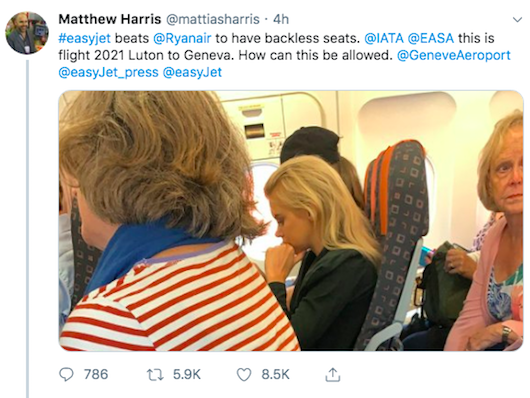 Here's a close-in of the picture: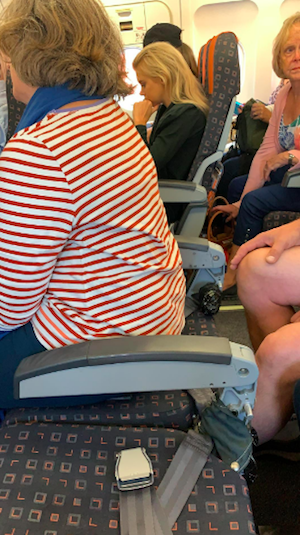 How did the airline respond? Rather than reassuring the person or providing an explanation, they requested that he delete the picture before they can investigate it, then asking him to DM them more information.

That's not how that works, EasyJet:
It's normal for airlines to want to take things out of the public eye and into DMs, so that it isn't so public
It's bad enough to suggest that the person needs to delete the picture, but to say that it needs to be deleted before they can investigate? Really?
EasyJet didn't seem to understand that the person who posted the picture had the upper-hand here.
If EasyJet hadn't handled it this way, I'd say this is a total non-story. Occasionally airline seats break, and they're taken out of service. Based on everything I've read, the passenger was asked to just sit there during boarding, and then they were going to figure out where to seat her.
My guess is that:
While the airline knew those seats were out of service, something got mixed up, and the airport staff weren't told not to seat people there
When the passenger boarded and arrived at the seat, it was easier to just ask her to stay there for a moment while they figured it out, rather than getting her to "swim upstream" back to the door, which is nearly impossible during boarding
I have no reason to believe the airline would have allowed anyone to actually sit there during takeoff or landing; by all accounts EasyJet has an excellent safety record
But c'mon EasyJet, this simply isn't how you handle a situation like this. There are planes like this flying every day, and it's a non-story. It's only when it's handled like this that it becomes a story.
(Tip of the hat to @involupgrade)