Eastern Airlines will soon be launching its first scheduled flight between the US and Mexico, and it's a route that I think could do quite well.
What is Eastern Airlines?
Eastern Airlines is a US airline that operates a fleet of Boeing 767s, and now even has a 777 in its fleet. The airline has a long and rather confusing history:
Many may be familiar with the original Eastern, which was a major US airline from 1926 to 1991
In 2015, rights to the name of the airline were purchased, and Eastern started flying 737s to the Caribbean, including Cuba; less than two years later the airline went out of business
In 2017, charter airline Swift Air acquired Eastern
In 2018, Dynamic International Airways acquired the Eastern name upon exiting from bankruptcy, and rebranded as such
So yeah, super simple history, eh? 😉
Eastern's New York to Cabo San Lucas flight
Eastern Airlines is expected to launch 2x weekly flights between New York and Cabo San Lucas as of August 29, 2020. The flight is expected to operate on Wednesdays and Saturdays with the following schedule:
Eastern 240 New York to Cabo San Lucas departing 9:20AM arriving 1:30PM
Eastern 241 Cabo San Lucas to New York departing 3:30PM arriving 11:40PM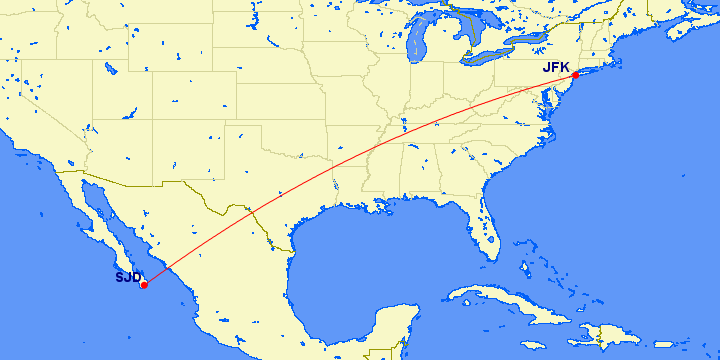 The flight covers a distance of 2,408 miles in each direction, and is blocked at 6hr10min westbound and 5hr10min eastbound.
Eastern Airlines will use a Boeing 767-300 for the route. These planes have business class, and since most of them used to fly for Qantas, they still have the same business class seats they had at the time. Expect them to be similar to what you'd usually find in domestic first class.
How expensive are fares?
These flights are now bookable on Eastern Airlines' website, though as of now reservations only seem to be open for travel starting in November. Fares are all over the place, and start at ~$200 roundtrip, which is a phenomenal deal.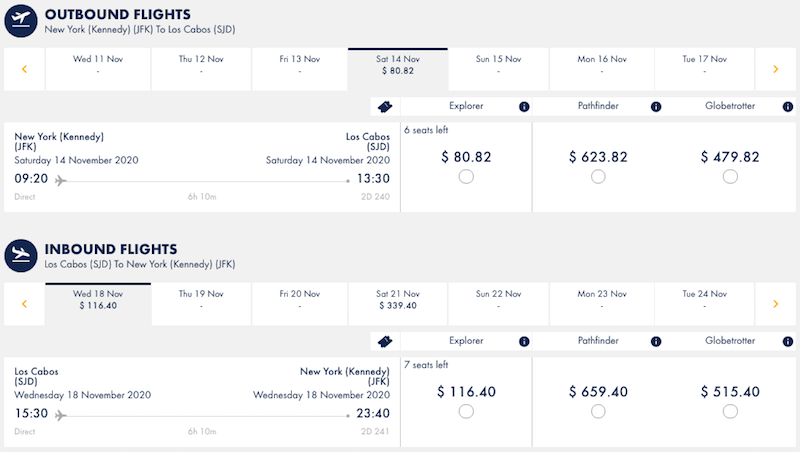 However, that's just introductory pricing, and in December I see fares starting at $650+ roundtrip.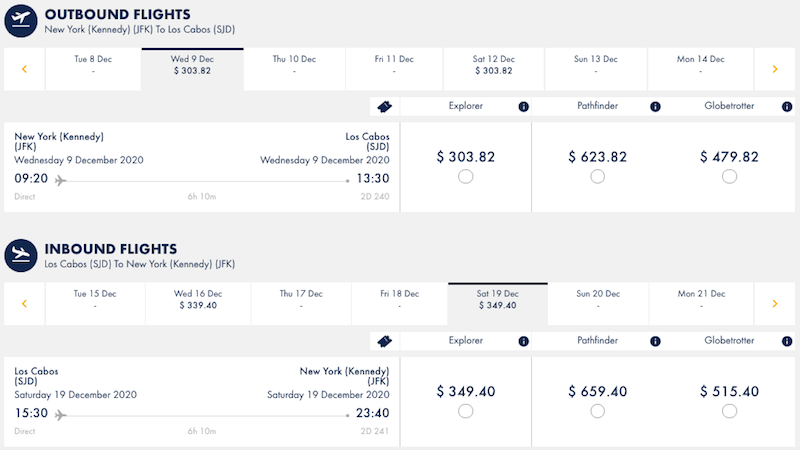 This route seems like it has potential
Eastern Airlines is quirky. The airline primarily operates flights from Miami and New York to the Caribbean and South America, and the airline also operates charter flights.
However, the carrier's expansion goals beyond that have been unconventional, to put it mildly:
By comparison, New York to Cabo San Lucas seems like an incredibly logical route, and I've always been confused by how little service there is in the market:
Yes, Cabo San Lucas is a bit further from New York than the Caribbean or Cancun
At the same time, if you ask me, Cabo San Lucas is way cooler than Cancun
There are lots of seasonal/weekend premium leisure routes out of New York that do pretty well
Anyway, it seems to me like this route could work quite well. The only other airline operating a similar route is United, which flies 737s between Newark and Cabo seasonally with limited frequencies.
I do think Eastern may struggle compared to United, given the bigger planes and lack of name recognition.
Bottom line
Eastern Airlines will start flying twice weekly between New York and Cabo San Lucas, making it the first airline to operate in the market. This will be Eastern Airlines' first scheduled flight between the US and Mexico.
Given Eastern's history, I guess we'll have to see if this route actually launches, and if it does, how long it lasts.
Meanwhile I'm still looking forward to seeing what Eastern does with its 777…
What do you make of Eastern's New York to Cabo San Lucas route?
(Featured image courtesy to SymphonicPoet)