SAS offered a fantastic deal for families last week where children could fly from the US to Scandinavia for almost free. All you had to do was book one regular adult ticket and then as many as eight kids could fly for just the cost of the taxes and fees, which were about $50. It was an incredible offer and a few of my friends were able to take advantage of it. I even argued that it would be possible to take the kids mileage running on it.
Unfortunately, that deal is now over.
But it turns out that there are other opportunities for kids to fly on revenue fares at a discount. You just have to know where to look.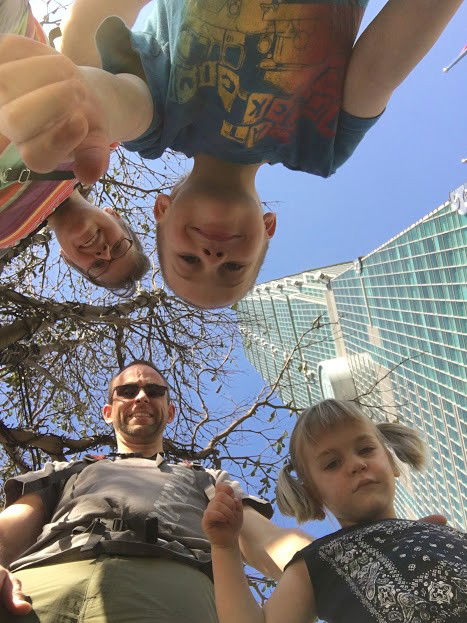 With my family at Taipei 101 last year
On What Routes Are Child Fares Offered?
First the bad news. Child fares are pretty much non-existent for travel within the United States. It's not that the US carriers don't offer them, they just don't offer them on domestic routes.
Actually, my guess is that the US carriers don't really want to offer them at all and only do so when they are competing with foreign airlines who have them.
Instead, let's look abroad.
I've personally seen the most child fares in the Asian markets. Europe is also a decent candidate.
How Old Can The Kids Be?
Child fares are usually for kids under 12. You might also see them listed as being for kids 2-11, but that's really saying the same thing.
Either way, once the kiddos turn 12, the airlines say they need an adult ticket.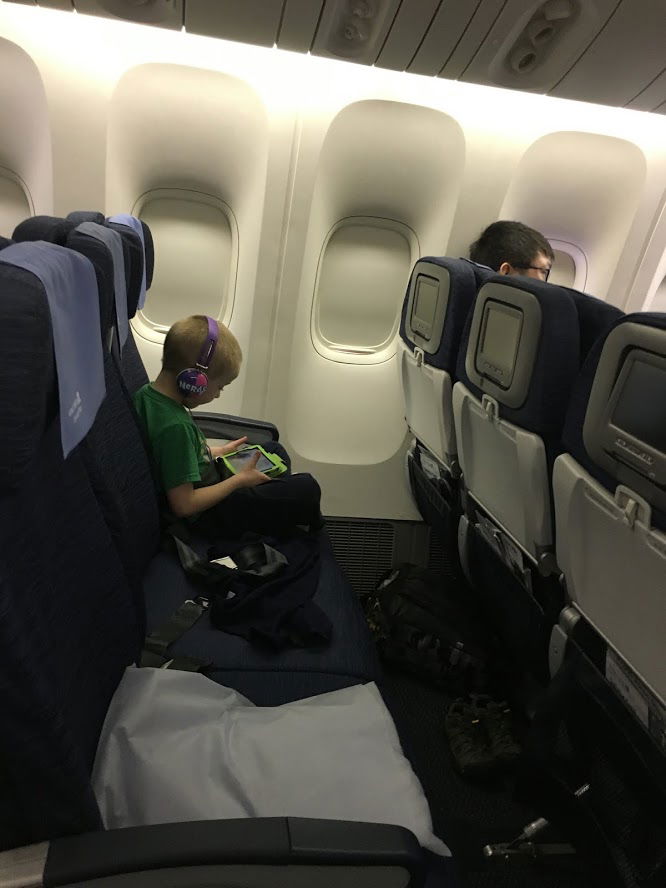 How Much Can You Save?
In the case of the SAS deal last week, the savings were getting close to 100% since all you had to pay was the taxes and fees. But that's pretty rare, and it's the first time I've ever seen such a crazy fare.
More commonly, if a child fare exists it will be a 25% discount. Trouble is, that 25% discount usually only applies to the base fare, and not the taxes, fees, or, more importantly, the dreaded fuel surcharge (YQ). That said, the 100% discount on SAS last week did apply to the fuel surcharge — that's how the final cost ended up under $50. Again, very rare.
So to maximize the value of the child discount, we should generally want to find markets where fuel surcharges are not a significant component of the total ticket price.
A Child Fare On SAS
Although the 100% child fare discount on SAS is over, they sill have a 25% child discount on some of their published fares. Let's go look for one of those using Google Flights, which I find to be well suited to searching for child fares, even if it's not perfect.
Google flights will let you specify the number of adults and the number of children.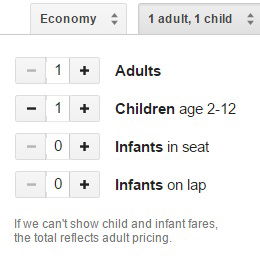 It won't explicitly tell you whether there is a child fare or not, but rather gives you the total cost for all passengers. I use a two-step process to determine if a child fare is available.
I first search for one adult and note the price. In this case, it's $878.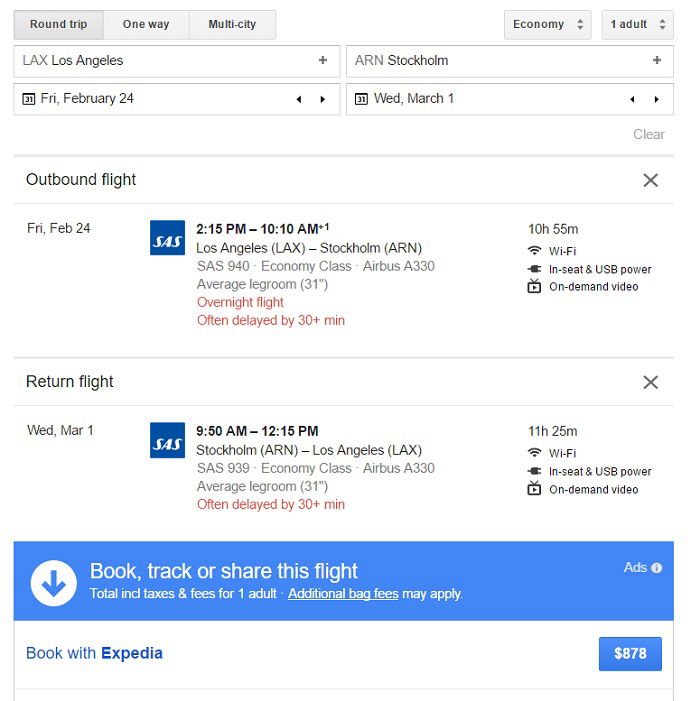 I then search for one adult and one child. With Google Flights, this is easy because you can just bump up the number of kids from 0 to 1 without rerunning the search.
Like I say, Google Flights is fast. In this case, the cost of one adult and one child is $1680.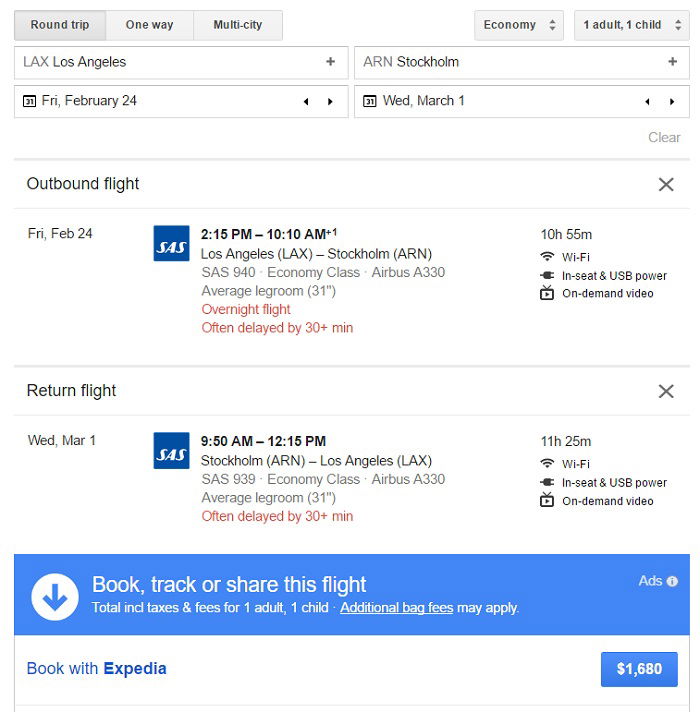 Hmmm, $1680 seems to be less than 2 x $878 so there must be a child discount. Great!
In this case it's a $76 discount for the kids, or about 9%.
I know, I said that the child discount was 25%. But remember how fuel surcharges can ruin your day on award tickets? Yeah, they can do the same with your child fare discounts. It turns out that this fare is dominated by the fuel surcharge.
Here's the breakdown from Matrix: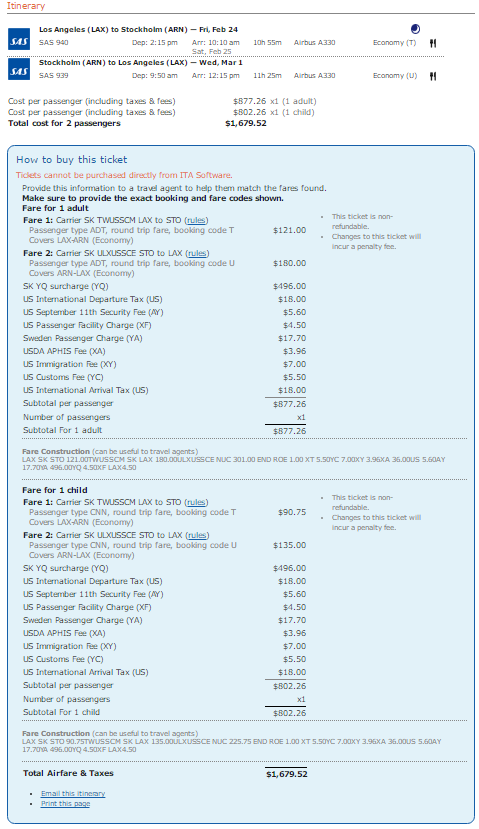 You can see that the base fare is indeed reduced by 25% — it's the fuel surcharge that is killing us. The irony here is that it really does take less fuel to move a child who weighs less. Hey, nobody said that the airfare pricing made sense…
A Better Child Fare To Taiwan On United
Now that we understand the game, let's look to Asia where the fuel surcharges are more reasonable. My family flew to Taiwan last year and were able to take advantage of United's 25% child fare discounts for the kids. And this time, it's actually close to 25%!
United flies non-stop from San Francisco to Taipei.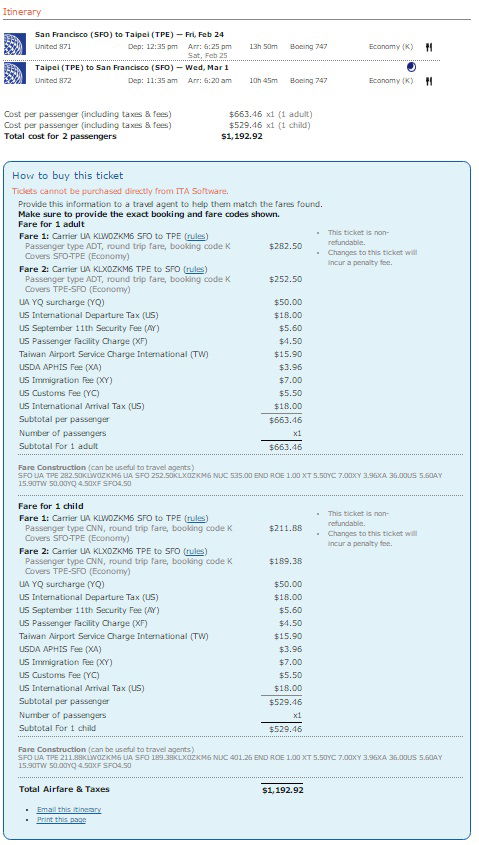 In this case, the child ticket is $154 less than the adult, a 23% discount. That's not quite the 25% we were hoping for, but close enough.
Where Else Should I Look?
The child fares I've come across were mostly a result of trial and error. That's where a fast search tool like Google Flights comes in handy.
I suppose you can also read the fare rules which will include the child discount if there is one. I kind of wish ExpertFlyer would allow us to query their database to identify all of the fares that have some sort of child discount associated with them. It just seems like it would be cool to have a comprehensive list of all the child fares currently published.
Then again, I'm probably one of the few that chooses to go where it's cheap as opposed to where I want. (Actually, I do go where I want, it just so happens that where I want to go is also where it's cheap!)
Will The Kids Earn Miles?
My kids have flown on child fares numerous times and always received miles. Now to be fair, most of those trips were on and credited to United MileagePlus. So I don't have broad personal experience.
But from what I've seen, the child's ticket looks virtually identical to the adult ticket, it just has a discounted base fare. I'm not even sure you would be able to tell a child ticket from an adult ticket unless you had them both side-by-side and could compare the prices.
Keep in mind, however, that United, American, and Delta now all award miles based on the price of the ticket, not the distance flown.
That means if you pay less for the ticket, you'll earn fewer miles. So a discounted child fare will earn fewer miles than an adult ticket when credited to one of these programs.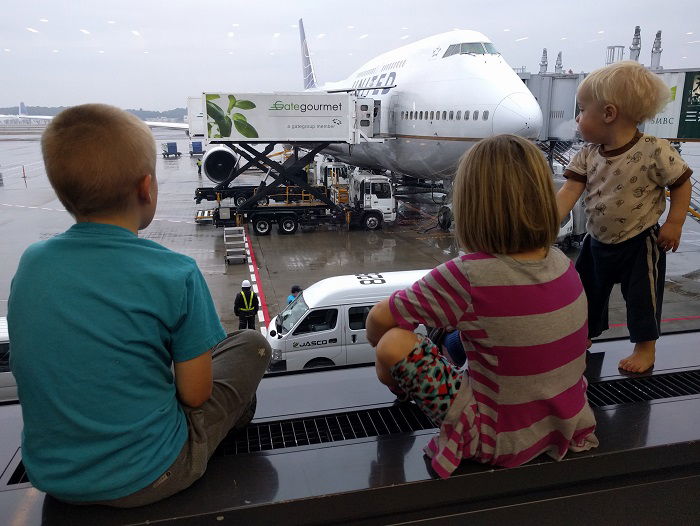 Planespotting on a layover
Are There Discounted Child Award Tickets?
Just as they don't offer child revenue fares, the US carriers also don't offer kids discounts on award tickets.
Again, some of the European carriers are more family friendly. SAS lets you book award tickets for kids at a 50% discount, which is really fantastic. But that discount is only available for flights on SAS, airBaltic, Wideroe and Atlantic Airways.
Lufthansa gives kids a 25% discount on award tickets, but again, it's only for flights on members of the Lufthansa group including Adria Airways, Air Dolomiti, Austrian Airlines, Brussels Airlines, Croatia Airlines, Eurowings, LOT Polish, Lufthansa, Luxair and SWISS. These awards cannot be booked online.
Bottom Line
I was pleasantly surprised a few years ago to discover that child fares still exist in certain markets. I'm happy to save 10-25% on tickets for our three kids when I can. The fact that they earn miles on these fares is just icing on the cake.
I just wish there was a more systematic way to identify markets where child fares exist. But that's where Google Flights is handy because it's so damn fast that you can try a lot of city pairs in a short amount of time.
Have your kids flown on child fares? Where did you go and how much were the savings?