As I first wrote about a bit over a month ago, at the beginning of the year I seemed to be on some sort of a U.S. government watchlist. I belong to the TSA Trusted Traveler program, and am typically eligible for Global Entry and TSA PreCheck. However, for the first six weeks of the year I was subjected to additional screening on every single flight I took.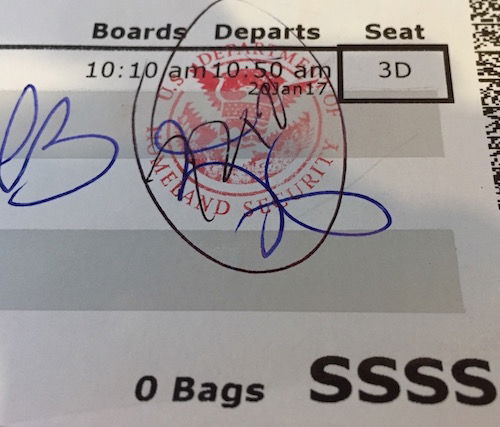 As I explained at the time, there's an appeals process. It's not all that transparent (understandably), but at least there's a process you can go through to try and clear your name. It's called the DHS TRIP program, which stands for Traveler Redress Inquiry Program. This allows you to get a redress number, which you can add to your reservation so you're not constantly subjected to additional screening.
As I wrote about yesterday, my online account status for my DHS TRIP case was finally updated, as follows:

However, I hadn't yet received the referenced letter.
Well, I just received a letter in the mail from the DHS (or more accurately, my dad did, and took a picture of it for me). For anyone curious, here's what it said:
Thank you for submitting your Traveler Inquiry Form and identity documentation to the Department of Homeland Security Traveler Redress Inquiry Program. DHS' mission is to lead the unified national effort to secure the country, including U.S. border and transportation security. We take requests for redress seriously, and we understand the inconveniences that additional inspections may cause. DHS strives to process travelers in the most efficient and professional manner possible without compromising our mission to safeguard the United States, its people and its visitors.

When DHS receives a redress inquiry, we conduct a thorough review of the matter. We consult and share information with other agencies, when appropriate, to relieve you from the burden of seeking redress on an agency-by-agency basis, and to address the issue that you identified in your application. We have found that about 2% of the DHS TRIP complaints actually have some connection to the Terrorist Watchlist. Complaints most often arise either because the traveler's name and personal information is similar to the name and personal information of another person in systems which contain information from federal, state, local and foreign sources or because the traveler has been delayed in travel for reasons unrelated to such data, such as by random screening.

DHS has researched and completed our review of your case. DHS TRIP can neither confirm nor deny any information about you which may be within federal watchlists or reveal any law enforcement sensitive information. However, we have made any corrections to records that our inquiries determined were necessary, including, as appropriate, notations that may assist in avoiding incidents of misidentification.

For your general information, here is how redress helps when traveling:

When traveling by air to or within the United States, DHS recommends that you provide your redress control number when making your reservations. Providing this information will help prevent misidentification from occurring during security checks against government records and other information. In most online reservation systems, your redress number may be entered at the same time you enter your full name and date of birth.
When entering the United States from abroad, no additional action is required. Where appropriate, as a result of the redress process, DHS employs a procedure to correct the information used to process travelers in the ports of entry that reduces the chances of misidentification occurring.

Despite these positive efforts, we cannot ensure your travels will be delay-free. The redress process does not affect other standard screening procedures in place at airports and borders. For example, an individual may be selected for additional screening in order to resolve a walk-through metal detector alarm, because of random selection, or other reasons. While the process may sometimes be stressful, we rely on the patience, cooperation and understanding of travelers in such cases. The aim of these security measures is to safeguard the people of the United States and visitors to this Nation.

This letter constitutes our final agency decision. Pursuant to 49 USC 46110, you have 60 days to seek review of this decision in an appropriate United States Court of Appeals.
Color me very impressed by this whole process. Less than a month after I submitted my application I got a response, and the issue seems to be resolved. That's a much easier process than I was expecting.
Admittedly the letter is generic, but that's what I was expecting. I didn't think they'd tell me "you were on X list because you flew to X country," but rather I think it's perfectly fair for them to say "we've looked into it and may or may not have taken action."
Clearly they did take action, because I'm no longer getting secondary screening.
My only remaining question is how important it is for me to actually put my redress number on reservations? I haven't put it on reservations for the past couple of weeks but haven't had issues. It's my understanding that the redress number is most useful if you have the same name as someone on a terrorist watchlist, which I doubt I have. So I'm not sure if I'd actually benefit from adding it, or…?
Thanks so much to everyone for their advice throughout this process, and I'm thrilled it's resolved. Spending an extra 20 minutes being screened before every single flight was a huge pain. Given how much I fly, the additional screening would translate into over a day of my life each year.