I've taken a pretty neutral-trending-towards-positive approach to Delta SkyMiles over the years. I'm not as perennially disgruntled with the program as Ben, nor as blind to the obvious flaws as Nick, and all things considered think I've been pretty fair.
So while I blasted Delta for removing their award charts last year, I still think there's great value in the program, even if figuring out how many SkyMiles you might need for a partner award is needlessly complicated.
Delta doesn't (supposedly) intend for this to be complicated. The premise (and promise) has been that "the price is the price" — no (supposedly) complex award charts or confusing rules to follow — just go online to delta.com, enter your routing, and see how many miles are required!
Which sounds great in theory, but we've encountered a couple of situations recently where the price Delta was (supposedly) offering was most certainly not the actual price, and it's something folks need to be aware of.
Pick a price, any price
As an example, the other day I was trying to ticket an award between Tokyo and New York. This shouldn't even be complicated, as all the flights were on Delta metal.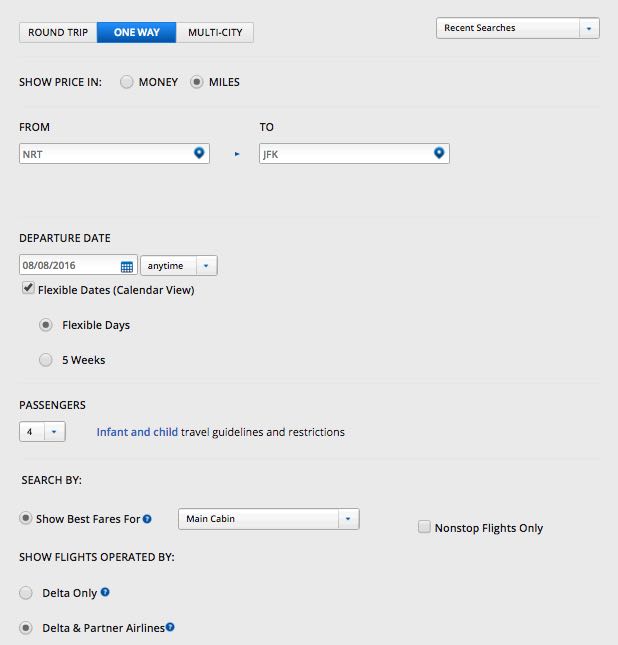 There was space for four people in business class for 110,000 miles per passenger (more than I'd ideally like to spend, but with fixed dates and four people sometimes that's how it goes):

There weren't enough miles in the SkyMiles account for all the passengers, so the plan was to call Delta and have an agent put the itinerary together before purchasing the remaining miles.
A great agent understood the concern, confirmed the space, built the itinerary, entered all the passenger info, and calculated the taxes — which exactly matched what delta.com displayed as well:

A textbook setup, really, so ~$1000 worth of miles were purchased, the credit card number was provided, and…
"That's odd. The flights aren't selling in."

"Pardon?"

"I can't keep the flights in the record at that price. Let me check with my support desk."
For some mysterious reason, the price on delta.com was not at all the price Delta wanted to charge — these flights were pricing at a horrifying 375,000 SkyMiles per person.
And there is no workaround. The agent tried, web support tried, a supervisor tried, the magical manual reissue desk tried. In each case, they could see the flights as available for 110,000 miles, and could get to the final confirmation screen, at which point the price would jump more than 300%.
That's crazy! Especially as this isn't a case of inventory changing — days later the flights still show as available at the 110,000 mile price — Delta just won't issue a ticket at that rate.
A similar set of flights later that day yielded the same frustrating lack of results, and eventually we had to admit defeat.
"Okay, so I see several combinations of flights that price at 110k per person during that timeframe. Can you just try to ticket any of them at that rate?"
After trying seven different itineraries across three days, the agent was finally able to find a pair of flights that priced the same way in practice as they did in theory.
Seven.
Imagine trying to buy something and having to try seven different varieties before the price on the cash register matched the price on the tag.
That's downright ridiculous, and not something Delta should be asking of their customers.
Bottom line
In another industry this would be a blatant weights and measures violation, but I guess those regulations don't apply to fake currencies.
It's one thing to have issues with your website displaying phantom space for your partners, but for Delta reservation agents to not be able to confirm space on Delta airplanes that shows as available in Delta systems is something else entirely. Not giving staff the tools or training to overcome technical issues (if that's what they are) is even less acceptable than it was under the old system.
Similarly, if you don't want to publish an award chart so that people know how many miles they'll need for that special anniversary trip that's fine (I guess, I mean, I think it's moronic, but Delta feels good about it, so whatever). But to insist that charts aren't needed because the price is clearly shown on the website and internal reservations systems, and then to not issue tickets at that price —
Well, that's nothing short of dishonest.
Come on Delta. Do better.