United announced last week that they had reached a settlement with Dr. Dao following the incident in which he was forcibly dragged from the plane when he refused to give up his seat for deadheading crew. The terms of the settlement were not disclosed, which is not uncommon in these situations. That said, it seems that United paid dearly in order to quickly put this behind them and prevent the case from dragging out in court.
There had been speculation that Dao and his legal team would then move on toward suing the city of Chicago for the abusive treatment he received from three city Aviation Security Officers. After all, they were the ones who ultimately roughed him up, not United. His lawyer had even said that he would need plastic surgery to repair some of those injuries.
The city of Chicago was apparently preparing for the inevitable, with a few aldermen actually stating that they expected to eventually be on the hook for a big pay out.
Well, evidently Dr. Dao won't be suing the city of Chicago after all. DNAinfo reports:
Dr. David Dao's lawyers confirmed Friday that the settlement includes a provision that prohibits him from suing the city, even though his nose was broken, two of his front teeth knocked out and he suffered a concussion at the hands of three city Aviation Security Officers. Those officers have been suspended with pay while the investigation is ongoing.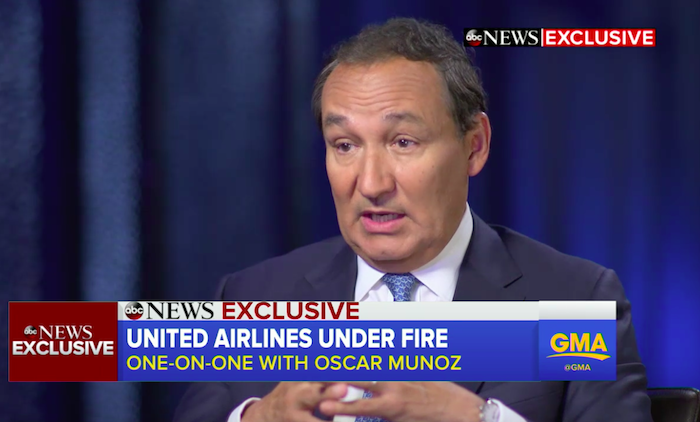 My thoughts
I am not a lawyer and don't normally follow this kind of thing closely, but this provision certainly seems very interesting. At first glance, it's hard to see why United would much care if Dao goes after the police. That would seemingly be a different matter, and not their problem or concern.
On the other hand, having Dao in court at all — even if he wasn't suing United — would have miserable optics for the airline. It would again bring the story back to the front page and start the discussion all over again. And United clearly realized that.
So they got creative with their settlement and structured it such that he waived his right to sue the city. Presumably that didn't come for free, however, as Dao and his lawyers probably insisted that United compensate him at something close to the expected value of any such future settlement. In other words, I would speculate that United basically paid out compensation to cover their own actions as well as those of the city.
And unless there was some backroom transfer of cash or in-kind contributions between the city of Chicago and United, the airline isn't going to be reimbursed for paying those damages. Then again, this is Chicago and this is United that we're talking about. Neither of which have been immune from wheeling and dealing in the past, so who knows what went on.
Now if a special Friday to Monday flight between Chicago and the location of the mayor's vacation home were to magically show up on the schedule in a few months….
Bottom line
Let me reiterate that I have no knowledge of anything other than what I've read about the situation.
I just think it's interesting that United's settlement with Dao precludes him from suing the city, and presumably compensates him for that loss of optionality. Maybe this is common, I don't know, but I'd be curious to hear what the experts out there think. Hopefully some more details of the settlement will leak out over time.
So what do you think — were you surprised that United's settlement with Dao precluded him from suing the city of Chicago?