There are viral airline stories, and then there's the story of Dr. David Dao, who was dragged off a United Express flight in 2017.
The flight ended up being overbooked and he refused to give up his seat after already seated. So the airline called the airport police to drag him off the plane. However, he wouldn't give up his seat until he was literally unconscious, at which point he was bloodily dragged down the aisle. I don't think there's a single airline story ever that captured as much attention as this one.
In many ways the event changed the airline industry. It caused airlines to change how they overbook flights, and in some ways also caused them to change their approach to customer service, realizing that any cell phone video captured on a plane could turn into the next Dr. Dao incident. United also had to eat crow, after the company's CEO claimed that Dr. Dao was simply being "reaccommodated" on another flight.
Dr. Dao reached an undisclosed settlement with United, and while the details aren't public, it's believed by many that it could have been in the eight figures.
Well, this isn't the last we'll hear of of Dr. Dao, apparently. On February 16, 2021, Dr. Dao will be publishing a 236-page book, entitled "Dragged Off: Refusing to Give Up My Seat on the Way to the American Dream."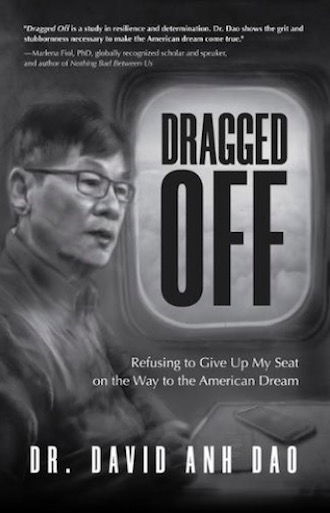 Here's how the book is described:
A Vietnemese Refugee, a Viral Video, and the United Airlines Scandal That Started It All

Dr. David Dao was dragged off United Express Flight 3411 on April 9, 2017 after refusing to give up his seat. In the tradition of contemporary immigrant stories comes a personal narrative of the many small but significant acts of racial discrimination faced on the way to the American Dream.

The unseen effects of discrimination. The United Airlines scandal of 2017 garnered over a million views on YouTube. A result of an overbooking overlook, security officials forcibly removed Dr. Dao after refusing to give up his seat. He awoke in the hospital to a concussion, a broken nose, several broken teeth, and worldwide attention. Things aren't always fair for an immigrant, but according to Dr. Dao, you can prevail if you firmly advocate for yourself.

A response to a lifetime of oppressive acts. Why was Dr. Dao so adamant on his right to a seat? His entire life had led to that moment. A Vietnamese refugee, he fled his home country during the fall of Saigon. He was stranded in the Indian Ocean, immigrated to the United States, enrolled in medical school for a second time, built a practice, and started a family─all the while battling the effects of discrimination and what he had to embrace as a result. This is his story.
This should be an interesting one. I imagine we still won't find out any details of the settlement, but the narrative sure is something (I won't say a lot more)…
(Tip of the hat to WandrMe)