Here's a fun avgeeky topic that's ultimately of very little consequence, but that has an element of mystery to it.
Cubana's Ilyushin Il-96 in Gander
Cuba's flag carrier is Cubana, and Cubana's flagship long haul aircraft is the Russian-built Ilyushin Il-96 (it's like the Emirates A380 of Cuba). The airline has four(ish) of these planes, with a capacity of up to 262 passengers each. I say "ish" because I believe only a couple of the planes might still be airworthy, given that two of these planes haven't flown in a year.
As is the case with virtually all airlines, Cubana's route network has been modified due to coronavirus and the associated travel restrictions, but I saw a picture on Twitter last night that piqued my interest.
Someone posted a picture of a Cubana aircraft in Gander, Canada, noting that the plane has been making more visits to the airport as of late.
That certainly got me wondering — why on earth is a Cubana plane in Gander?!
Gander is a special place to me, as I've been a few times, and I got married at the Fogo Island Inn. Gander is also a significant airport in aviation, given its history as an airport for refueling on transatlantic flights. On 9/11 it even became a major hub of sorts, as many wide bodies diverted to the airport. The hospitality of the people of Gander is what the musical "Come From Away" is about.
Gander tends to get some interesting traffic, given that it's a transatlantic refueling point. When smaller planes are being repositioned across the Atlantic, or airlines are taking delivery of new planes, it's common to see them refuel in Gander.
So while I've seen some interesting traffic there, I've never seen anything like a Cubana Il-96.
Where are Cubana's Ilyushin Il-96s flying?
When I saw the Cubana plane in Gander I assumed it was there to refuel, but where was it flying? Well, I pulled up flight data for Cubana's long haul fleet.
It would appear (I suppose unsurprisingly) that Cubana's Il-96s are currently flying primarily to Caracas and Moscow. It seems that Cubana's general Russia "rotation" is to fly nonstop from Havana to Moscow (a roughly 11 hour flight), and then on the return the flight generally stops in Gander before returning to Havana.
These don't seem to be scheduled passenger flights, as the rotations here are unusual. For example, looking at the 15 year old plane with the registration CU-T1251:
The plane flew from Havana to Moscow on March 16, and from Moscow to Gander to Havana on March 21
The plane flew from Havana to Moscow on March 28, and from Moscow to Gander to Havana on April 1
The plane flew from Havana to Moscow on April 8, and from Moscow to Gander to Havana on April 13
This raises a few questions.
Obviously I get the political connection between the countries, but are these cargo flights, flights with government officials, or what? Why does the plane typically sit in Moscow for several days if the service is operated so frequently? If these flights were about cargo I'd think they would turn them pretty quickly, so maybe they're more about the people they're carrying, and they fly out and back on the same planes? At first I wondered if the flights might be carrying vaccines, but Cuba claims to be developing its own vaccine, rather than getting them from Russia.
Furthermore, best I can tell the Il-96 has a published range of ~7,200 miles, while a nonstop Moscow to Havana flight covers under 6,000 miles, so is a fuel stop (or whatever it is) really needed in Gander? Are they just loading the plane with so much cargo at the expense of fuel (I'm not sure what exactly the limits are for the Il-96), is the plane's range not as good as published, or is there something else I'm missing here, like perhaps Cubana picking up some cargo in Gander?
Fortunately Gander is really convenient geographically, as it's just a seven mile detour from the nonstop route.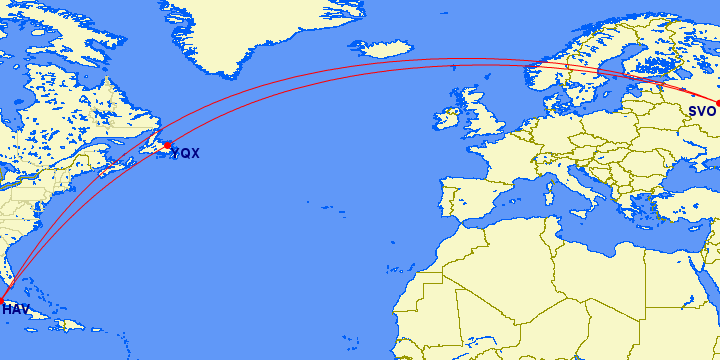 It's also interesting to see how the plane keeps quite a bit of distance from the US coast flying from Gander to Havana, as you'd expect. Admittedly the direct route is over the Atlantic Ocean anyway, but the plane definitely flies further East than it would if it weren't a Cuban-registered aircraft.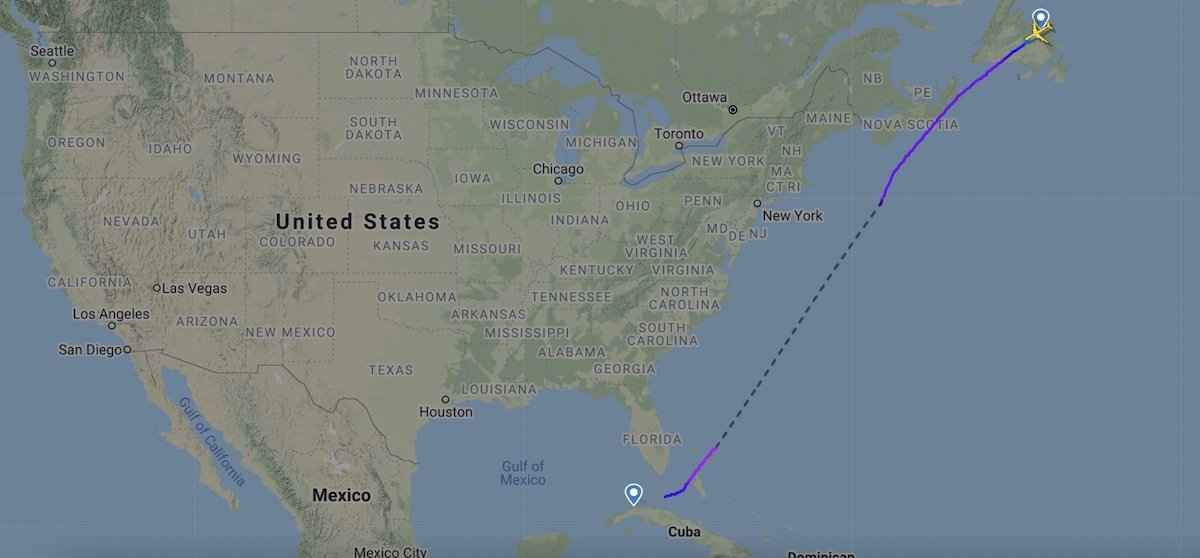 Bottom line
Cubana seems to primarily be flying its Il-96 aircraft between Havana and Moscow nowadays. While the plane operates nonstop on the outbound, it makes a stop in Gander on the return.
I find Cubana's Moscow rotation to be be fascinating, in particular that the plane sits in Moscow for several days before returning. Furthermore, I'm curious about the Gander stop, given that in theory the plane should be able to fly nonstop.
This isn't the only "unique" route we've seen between "alley" countries. There's also Conviasa's Caracas to Moscow route, as well as Conviasa's Caracas to Damascus flight, which operated a while back.
Anyone have more info or theories on Cubana's Moscow flights, as well as the need for the Gander stop?
(Featured image courtesy of Dmitriy Pichugin)