Venezuelan national airline Conviasa is launching a new route linking Venezuela and Syria. The airline first announced this new service a few weeks ago, but the schedule for the flight has now been published, and it's also bookable. Let's look at all the details.
Basics of Conviasa's Caracas to Damascus route
Conviasa will be launching a flight between Caracas, Venezuela (CCS), and Damascus, Syria (DAM).
As noted by AeroRoutes, service will start as of May 30, 2023, and will operate every two weeks with the following schedule:
V03750 Caracas to Damascus departing 2:30PM arriving 11:10AM (+1 day)
V03751 Damascus to Caracas departing 10:20PM arriving 5:00AM (+1 day)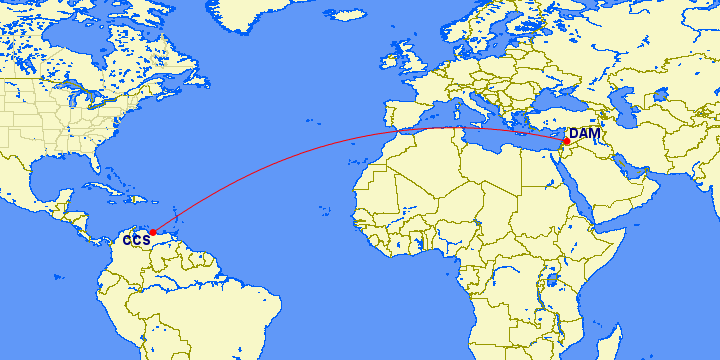 The flight will operate eastbound every other Tuesday, and westbound every other Thursdays. Clearly that schedule is intended so that the crew can have just over a day of rest between operating these flights. The ~6,600 mile flight is blocked at 13hr40min in each direction.
It's interesting that the flight is blocked at the same amount of time eastbound and westbound, since winds should differ. I'm guessing Conviasa's aircraft utilization just isn't that high, so a bit of a delay doesn't make much of a difference.
The flight is bookable directly on Conviasa's website. One-way pricing starts at $1,208 in economy, or $1,748 in business class. Hey, that's at least a reasonable premium for business class! But I'm guessing this flight is more about what's in the belly of the plane…

Conviasa last served Syria in 2012, when the airline operated a route from Caracas to Damascus to Tehran. Then in January 2020, Conviasa announced it would bring back the Caracas to Damascus route as of March 2020. However, with the timing coinciding with the pandemic shutting down global travel, that route never returned. Now, roughly three years later, Conviasa is giving this another try.
Conviasa's fleet currently consists of 11 aircraft, including three Airbus A340s, one Airbus A319, and seven Embraer E190s. Conviasa recently picked up two Airbus A340-600s. These are planes that used to fly for Iran's Mahan Air. Conviasa will be using the A340-600 for its new Damascus service.
Goodness, when you're sourcing your planes through Iranian airlines (which usually acquire planes by simply making them "disappear), you know you've got an interesting fleet. As a lover of A340-600s, I'd oh-so love to fly with Conviasa, but I'm not holding my breath on that happening for now…
Other interesting flights to & from Venezuela
Caracas to Damascus seems very on-brand for Conviasa. For example, in April 2021, Conviasa launched a Caracas to Moscow flight, while in June 2022, Conviasa launched a Caracas to Tehran flight. Adding service to Damascus seems to make perfect sense, given the carrier's strategy. I'd sure be curious to see what's in the cargo hold of all these flights…
I think the next big question is when the Caracas to Pyongyang service will be launching, as that seems like a major hole in the carrier's network, no?
Bottom line
Conviasa intends to launch a new route from Caracas to Damascus. The airline used to operate this service back in 2012, as part of a larger route to Tehran. Then the airline was going to restart this route in 2020, but that was paused due to the pandemic. It will now be coming back once every two weeks as of May 2023.
What do you make of Conviasa's planned Caracas to Damascus route?
(Featured image courtesy of Andres Ramirez)