As you've probably seen by now, the US Northeast has been hit by quite the winter storm. Over 4100 flights were canceled, and 4300 more were delayed as airports and airlines struggled to combat the influx of snow and ice.
When I posted about the weather cancelations on Wednesday, I mentioned that I too was slated to fly to New York this week, and that I would be aggressively monitoring and managing my itinerary.
The end result is rather ridiculous, even for OMAAT, but it's going to be a fun story.
The original plan
We're meeting my cousin Heather and her husband for a long weekend, so my husband and I were originally booked to fly from Los Angeles to New York on Wednesday's 11:50PM flight, arriving around 8AM on Thursday.
He had work meetings in Portland, so the best way for us to get to New York in a timely fashion would be for him to fly down to Los Angeles on Alaska, while I drove up from San Diego after dropping off the dog with friends (all you people who thought Ben and I should have driven to D.C. after our Ukraine Airlines flight should be happy about that part).
And if his meetings finished early, he'd then catch an earlier flight to LA, which would allow us to change to an earlier flight to New York, and so forth.
It sounds complicated, but these are the kinds of logistics we juggle all the time, and was a great plan on paper.
Rolling cancellations with American
One of the key strategies I like to deploy when delays and cancellations start to happen is to ask the airline to protect me on a later flight.
In this case, I sent American a message on Twitter asking them to save us space on a Thursday flight. The earliest flight with space was at 9:00AM (arriving around 6PM), and they were even able to block Main Cabin Extra seats for us (though any upgrade chances pretty much evaporated with the weather).
About thirty minutes after I published my post, I received a notification that my Wednesday flight was canceled.
Every flight for Thursday was pretty much instantly zeroed out. I was glad we'd been protected, but knew we weren't out of the woods yet.
This wasn't my first rodeo, so I quickly sent another message to American asking them to protect me on a Friday flight. The only availability was at 9PM (getting in around 5:30AM on Saturday, provided operations were back to normal), which was far from ideal, but what can you do?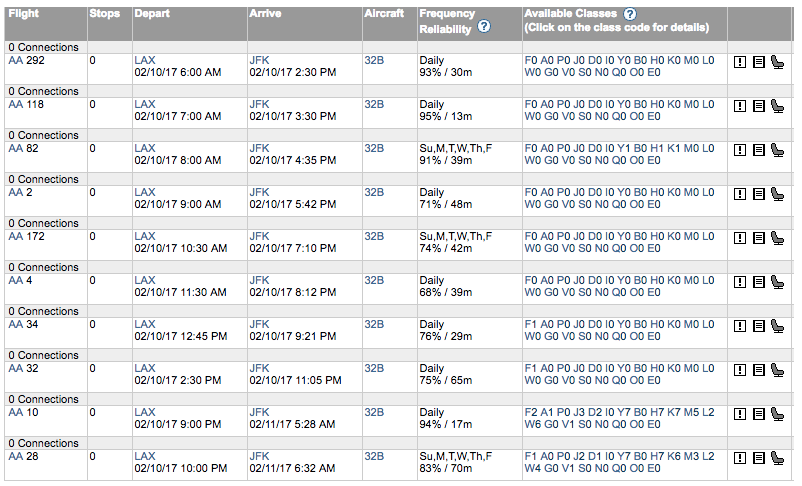 Before our tickets had even been reissued for the new Thursday departure, however, our Thursday flight was canceled as well.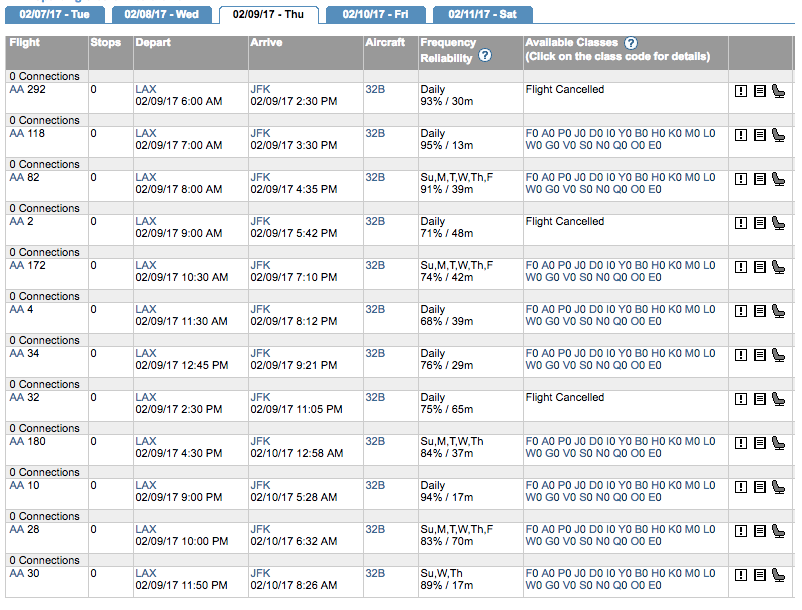 Ruh roh…
Know when to fold 'em
If this were a typical leisure trip, or if I'd been traveling for business meetings that could be rescheduled, I would have probably called the trip off at this point. Clearly the airlines were gearing up for a huge mess, and losing 48+ hours of an 80 hour trip stinks.
But Heather successfully made it to New York on Wednesday afternoon, we had Hamilton tickets purchased back in August, and I was already inside the cancelation period for my hotel.
So we decided to press on and try to get to New York.
My general strategy for airline schedule shenanigans is the same you'd employ in a zombie apocalypse: keep moving or die. This can play out in multiple ways, but I'm always asking myself questions like:
If I can't get to my destination, can I get close?
Are there alternative forms of transportation?
Is there an unconventional routing that might look longer on paper, but have a higher chance of success?
But you don't want to just sit in your origination airport and wait for the airline to magically get you to your destination. That almost never ends well.
Given the scope of the storm, getting "close" to New York wasn't a tremendously viable option. Other East Coast cities were also preparing for weather, so flights to Philadelphia, Boston, D.C., and even Charlotte were being delayed, canceled, or were full of other people with the same idea.
I started looking at other routings, including options that would involve us meeting in a city other than Los Angeles, but it became increasingly apparent that any domestic routing was going to involve overnights along the way, a high risk of further delays (or cancelations), and best case wouldn't get us to New York before Saturday morning anyway.
The nuclear option
Realizing the domestic options were all horrible, I started to look at international flights. International flights are less vulnerable to weather issues for a variety of reasons, and could potentially get us to New York much earlier.
I realize that sounds insane, but keep in mind Ben and I once flew from Chicago to LA via Charlotte, Paris, Beijing, Tokyo, and Taipei, so it's not completely out of character.
Besides – stuff like this is what I earn miles for anyway!
Most of the European flights leave Los Angeles a bit earlier in the day, but there are a few in the evening. Two had business class award availability (if you're going to do something ridiculous, might as well do it in a premium cabin):
The 7:45PM Swiss flight to Zurich
The 11:30PM Ethiopian flight to Dublin
Both are a fantastic option with Aeroplan miles, at just 55,000 points for the one-way flight, and with no fuel surcharges. Given that my husband wasn't slated to get to LA until 10:15PM, the Swiss flight wasn't going to work, but the Ethiopian flight looked promising, provided we could easily get to New York from Dublin.
None of the direct flights back from Dublin to New York had award space (of course not, that would have been too easy), but there were plenty of choices if we were willing to connect.
My sharp-eyed colleague Jimmy noticed a mixed-cabin Lufthansa routing that would not only get us in to New York on Friday afternoon, but would be in first class on a configuration I haven't flown yet, and was bookable for just 87,000 LifeMiles — again with no fuel surcharges.
Done and done!
So rather than a simple transcon, our routing would now look like this: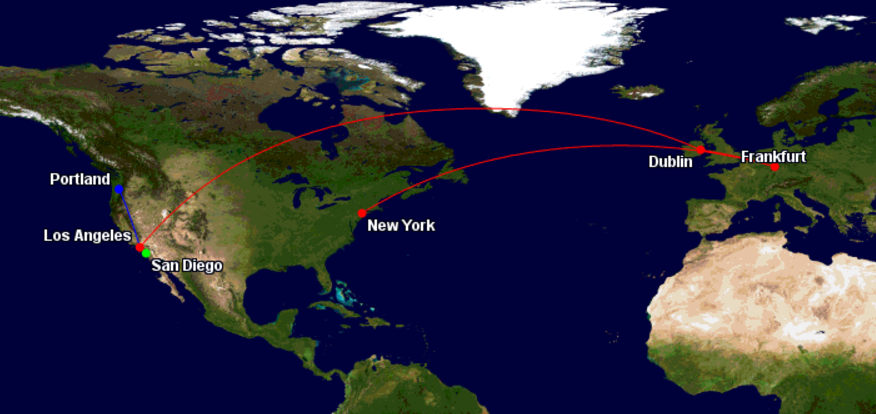 I love that even more now that I see it on the map!
Everything is always complicated
I quickly booked our award tickets (and checked in for our Ethiopian flights), then jumped in the car to drive to LA. Along the way I had American cancel our tickets (happily refunded in full to the original form of payment), then set about calling the hotel.
I am on record as not feeling hotels have any obligation to make adjustments due to transportation problems, so I wasn't hoping to get any nights credited. On the contrary, because I'd booked my room using the Citi Prestige fourth night benefit I wanted to make sure I was charged for the full reservation, even though I would only be there for two nights.
To make it more confusing, I'd made a second booking for Heather at the same hotel using the Hyatt Guest of Honor benefit. The plan had been to switch keys at check-in so she and her husband could enjoy our confirmed suite, and we'd take the standard room.
Luckily for me the hotel agent instantly understood what I was trying to do, and added Heather's name to my reservation, then proactively offered to change her booking to be just two nights, and refund me the points. This was above and beyond given that the cancelation deadline had already passed for both rooms, and certainly takes some of the sting out of the last-minute mileage use.
Of course, by the time I got to LAX a system-wide Sabre outage meant that my husband's flight was delayed. That led to a tense few hours and some additional flight changes (plus sprints in two airports), but he made it to the gate just as boarding started for our flight to Dublin. Phew!
I'm calling this a win
Yes, I'm spending a bunch of extra miles, and yes, I'm still getting to New York later than originally planned.
But our domestic tickets (which weren't cheap) were fully refunded, I got a quantity of hotel points back, our journey is going to be way more comfortable than the middle seats in economy that we would have been looking forward to otherwise, and we're getting in to New York at least 13 hours earlier than any of the domestic options would have allowed.
And instead of bouncing between domestic airports hoping against hope our next flight isn't canceled, we get to spend some time in Dublin and the Lufthansa First Class Terminal.
https://www.instagram.com/p/BQTtA8ZAmlF/?taken-by=tebfunk
Besides, the confused silence when I told my husband we were flying to New York via Dublin on Ethiopian was awesome. 😉
Show of hands: who would take an international flight to recover from domestic cancelations?