There are a lot of people who get anxious when they fly, and are worried about missing connections, arriving at the airport too late, etc. I'm exactly the opposite, to a fault. If I arrive at a busy security line 30 minutes before departure I assume I'll be fine.
However, I had to share our experience at JFK last night, which even had me sweating (both figuratively and literally).
The circumstances
We were booked on a Ukraine Airlines flight from Kiev to New York, which was scheduled to land at JFK at 3:45PM, and then were booked on a separate American ticket from New York to Washington, scheduled to depart at 5PM. That was certainly a tight connection, though we knew American had another flight later in the evening in case we misconnected.
Well, our Ukraine Airlines flight ended up being over five hours late, so while at Kiev Airport we made a same day confirmed change to the 9:42PM American flight from JFK to DCA, which was the last of the night.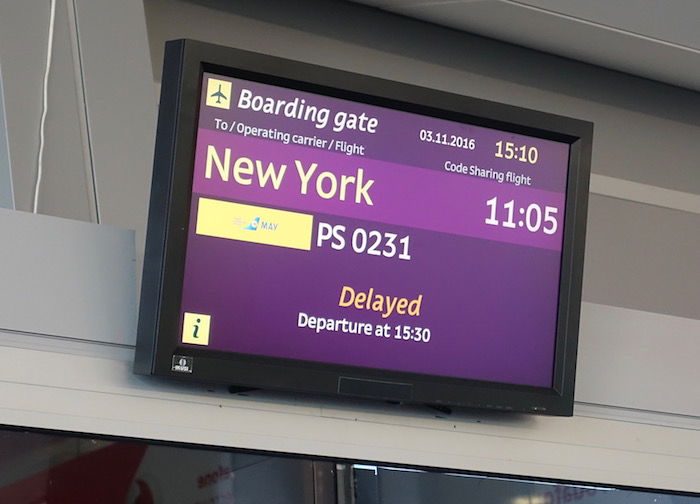 Originally we thought we'd have plenty of time, since with our original four hour delay we were scheduled to land at 7:45PM, leaving us about two hours. Unfortunately the delay got even worse, and we were delayed by nearly an additional 90 minutes.
The countdown
As we approached New York on our flight from Kiev, I played through the connection in my head, given that it would be tight. I worked backwards in trying to figure out the best case scenario, given our 9:42PM departure to DC, which was the last flight of the night. So in my head here's how the numbers worked out:
5 minutes for immigration with Global Entry
10 minutes for taking the AirTrain from Terminal 7 to Terminal 8 (including all the walking, since the stations aren't immediately in the terminal)
10 minutes for getting through security
5 minutes for getting to our American Eagle gate (which is at the far end of the terminal, and is quite a haul for anyone familiar with Terminal 8
10 minutes before departure at the gate, given that they usually close the door then
So I figured if we didn't arrive by 9PM we had a slim shot of making our connection. We were supposed to land at 8:40PM. We were delayed by over five minutes landing. Then we had a long taxi. Then we had to be towed into our gate.
The door opened at 9:03PM. Crap!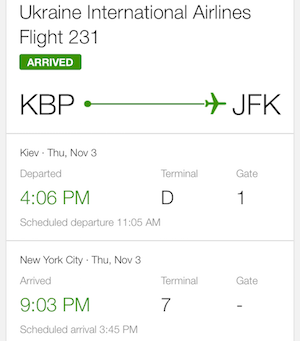 We were ready to get off the plane, but the police met our flight, and needed to take someone off the plane, and they wouldn't let us off the plane until they got the guy. Go figure the guy was at the very back of the plane. That ended up being an adventure, as people refused to sit down (I suspect it was more of a communication barrier than anything), the police got pissed off, etc.
It was 9:10PM by the time we were off the plane. I was ready to call it quits, since 22 minutes to clear immigration, take the AirTrain, go through security, and go to the far end of another terminal seemed highly optimistic.
The sprint
Immigration was super fast. We ran to the AirTrain station (which requires walking outside across the road, taking the elevator up, etc.). The AirTrain was there exactly as we arrived. SCORE!
We got to the Terminal 8 security checkpoint, where we found that both TSA PreCheck and the priority security line were closed. Tiffany wrote about the ridiculous Pre-Check hours at American's JFK terminal in the past, though I don't think either of us realized they also close the priority lines. That's disappointing for a hub airport.
The line was surprisingly long, and moving quite slowly (since most departures at that hour seemed to be to South America, with a lot of foreign passengers who didn't know protocols, etc.). We must have waited in security for 10 minutes, which was the longest 10 minutes of my life. I'm actually surprised it didn't take longer.
At this point I looked down at my phone and saw it was 9:25PM. So I sprinted to gate 31B, knowing that they'd probably close the gate way early, as they unfortunately always seem to. I told Tiffany to walk at her own pace, and that I'd try to delay them for a couple of minutes.
I don't think I've ever run so fast in my life. By 9:28PM I was at the gate. This included running through the concourse, down the long escalator, through the underground walkway, back up the escalator, and then to the end of that concourse.
As I got up to the gate the gate agent said "hurry, it's the last call."
I explained I was waiting on Tiffany, and that she'd be there within a couple of minutes. "Well we can't wait for her, we gotta go."
"It's 14 minutes till departure, she'll be here in the next few minutes."
She started to walk down the jet bridge, and she insisted I follow her. So I followed her very slowly.
"Walk faster, we gotta go."
They insisted on gate checking my bag, so I stalled them a bit by taking a few things out of my bag.
I stood in the jet bridge, and the flight attendant told me I needed to get on the plane. I said I'm not going without Tiffany, so she told me to just wait there. I knew Tiffany would be there within a couple of minutes, but in the meantime the ramper taking the gate checked bags was yelling at me as well. "I'm hungry and want me some food, we gotta go." I offered her some chocolate in my bag, but she seemed unamused.
Tiffany ended up getting to the gate by 9:31PM (11 minutes before departure), and then we pushed back seven minutes later, still four minutes before our scheduled departure.

I just want to clarify I wouldn't hold up the plane if it meant we were actually delaying it, because I don't want to be that inconsiderate to other passengers. However American's gate agents are notorious for closing doors way too early, and then you just sit there for 10 minutes. So I'm confident we didn't delay the flight in any way, and we still arrived 20 minutes early. But the ridiculous pressure of them acting as if the flight is being delayed if they close the door 10 minutes out is sort of ridiculous.
Anyway, I just had to share, because I think this was a new personal best for me. 18 minutes from deplaning in one terminal till arriving at the gate at the far end of another terminal after having cleared immigration and security at JFK is a new personal record for me.