Reader Aleks emailed to ask for advice regarding an issue she faced on her honeymoon in Bora Bora. I feel horribly about this situation, and I'm not sure what to make of it. Here's her email:
To make a long story short, my husband and I booked a honeymoon to Moorea and Bora Bora. On our way from Moorea to Bora Bora, we made a quick stop in the island of Huahine (this is one of those small shuttle flights that picks up/drops off passengers at various islands). The plane breaks down. We are told to vacate the plane and wait in the airport for further information. After 10 hours in this airport (4 walls, no food, no water), they finally tell us they are sending another plane for us.

After some more waiting, we are told the winds in Bora Bora are too strong and the plane cannot land. The airport employees scrambled to find us accommodations for the night. We called our travel agent who was able to contact our hotel in Bora Bora, the St. Regis, and explain we will be arriving the following day. I don't want to make this a saga and go into every detail but this was a completely miserable experience, especially knowing how much we were spending to stay in the St. Regis, and instead, staying in what was equivalent to a hostel.

We explained to the travel agency that we think we deserve a refund, or at the very least, some type of goodwill adjustment from the St. Regis for the night we missed. They answered saying the hotel would not offer any type of refund and we have to eat the cost. I am a long time Platinum Marriott/Starwood customer and am extremely surprised at this refusal. The St. Regis also explained that the hotel was not at full capacity when we checked in, so it is not like we were causing a loss of revenue for them. Is there anything else I can do to fight this?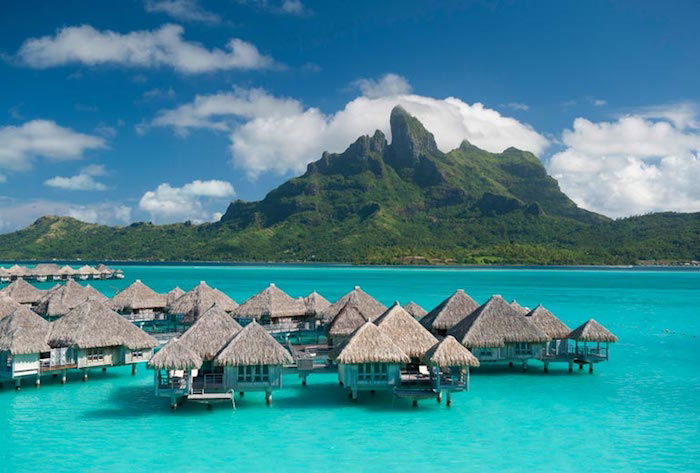 I followed up with Aleks about how the flights were booked. She explained that they booked both the flights and the hotel through a travel agency.
I'm conflicted on this one, which is why I'm opening it up — I'm curious what you guys think.
I of course see Aleks' side. They paid a ton for their honeymoon, and through no fault of their own, they missed a night at the St. Regis. Not only did they miss a night, but it sounds like they had a miserable day, being stuck in an airport for 10 hours without food or drinks. Usually when things go wrong people ask for advice about what they could have done differently, and in this case I don't think there's anything they could have done differently — it's just an all around crappy situation.
At the same time, I sort of see the hotel's side. It wasn't their fault that the plane broke down. Should they give up a night worth of revenue because of something outside of their control?
But this isn't really the same as if you're flying to a major city and you have issues with your flight. The only practical way to get to Bora Bora is by plane, and there's only a single airline flying there. The hotel's business is contingent upon people being able to get there on that airline in a timely manner. It sounds like Aleks flew early in the day, so it's not like she planned some crazy short connection, or booked the last flight of the night. She was being cautious.
So I guess my opinion is that the hotel should offer something, even if it's just as a gesture. Is it reasonable to expect the hotel to refund the total cost of the night? No, I don't think so, because like I said, this was outside of their control. At the same time, I think either a further room upgrade, some sort of food & beverage credit, some points, or a percentage of the rate for one night, would be a nice gesture to make.
What do you guys think — does the hotel owe Aleks anything, or at a minimum, is making some gesture the right thing to do? Or is this just a case of "tough luck?"