Continental to New York
I left the Presidents Club at around 11:40, 15 minutes prior to boarding. As it turned out it was about a ten minute walk to gate C96. I got there shortly before boarding began.
Continental 218, EWR-TPA
Monday, January 19
Depart: 12:25PM
Arrive: 3:23PM
Seat: 2E
The cabin of this 737-900 looked very fresh, with large leather seats. I put my carry-on in the overhead above 2E, and noticed that it was a tight fit, tighter than any other mainline plane I've been on. I found the seat to be extremely comfortable and the pitch to be generous. It's probably the most comfortable domestic first class seats out there.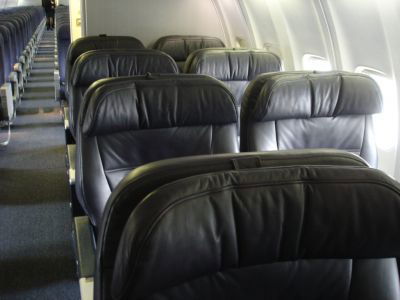 Cabin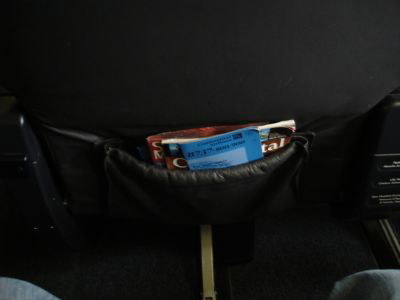 Plenty of room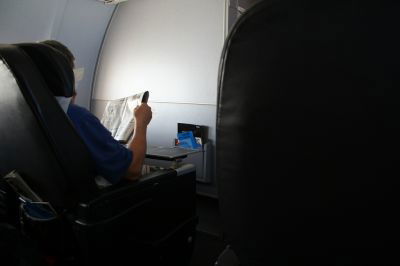 View looking forwardThe flight attendants on this flight were more professional and friendly than on my outbound flight. They started hanging coats almost immediately, after which they took drink orders.
I started looking around the seat for the audio jack, only to realize that there wasn't one! Along the same lines I noticed that there were no TV screens. What the hell is this, Northwest? The plane was in great shape and looked brand new, but no entertainment whatsoever? Yuck!
We pushed back on-time after the captain made a quick announcement, at which point the flight attendants did a manual safety demonstration. The purser, who had wings which read "international" on them (does Continental require flight attendants flying internationally to have a special certification or something?), started taking meal and drink orders. The choices were between a chicken salad and a beef and cheese sandwich. I went with the salad. She then asked whether I also wanted a cream of mushroom soup, which I took. She took the meal orders for all 20 seats, at which point she took her seat. While she was friendly, I'm still disappointed that flight attendants at Continental don't seem to address passengers by name.
As we taxied out to the runway we had to be de-iced, which took about 15 minutes. During this time the flight attendants came through the aisle a few times. All first class passengers still had their drink cups from the pre-departure beverages on their consoles, which the flight attendants only collected literally a minute before takeoff, as one flight attendant loudly realized they forgot. I again got the feeling that the attention to detail seems to be lacking, even when the crews are friendly. Never has that happened to me on United, and they're not always a shining example of good customer service.
We had a smooth climb out of EWR, yet the captain chose to keep on the seatbelt sign for 45 minutes, despite smooth air. About five minutes later we hit a single small bump and the seatbelt sign was on. It stayed on for the remainder of the flight, despite smooth air. This really ticks me off, and it's not something exclusive to Continental, but it's US carriers in general. It eliminates the point of the fasten seatbelt sign, since you can't expect passengers to stay seated for three hours (and they didn't).
Eventually drinks were brought out along with packaged mixed nuts. I miss my hot nuts!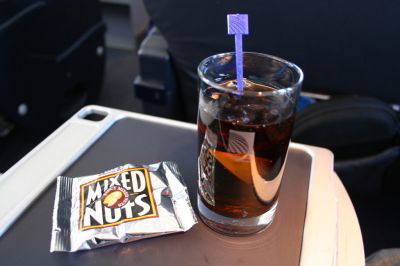 Diet Coke and mixed nuts
A few minutes later the meals were served.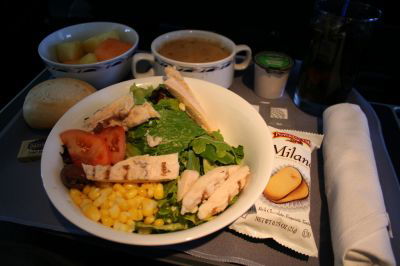 Chicken salad, mushroom soup, and fruit
The salad was good, the soup was delicious (even though it tasted like a bowl of salt), the fruit was fresh, the roll was soft, and the dessert was…. well, packaged.
That being said, it wasn't that different than United. On United I would have had a salad (just as good) and soup as well. On Continental you get an additional bowl of fruit, but on United you get hot nuts and a warm cookie. I'd say the Continental meal was still slightly better, and probably healthier too. It's also worth nothing that Continental's napkins are tiny and don't cover up a whole shirt.
While the flight attendants were friendly, they just didn't seem to have any rhythm to their service. My Diet Coke was empty when the meal was served, and the flight attendant never offered to refill it.
Pam Ann made a joke at her show on Sunday about the napkins Continental uses. I tend to agree with her that advertising on your napkins that you serve Coke Zero seems odd. Of course she had a way of making it hilarious….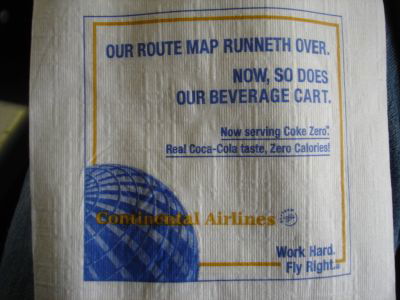 Napkin
I also felt reassured knowing that Continental uses the same dwarf, er, kid, as UA uses on their safety cards. 😀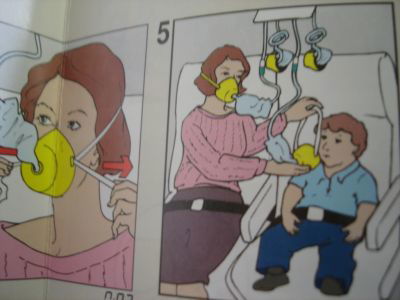 Safety card
Since there was no entertainment I spent most of the flight listening to music on my iPod, which I rarely use. We landed in TPA nearly on-time, and once again my bag was one of the first ones off.
So how do I feel about Continental? Well, I don't know. They seem like a consistent airline as far as the hard product goes. The cabins were in immaculate condition, well maintained, and clean. This is an area in which United really sucks. Their lounges are quite nice too, probably the best among US airlines (with the possible exception of the WorldClubs, which I'll visit in a few days).
Seriously though, for an airline that touts "award winning service," what the heck is up with the flight attendants? While I believe my second crew was more typical in terms of friendliness, the lack of attention to detail was disappointing. I also don't understand why they don't address passengers by name at least once during the meal service.
Overall Continental was a nice way to cheat on Ted, but I'm not so sure the grass is that much greener on the other side.
For those that fly Continental more frequently, was my experience typical or not? Am I being too harsh and/or unfair? Should I give them another shot?