Continental to New York
Continental 1419, TPA-EWR
Saturday, January 17
Depart: 7:05AM
Arrive: 9:36AM
Seat: 1B
I got to the airport at around 6:10AM for my 7:05AM flight. I had to check a bag (since my brother wanted me to bring some stuff back to Tampa), which took only a few minutes. There was no line at security, and boarding began at 6:30AM, 35 minutes before departure. This is the first minor difference I noticed between Continental and United, since boarding usually begins 30 minutes before departure on domestic United flights.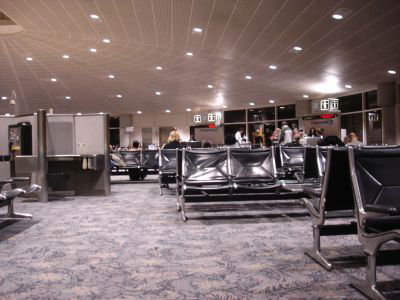 Gate area
Boarding was called for first class passengers via the "Elite Access" carpet. I was the first passenger aboard (since I wanted to snap a few pictures), and turned left to the BusinessFirst cabin. My first impression was that the cabin seemed tired, although the seats looked comfortable. I settled into my seat and saw two flight attendants standing in the forward galley chatting. I asked one of them to hang my winter coat, and she said she'd be by to pick it up later, with a "how dare you ask" look on her face. The other flight attendant gave her a bit of a weird look when she said that. About two minutes later the nicer other flight attendant asked the rude flight attendant whether she should start hanging coats, but the grouch said "No, the closet is full, we'll do it later." No clue what that meant…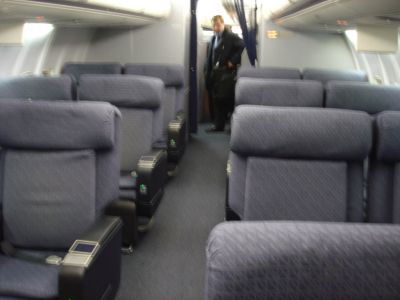 BusinessFirst cabin
I settled into 1B while "Jingle Bells" and "Sunshine on a Rainy Day" were playing on the PA, and found the seating arrangement to be comfortable. While it's no international first class suite, the padding was fantastic and the width sufficient. There was room in the cutout for my laptop bag, and there was ample legroom. It was nice to be seated forward of the boarding door, since there weren't 150 people passing by my seat.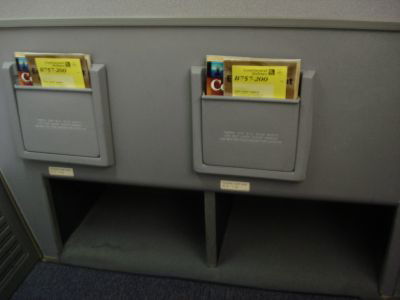 Bulkhead with cutout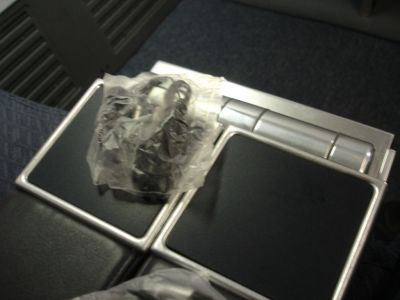 Center console with free headset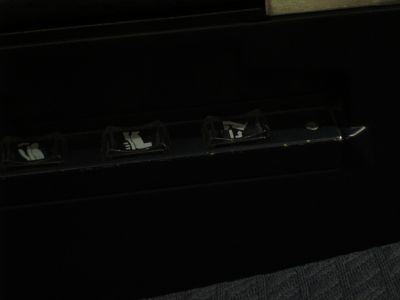 Electronic seat controls
After being settled in for about 20 minutes the not-so-friendly flight attendant came by asking if I wanted a drink. It was as if she was avoiding making eye contact, since she was looking away as she asked me. She took orders for the whole cabin (writing the orders down on a napkin), and shortly thereafter brought by the orange juice I ordered. The fact that they take drink orders as opposed to just bringing by water and OJ is a big plus.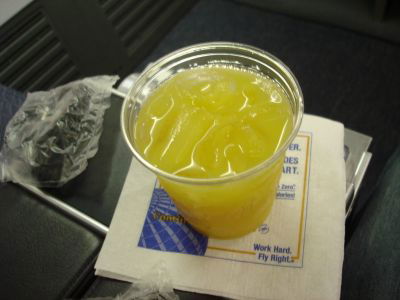 Pre-departure orange juice
Another difference I noticed was the lack of pre-departure announcements, which was great. There were no constant reminders of "baggage policies" like other airlines have, but instead just one announcement before departure. Excellent.
As the door was about to close the captain came on the PA and made a quick but informative announcement on behalf of him and his "co-captain" (a term I haven't heard, especially since the "co-captain" only had three stripes). The captain emphasized how Continental has "award winning service," which seems to be a common theme.
As we pushed back the safety demo played, which starts with Continental's CEO welcoming everyone aboard. It's a nice touch, and something I would never expect Glenn Tilton to do (and even if he did, the flight attendants would probably just fast forward through it). The flight attendants were also standing in the aisles during the safety video, which I like, as opposed to some flights where the FA's are chatting away loudly in the galley, while telling passengers that they should put down reading materials and shut up.
We lifted off within a few minutes and as we climbed through about 10,000 feet the "flight service coordinator" (who was working in coach, unfortunately) made her announcement. Continental seems to fit a lot of advertising into the post-takeoff announcement, and it almost felt like USAir. They advertise the SkyMall catalogue and how you can earn 15 miles per dollar with it when ordering within 48 hours of the flight. I found that to be somewhat annoying, although I guess it balances out in the end thanks to the lack of pre-departure announcements.
The flight service coordinator went on to explain that coach passengers shouldn't use the first class lavatory. Unlike United where it's "due to United's security policy," Continental's announcement simply reads "The front lavatory is for the exclusive use of our first class passengers. Thanks for cooperating with this arrangement." This is much better than calling it a "security policy," in my opinion.
The flight service coordinator also asked that passengers keep the aisle clear as much as possible, so they can provide their "award winning service." Jeez, this is really starting to get old. NEVER have I heard an announcement on ANA, Asiana, Lufthansa, Singapore, Swiss, or any truly world class airline advertising how great their service is. They show how good they are by their actions, not their words. The irony here was that the flight attendant working the first class aisle was probably the most apathetic flight attendant I've had in a year or so.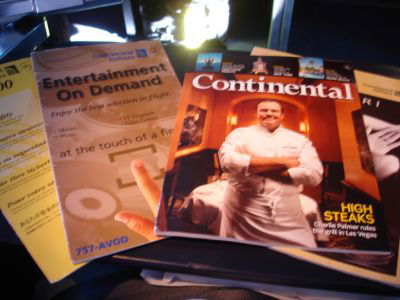 Seatback pocket contents
As it turned out they didn't have the SkyMall magazine loaded, but instead had the duty free magazines since this aircraft usually flies internationally, which one passenger complained loudly about. I browsed the duty free magazine for a few minutes out of curiosity and found it funny that they were advertising a free pen with a $150 purchase. I also browsed their in-flight magazine for a few minutes, which wasn't too good. It was filled with steakhouse and dating (er, not dating, "just lunch") ads on virtually every page. Hemispheres is one thing United does well, and it remains my favorite in-flight magazine (although it's getting "enhanced" soon).

Is a pen really a compelling reason to spend $150 on an airplane?
As we leveled off (and not a second before) the seatbelt sign was turned off and the flight attendants began their service. Breakfast and drink orders were taken, once again by the rude flight attendant. She simply asked me what I wanted to drink and whether I wanted a "fruit plate and yogurt," without making eye contact. I asked for an orange juice and coffee and said I'd like the breakfast. While the flight was listed as a "snack" flight, I figured it would be a real breakfast service given that the flight is over 2.5 hours. On United I would have gotten an omelet with hash browns and sausage on a flight that's a similar length, but I'm not complaining since the alternative out of Florida is Ted, and we know what I would have gotten there.
A few minutes after orders were taken the flight attendant came around with hot towels. The towels were fantastic, and similar to what I've received in international first class. 10 minutes later the "snack" was delivered, which consisted of fruit, a small portion of yogurt in a bowl, and a croissant. My orange juice was on the tray, but not the coffee I ordered. I reminded her that I had ordered coffee, and without so much as acknowledging me or apologizing she went to the galley to get it and plopped it down on my tray.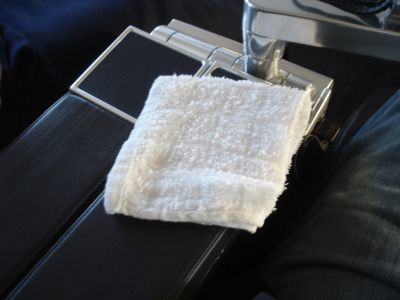 Awesome hot towel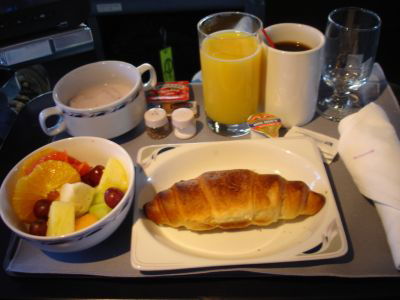 Breakfast
The presentation was quite nice, although placing a plain croissant in the middle of a plate is somewhat comical. The breakfast was tasty, and unlike at United the croissant didn't taste like rubber. It's also interesting to note that Continental does tablecloths on the tray itself but not under the tray, while United does tablecloths under the tray but not on the tray itself. The glassware was great, and I liked the coffee "mug."
For the first time that I can remember, I was actually a bit hungry after an airplane meal. I guess Florida is a low yield market for Continental, but they could really improve the breakfast offerings.
After the meal I reclined my seat, which is done using the electric controls on the right side of the seat. I would say the seats were slightly more comfortable than United's old business class seats, although not by much. I then took out my television screen and checked out the selection. I was pleased to see that they had audio and video on demand, including dozens of movies, TV shows, music, and games.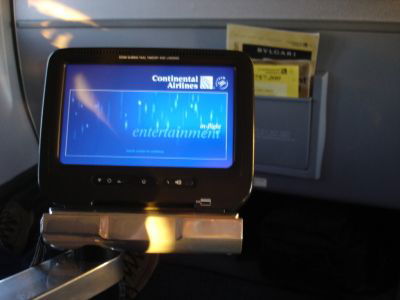 Personal television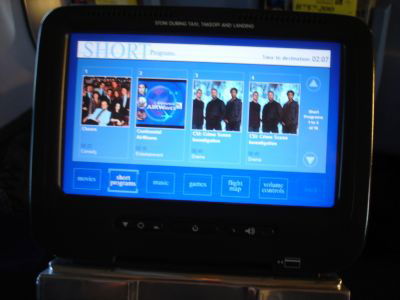 Movie options
I then retrieved a pillow and blanket from the overhead bin; both were tiny. The blanket was wrapped in plastic, so I unwrapped it and placed it on my armrest right by the aisle. I was curious to see how long it would take the flight attendant to take it with her as she walked by. Despite the grouchy FA walking by at least a dozen times, she didn't once pick up the plastic. Only after about 30 minutes when the flight service coordinator walked by was it removed. That's pretty sad, especially for an airline that touts "award winning service."

Tiny pillow and blanket
I really enjoyed just lounging in the seat and watching a variety of shows, like The Big Bang Theory (which has to be one of the funniest shows ever), Everybody Hates Chris, and Everybody Loves Raymond.
I noticed that the pilots went to use the restroom about halfway through the flight, and was pleased to see there was no "gate" or cart blocking the aisle like at United, which looks like a circus. Instead there was simply a flight attendant standing in the aisle.
As we were about 30 minutes out of EWR I approached the friendlier flight attendant and asked for a muffin, since that's what was being served in coach and I saw a bunch on the counter in first class. She said "sure, but I have to bring it to you." Confused, I returned to my seat, and after about five minutes she brought me another tray with a croissant on it. I thought I was pretty clear when I said "muffin," but I guess not.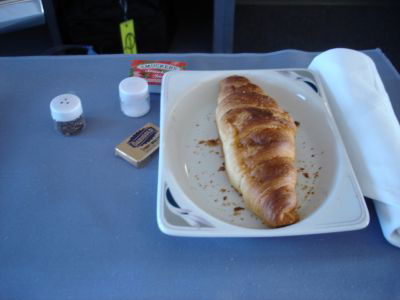 Croissant
As we began our descent into EWR we were asked to turn off all electronic devices, while we were still at around 30,000 feet. The seatbelt sign went on, and instead of the captain announcing it an automated voice said "Ladies and gentlemen, the captain has turned on the fasten seatbelt sign." Nifty! We began a quick descent and landed on time at EWR.
My checked bag was one of the first ones out, and seemed to be in good company with a lot of "EliteAccess" tags.
So how would I rate the flight overall? Obviously it was much better than Ted, especially with an international business class seat and a half decent "snack," but overall the service and attention to detail was pathetic. The rest of the crew seemed nice, but when the first class aisle flight attendant sucks, that's the only real exposure I have to the service. Also, at no point was I addressed by name or did I receive a "you're welcome" or "my pleasure" in response to my "thank you."
Overall the service ranked substantially below the average service I receive on United. The seat was comfortable, and the food/presentation was probably equal to United, with some things better than United and some worse. They each have their strengths and weaknesses, but by no means would I consider Continental "far superior" to United based on this flight. Was the service and/or product any better on the return? Is the Presidents Club that much better than the RCC? Stay tuned!