For those of you not up to date on the saga, see the previous posts:
First of all, let me apologize for the title of the post from yesterday, because the way it sounded in my head was different than how it came across. I didn't mean it in the sense of "oh yeah, you're going to deny me boarding, well we'll see about that." The way it sounded in my head was more in the voice of a curious six year old kid that was puzzled. But I realize that's not how it came across to many.
The last post ended with me waking up yesterday morning and discovering that I had been rebooked on the Qatar Airways A380 flight, scheduled to depart 15 minutes later.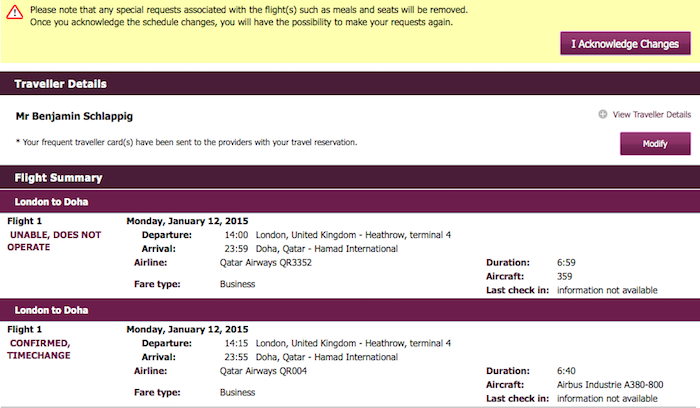 I wasn't intending to go to battle
Let me start by saying that with this whole situation my goal wasn't actually to get in any sort of a fight or to demand that I get what I'm "entitled" to. I realize the fact that the flight was bookable using miles was an error.
For me, it was a fun experience to book, and who knows, there was always that small chance it would work out. So I figured I'd play along, but at no step along the way would I put up a fight and demand to be placed on that flight, etc.
I wasn't going to take the flight if they rebooked on the A380
My final destination on this journey was Cairo. For 40,000 American AAdvantage miles without fuel surcharges I could have booked first class London to Doha to Cairo or London to Abu Dhabi to Cairo. That was a heck of a deal.
Meanwhile I could only book the London to Doha A350 flight in business class for 40,000 Avios, plus about $200 in fuel surcharges. Then a separate ticket from Doha to Cairo would have cost me 30,000 Avios plus about $150 in fuel surcharges.
This was only worth it to me if I could fly the A350. Otherwise I'd be paying 70,000 Avios plus $250 in fuel surcharges for business class, rather than 40,000 AAdvantage miles and no fuel surcharges for first class. So it was as simple as cancelling if the A350 didn't work out.
Strategy before going to the airport
As stated above, while I had a boarding pass for the A350 flight, overnight I noticed that they rebooked me on the flight scheduled to depart 15 minutes later. Now, it's worth noting that they made no attempt to actually inform me of that change.
So before going to the airport I decided to book a backup, because presumably the A350 flight wouldn't work out. So I booked myself on an Etihad first class award to Cairo via Abu Dhabi, departing at exactly the same time I was scheduled to depart on Qatar Airways. That was booked using American AAdvantage miles, so I could always cancel until the last minute if need be.
Visiting the Qatar Airways Lounge Heathrow
I headed to the Qatar Airways Lounge at London Heathrow and presented my boarding pass.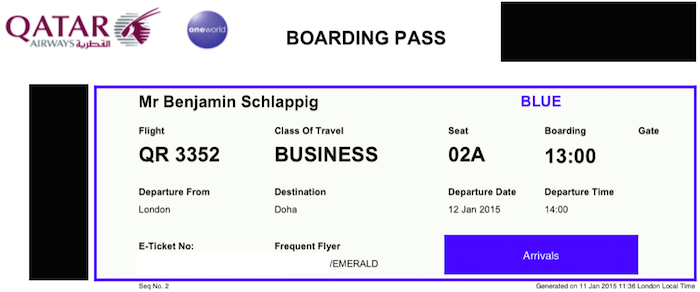 The agent at reception looked at it weird.
"Are you on… the QR4?"
"No, it's flight QR3352."
She looked up at the departures monitor.
She looked down at my boarding pass.
She looked up at the departures monitor.
She looked down at my boarding pass.
She looked up at the departures monitor.
"Are you sure you're not on the QR4?"
"This is the A350 flight back to Doha. The plane was here for noise testing, and apparently they're flying it back to Doha this afternoon."
"Well, welcome."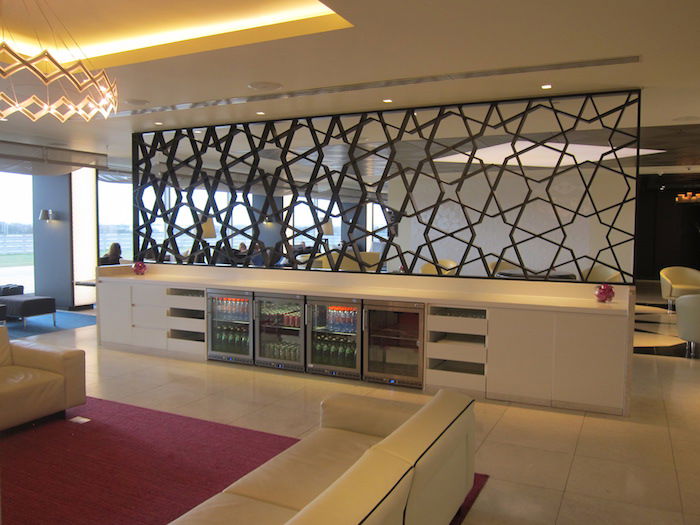 I had a seat in the corner of the lounge, and about 10 minutes later the duty manager approached me.
"It seems there has been a problem, as you were booked on a flight that doesn't exist."
"What do you mean it doesn't exist?"
"It's not a flight."
"It's not operating back to Doha tonight?"
"Well, not with passengers. We've rebooked you on the QR4, though, which is the A380."
As I said above, I wasn't about to put up a fight, I was just curious to see how the interaction was going to happen, since up until this point I hadn't been informed of the change.
"Well that's okay then, can you just go ahead and offload me? I really wanted to fly the A350, but if that's not possible I'll just fly with Etihad instead."
"But… you… wait… the A380 has the same business class seat, though."
"I know, but I really just wanted to fly the A350. It's not about the seat."
"So… you… you… just want me to take you off the flight? You're sure?"
He couldn't seem to wrap his head around the concept, which was pretty hilarious.
Funny enough, the departures monitor did indeed show the departure of QR3352, and it even left early.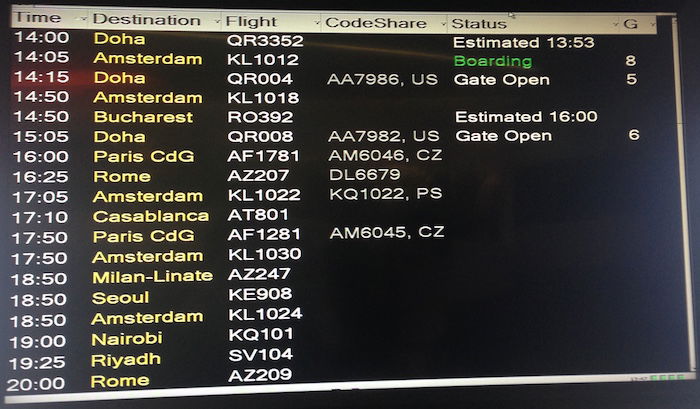 So I headed over to the Etihad Lounge to check-in for my flight there. They just reopened their lounge, which is quite nice.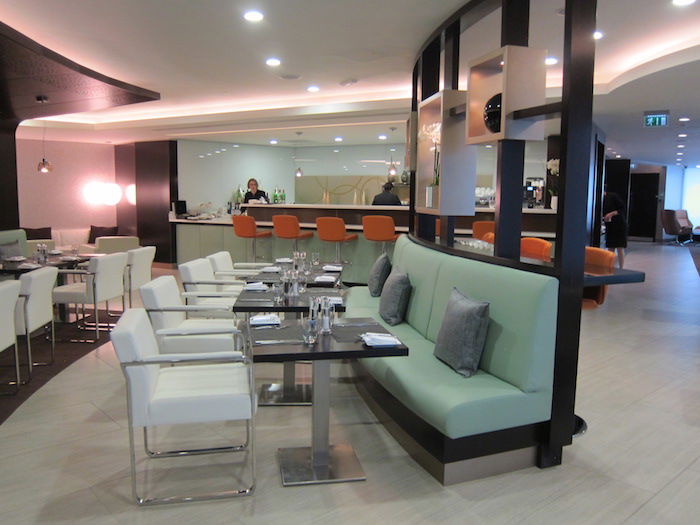 And I really can't complain about Etihad first class. As luck would have it, I had the best Etihad crew I've ever had, so that made the flight all the better. And unlike on their US-bound flights, Etihad has SO MUCH FOOD CATERED ON THEIR EUROPE TO MIDDLE EAST FLIGHTS OMG!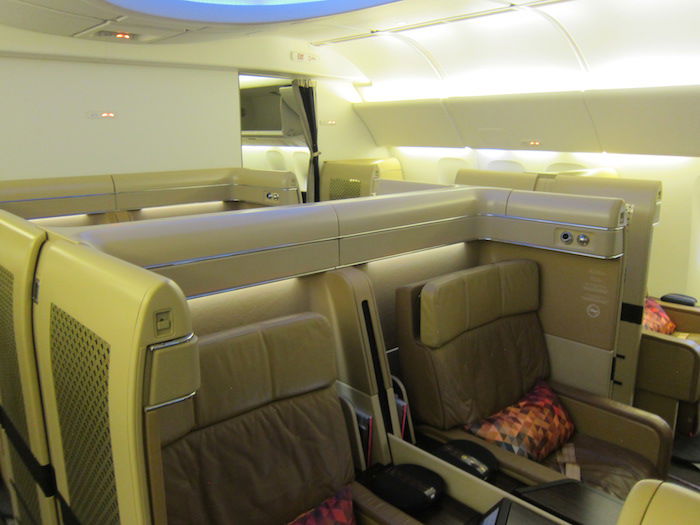 Bottom line
When I booked this I wasn't expecting it would work out. But if nothing else, I knew it would be a fun "experiment." And it was.
In this case I think Qatar's solution of rebooking me in business class on a flight with the same product 15 minutes later was fair. After talking to some lawyer friends, by the letter of the law I would be entitled to EC261/2004 compensation, since I was bumped from a flight that did end up operating. But I like to look at the spirit of the rule, and in this case rebooking me on a flight 15 minutes later was fair, especially since I knew this was unlikely to work out all along.
It didn't mean it wasn't fun, though!
You know the real kicker in this whole story, though? Guess who was on the London to Doha A380 flight that I would have been rebooked on? Oh well, I guess I'll see him on the real inaugural Qatar Airways A350 flight on Thursday…
Fun times!