On Friday I wrote a post entitled "I WANT TO REDEEM MILES FOR THIS FLIGHT SO BAD!"
As I explained at the time, I'm enroute to the Middle East in order to catch Qatar Airways' inaugural A350 flight from Doha to Frankfurt on January 15. I actually already flew the Qatar Airways A350 for a media flight in Toulouse a couple of weeks back, so the inaugural flight won't even be my first.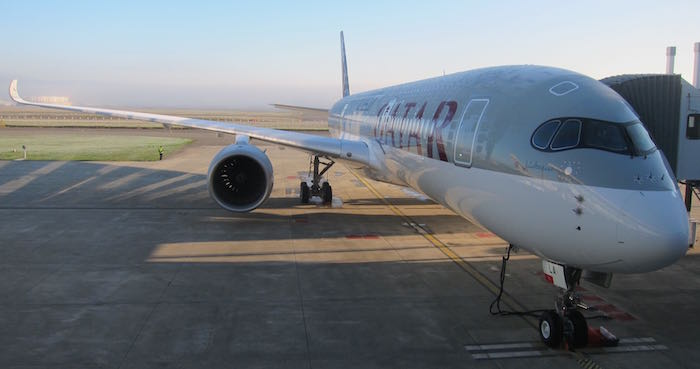 As I was trying to find award space from London to the Middle East, I noticed a mysterious flight in the schedule between London and Doha, QR3352. It was an odd flight number, and after some further digging I realized that it's actually operated by an A350.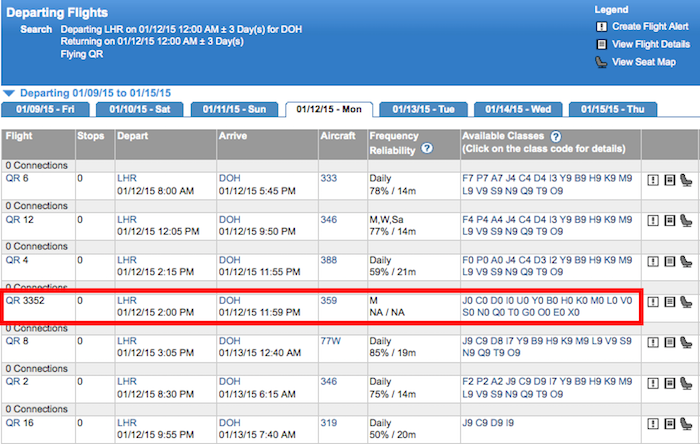 As it turns out, Qatar Airways is flying the A350 to London in order to do some noise testing at Heathrow Airport. Tomorrow morning they have a media flight around Heathrow, and then tomorrow afternoon they're flying the plane back to Doha.
As far as I know they're flying the plane back to Doha empty. They zeroed out all the inventory, and there wasn't a single seat occupied on the seatmap.
Except while they zeroed out all revenue inventory, they didn't zero out business class award inventory, as four seats were showing at the time.
I tried to book using American AAdvantage miles, and while the agents saw the space, they couldn't get it to confirm. The same was true on British Airways' website, which showed the space, but on the booking page it couldn't complete the transaction.
Reader Ed left a comment indicating that he had no trouble booking over the phone with BA. So I tried that as well, and sure enough, it worked. The rates desk had to manually price the ticket, but they confirmed it without issue. While not cheap at 40,000 Avios plus $412 in taxes and fuel surcharges (over half of which is the pesky UK APD), it's not a price I mind paying for the shot at a more-or-less private A350 flight. 😉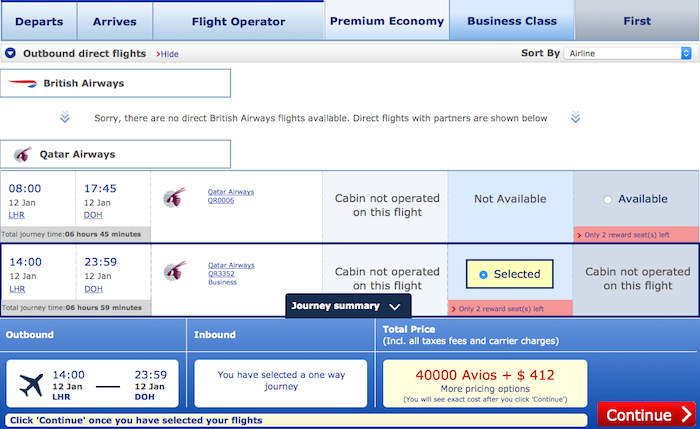 So now I'm confirmed in business class on a Qatar Airways A350 in order to position myself for… the Qatar Airways A350 inaugural flight.

So far it's just Ed and I that have assigned seats on the flight. That's two seats assigned in business class and no seats assigned in economy class.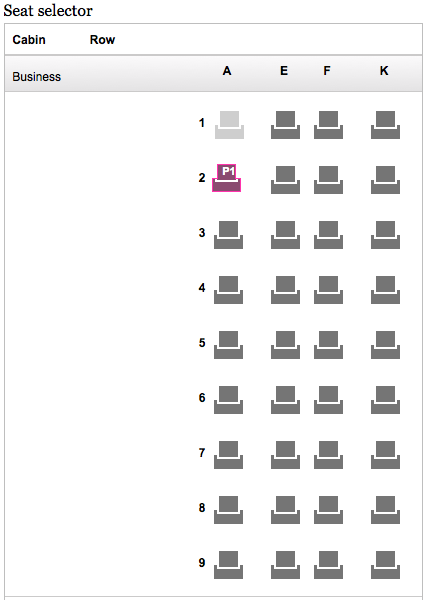 This should get really, really interesting. Presumably Qatar Airways flew out a full cabin crew for this trip, since they need them present on the quick media flight around Heathrow. In which case it wouldn't surprise me if they were all expecting just to fly back on that plane as well.
There are a few ways I see this playing out:
Maybe there are a few other executives that were at Heathrow that are also hitching a ride on the flight, and they'll be caught off guard by the fact that there are two passengers.
Maybe the intent was that the flight would just be a total ferry flight so that there are just two pilots and no crew.
Maybe it will literally just be two of us with a full crew and full catering.
Maybe they try to kick us off since this perhaps wasn't intended to be a passenger flight.
Regardless, something tells me this will get really interesting.
Anyone care to wager a guess as to how this will play out?
Stay tuned, you can bet I'll be sharing the play-by-play here. And if two more people want to get in on the fun, there are still two business class award seats available… 😉