Club Carlson has just announced their spring promotion for 2017, which offers triple points all nights of the week, plus 5,000 bonus points for stays on certain days of the week. The promotion is valid for stays between April 3 and June 30, 2017.
Through this promotion:
You earn an additional 40 points per dollar spent on all stays, though you're capped at earning a total of 100,000 bonus points during the promotion period
If you stay a Sunday and Monday night you earn 5,000 bonus points (in Bahrain, Egypt, Kuwait, Libya, Oman, Qatar, Saudi Arabia and the UAE, Saturday and Sunday nights are eligible for this part of the promotion) — you can earn up to 10,000 bonus points through this portion of the promotion, and no more than 100,000 points through the promotion as a whole
Registration is required prior to checking out of your first eligible stay, and bonus points should be credited to members' accounts the same time that the normal points for the stay post, within a few days of check-out.
Club Carlson members ordinarily earn 20 points per dollar spent, and Gold members ordinarily earn a 35% points bonus (you get Gold status just for having the co-branded credit card). That means that as a Gold member you'd earn 67 Gold Points per dollar spent, which is great. That doesn't include the potential to earn 5,000 bonus points for stays over Sunday and Monday nights, up to two times.
That's a solid promotion, though do keep in mind that it's capped at ~$2,500 worth of spend, since you can't earn more than 100,000 bonus points.
I value Gold Points at ~0.4 cents each, so a ~27% return on hotel spend is solid.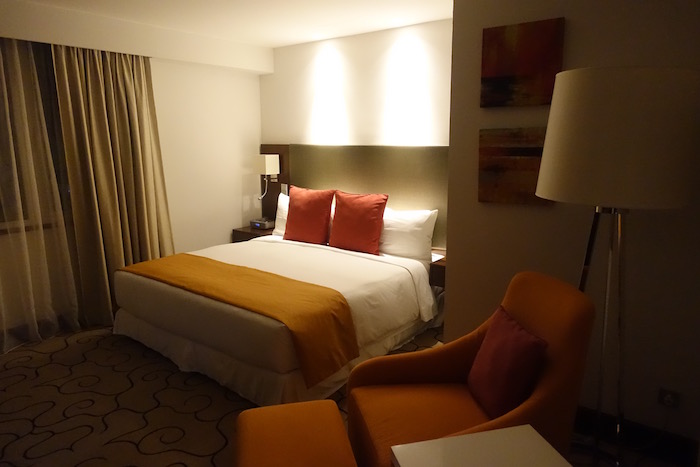 Radisson Bandar Seri Begawan, Brunei
Bottom line
While Club Carlson isn't nearly as lucrative of a loyalty program as it used to be, they continue to offer generous promotions for hotel stays. You can earn tons of points for hotel stays with Club Carlson, and in many cases you can get good value out of those points, given how many properties they have in expensive markets, like Northern Europe.
This is definitely one of the best promotions being offered by a hotel loyalty program this spring.
Do you plan on taking advantage of Club Carlson's triple points promotion?