Club Carlson has just announced their summer promotion for 2017, which is called "Free Fridays." The promotion is valid for stays between July 1 and September 30, 2017, and offers your choice of a free stay on a Friday night, or 10,000 bonus Gold Points, after every two stays. Each person can earn up to three rewards, for a total of up to 30,000 bonus Gold Points or three free nights.
Registration is required prior to checking out of your first eligible stay, and you must choose at that point whether you want to earn bonus points or free nights. You won't be able to change your selection after choosing.
I value Club Carlson points at ~0.4 cents each, so to me 10,000 points are worth $40, so that's a pretty straightforward return for every two stays.
The free Friday nights are potentially way more valuable, though also come with restrictions. Here are the restrictions associated with the Friday night e-certs, should you choose those:
Friday E-Certs are valid for reservations on a single Friday night at any Quorvus Collection, Radisson Blu®, Radisson RED, Radisson®, Park Plaza®, Park Inn® by Radisson and Country Inns & Suites By CarlsonSM hotels worldwide for stays between October 6, 2017 and January 26, 2018. Each Friday E-Cert is valid for a new reservation booked on a Carlson Rezidor Hotel Group website using the unique Friday E-Cert code provided. Separate reservations may be made for additional nights before and/or after the Friday night reservation. The Friday E-Certs will expire on January 26, 2018 and cannot be extended. Friday E-Certs used on a reservation that is cancelled within the hotel's cancellation policy and before the expiration date may be re-used. All incidental charges, such as gratuities, parking, resort fees, room service and room entertainment are excluded. Friday E-Certs are not valid for existing reservations and may not be used in conjunction with packages, promotions, group, convention or discounted rates, or used in combination with other gift certificates, e-certificates or vouchers. Friday E-Certs must be reserved by the earning member, may only be used once, and may not be assigned, transferred, brokered, bartered, sold, posted online or altered in any way. Friday E-Certs have no cash value. Void where prohibited by law.
So you could potentially use these e-certs for a stay at a property that would cost 70,000 points per night, though the catch is that it can only be for a stay on a Friday night.
Keep in mind that all of this is in addition to the points that members ordinarily earn. Club Carlson members ordinarily earn 20 points per dollar spent, and Gold members ordinarily earn a 35% points bonus (you get Gold status just for having the co-branded credit card).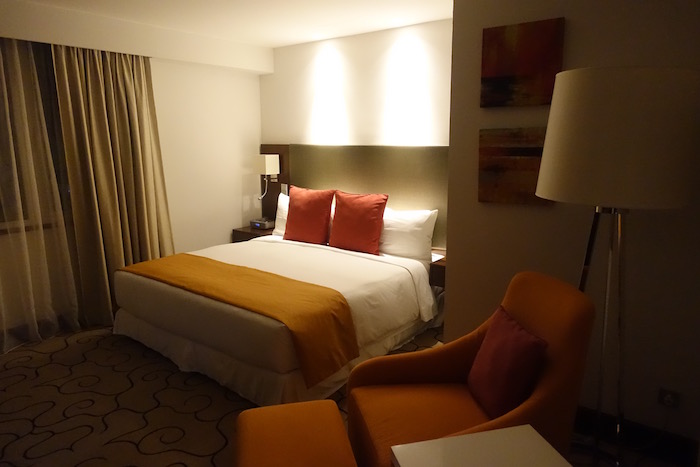 Radisson Bandar Seri Begawan, Brunei
Bottom line
While Club Carlson isn't nearly as lucrative of a loyalty program as it used to be, they continue to offer generous promotions for hotel stays. This promotion has the potential to be especially lucrative, at least for your first six stays during the promotion period. If you select the points option, it's like getting an extra ~$2o return per stay for your first six stays. Meanwhile if you choose the free nights option you potentially get a lot more value. Just remember that the e-cert has limited dates where it's valid, and it can only be redeemed for a stay on a Friday night.
Do you plan on taking advantage of Club Carlson's promotion, and if so, which offer do you plan on selecting?