A while back American Airlines and Citi introduced a great welcome bonus on the CitiBusiness® / AAdvantage® Platinum Select® Mastercard®.
I realize many people aren't looking for new travel cards at the moment, but this card does have an excellent bonus, and those are travel rewards you can use for some great trips once things return to normal.
You can get the card now, complete the minimum spending, and hopefully at that point it will be possible to start planning travel again.
In this post I wanted to share eight reasons you should consider applying for this card, assuming you don't have it already (if you want to read a more detailed review of the Citi AAdvantage Business Card, see here).
65,000 AAdvantage Bonus Miles
The Citi AAdvantage Business Card offers a welcome bonus of 65,000 AAdvantage bonus miles after spending $4,000 within the first four months (though as I'll get into below, you'll have more time than that to complete the spending).
That's a lot of miles — you'd be just shy of 70,000 AAdvantage miles, which is enough for a one-way business class ticket from the US to Europe, Asia, the Middle East, India, South America, and more. 75,000 AAdvantage miles is even enough for a one-way business class ticket between the US and South Africa, which is well within reach after completing the minimum spending.
Personally, my favorite use of AAdvantage miles is for travel on Etihad Airways and Qatar Airways, given their excellent business class products. For example, I recently redeemed 75,000 AAdvantage miles to fly Qatar Airways business class from Cape Town to Doha to Dallas to Miami, which was one of my favorite uses of AAdvantage miles ever.
See this post for more great ways to redeem AAdvantage miles.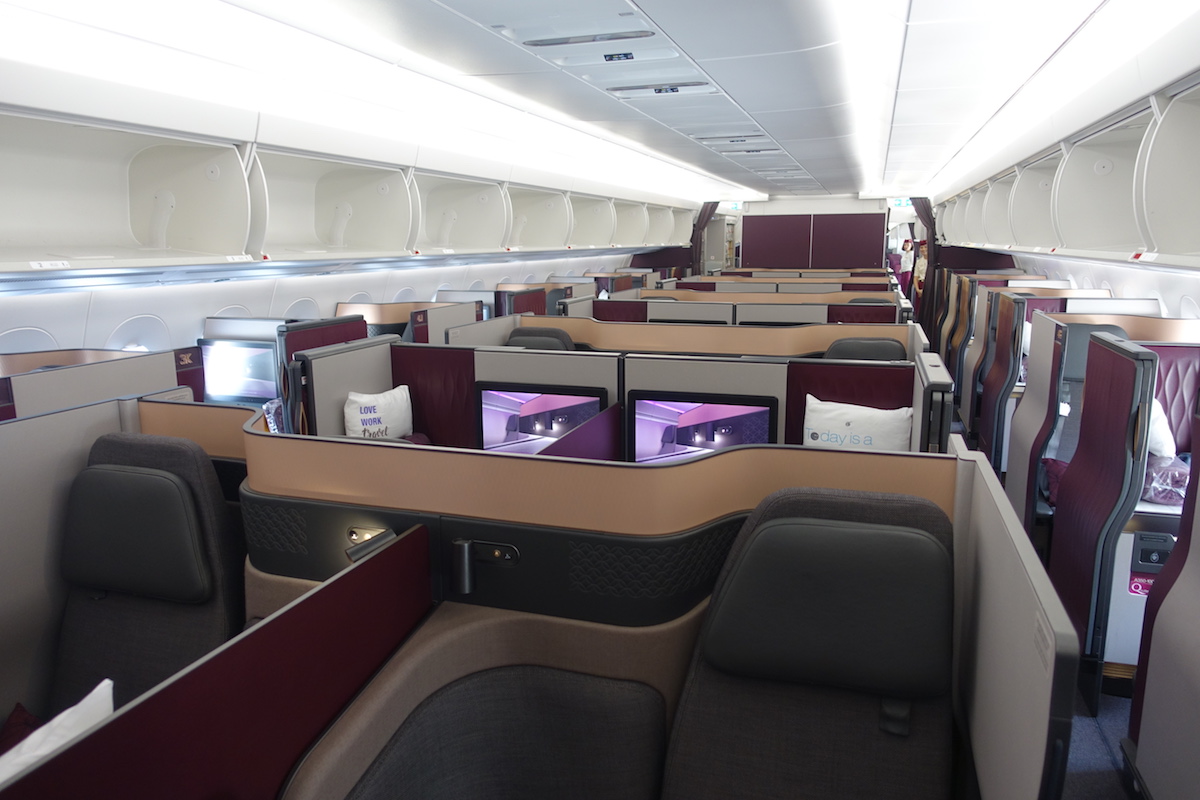 Redeem your American miles for travel in Qatar Airways Qsuites
Seven months to complete spending requirement
As a friendly reminder, if you applied for this card by May 31, 2020, you have an extra three months to complete the minimum spending requirement. That means you'd have seven months to meet the minimum spend of $4,000, which is a reasonable spending requirement for most.
$99 Annual Fee Waived First Year
While the card has a reasonable $99 annual fee, it's waived for the first 12 months, so this is a card you can "try before you buy."
Card Doesn't Count Towards 5/24
If you want to apply for Chase credit cards there's the 5/24 rule, which means you typically won't be approved for a Chase card if you've opened five or more new card accounts in the past 24 months.
However, only certain cards count towards that limit. Most business credit card applications, including Citi business cards, don't count towards that limit. This is because these cards don't show on your personal credit report.
If you want a great credit card but don't want to increase your count towards that limit, this is a reason to pick up this card.
Non-Restrictive Eligibility Requirements
Card issuers often add new restrictions when it comes to eligibility for being approved for a card. Here are the terms for the CitiBusiness AAdvantage Card:
American Airlines AAdvantage bonus miles are not available if you have received a new account bonus for a CitiBusiness / AAdvantage Platinum Select account in the past 48 months.
You're not eligible for this card if you've received a new cardmember bonus on this exact card in the past 48 months. However, having any of the Citi AAdvantage personal cards doesn't prevent you from getting the bonus on this card.
The personal cards, on the other hand, have significantly more restrictive requirements.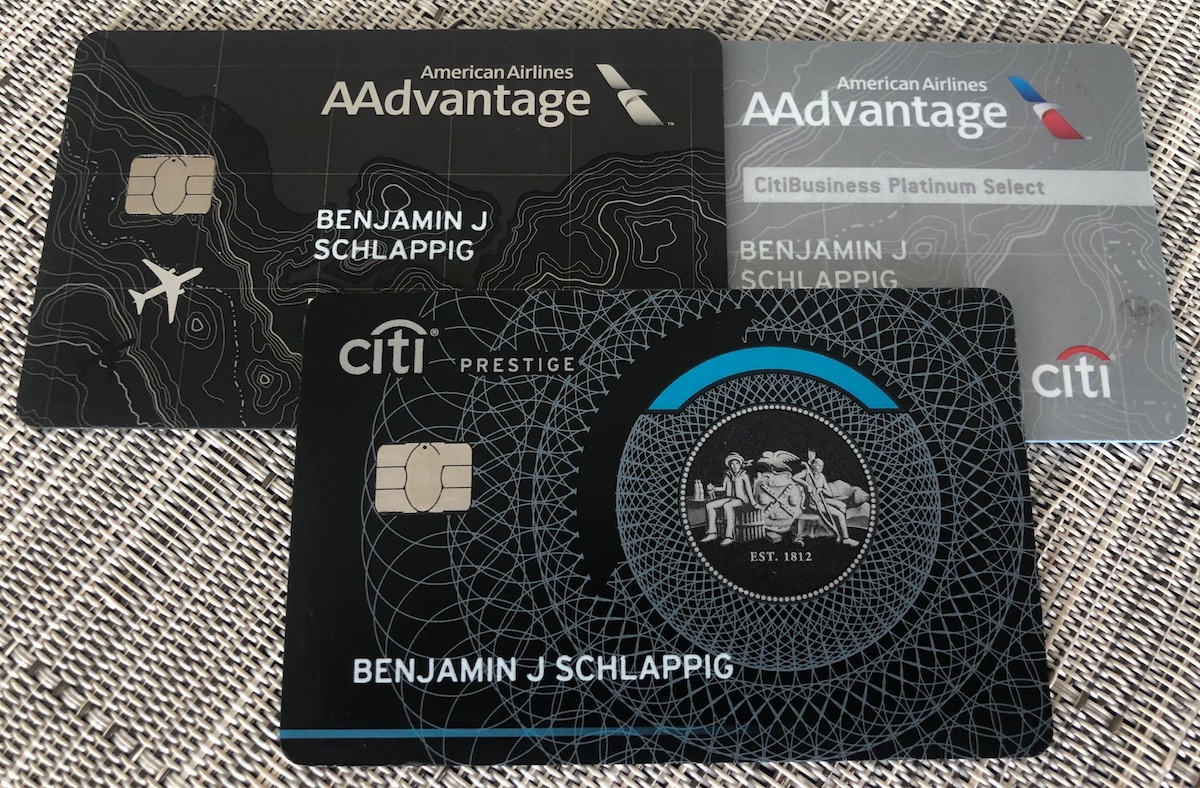 This card has fairly lax requirements in terms of eligibility
Spending counts towards lifetime status
For a limited time spending on co-branded American Airlines credit cards counts towards lifetime status.
Spending on all Citi AAdvantage and Barclays AAdvantage Aviator cards between May 1 and December 31, 2020, counts towards lifetime status.
You will earn one mile towards lifetime status for every dollar spent on the card. Sign-up bonuses, as well as categories that are bonused, won't earn you any additional miles towards lifetime status.
First Checked Bag Free
Just for having the card you receive a first checked bag free on domestic American Airlines flights. You don't actually have to pay with the card to use this perk, but rather the AAdvantage number of the primary cardmember just has to be on the reservation.
This benefit also applies for up to four additional passengers traveling on the same itinerary.
American usually charges $30 one-way per checked bag, for a total of $60 roundtrip. So if you had four companions, you're looking at savings of up to $300 on a roundtrip ticket.
Postmates Discount (World Mastercard Perks)
The Citi AAdvantage Business Card is a World Mastercard, meaning that it comes with some World Mastercard benefits. My favorite one of these benefits is that you get $5 off every Postmates order of $25 or more.
For many people that's more useful than ever before.
Save on Postmates with Mastercard
Bottom Line
The current welcome bonus on the Citi AAdvantage Business Card can be incredibly valuable, and if you're eligible and in a position where it makes sense to apply for a credit card right now, I highly recommend applying.
American AAdvantage miles continue to be the most useful miles for those looking to travel comfortably to the Middle East, India, and parts of Africa, in my opinion, thanks to their partnership with Etihad and Qatar.
65,000+ miles is just about enough for a one-way business class ticket that would otherwise cost thousands of dollars.
While most of us aren't traveling right now, by the time you earn the welcome bonus in several months we'll hopefully be at a point where it's at least possible to plan your next adventure. If you want to earn even more AAdvantage miles, consider opening a Bask Bank account.
If you want to learn more about the CitiBusiness AAdvantage Platinum Card or apply, follow this link.