There have been rumors of China Southern leaving SkyTeam and joining oneworld for years. In ways this is logical, as oneworld doesn't have an airline based in mainland China, while China Southern has second-rate status in SkyTeam, given Delta's close partnership with China Eastern.
There is, however, the matter of Cathay Pacific. Cathay Pacific has veto power in oneworld, and many think that they wouldn't want another airline to join that's based so close to Hong Kong. This has also lead to rumors of Cathay Pacific leaving oneworld and joining Star Alliance, though that seems less likely.
Still, the way this situation has unfolded has been interesting.
In early 2017, American Airlines bought a $200 million stake in Guangzhou-based China Southern Airlines. On some level this was surprising, given that prior to this the two airlines didn't cooperate in any way. They had no codeshare agreements, and American doesn't even fly to to Guangzhou. American said that this investment "creates a strong foundation for a long-term relationship between two of the world's biggest carriers."
It's not necessarily uncommon for airlines to have partnership and relationships outside of their main alliances, though SkyTeam has more restrictive rules for their members, and specifically limits the number of codeshare routes that airlines can have with airlines not belonging to the alliance. Earlier this year American and China Southern were forced to nearly halve their codeshared operations due to this restriction.
With all that as background, China Southern just posted the following notice to shareholders and investors, confirming that they will not be renewing their SkyTeam association for 2019: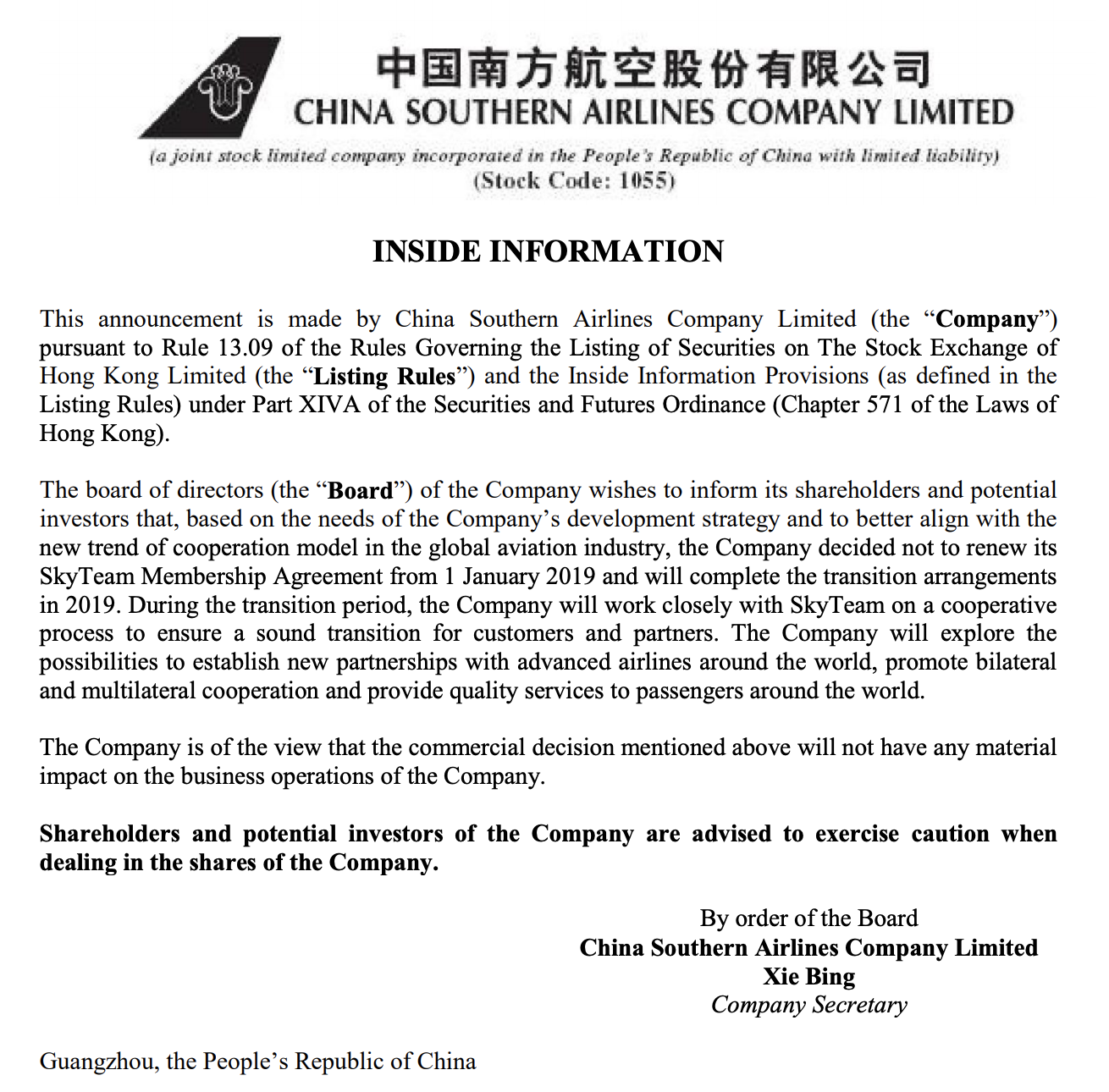 In ways, this isn't surprising, as tensions have obviously been building for some time, but this does seem like a fast departure.
At this point transition details are unknown, and there are a lot of factors to consider. Beyond the loyalty arrangements and reciprocal benefits with other SkyTeam members, there are agreements surrounding codeshares, ticketing, interlining, and so forth that will need to be renegotiated (or possibly terminated).
In general, if you have an existing ticket on China Southern for next year this doesn't change anything about your actual flight, and operations will continue as normal. Depending on the timing of your trip, however, you may not be able to enjoy SkyTeam Elite benefits such as increased baggage allowances, and your options for crediting miles may change.
We'll update as we know more.
What do you make of China Southern leaving SkyTeam?