While times are tough for Hong Kong-based Cathay Pacific, the airline will be launching service with the Airbus A321neo in the coming weeks, which represents a major development for the airline.
Why Cathay Pacific is getting A321neos
For decades, Cathay Pacific has exclusively operated a wide body fleet. However, that changed with very little notice, as in late 2020 it was announced that Cathay Dragon would be integrated into Cathay Pacific.
For context, Cathay Dragon was Cathay Pacific's wholly owned regional subsidiary, primarily focusing on mainland China routes. Due to everything going on, Cathay Pacific decided it made sense to merge the two brands, meaning the "Dragon" branding will cease to exist.
While Cathay Dragon primarily flew Airbus A330s (which have similar cabins to what you'll find on Cathay Pacific), Cathay Dragon also flew narrow body jets.
Cathay Dragon had 16 A321neos on order, which are now going to Cathay Pacific. Cathay Pacific has already taken delivery of four of these planes, two more should be delivered in the second half of 2021, and then the remaining 10 will all be delivered before the end of 2023.
The last time that Cathay Pacific operated narrow body planes was in 1983, when the airline retired its Boeing 707s.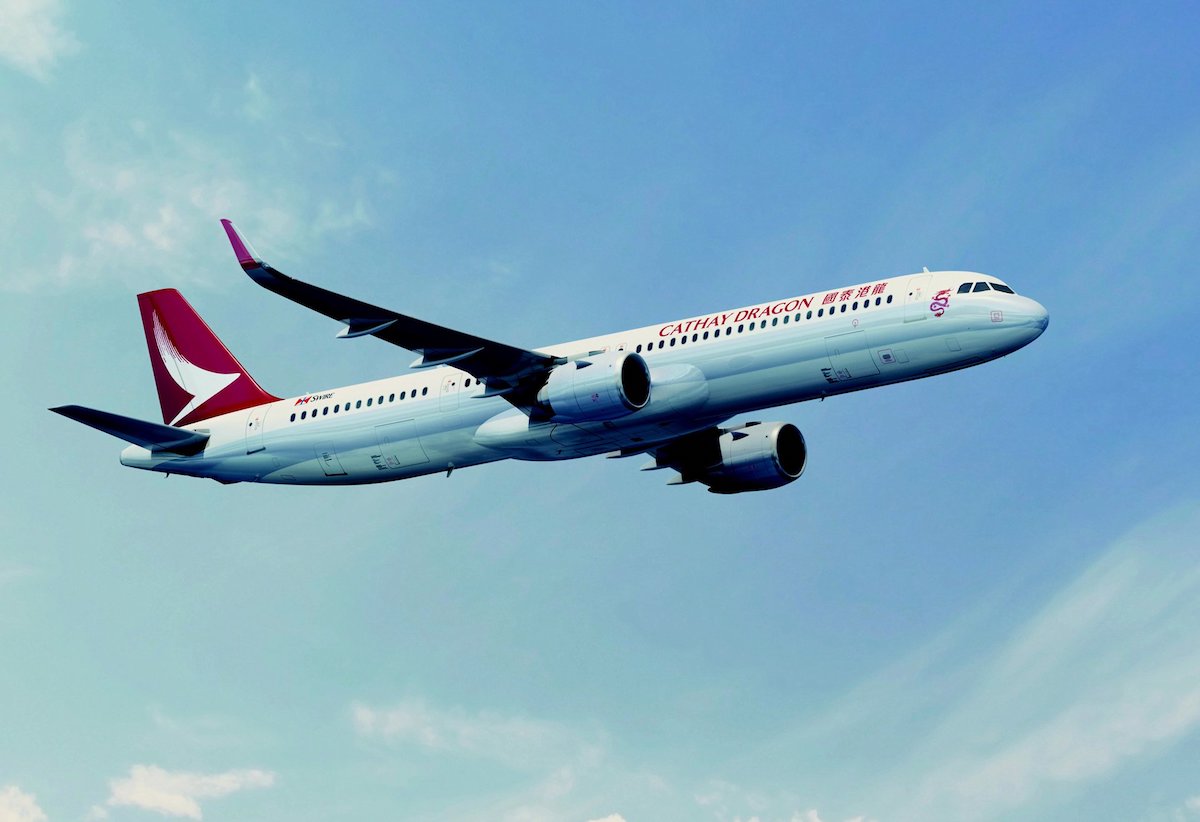 Cathay Pacific A321neo livery
Isn't it funny how our minds work? As an aviation geek I love different airlines' liveries. I've quite liked Cathay Pacific's current livery, even if it's not the most exciting. Part of that is probably that I find the A350 and 777 to be especially gorgeous aircraft, and those are the backbone of Cathay Pacific's long haul fleet.
Seriously, are these beauties, or beauties?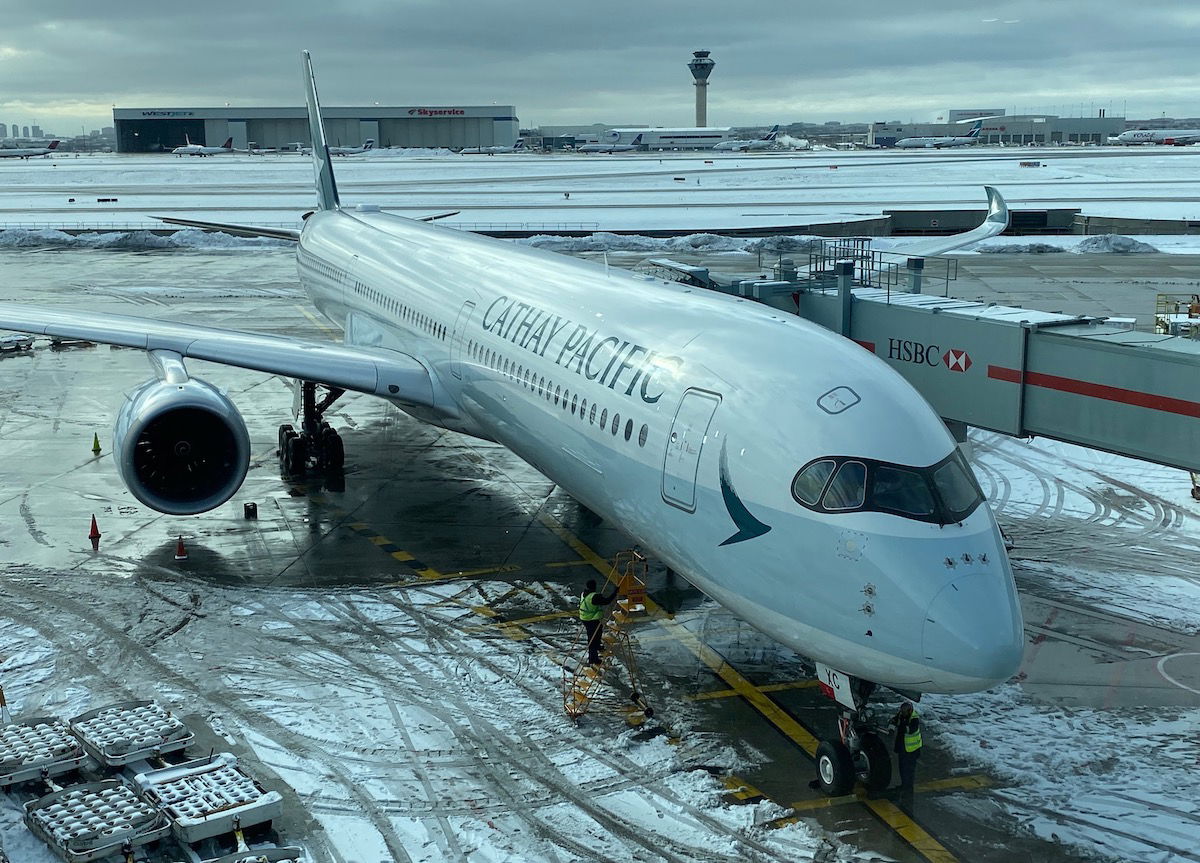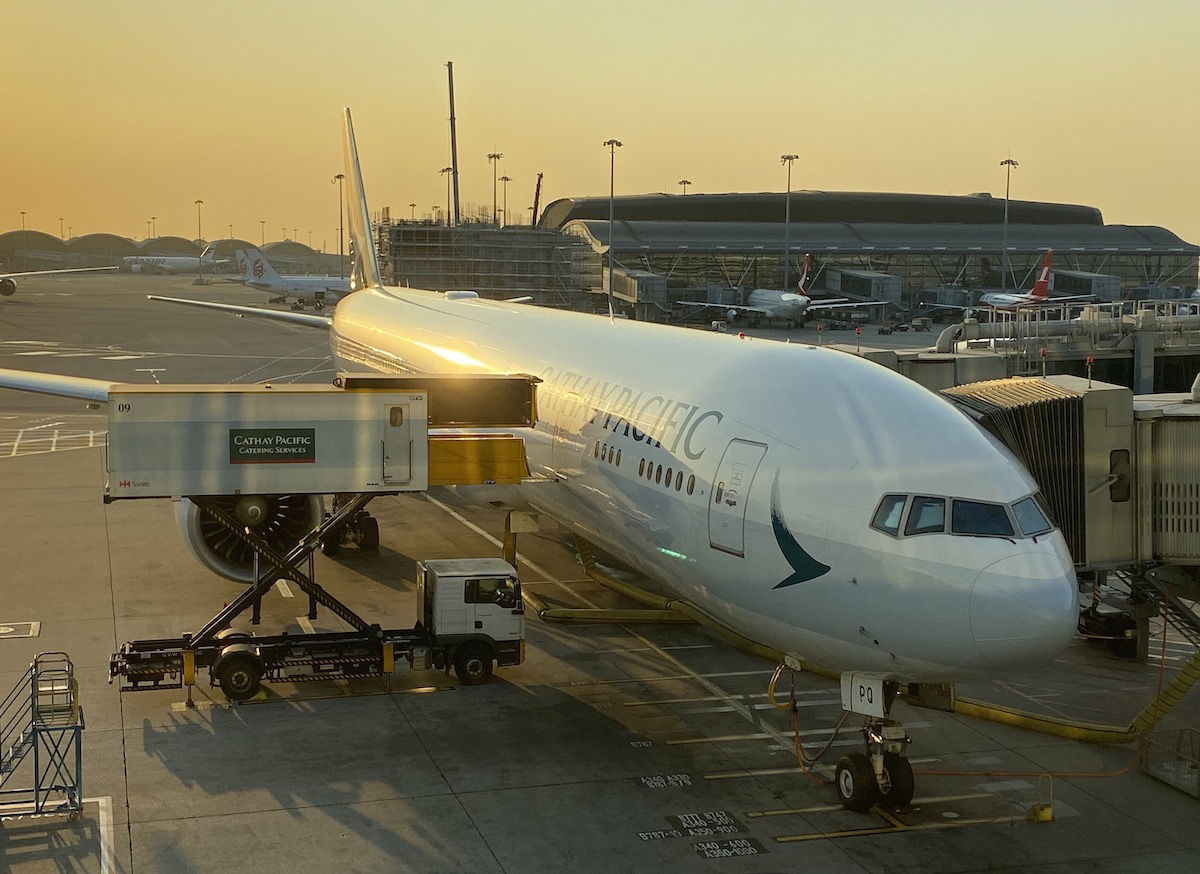 In the past couple of months Cathay Pacific has painted its first Airbus A321neo in Cathay Pacific livery, since the plane initially sported Cathay Dragon's livery.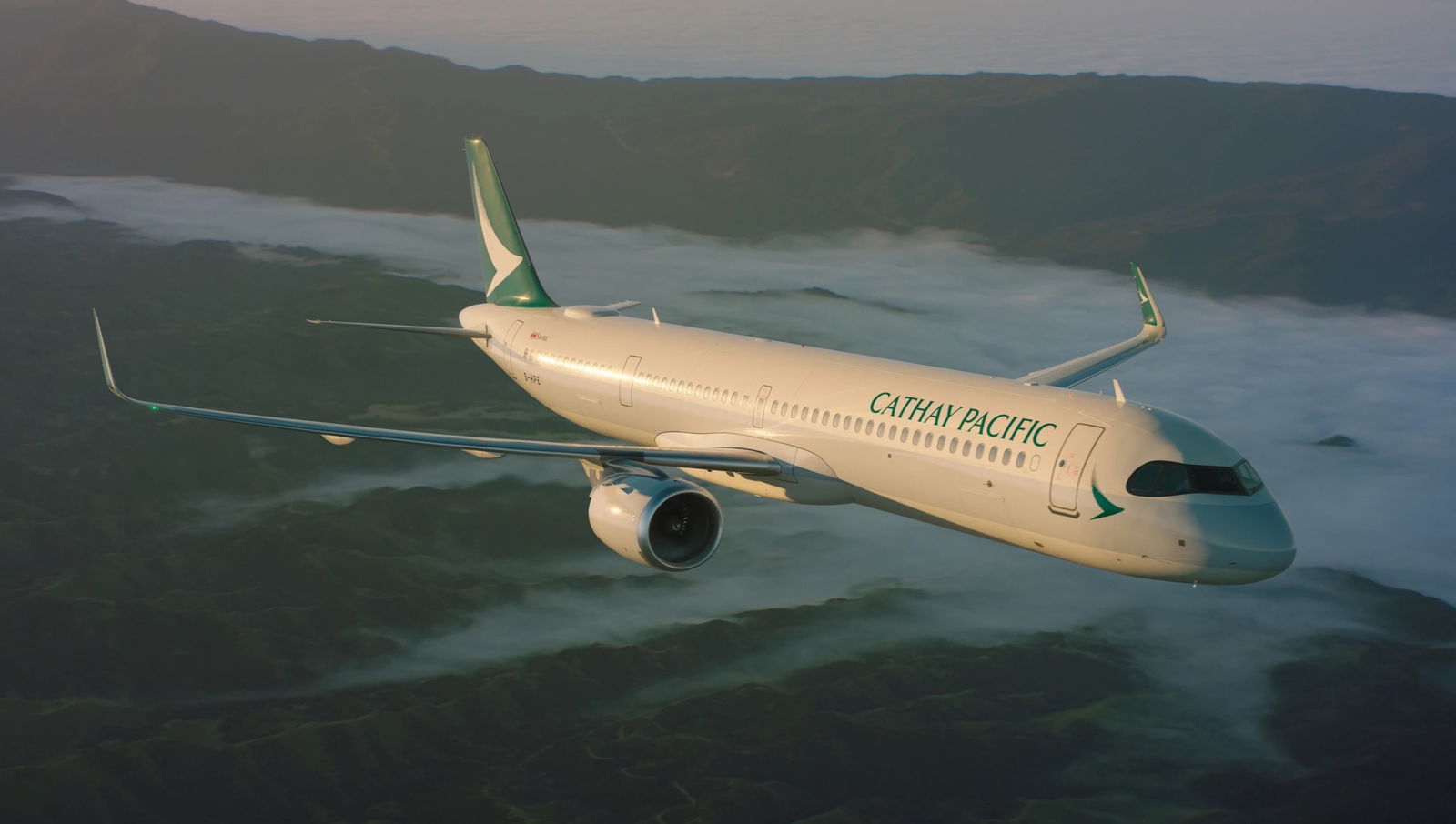 I kind of like the livery, though at the same time I can't help but find it kind of strange on a smaller plane. It looks familiar yet unfamiliar, and somehow doesn't quite look right to me, but that's probably just because I'm used to seeing the livery on a much bigger plane.
It's interesting that both Cathay Pacific and Singapore Airlines are launching narrow body operations around the same time. The first 737 in Singapore Airlines' livery was recently revealed, which comes as the Singapore Airlines and SilkAir brands are merging.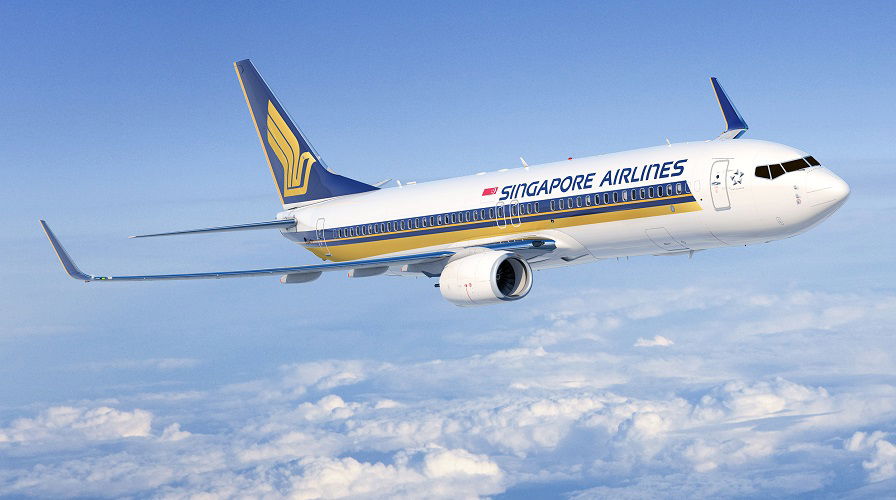 Cathay Pacific A321neo business class
What should you expect from Cathay Pacific's A321neo business class? These planes will have a total of 202 seats, including 12 business class seats and 190 economy class seats.
The airline has indeed installed a new regional business class product on this plane, though don't get too excited. For context, below is Cathay Pacific's current regional business class product.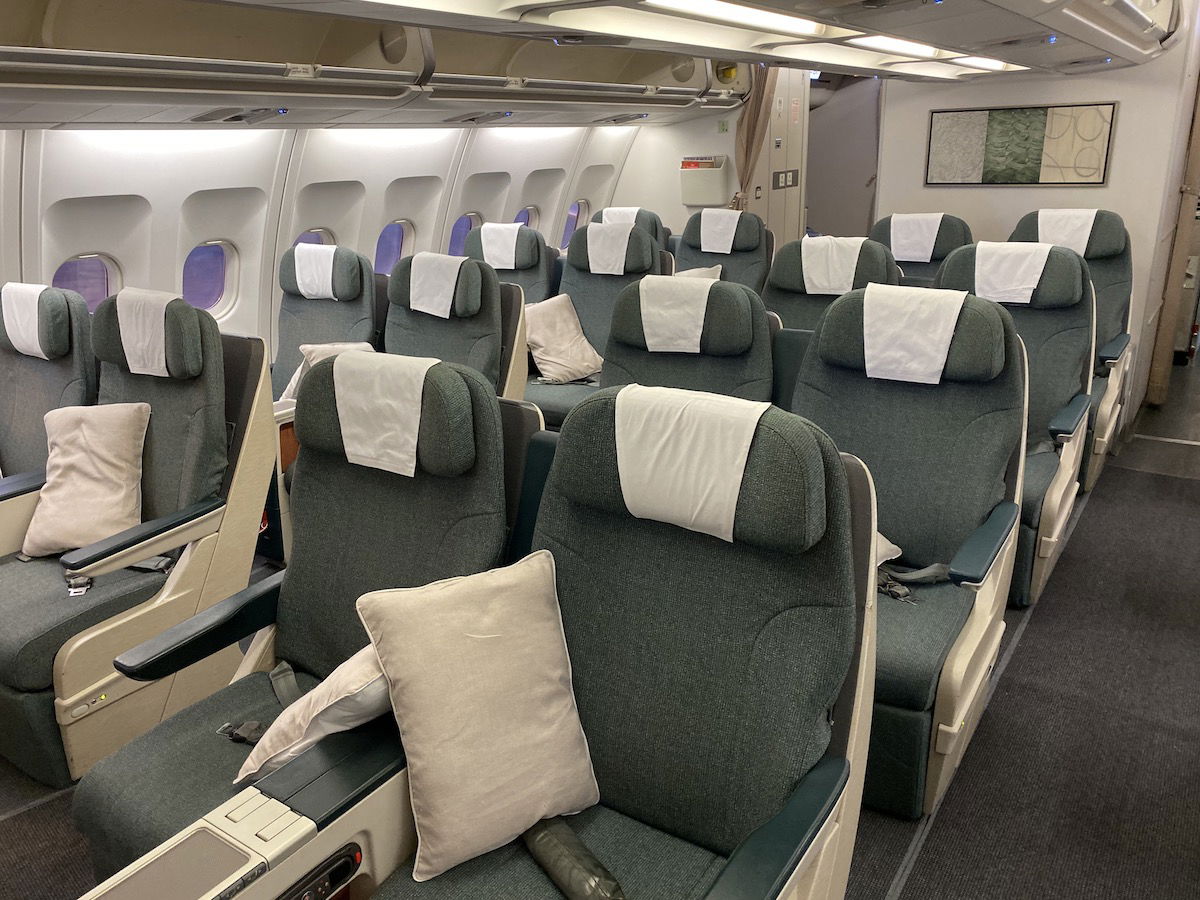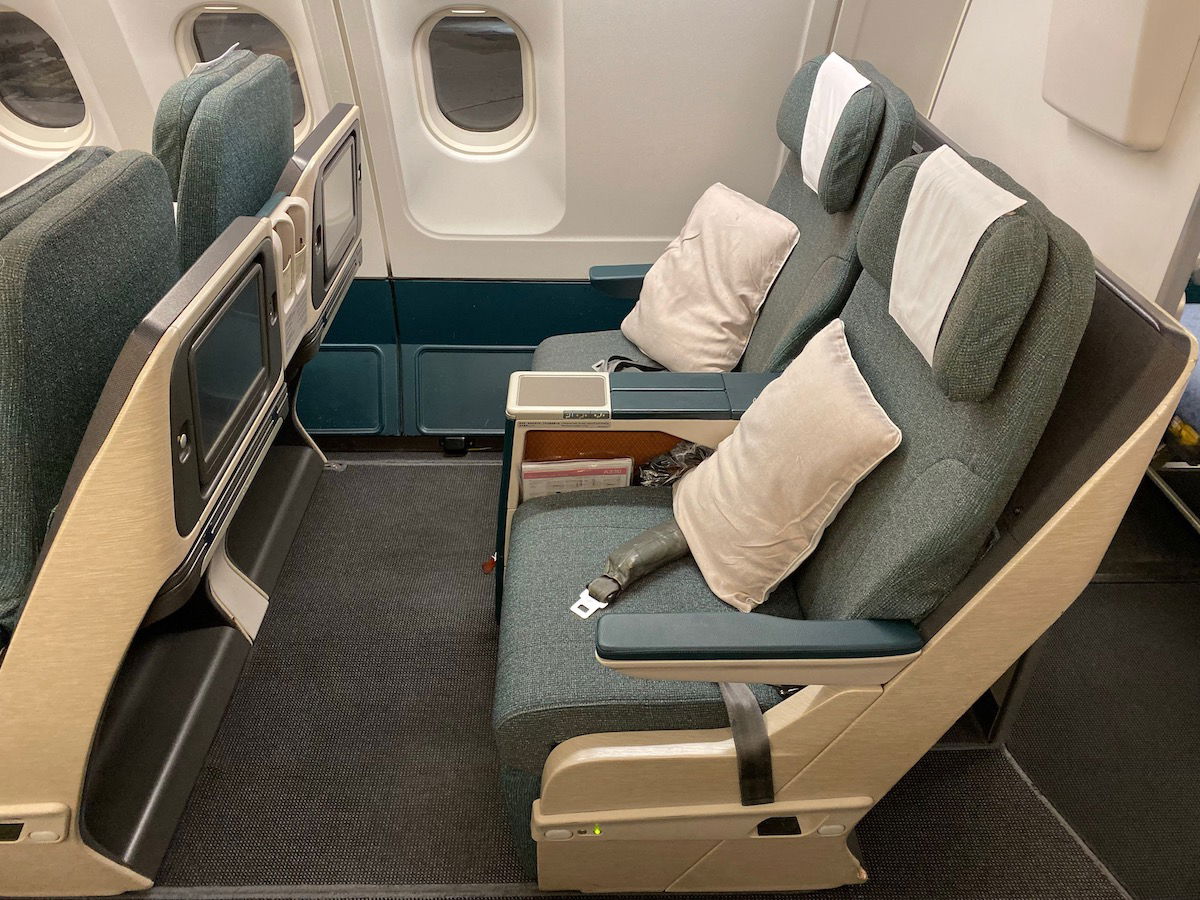 Meanwhile below is the new Cathay Pacific A321neo regional business class seat. Cathay Pacific has 12 business class seats on A321neos, spread across three rows in a 2-2 configuration.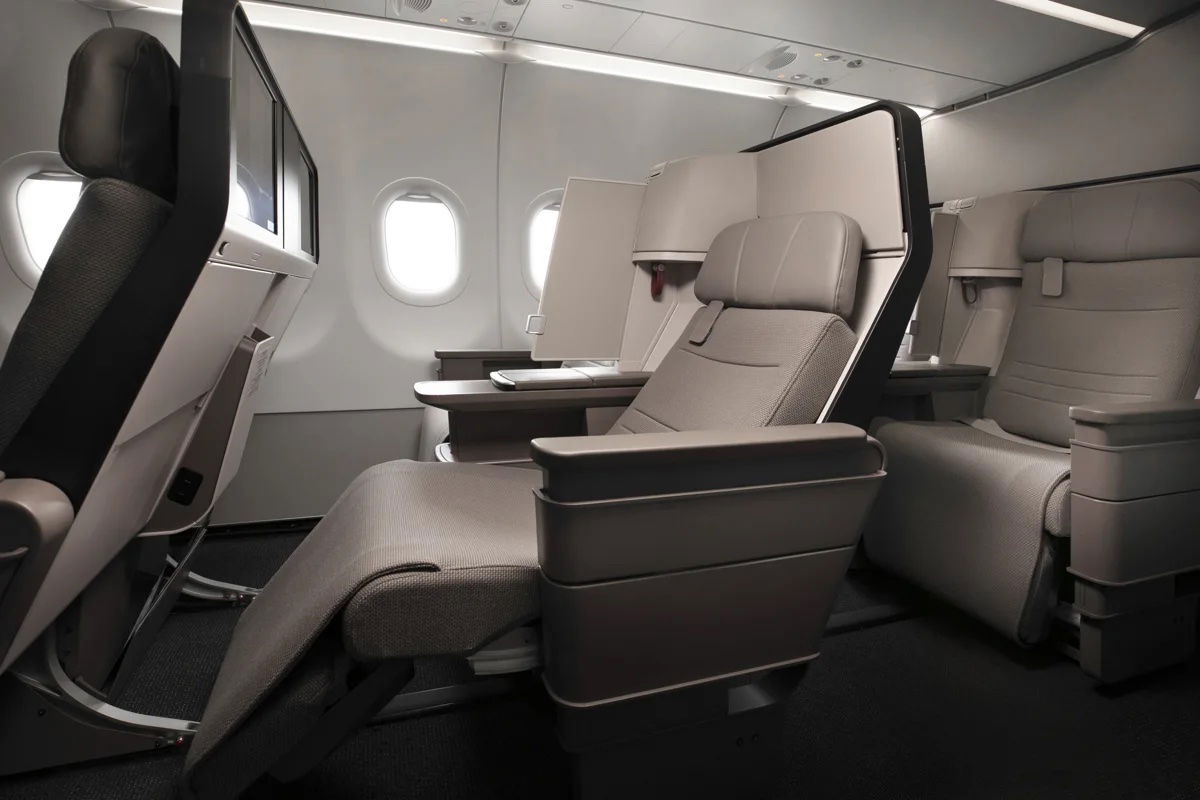 As you can see, there still won't be flat beds, but the seats will feature significantly more privacy than the old product. This is the same type of seat that Oman Air selected for its Boeing 737 MAX 8s, though obviously airlines can customize finishes, so they're not identical.
I have a few thoughts on the new Cathay Pacific A321neo business class seat:
Since these planes will primarily be used for short flights, this business class product is good enough, even though I don't love the shell seat design
On the one hand I appreciate the added privacy over the old seat, though it also looks like the privacy partition doesn't go all the way back, so some people may not love this if traveling with others
I'm a little confused about the need for the shoulder strap for a fully forward facing seat, especially since Oman Air doesn't have it
Throughout the plane there will be personal televisions at every seat (15.6″ in business class, 11.6″ in economy class), including bluetooth audio streaming, which is a nice feature. All seats will also have power outlets, and access to high speed Wi-Fi.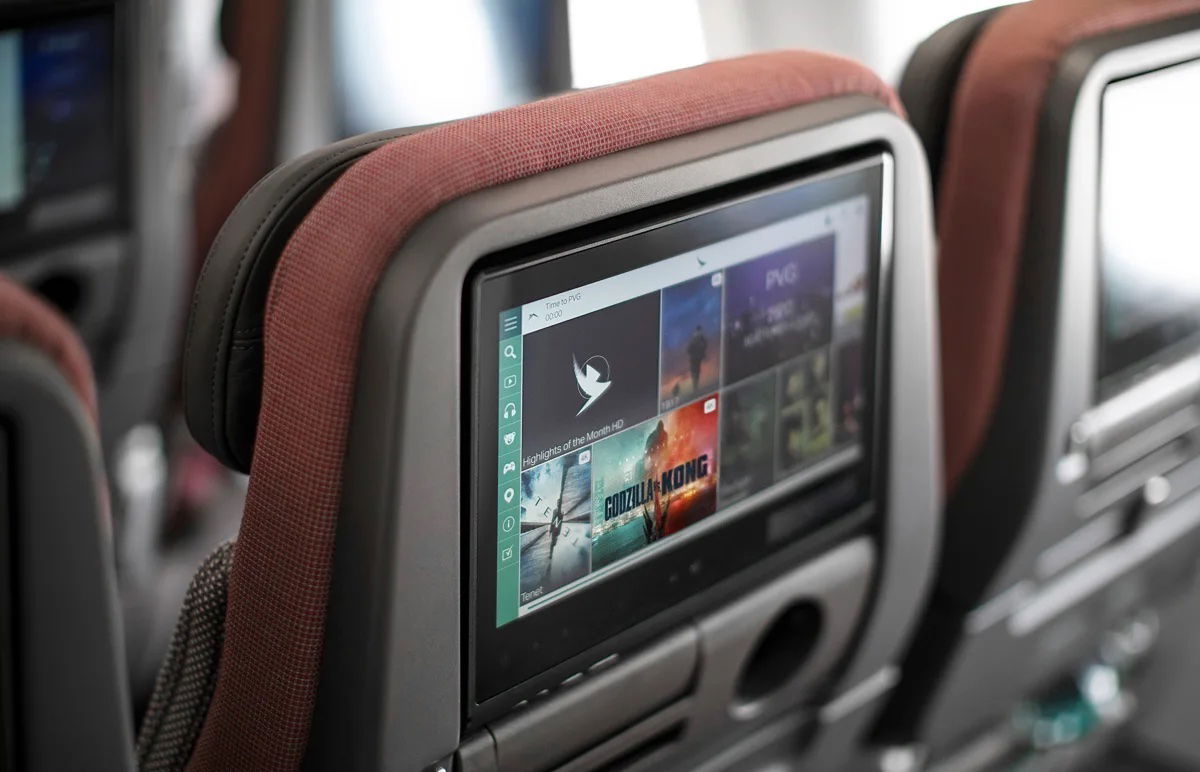 Cathay Pacific A321neo enters service August 2021
Cathay Pacific's A321neos will finally enter commercial service as of August 2021:
As of August 4, 2021, the plane will fly between Hong Kong and Shanghai
Throughout August the A321neo will be deployed on routes to Guangzhou, Hangzhou, Kaohsiung, Nanjing, Qingdao, and Taipei
The world's most enjoyable short haul experience?
Airlines exaggerating or stretching the truth is hardly anything new, though I do think Cathay Pacific deserves to be called out for this. The airline is claiming that the new A321neos offer "the world's most enjoyable short-haul experience."
While I'm a huge Cathay Pacific fan in general, this is simply hogwash:
All kinds of airlines (including Cathay Pacific) fly wide body aircraft on short haul routes that are equipped for ultra long haul flights, with fully flat beds in business class, and arguably a more comfortable economy experience
Even if Cathay Pacific is going to claim that it offers the best narrow body short haul experience, that still isn't true; plenty of airlines offer flat beds on narrow body aircraft, and I'll simply use Qatar Airways' experience as one example, as the airline offers a superior hard and soft product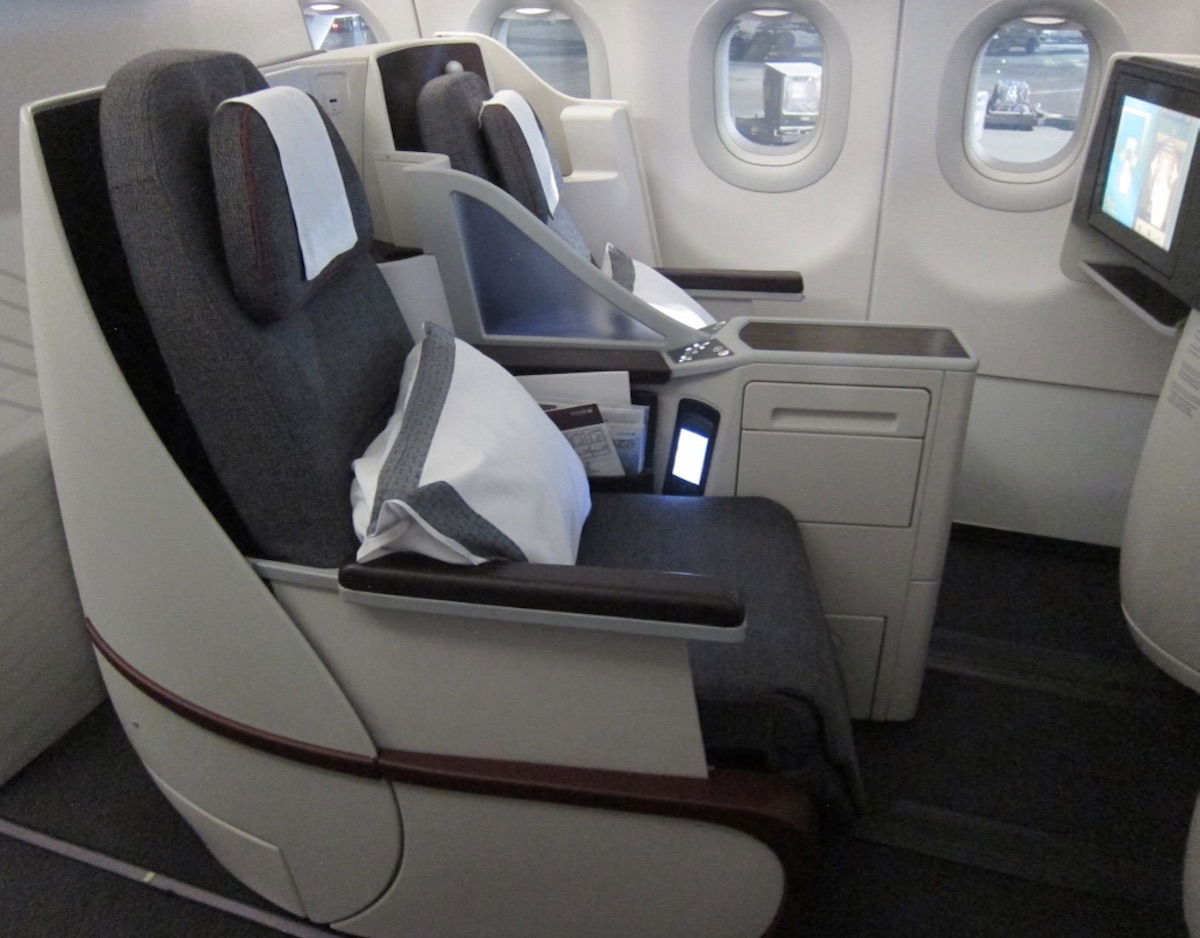 Bottom line
Cathay Pacific will be launching service with its Airbus A321neos as of August 2021. The airline already has four of these planes in its fleet, with another dozen due to be delivered in the next couple of years.
It's surreal to see a narrow body aircraft in Cathay Pacific's livery. While the plane won't offer that amazing of an experience, I still look forward to hopefully being able to fly one of these planes some day (though probably not anytime soon, given travel restrictions in Hong Kong). One thing is for sure, the economics of the A321neo are great.
What do you make of Cathay Pacific's new A321neo?