Air Canada's Aeroplan program has just made it significantly easier to redeem miles on the North American airline I most want to fly…
Redeem Aeroplan miles for Canadian North online
Canadian North is an Inuit-owned airline with the most service to the Canadian Arctic. Canadian North has been a partner of Air Canada Aeroplan for years, allowing Aeroplan members to earn and redeem miles when traveling on Canadian North.
Up until recently you had to call Aeroplan to redeem miles on Canadian North. Fortunately as of September 10, 2020, Canadian North award tickets are bookable on aeroplan.com.
As far as I'm concerned there's huge value in being able to book awards directly online, both in terms of ease of searching availability, and then also in terms of time savings when booking.
I can't wait to fly Canadian North (eventually)
Back in 2018 I flew Condor from Frankfurt to Whitehorse (which I've called the most random transatlantic route), and then flew Air North from Whitehorse to Vancouver.
I had an amazing time, and ever since I've really been wanting to fly Canadian North to the Canadian Arctic.
The value of redeeming Aeroplan miles on Canadian North is phenomenal. For example, you can redeem just 7,500 miles to fly from Iqaluit to Arctic Bay.

If you were to pay cash for that one-way flight, it would cost 567 USD.

It's also costs just 7,500 miles to fly from Iqaluit to Ottawa…

Or to fly from Iqaluit to Resolute…

Are these cool routes, or cool routes?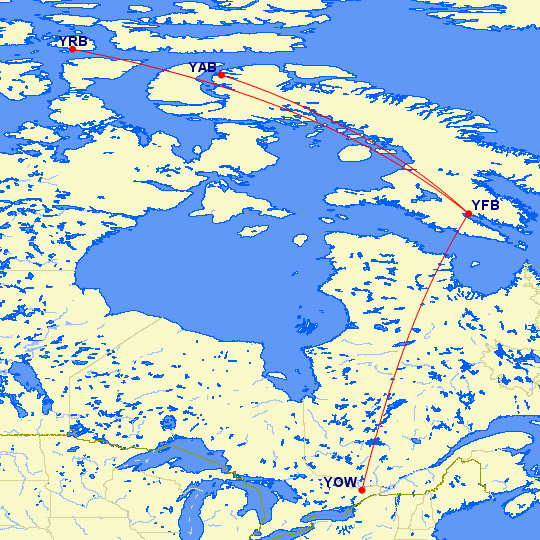 I know I'm strange, but I could spend all day just playing around with Canadian North routes on Aeroplan's website, because this is oh-so-fascinating to me. Bonus points to whoever can share the most creative one-way Canadian North Aeroplan redemption in the comments section.
Bottom line
Canadian North is one of the coolest Aeroplan partners, in my opinion, and it's great that these award redemptions can now be booked on aeroplan.com. I can't wait to eventually fly with Canadian North, once current restrictions are lifted and it's reasonable to visit the Canadian Arctic again.
Has anyone flown with Canadian North before? How was the experience? Anyone else find the airline to be as cool as I do?
(Featured image courtesy of Quintin Soloviev)