In the interest of full disclosure, One Mile at a Time earns a referral bonus for purchases made through some of the below links. These are products and services we use ourselves and are the best offers we know of. Check out our
Advertising Policy
for further details. Thanks for your support!
Choice Privileges has just rolled out its newest promotion on purchased points, which has the potential to represent a good deal.
Buy Choice Privileges points with 30% bonus
Through Monday, September 27, 2021, Choice Privileges is offering a sale on purchased points. Choice is offering a tiered bonus on purchased points, as follows:
Buy 4,000-7,000 points, get a 20% bonus
Buy 8,000-15,000 points, get a 25% bonus
Buy 16,000-180,000 points, get a 30% bonus

Different accounts may very well show different offers, so you'll want to log into your Choice Privileges account to see what you're eligible for. Choice Privileges ordinarily lets members purchase up to 180,000 points per account per calendar year (pre-bonus), but during this promotion the limit has been raised to 250,000 points.
If you maxed out this promotion you could purchase a total of 325,000 points (including 75,000 bonus points) for $2,475, which is a cost of ~0.76 cents per point.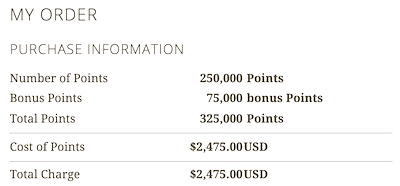 When Choice offers a promotion on purchased points, it's typically either a 25-30% discount or a 30-40% bonus. So this promotion is in line with the typical deals, but the offers do get marginally better than this. As a result I wouldn't speculatively pick up points if you don't have an immediate use in mind, but the difference in cost per point isn't huge between these promotions.
Is buying Choice points a good deal?
In the past, Travis has written about why he thinks Choice points are worth buying. Specifically, Choice has an impressive footprint in Northern Europe, where hotels can otherwise be expensive. Travis has redeemed at hotels like the Clarion Collection Hotel Folketeateret and the Clarion Collection Hotel Bastion, which cost 16,000 points per night.
If you bought the points for those stays through this promotion for 0.76 cents each, it would be the equivalent of paying ~$122 per night, which is quite a good deal, especially since these hotels come with free breakfast and dinner.
Historically, one major downside to the Choice Privileges program was that award redemptions were only allowed at most 30 days out for United States and Canada properties, and 60 days out for other properties. Fortunately, Choice modified this policy in 2018, and you can now book up to 100 days out.
What credit card should you buy Choice points with?
Choice Privileges points purchases are processed by points.com, meaning they don't count as a hotel purchase for the purposes of credit card spending.
Therefore I'd recommend using a card on which you're trying to reach minimum spending, or otherwise, a credit card that maximizes your return on everyday spending.
Best cards for non-bonused spending:
Bottom line
Choice Privileges is selling points with up to a 30% bonus. That's an opportunity to buy points for ~0.76 cents each. This can potentially be a good deal, especially for redemptions in Northern Europe, where hotels are often expensive.
Does anyone plan on buying Choice Privileges points?