I've written in the past about the 11 features that I value most in business class, and one of those is a dine on demand menu. We're all on different schedules when we're flying, so it's nice to be able to eat and sleep when you want to as well.
At the same time, I don't actually think all airlines should necessarily offer dine on demand. The key here is that airlines have to train their crews to offer service efficiently, whatever form it may come in. There's no point in doing a dine on demand service if it's just going to lead to frustration and disappointment for passengers.
It's no secret that British Airways offers among my least favorite fully flat business class products out there, both in terms of the hard and soft product. Soon they'll be taking delivery of their first A350, which is supposed to feature a new business class product. Based on everything we've been told, the new seat will be an evolution of the existing product, rather than a product that's actually globally competitive. They don't plan on retrofitting existing planes with this product, because they don't view it as being sufficiently different enough.
Well, some interesting details are emerging about the soft product, per Head for Points. The first interesting thing is that British Airways is apparently introducing a new service concept in business class on A350s, which crews will be specially trained for. Crews have to attend a two day service course, and according to Head for Points, only crews who are trained in this concept will be able to work the cabin.
Furthermore, perhaps most surprisingly of all, they're asking that their worldwide crews work with their mixed fleet crews on the same planes in order to make this work. I can't imagine this will go over well with employees, given that they have different contracts with vastly different pay, so there's a lot of contention between them.
But perhaps the most interesting development is that British Airways will apparently introduce a dine on demand concept in business class. This will debut on the A350, though it's not clear whether this will be expanded to other planes as well. I assume it will be, given that there's unlikely to be a price premium for the A350. This is similar to how United has introduced the Polaris soft product on all longhaul routes, even if the plane doesn't feature the Polaris seats.
It's not often I say this, but I hope British Airways doesn't introduce dine on demand in business class, at least with their current layout. British Airways has eight seats per row in business class on much of their fleet, and the only way for people in the center and windows to be served is by lowering the partition, which disturbs the person in the aisle seat.
There's simply nothing graceful about the way British Airways crews perform the meal service, and that's not even their own fault — they're set up to fail, with the current layout.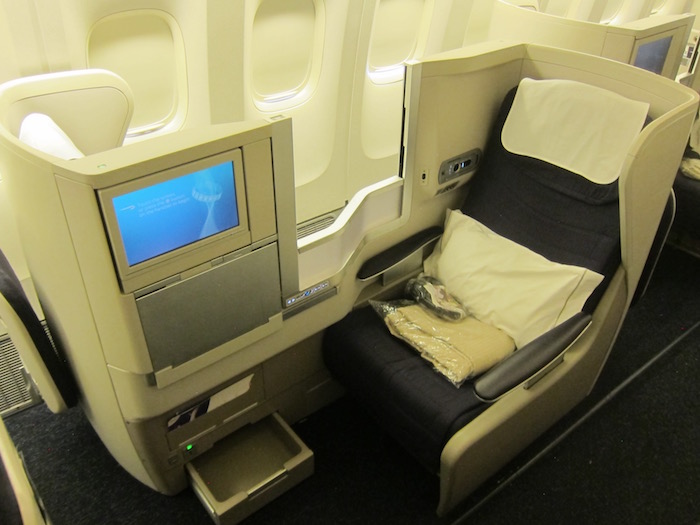 Add in the fact that British Airways has huge business class cabins that are understaffed, and this will just be a mess.
So as much as I love the concept of dine on demand, I don't see this working on British Airways. Between the size of the cabins, the layout, and the inevitable drama that will arise when worldwide and mixed fleet crews have to work together, there's just no way this will end well.
What do you make of British Airways adding dine on demand in business class?