---
I was departing Nairobi for London the same day I arrived in Nairobi from New York (well, technically I was departing just after midnight, but close enough). I spent the day at the Four Points by Sheraton Nairobi Airport. I'll be reviewing that in my next trip report, since on my trip a week later I spent a full night there, rather than just an afternoon.
I arrived at Nairobi Airport at around 9:30PM for my 12:15AM flight, and found a really long line to even get into the terminal, as there's a security checkpoint when you enter the terminal. The line barely moved for about 10 minutes.
Suddenly a guy came walking near the line yelling "Emirates business class, British Airways business class." I flagged him down, and then he brought me in through a side entrance. I'm not sure if this is a standard thing they do or what, though I imagine it saved me a significant amount of time.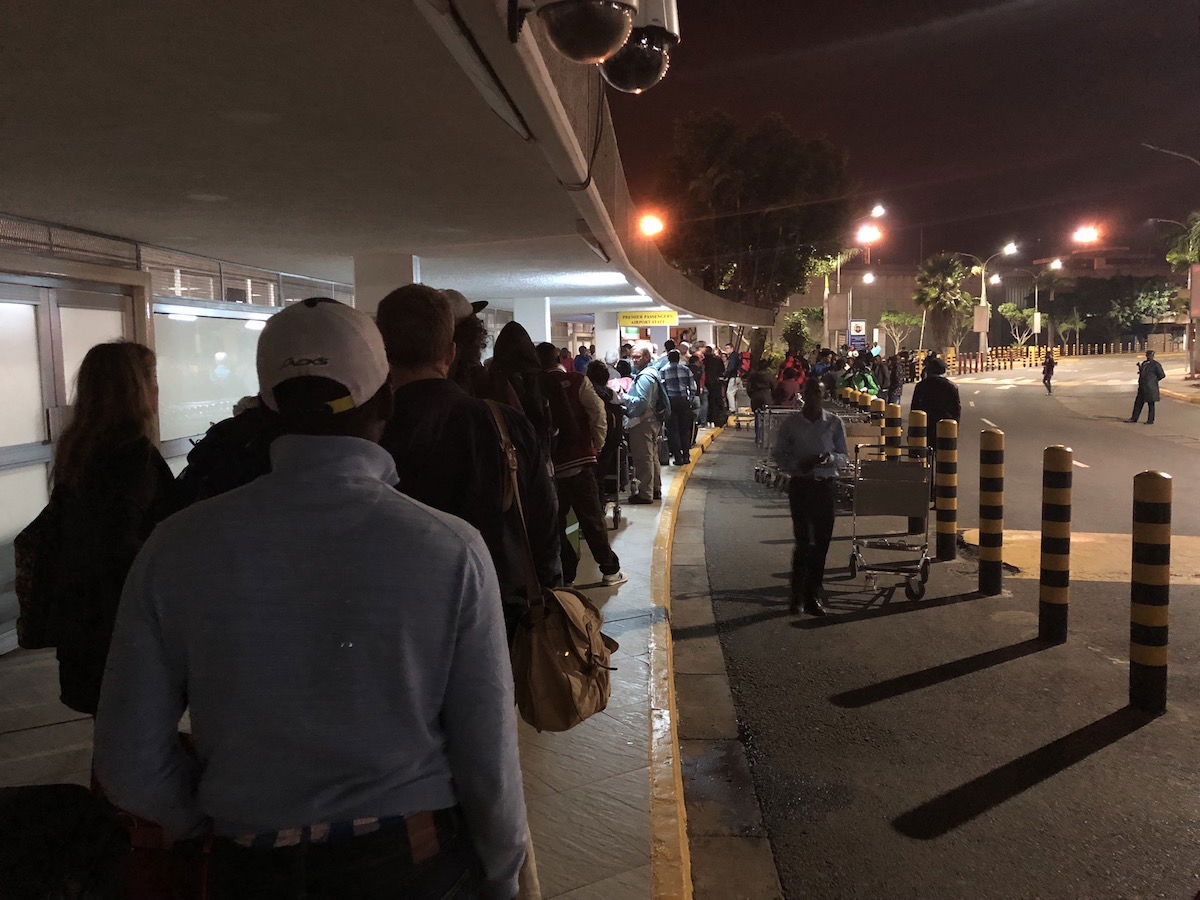 Line to enter Nairobi Airport
I had already checked in online for my flight, so could bypass the British Airways check-in desk, which was otherwise deserted.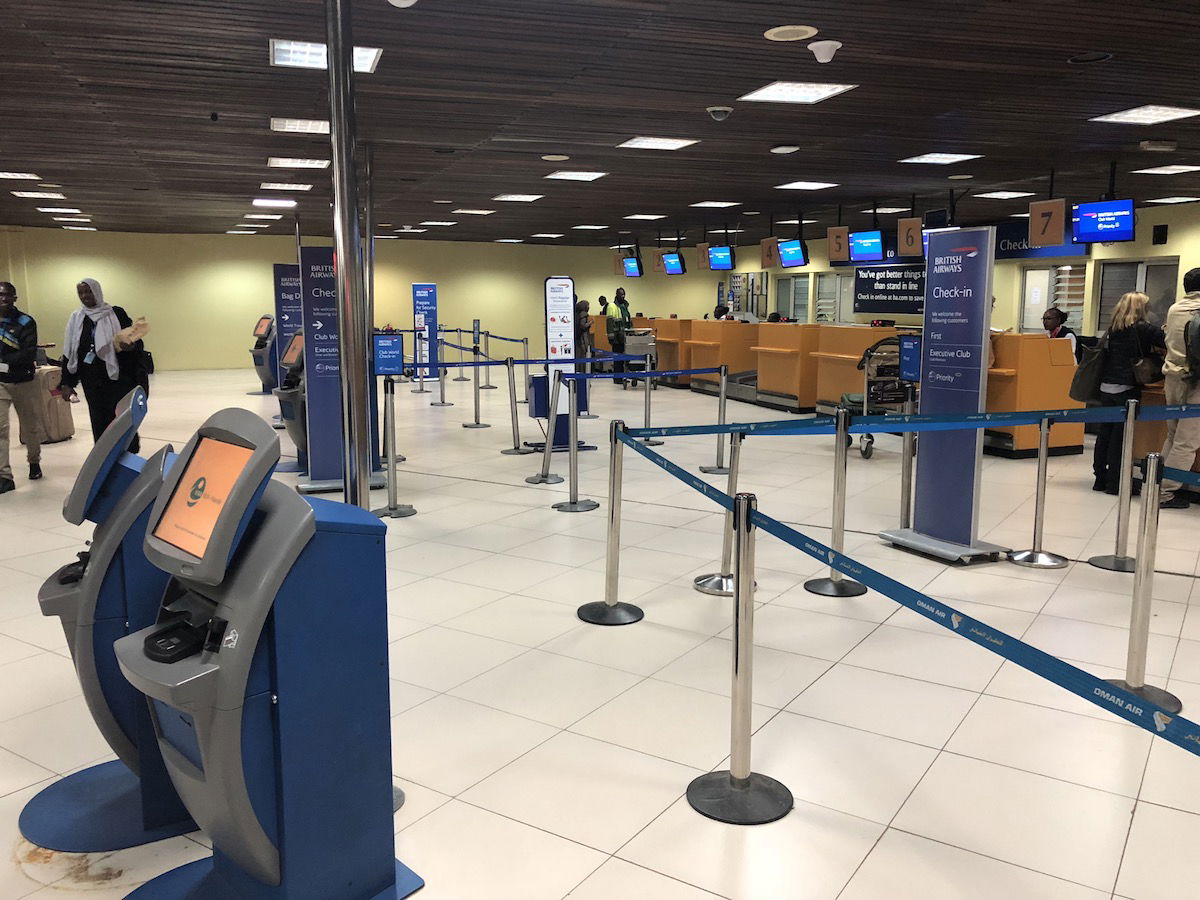 British Airways check-in Nairobi Airport
I then headed through immigration, which took no time. In this part of the terminal security is at each individual gate, so I didn't have to go through that yet. Nairobi Airport is perfectly fine. While some areas of the terminal are nice, others aren't. Regardless, I found it to be a mostly calm airport.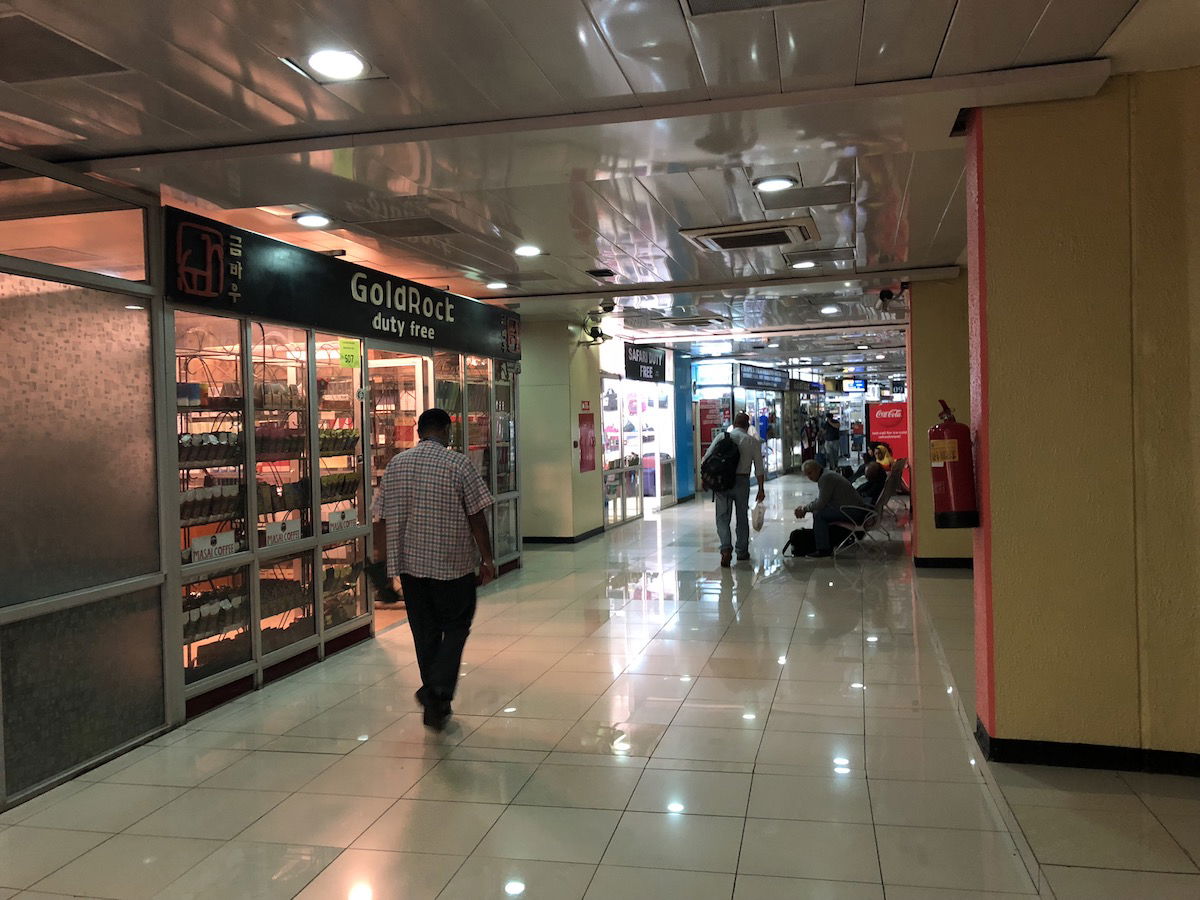 Nairobi Airport terminal
My British Airways flight was departing from gate 10, though I first headed to the Turkish Airlines Lounge, which is what British Airways uses for their premium passengers in Nairobi. The lounge is located near gate 3, so it's a 5-10 minute walk from the gate.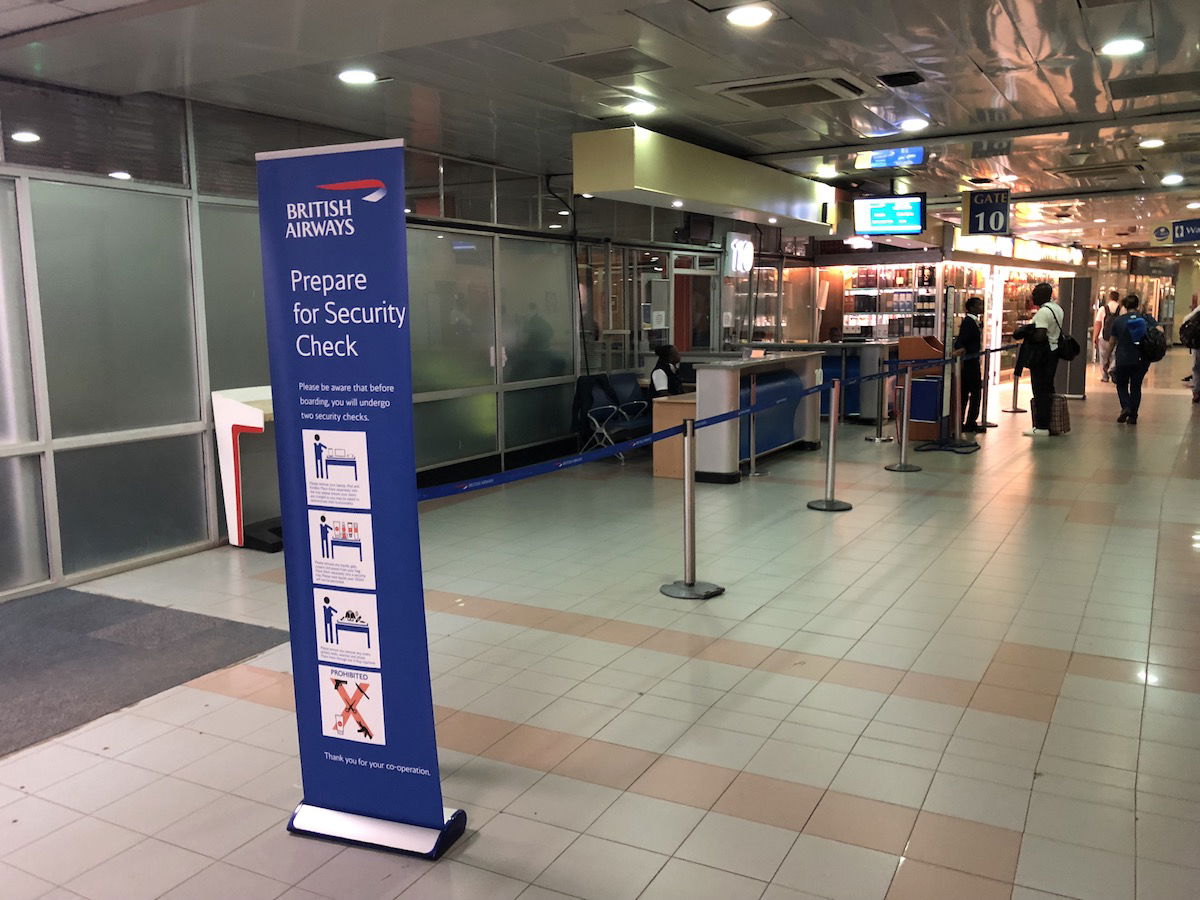 British Airways departure gate Nairobi Airport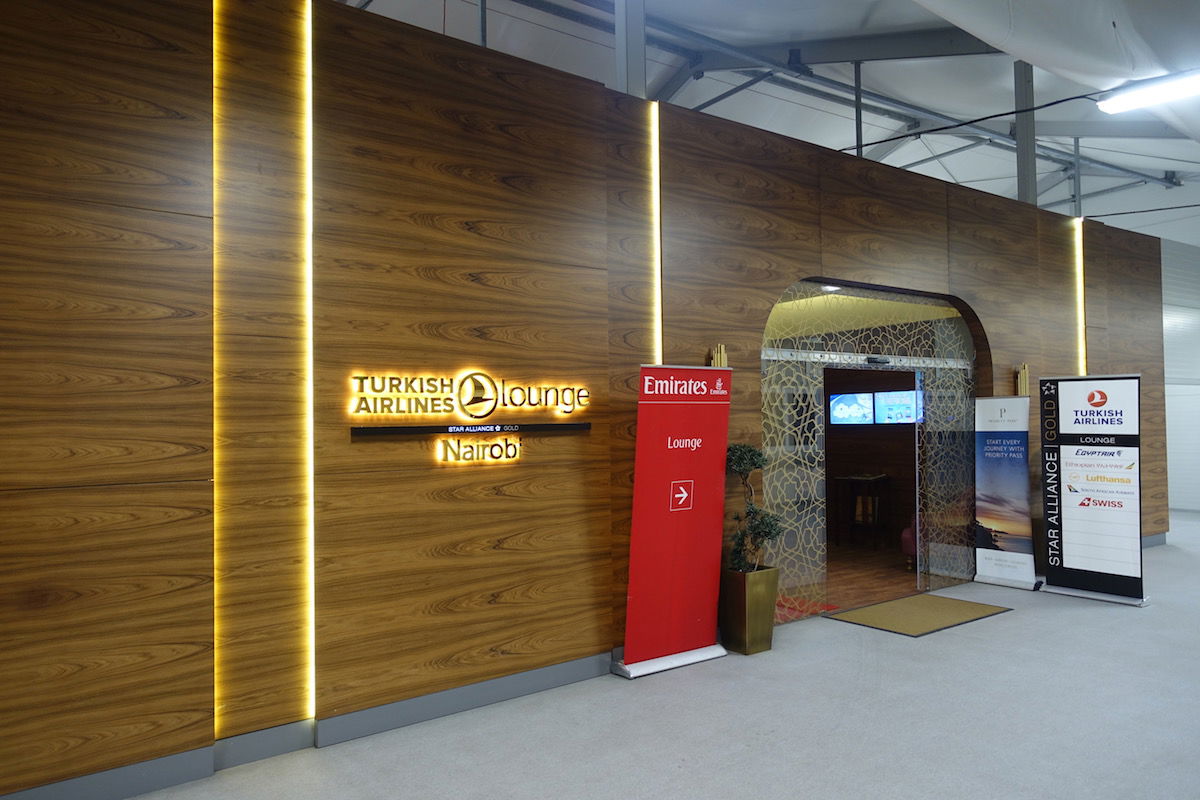 Turkish Airlines Lounge Nairobi Airport
The lounge was packed, and barely had an empty seat, so I didn't feel comfortable taking too many pictures. Fortunately I returned the following week and the lounge was completely empty, so I'll be reviewing that as well in my next trip report.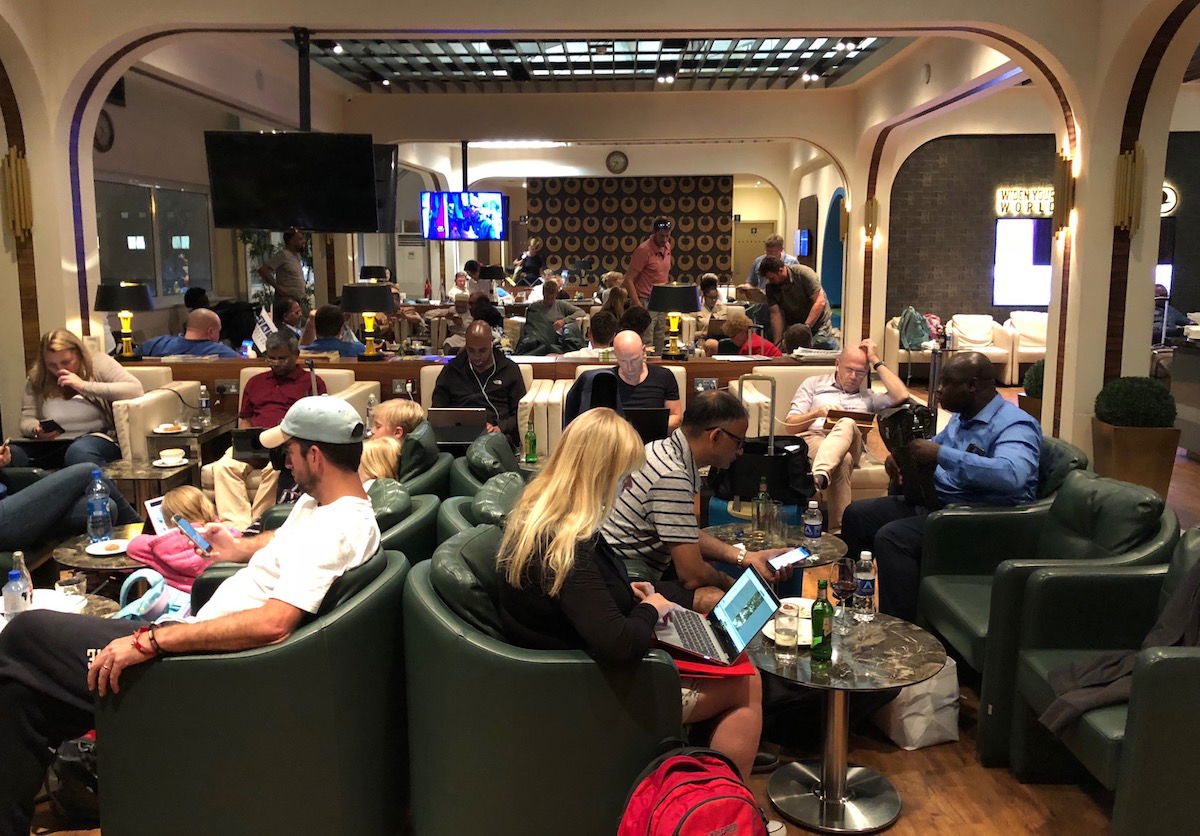 Turkish Airlines Lounge Nairobi Airport
Rather bizarrely, my boarding pass indicated that boarding started at 9:15PM, three hours before departure. I imagine that was a glitch. Since the lounge was so crowded I decided to head to the gate at around 10:20PM.
Most passengers hadn't yet arrived at the gate, so I was through security pretty quickly. Once past the security checkpoint your boarding pass is scanned, and then premium passengers are pointed left, while economy passengers are pointed right.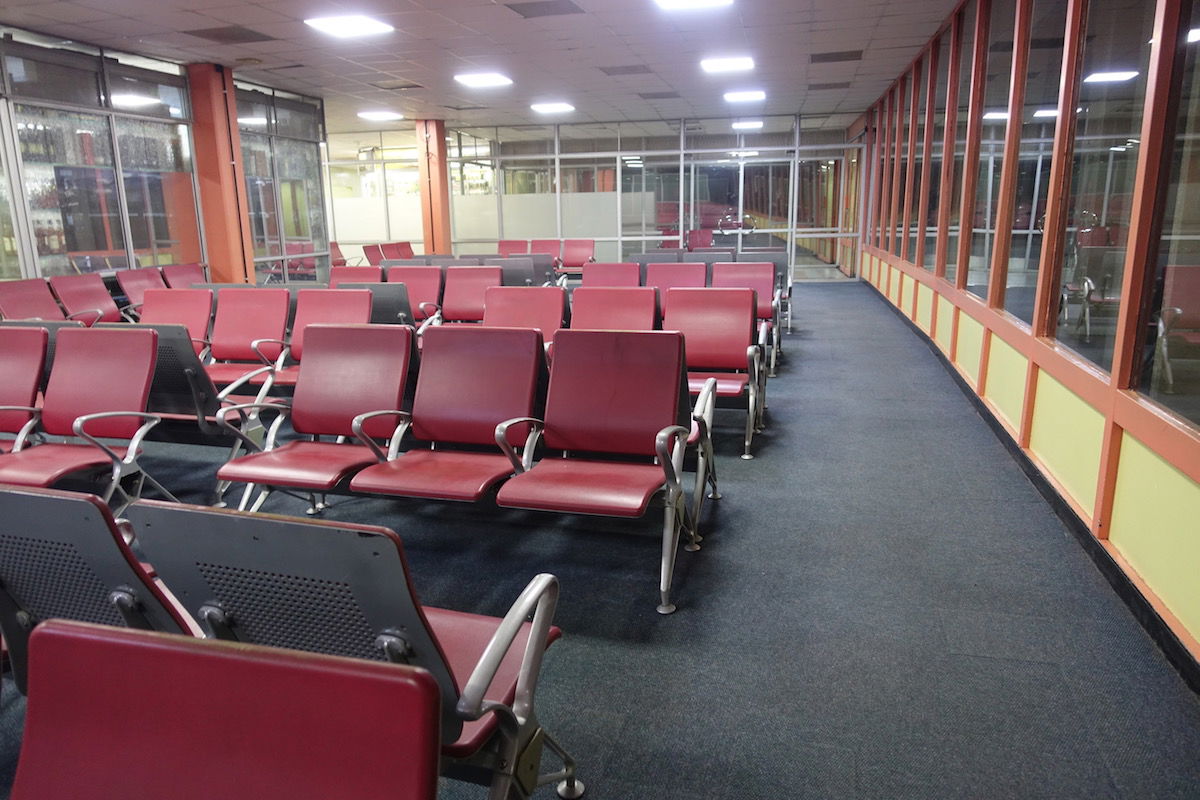 British Airways departure gate Nairobi Airport
Boarding ended up starting at 11:40PM, 35 minutes before departure. First class and oneworld Emerald passengers were invited to board first, followed by business class and oneworld Sapphire passengers.
British Airways 64
Nairobi (NBO) – London (LHR)
Wednesday, October 31
Depart: 12:15AM
Arrive: 6:15AM
Duration: 9hr
Aircraft: Boeing 747-400
Seat: 62K (Business Class)
I boarded through the second set of doors, where I was greeted by the customer service manager and pointed towards the stairs, which were right by the door. Ah, there's nothing quite like going up the narrow staircase on the 747. It's a sensation that's becoming far too rare nowadays, given how many airlines have retired the 747.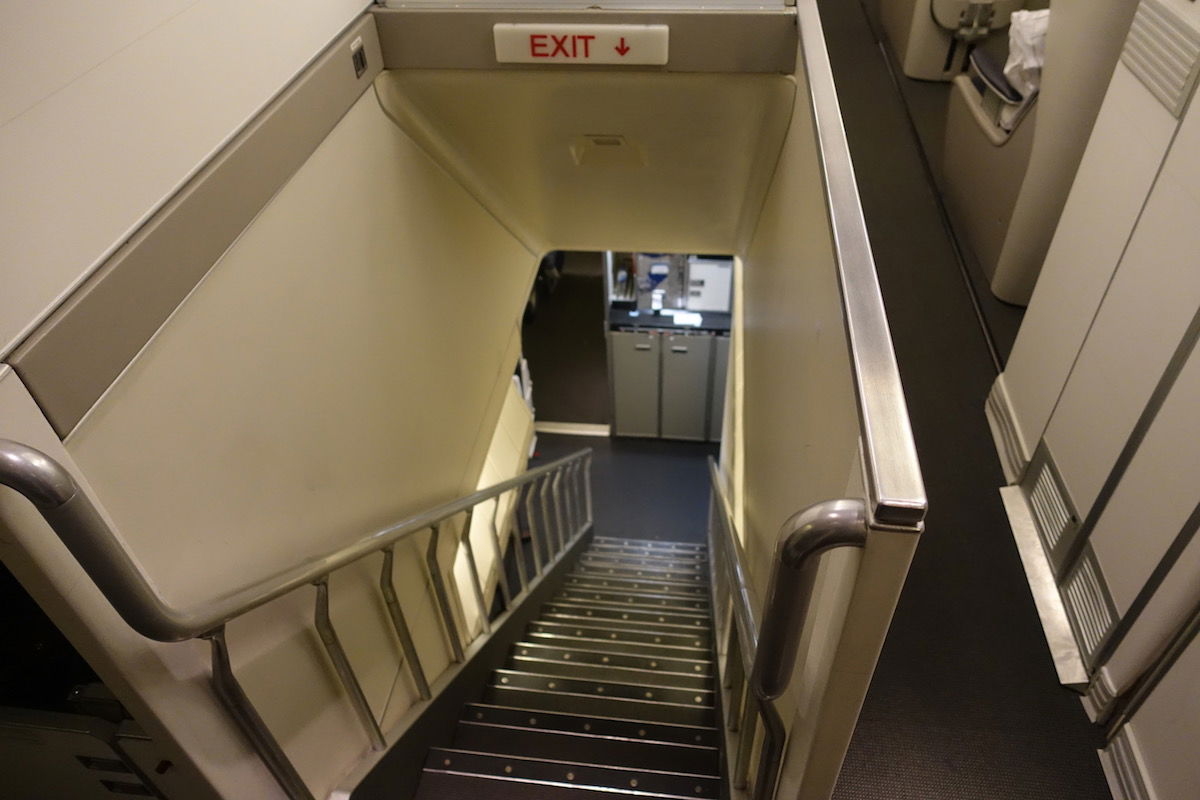 British Airways 747-400 stairs
While I've been a tough critic of British Airways' Club World cabins on their 777s and A380s, the upper deck of the 747 felt like a whole different experience.
The cabin has a total of just 20 business class seats, spread across five rows in a 2-2 configuration. Compare that to the lower deck, where there are up to eight seats per row in business class.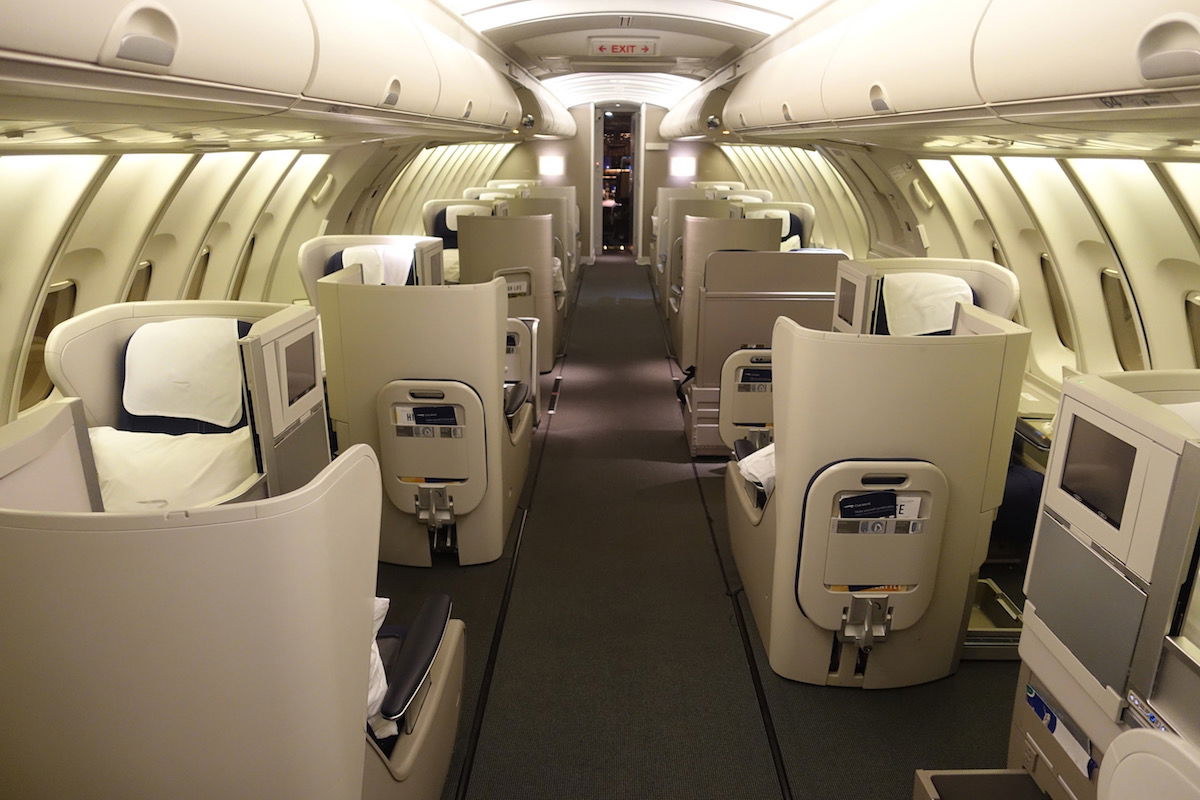 British Airways upper deck 747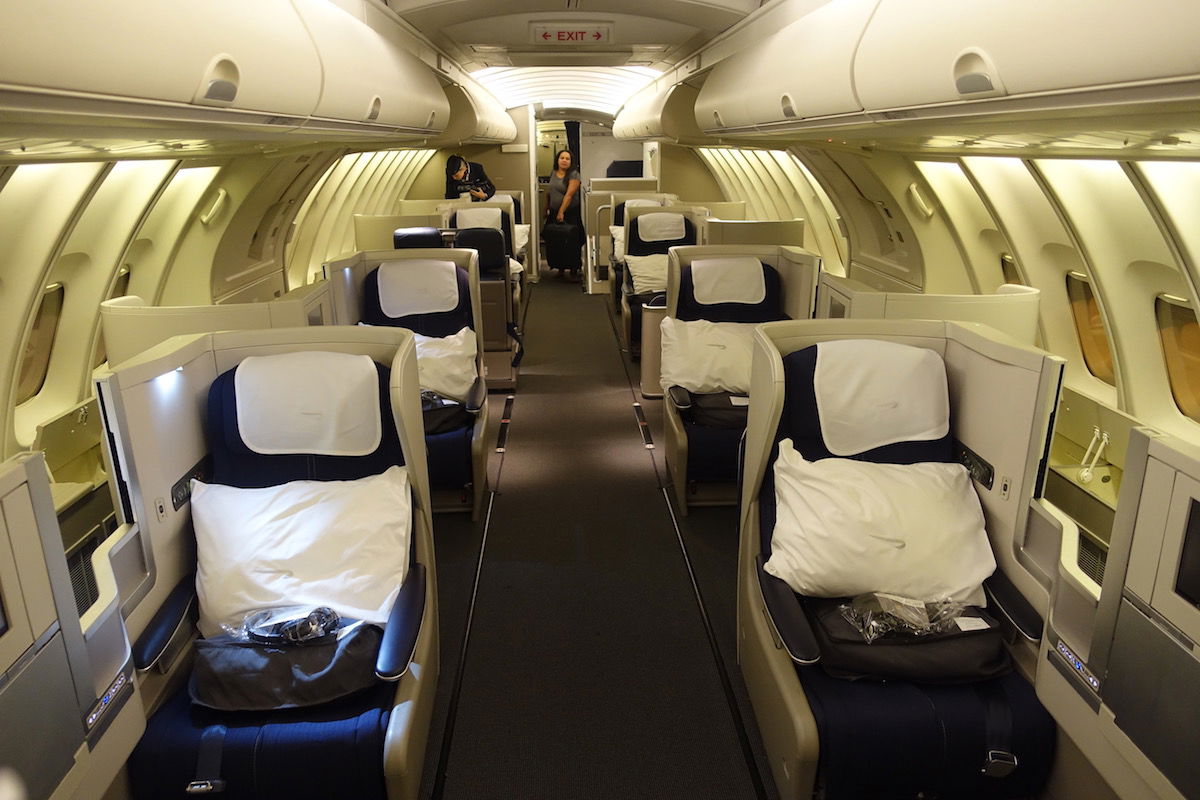 British Airways 747 upper deck
As you can see, British Airways business class seats alternate between facing forwards and backwards. While I don't have much of a preference there, what is important is that you snag a window seat, as these are much more private.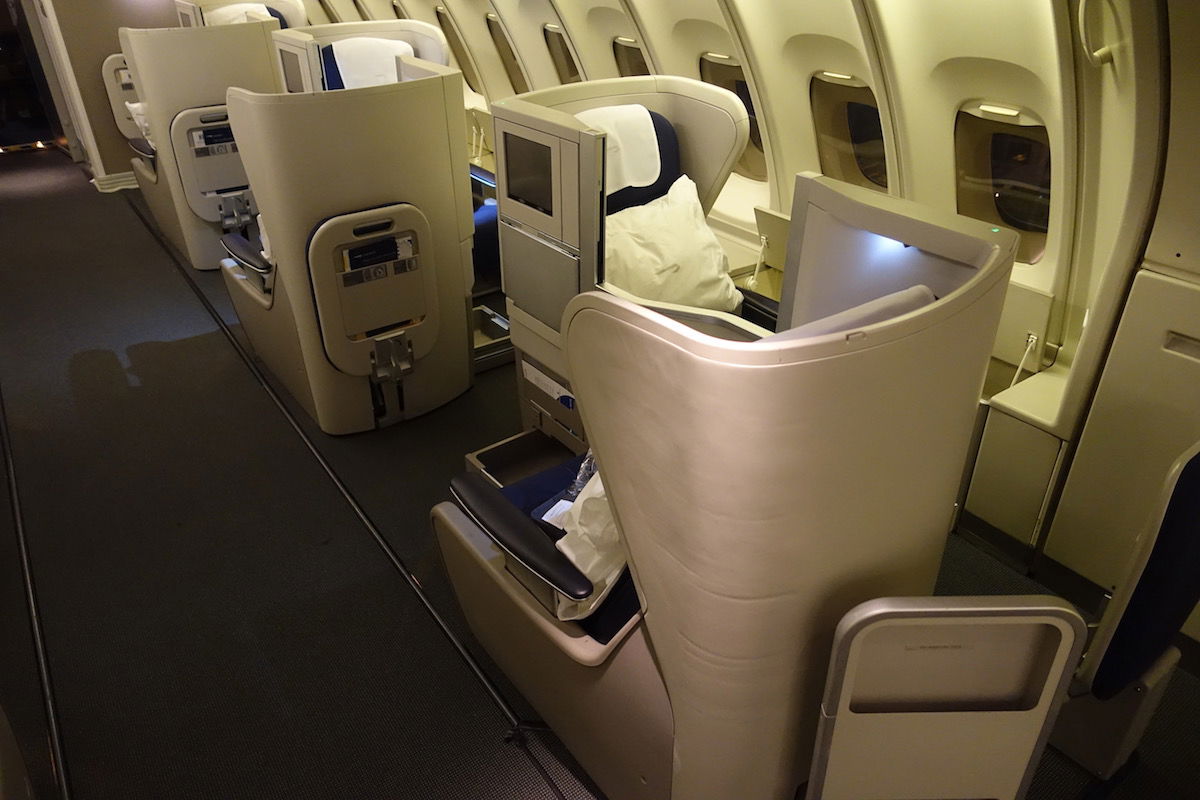 British Airways Club World seats 747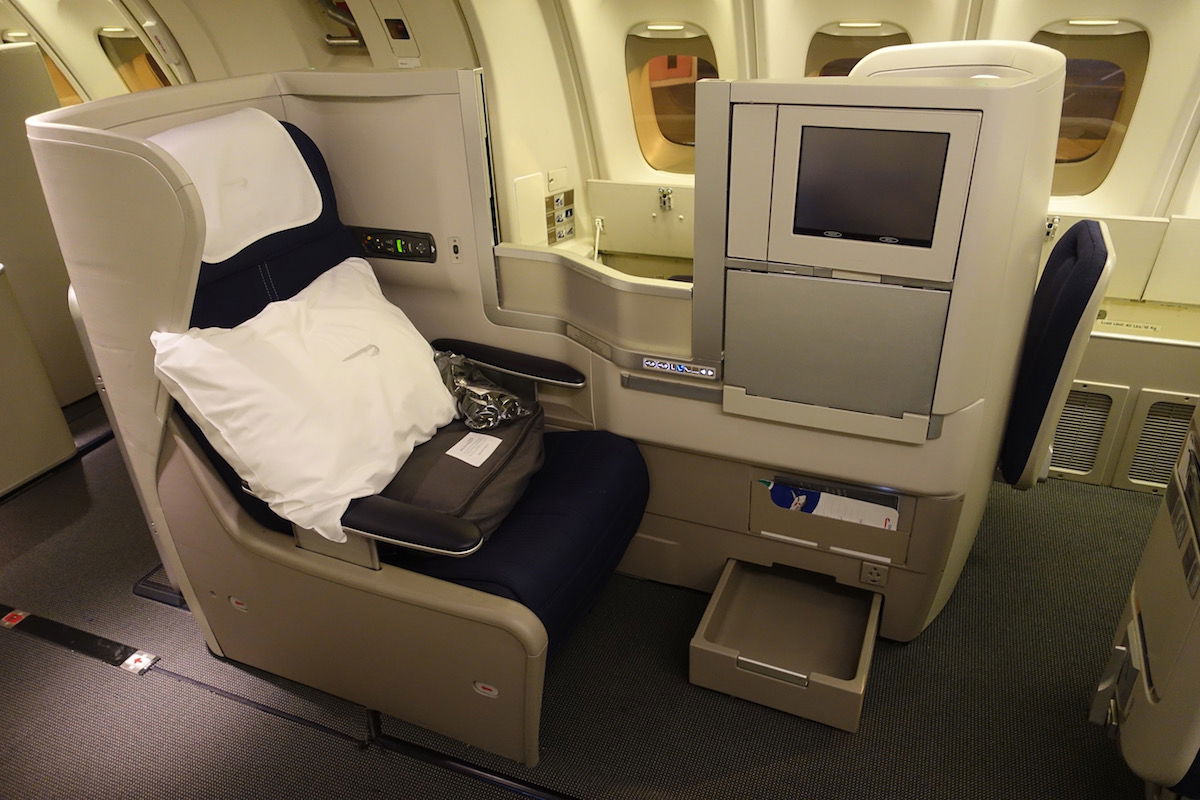 British Airways 747 Club World seats
The upper deck of the 747 even has some special seats. Many people love 62A & 62K, which are the two rear facing window seats in the exit row (which is the third row of business class on the upper deck).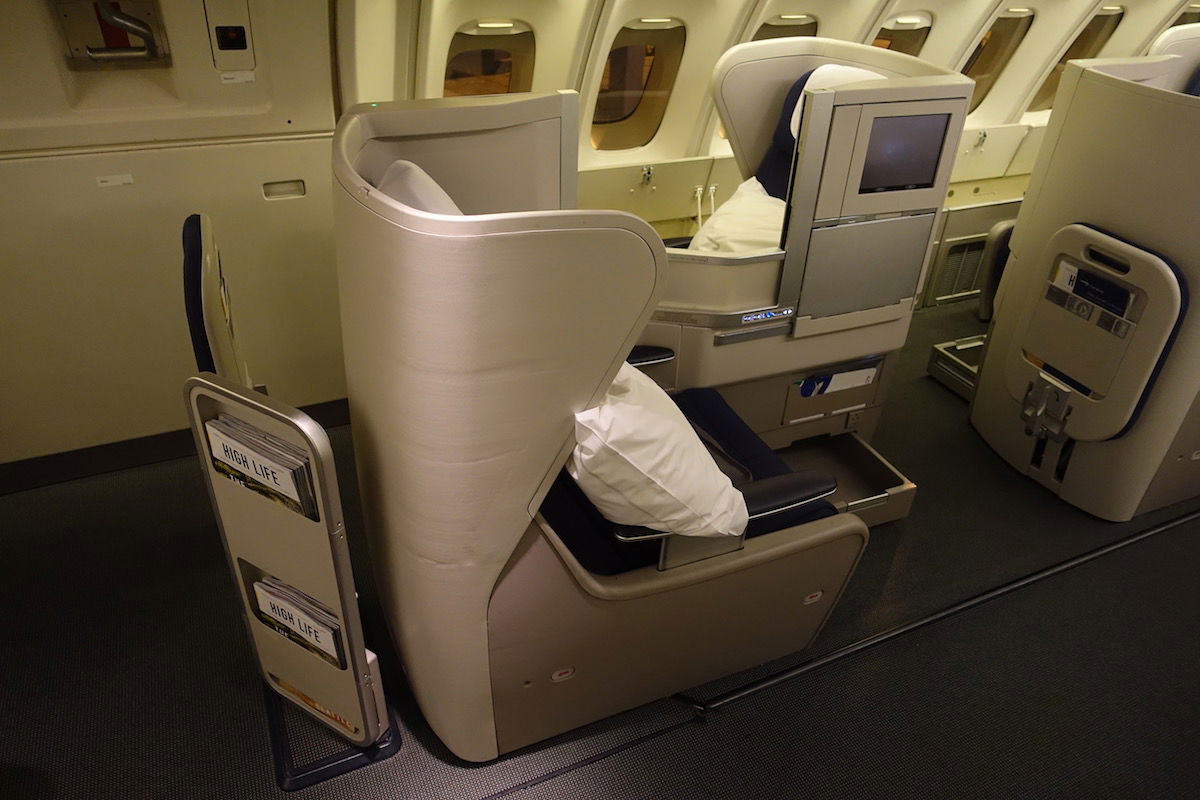 British Airways Club World seats 747
What makes these seats so great is that they feature direct aisle access, since there's no one you have to step over due to the exit row.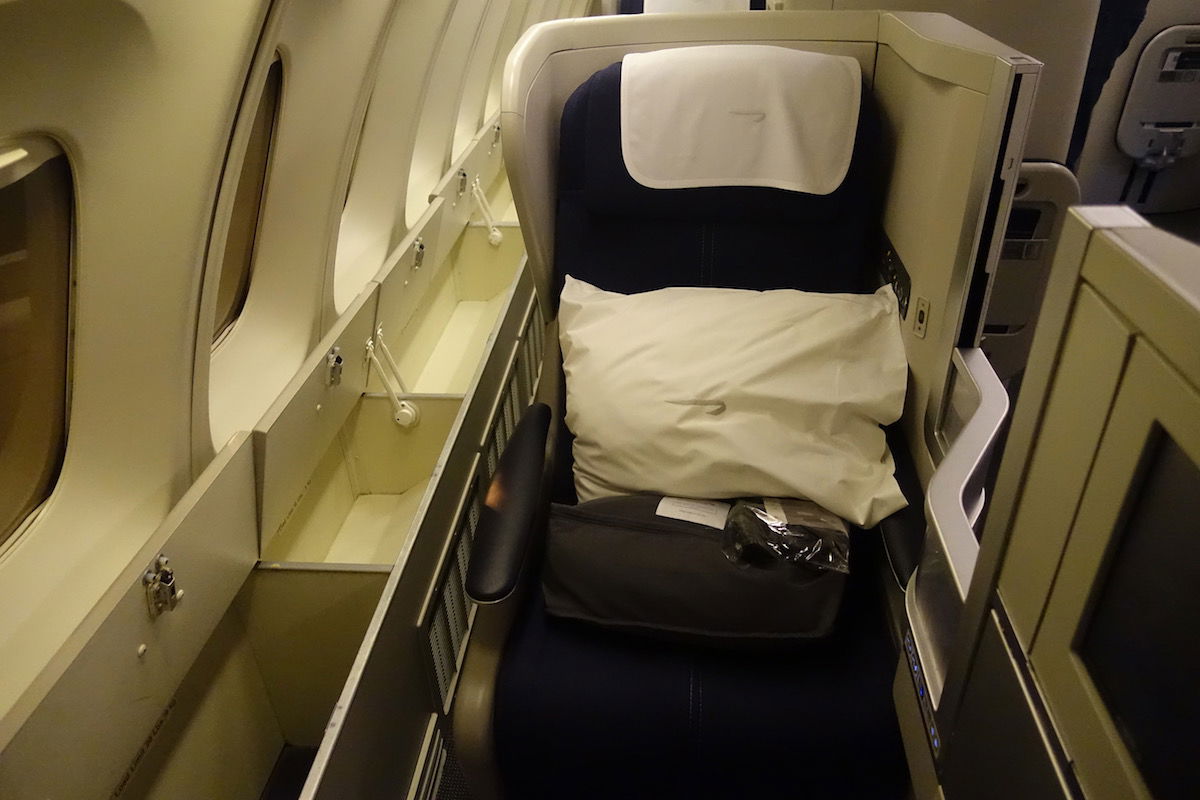 British Airways 747 business class seat
On this flight I had assigned myself 62K, the exit row window seat on the right side of the cabin.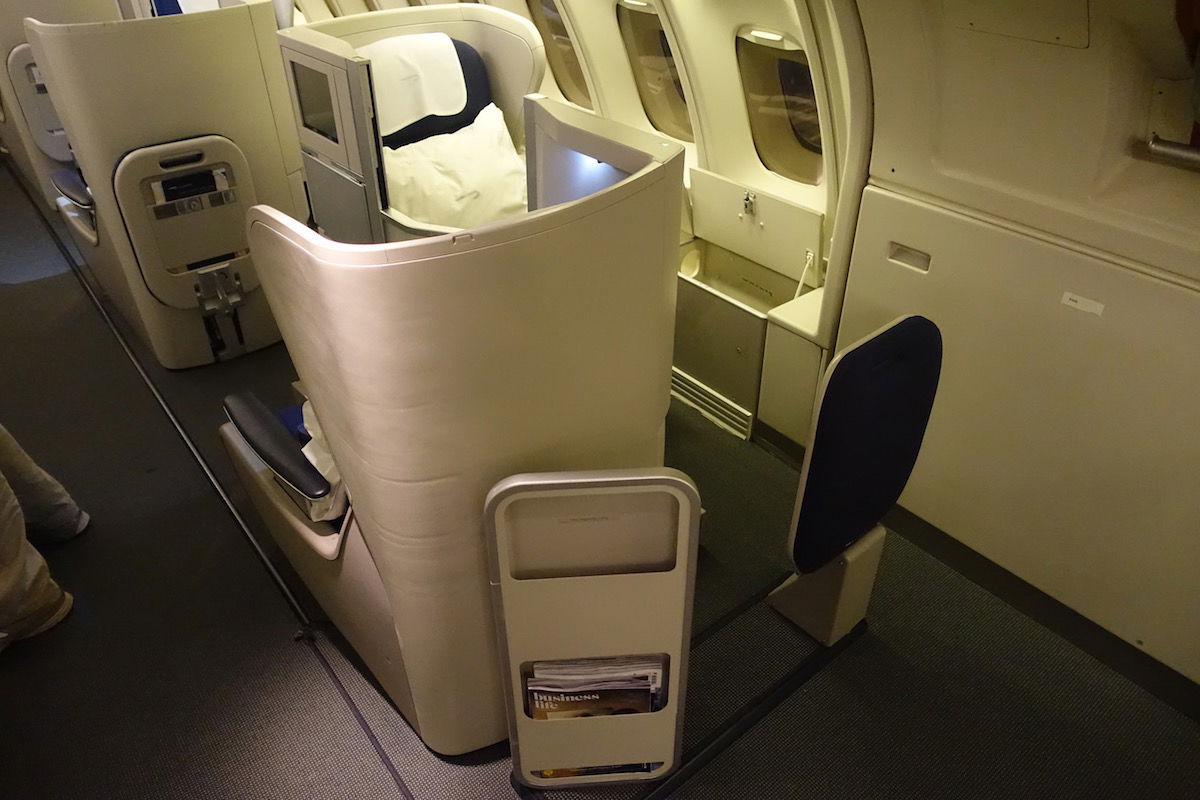 British Airways 747 Club World seats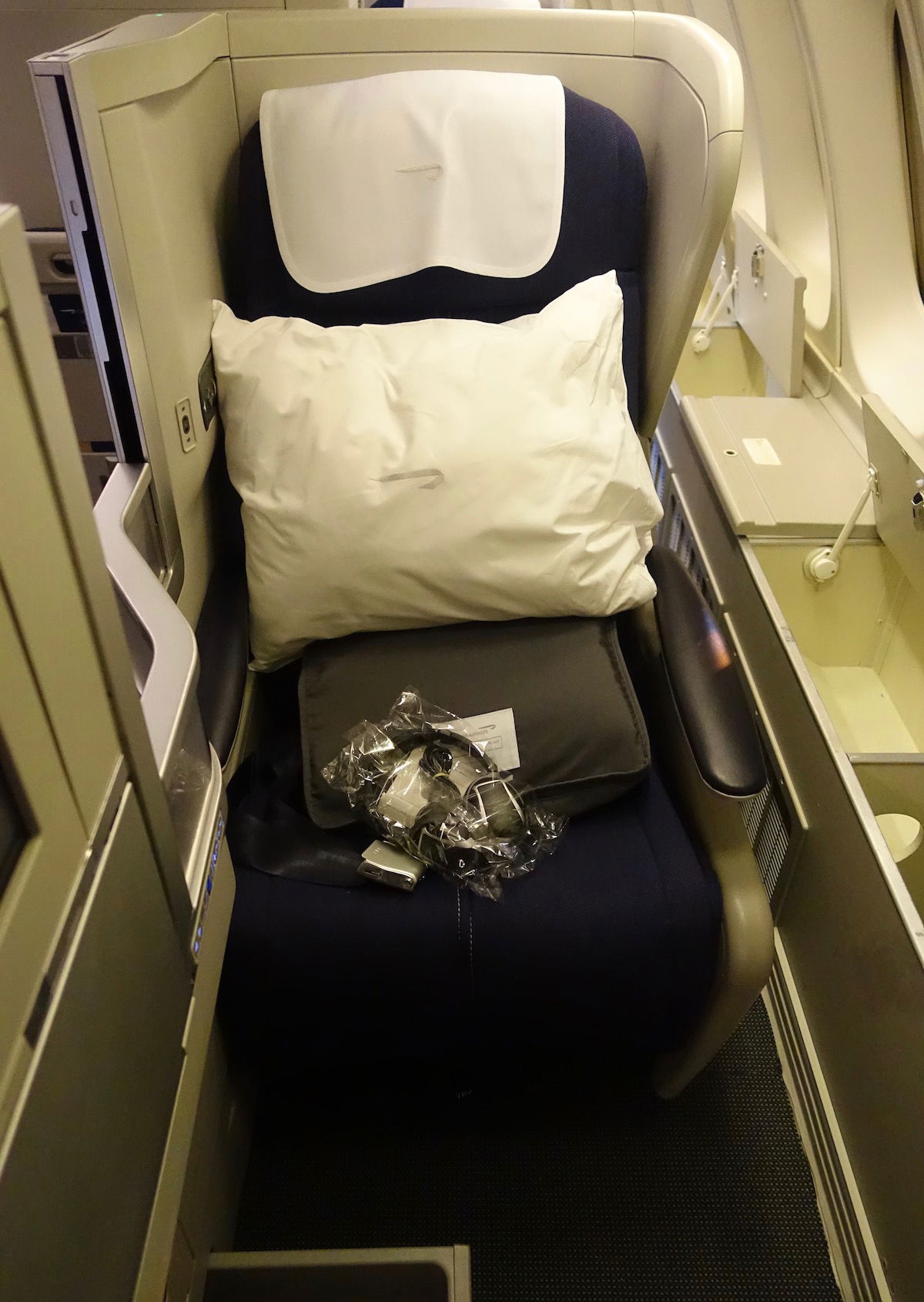 British Airways 747 Club World seat
I love that the 747 upper deck has storage lockers. Otherwise British Airways' Club World seats lack storage, so these are fantastic, since you can toss everything you want in there during the flight. I was also impressed by how big the overhead bins were on the upper deck, as they were able to fit my full size carry-on.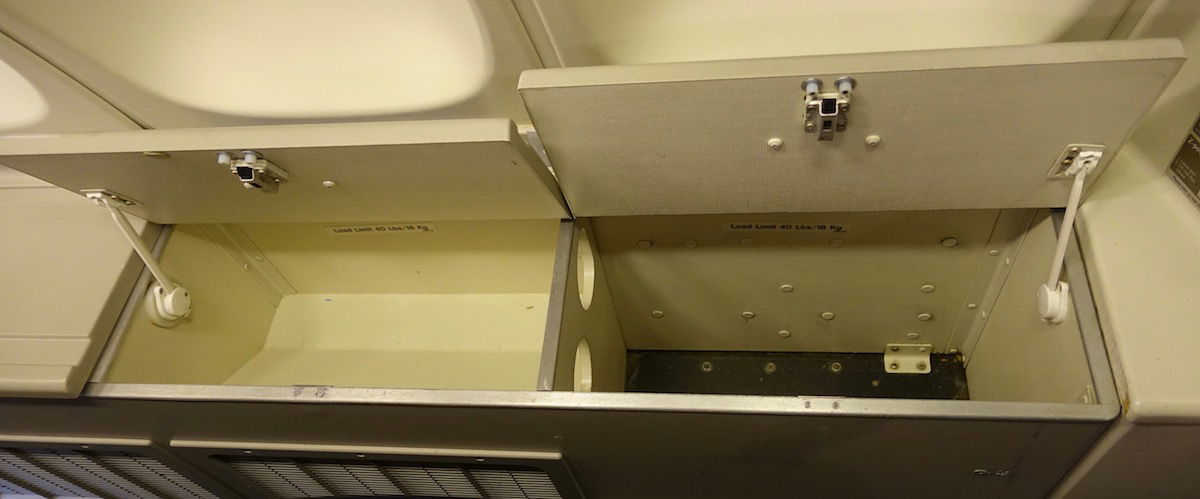 British Airways 747 storage lockers
British Airways' current Club World seats feature some flimsy ottomans. During takeoff and landing the ottoman is in the vertical position.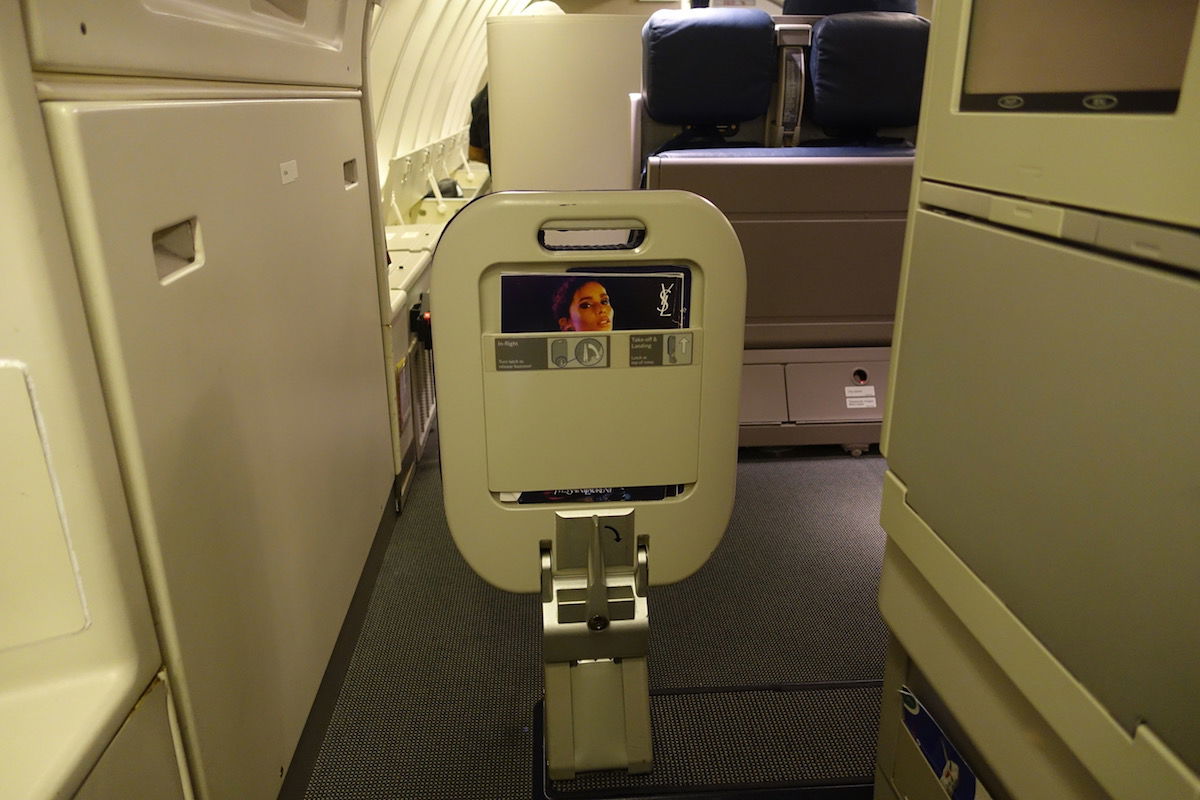 British Airways seat 62K legroom
Then during the flight you can lower it. The catch is that it's really flimsy, so it will collapse if someone sits on it, or even if you apply too much pressure with your legs.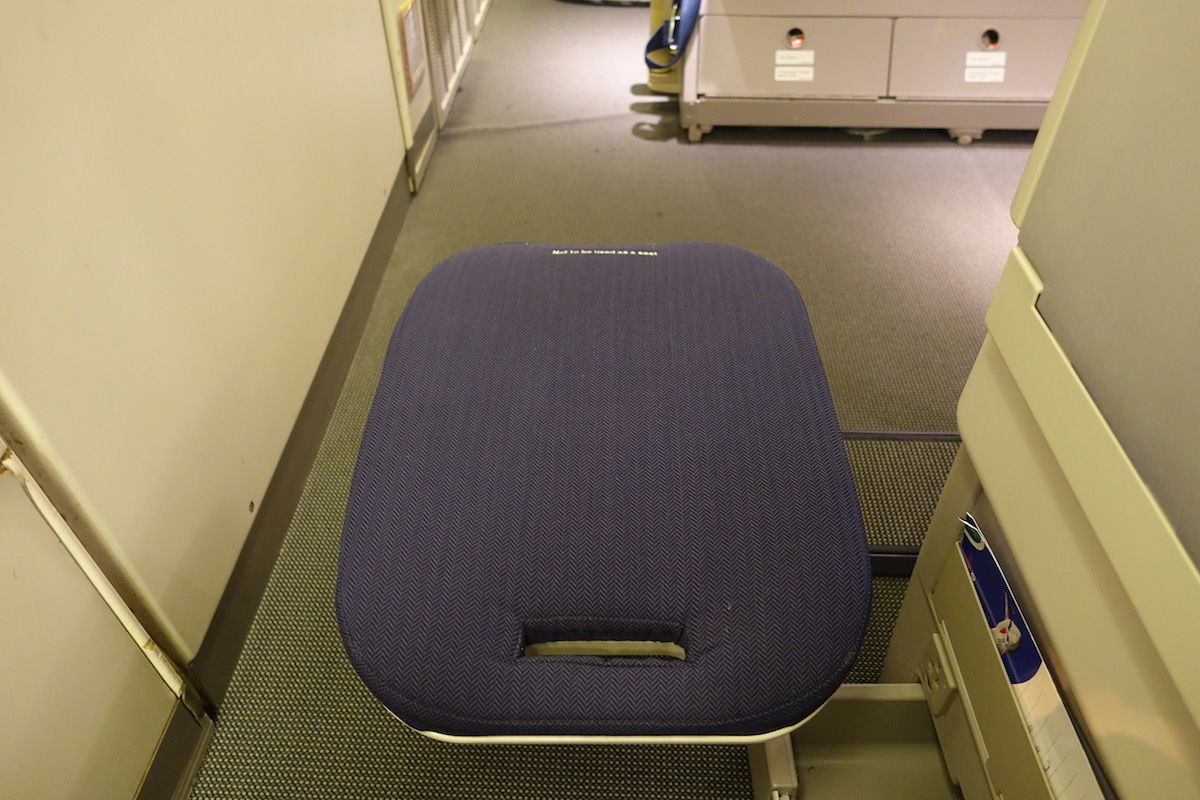 British Airways Club World ottoman
Ordinarily the only storage in the Club World seat is a small compartment at the bottom side of the seat. This is also where the power outlet is.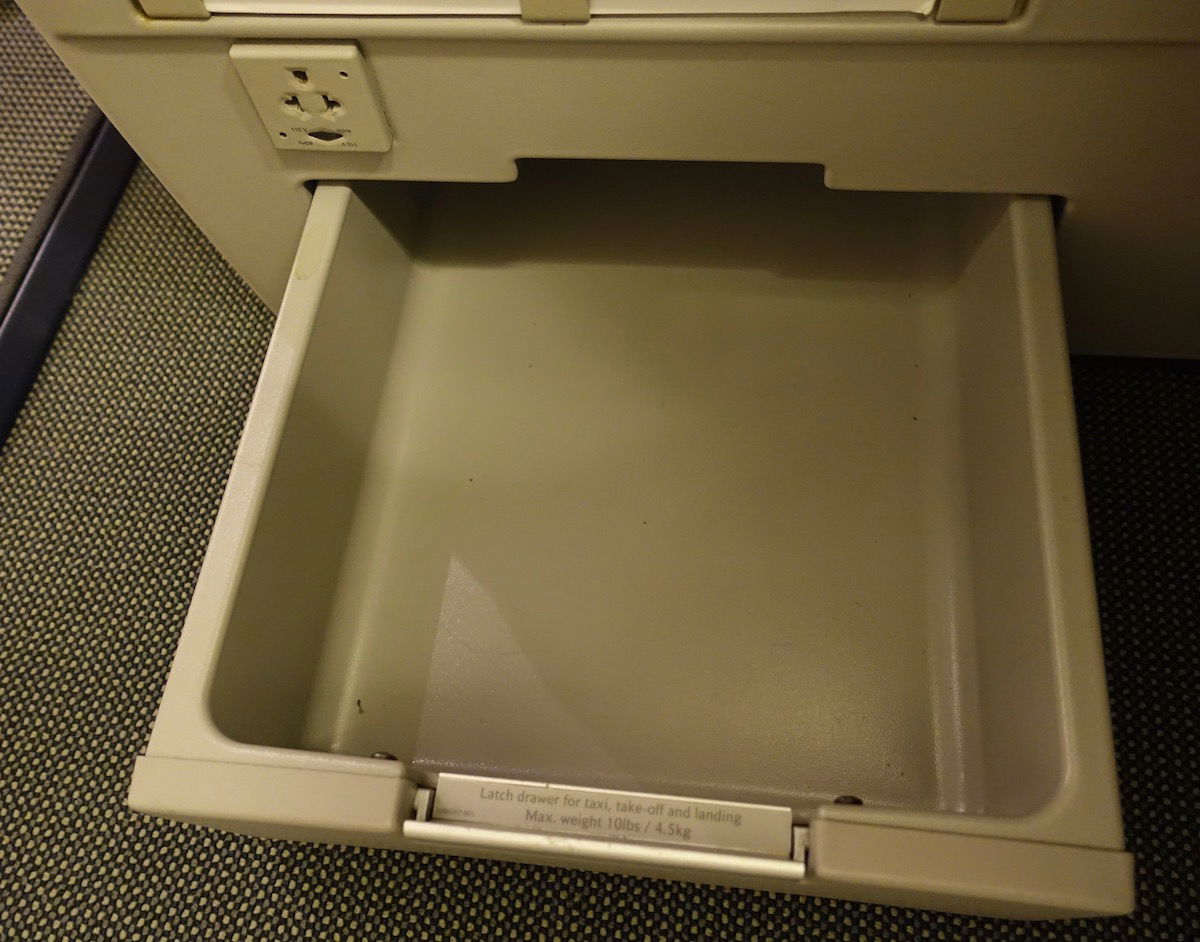 British Airways Club World storage
Folding out from the right side of the seat were both the tray table and personal television.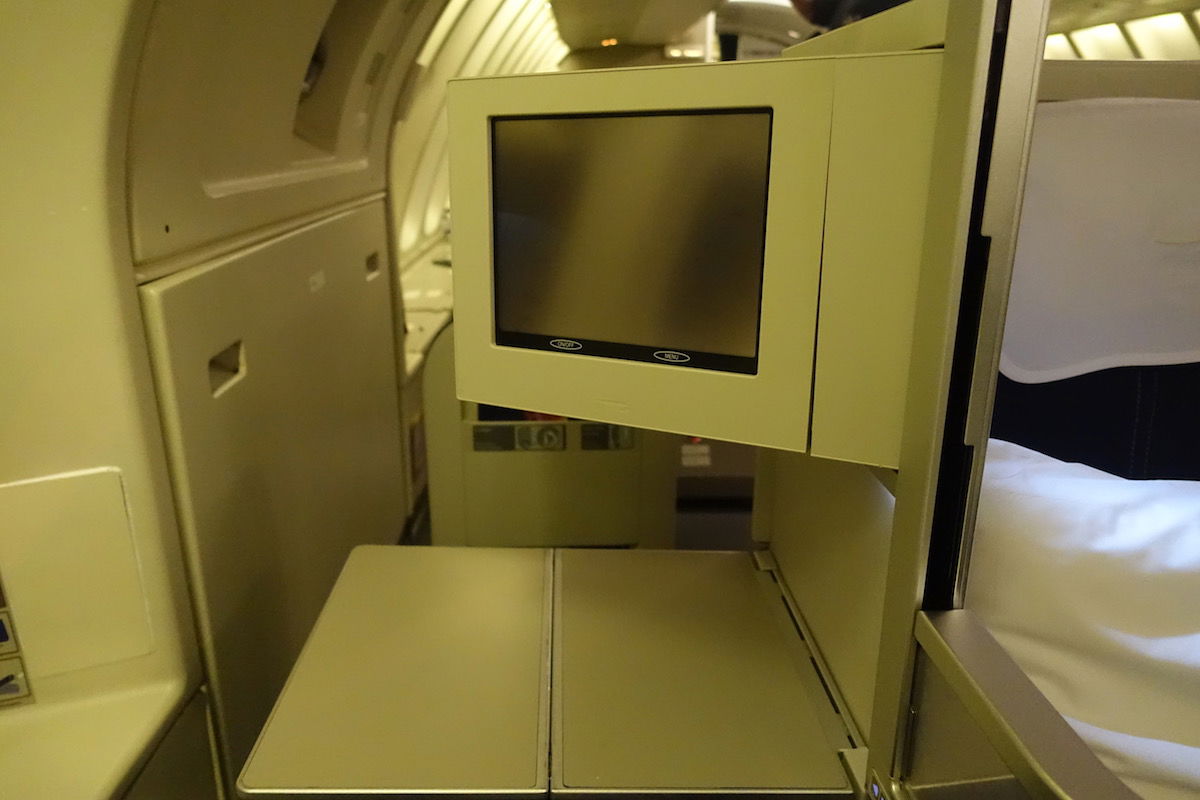 British Airways Club World entertainment controller
The entertainment controller was in that area as well, and was super outdated. British Airways is refreshing the entertainment systems on some of their 747s, but clearly this one hadn't gotten the new system yet.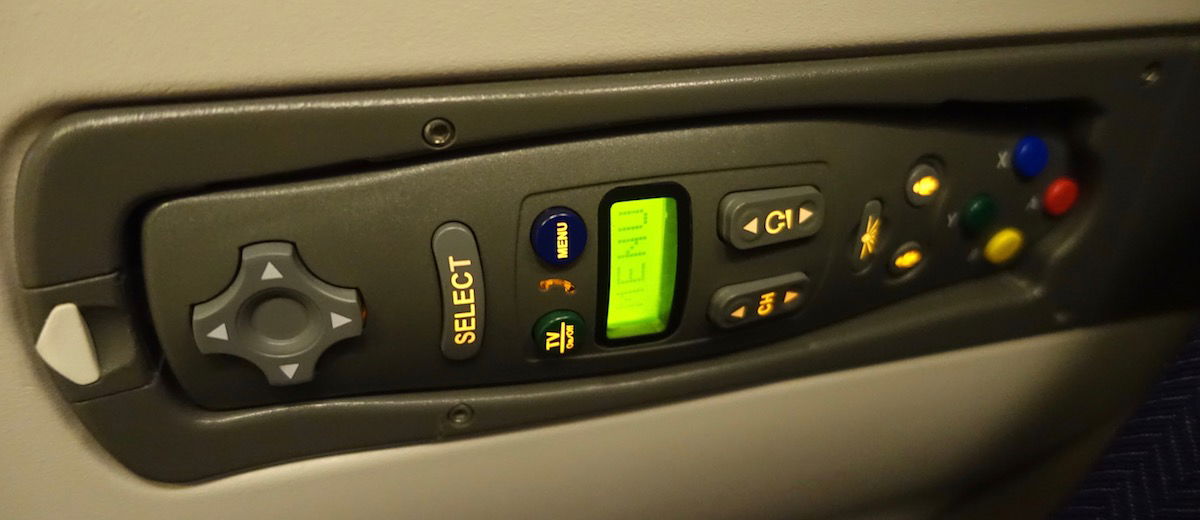 British Airways Club World entertainment controller
The seat controls were also to the right of the seat.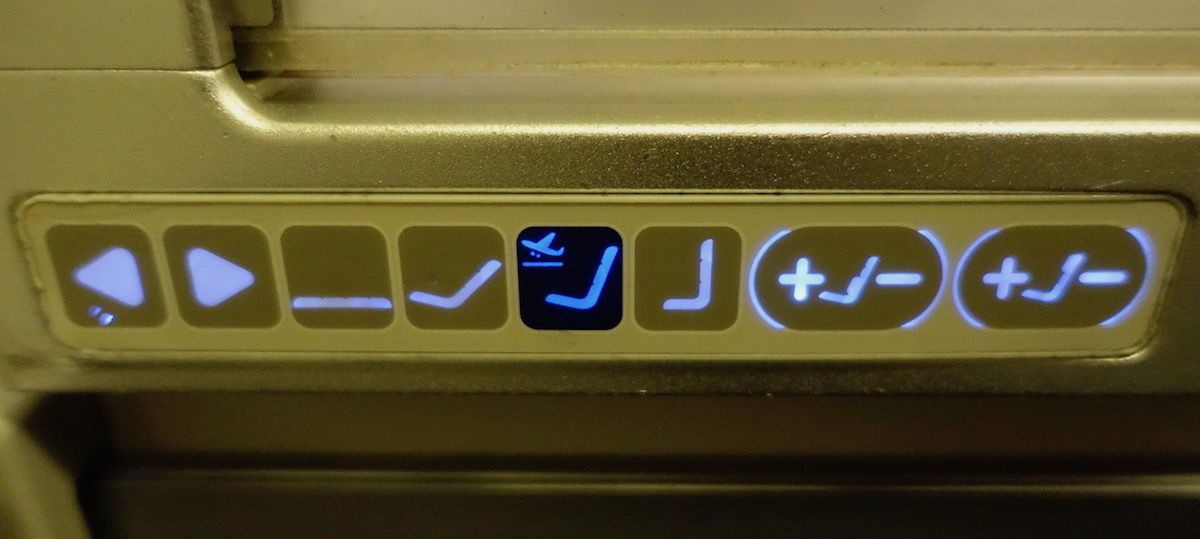 British Airways Club World seat controls
During boarding I find British Airways' Club World seats to be awkward if you're traveling alone. You're essentially sitting across from someone, and your faces are pretty close together. It's almost awkward not to talk.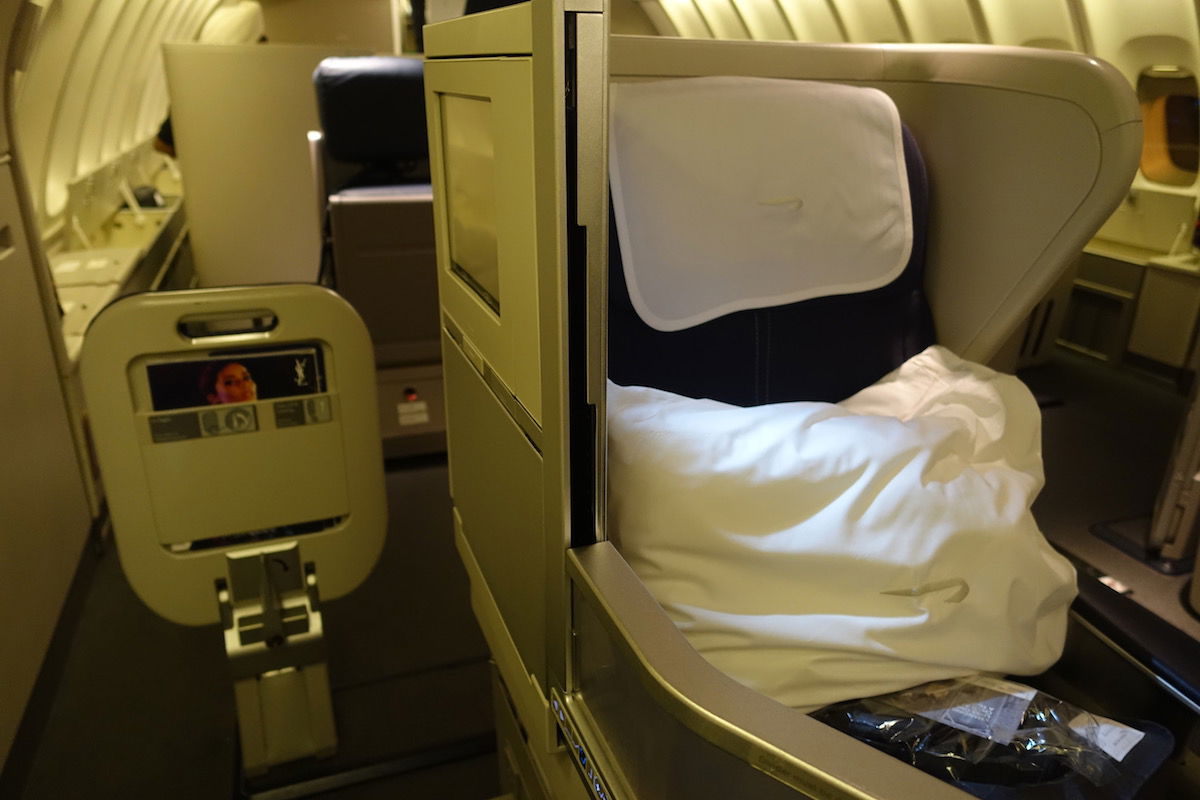 British Airways Club World (lack of) privacy
Fortunately the seats have a privacy partition. This can be raised after the safety demonstration, and can also be kept up for landing, so it's only the very beginning of the flight where you need to deal with the awkwardness of the seating arrangement.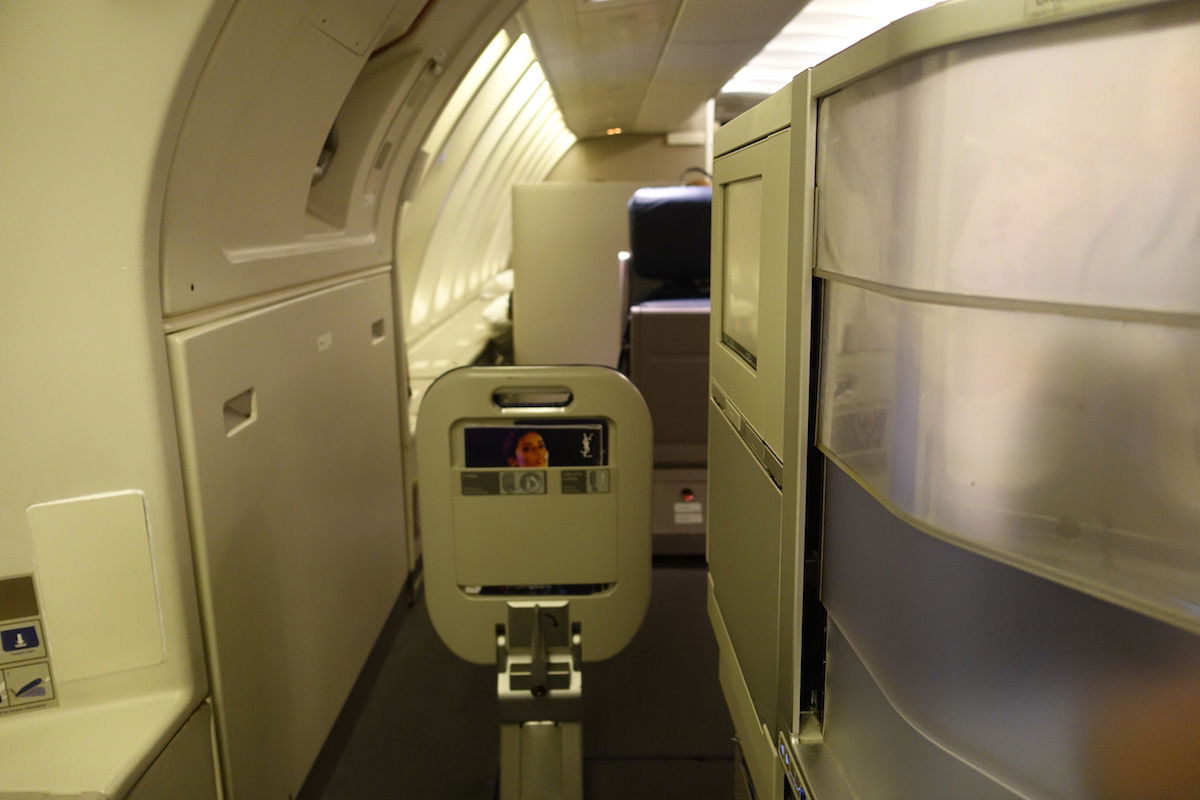 The privacy of British Airways 62K
Unfortunately these seats don't have individual air nozzles.
British Airways recently revamped their business class bedding, which is now provided by The White Company. There was a big pillow on my seat, and then a pouch that had the rest of the bedding.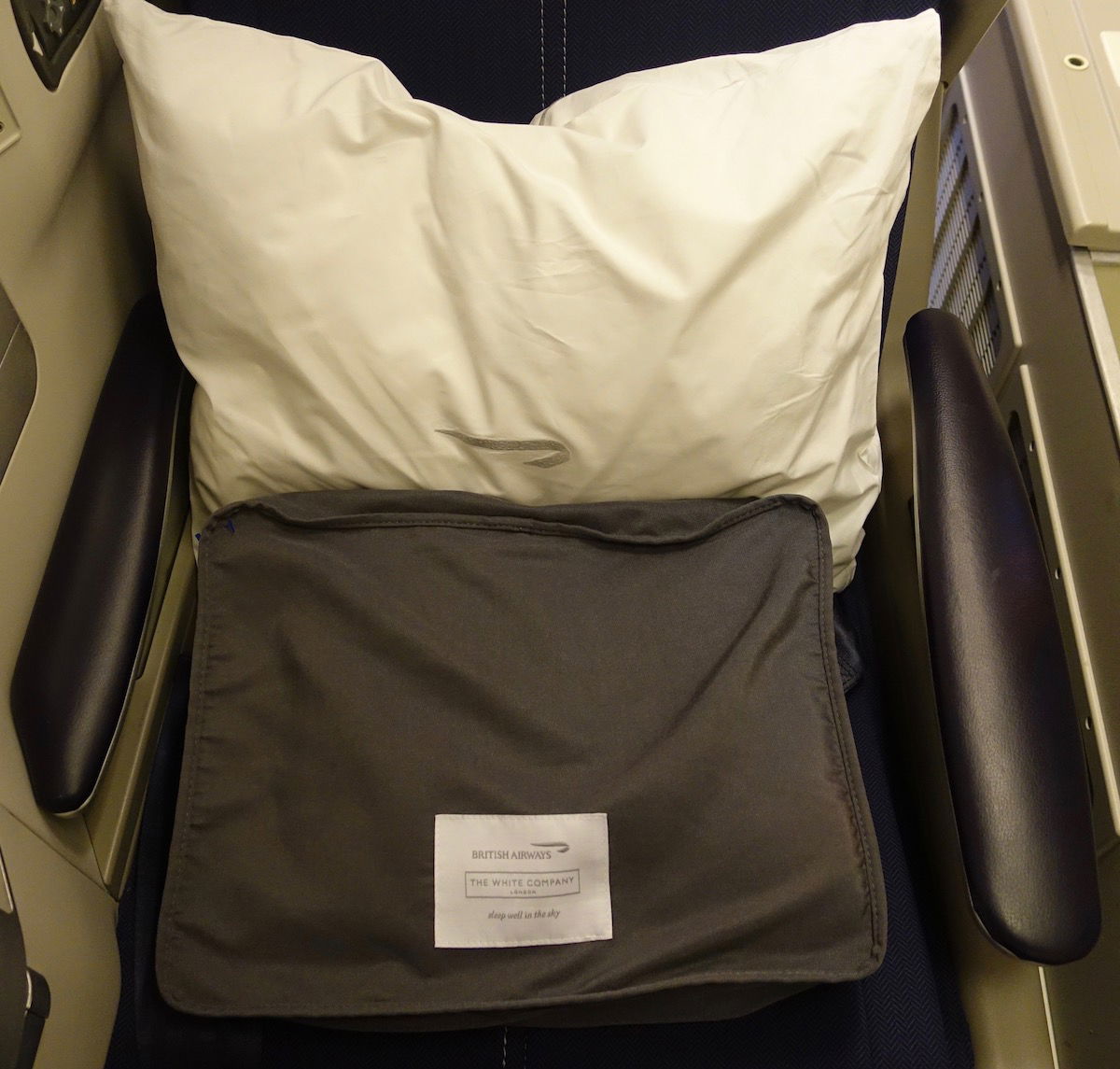 British Airways Club World bedding
British Airways' new bedding is excellent. There's a huge, thick pillow, a comfortable duvet, a light blanket, and a mattress sheet. I'm very impressed by what British Airways has done here.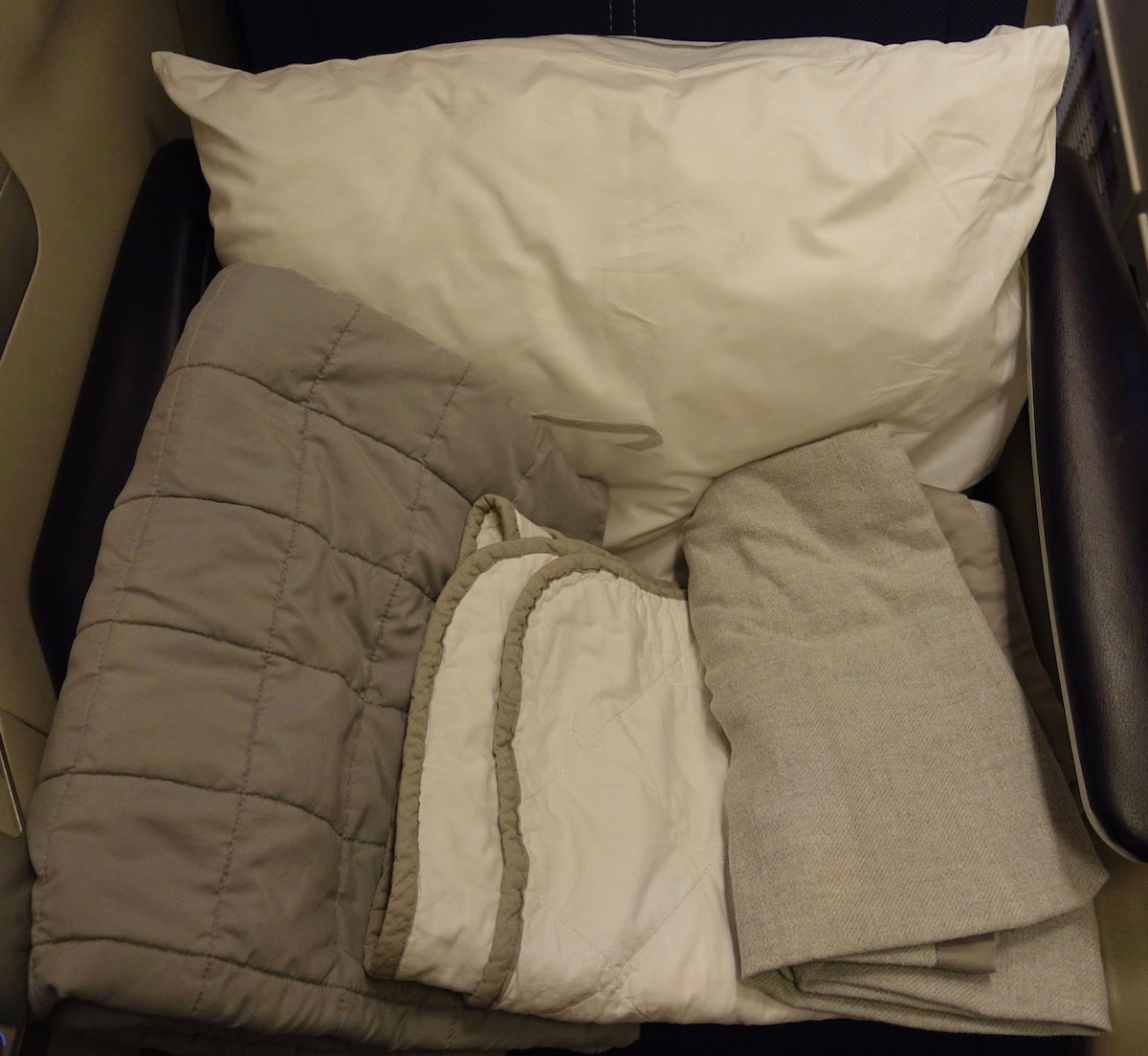 British Airways Club World bedding
There were also really low quality headphones waiting at my seat.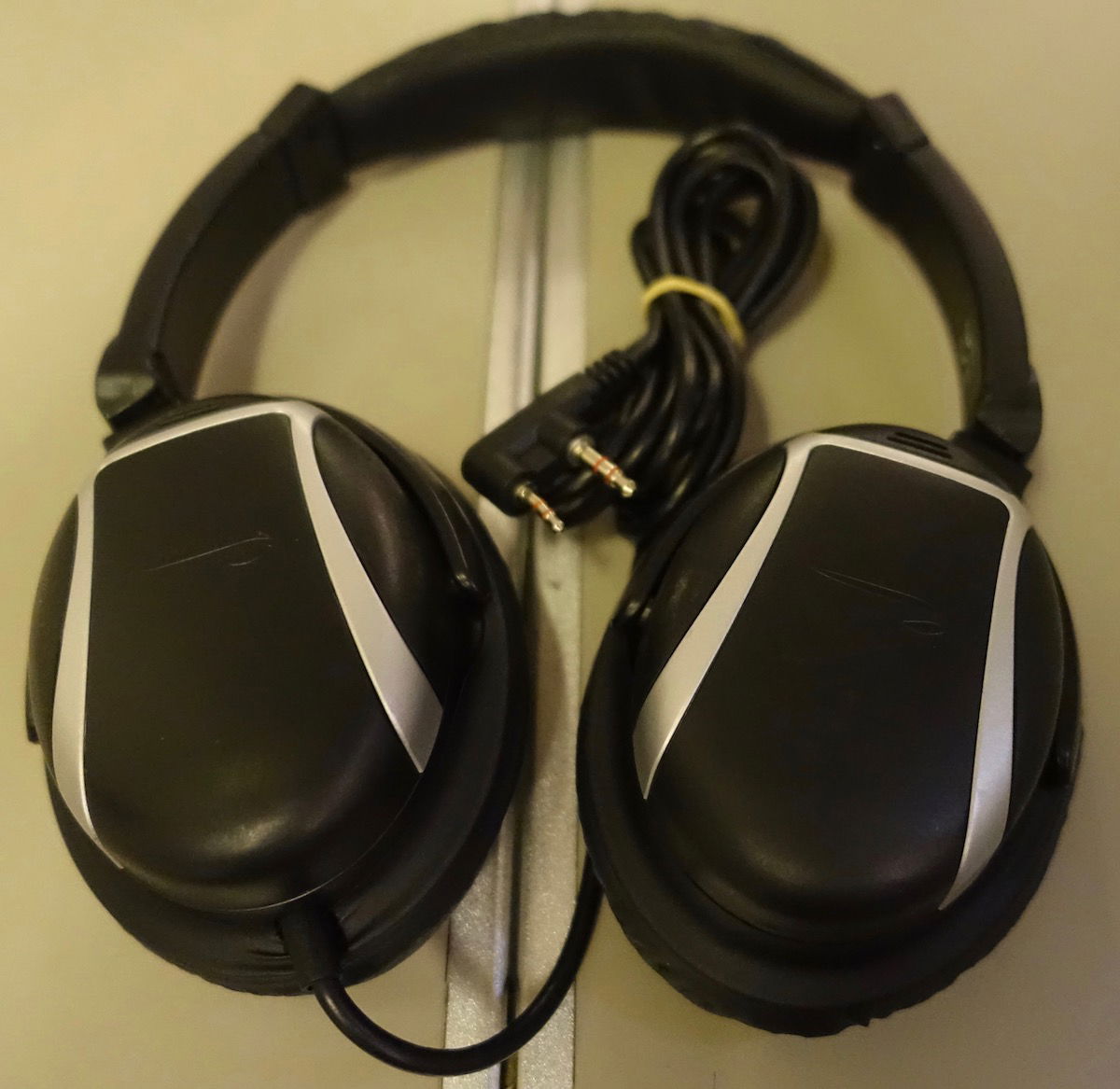 British Airways Club World headphones
This flight was operated by a "mixed fleet" crew. British Airways has flight attendants at Heathrow working on two types of contracts. This was due to a labor dispute several years back.
British Airways' mixed fleet flight attendants are paid less, stay at worse hotels, and generally don't have the same conditions as British Airways' more senior flight attendants. So I generally find that they're excited and friendly, but not necessarily the most polished.
Anyway, a moment after settling in one of the friendly flight attendants taking care of me came by to give me an amenity kit and bottle of water.
British Airways has two flight attendants working the upper deck, so a 10:1 passenger to flight attendant ratio is pretty good, if you ask me.
The amenity kit was quite nice, and featured eyeshades, socks, earplugs, a pen, a toothbrush and toothpaste, lip balm, and some lotion.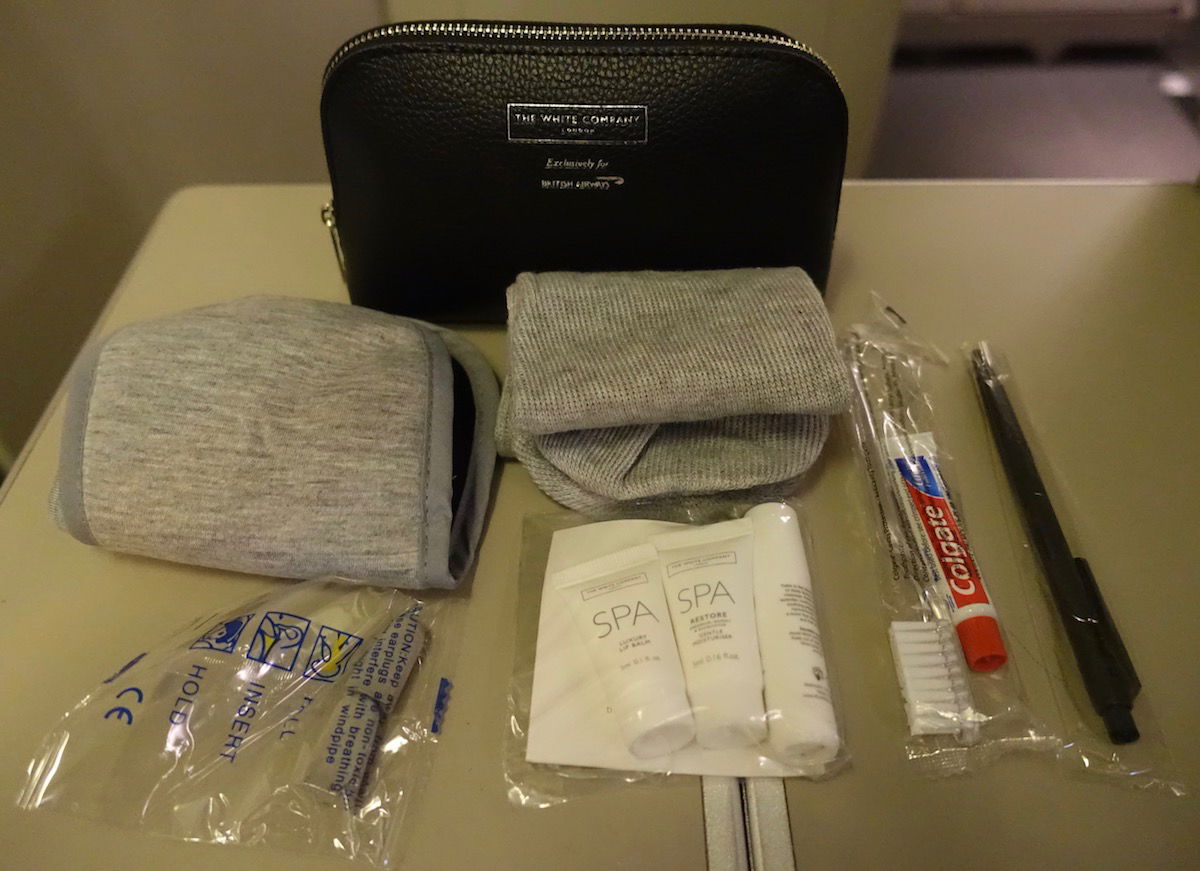 British Airways Club World amenity kit
Then five minutes later I was offered a pre-departure drink, with the choice between water and orange juice.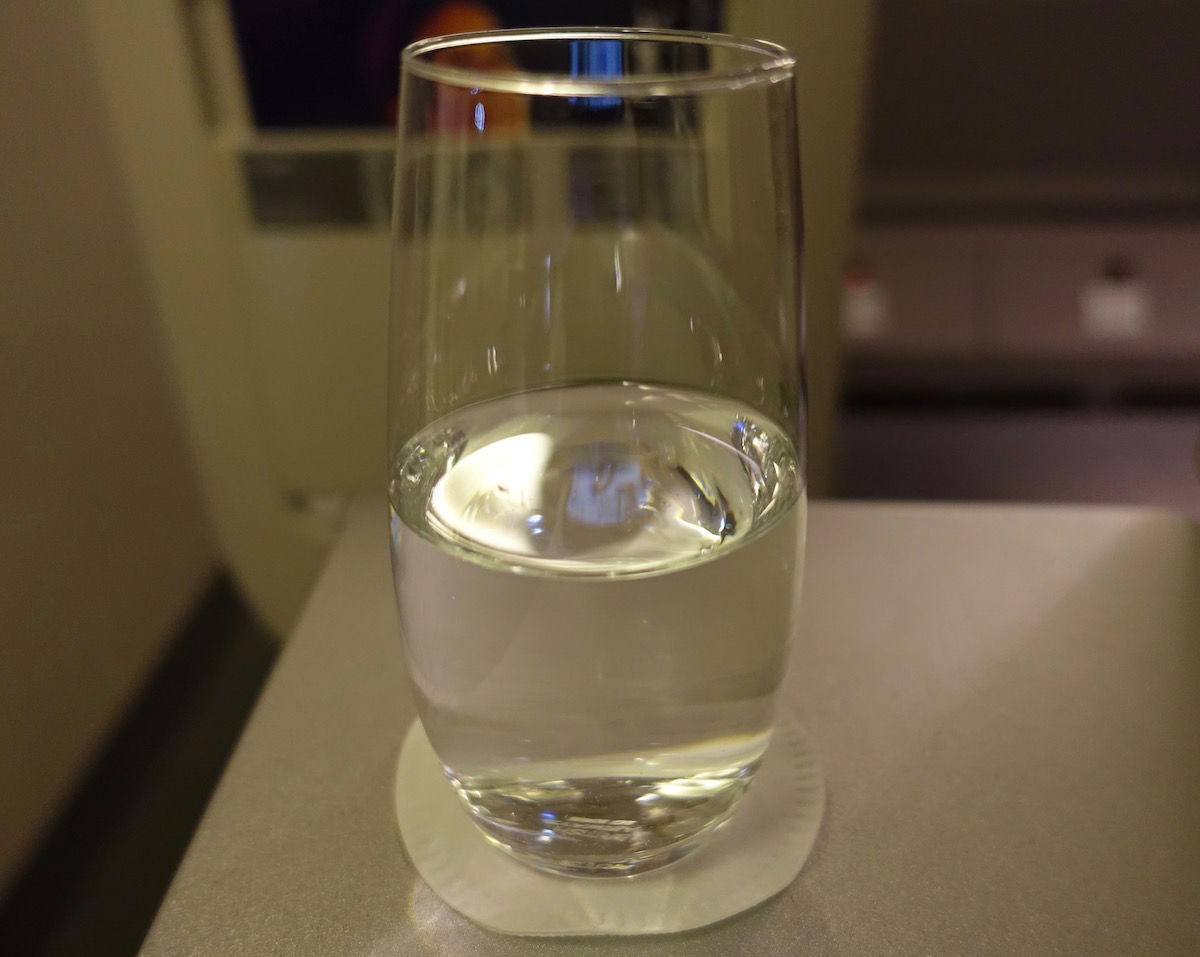 British Airways business class pre-departure drink
A couple of minutes later I was presented with the menu, along with a request to fill out the breakfast card ASAP.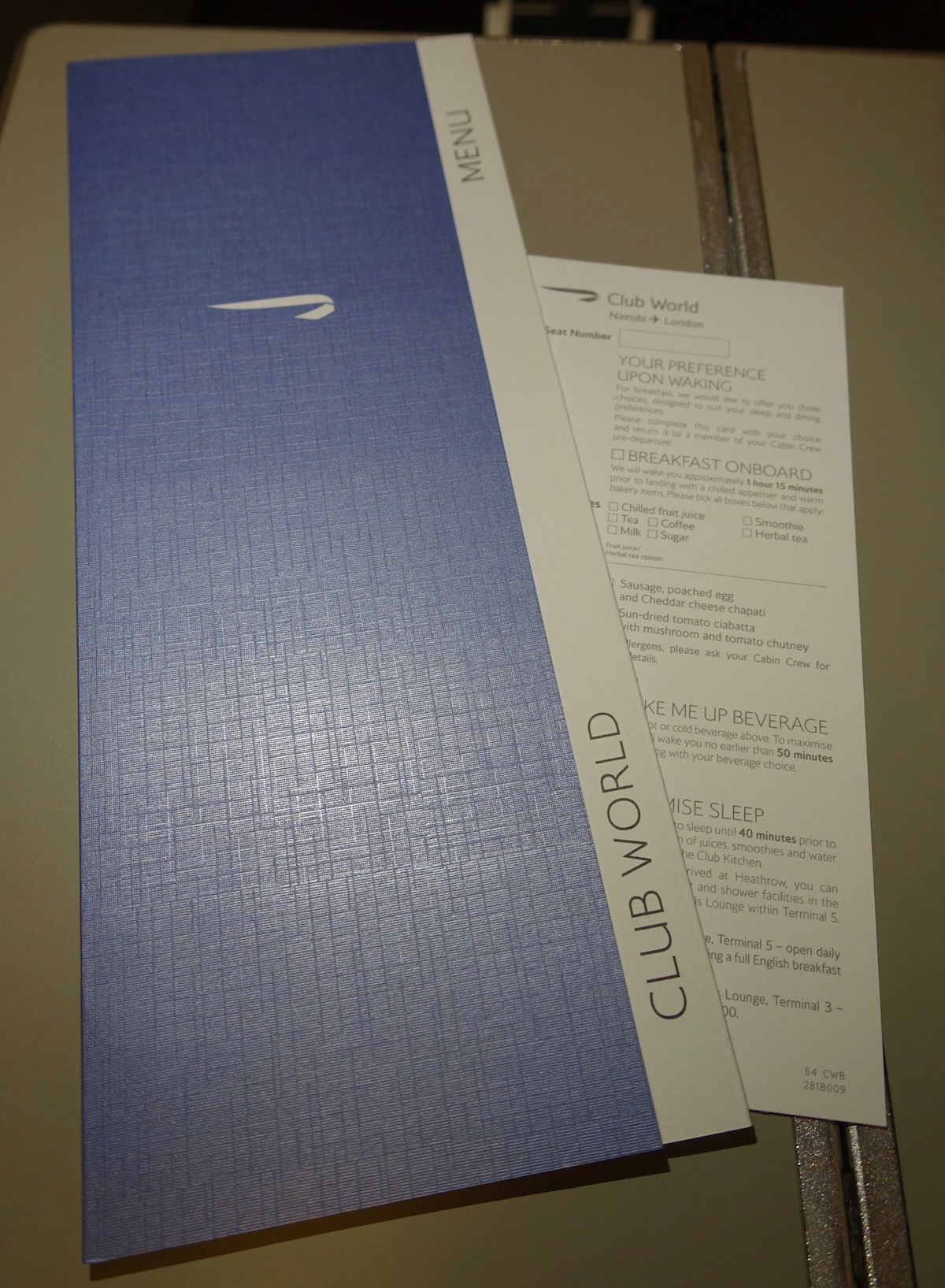 British Airways business class menu
All the upper deck seats were taken, and there was some amusing drama regarding seat assignments.
There was an elderly British couple that wasn't seated together. They were both in aisle seats, and the flight attendant recommended they ask people to switch.
Here's the thing — British Airways charges extra to assign seats in business class, and there's a huge difference between aisle and window seats. So while I'm generally all for accommodating people in situations like this, this is an exception. It's not a fair trade, given the difference in the quality of the seats.
A gentleman seated in row 61 ended up agreeing to switch so that they could sit together. He gave up his window seat for an aisle, which sure was a nice gesture.
But my gosh, he wanted to be sure the couple knew the sacrifice he was making (which I sort of don't blame him for, but…). He was like "I just want you to know, my lady, that I'm giving up the best seat on the plane for you."
"Oh I'm sorry, now I feel bad."
"No, no, no, it's okay, I'll do anything for a lady."
"Well that's very kind of you."
"I know, I made a huge sacrifice."
This continued for a while. Then the flight attendant came by and thanked the gentleman, and said "well at least there aren't any views on this overnight flight you'll be missing."
"Ah but you don't understand, it's not about the views, it's about how much better the window seats are than the aisle seats." He then went on to explain the difference to her.
So I don't blame him one bit, and he was being generous, but for at least five minutes we heard him educating the rest of the upper deck about the relative seat quality.
At around 12:15AM the main cabin door closed, and around the same time the captain made his announcement informing us that we'd have a quick taxi and a flight time of 8hr25min.
At 12:20AM we began our pushback, at which point British Airways' safety video screened (which I still find hilarious):
Our taxi was relatively quick, and at 12:35AM we were cleared for takeoff. I will say the one downside to seat 62K is that the flight attendant jumpseat is immediately across from it, so it's where both flight attendants sit during takeoff and landing. For that reason I'd prefer seat 62A, where you have no jumpseat across from you.
As we climbed out I took a look at the entertainment selection, starting with the moving map.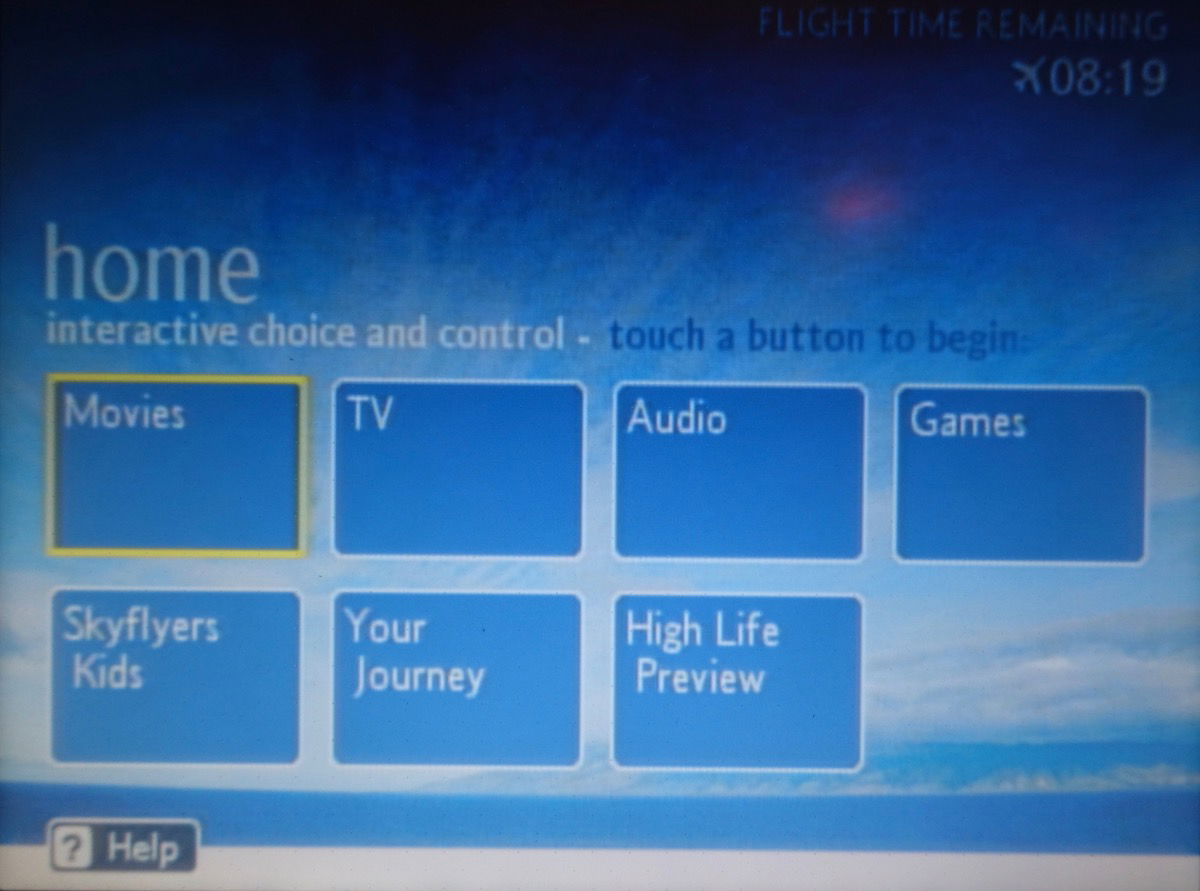 British Airways entertainment selection
No, I didn't take bad pictures, British Airways' entertainment system on the 747 is so low quality. Like, it's unbelievable, and I feel like it hasn't been updated since the seat was introduced.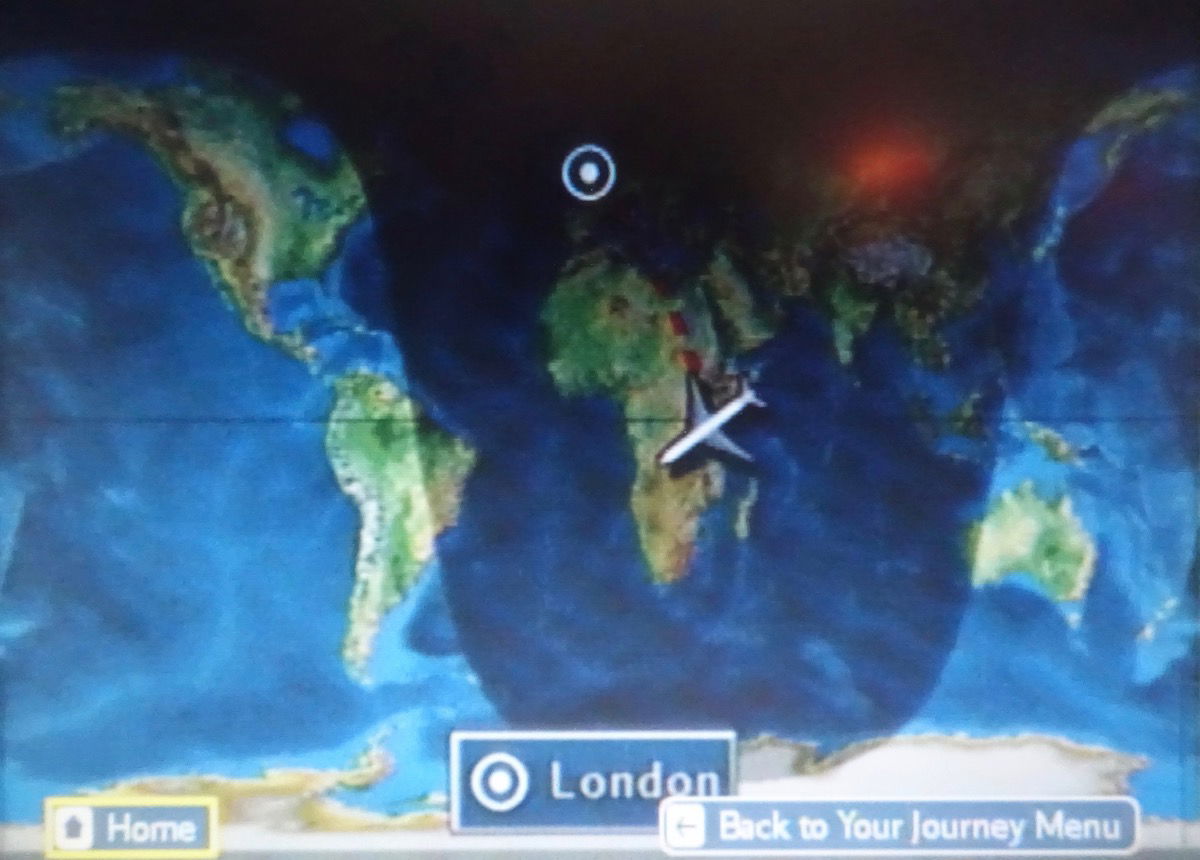 Map for flight to London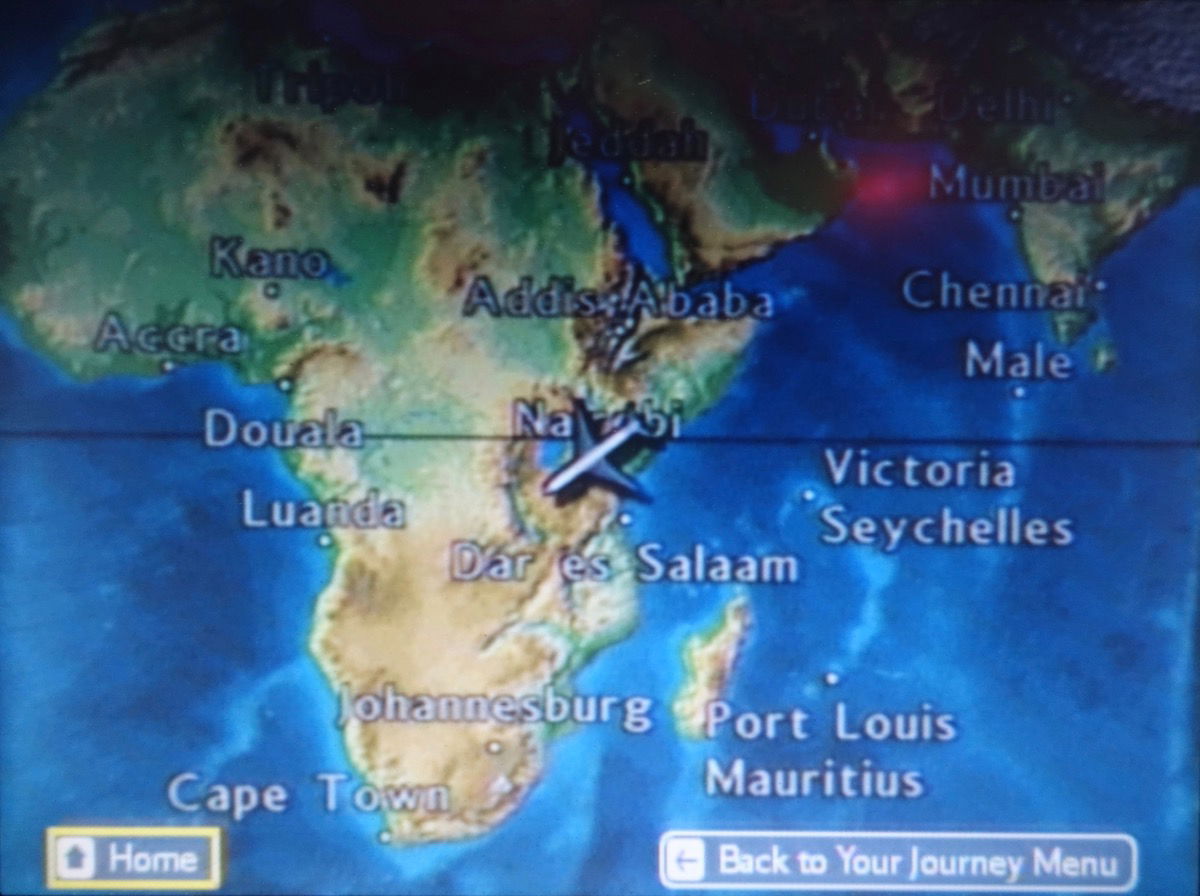 Map for flight to London
The entertainment selection was alright but not great, as there were a few dozen movies and TV shows.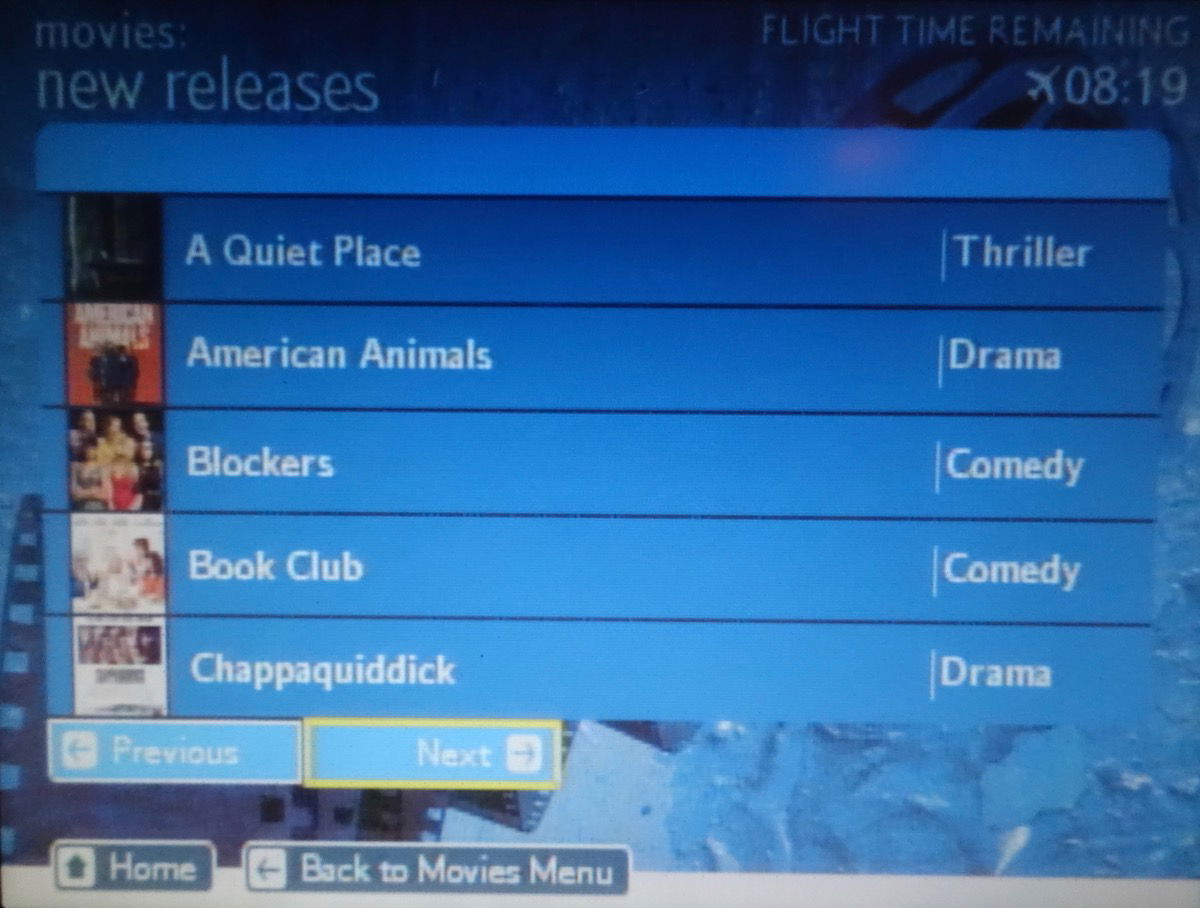 British Airways entertainment selection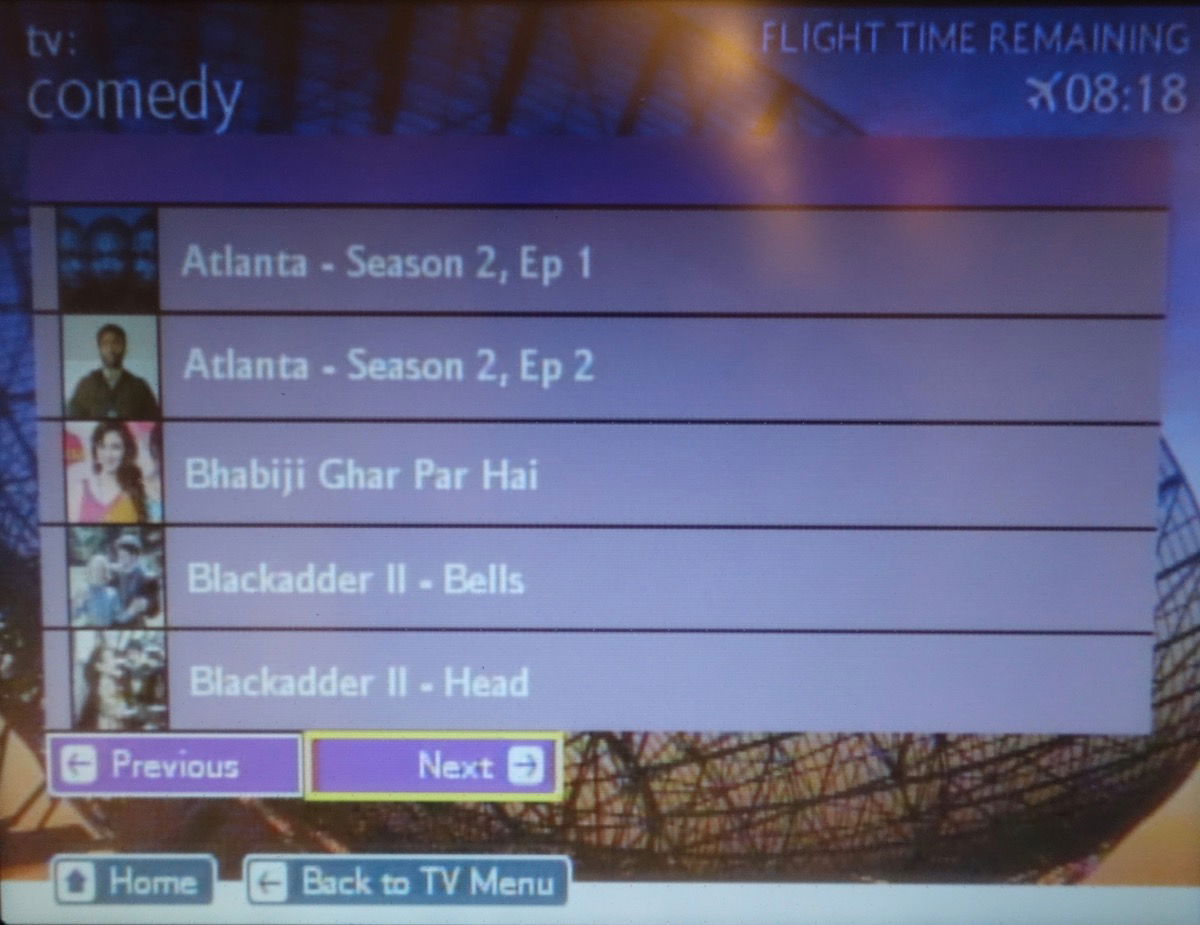 British Airways entertainment selection
I ended up watching Blockers (or whatever you'd like to call it), which was amusing(ish).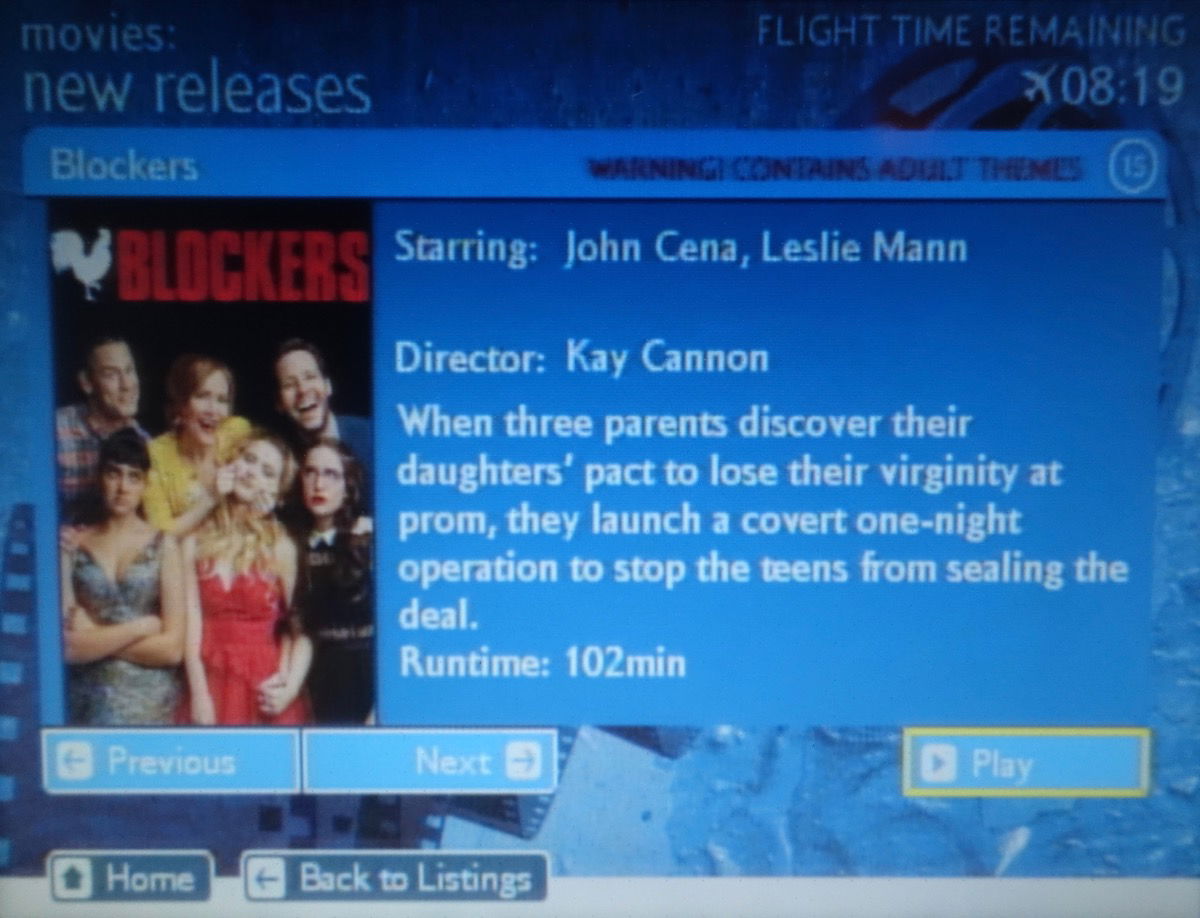 British Airways entertainment selection
While British Airways is progressively rolling out Wi-Fi throughout their fleet (and many 747s already have it), they didn't yet have it on this plane. Generally the "high density" business class 747s are most likely to have it (those are the ones with 86 business class seats).
The seatbelt sign was turned off five minutes after takeoff, and at that point the crew sprayed the cabin, as is apparently standard on flights from Kenya to the UK.
Shortly thereafter the service began. The menu read as follows: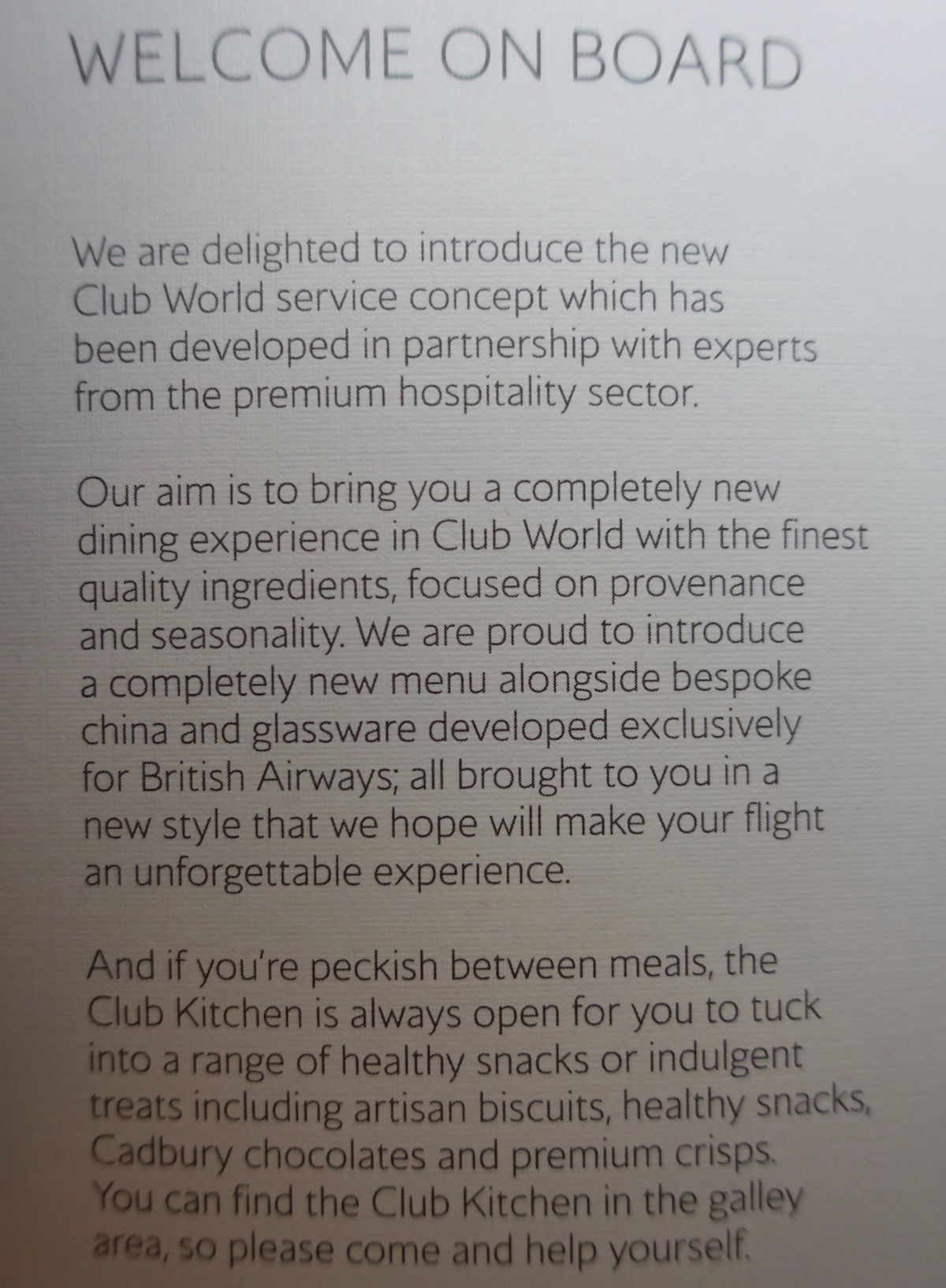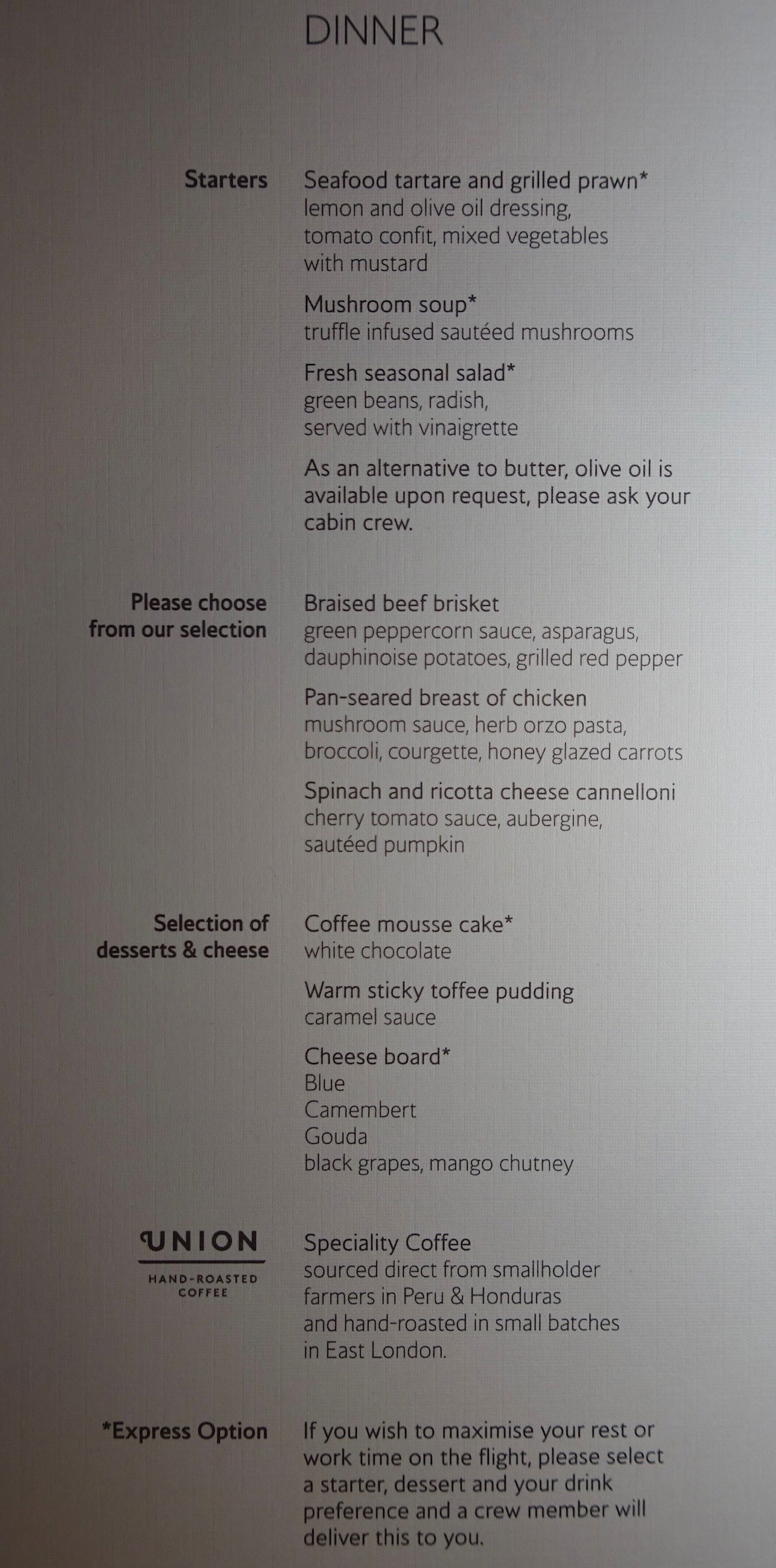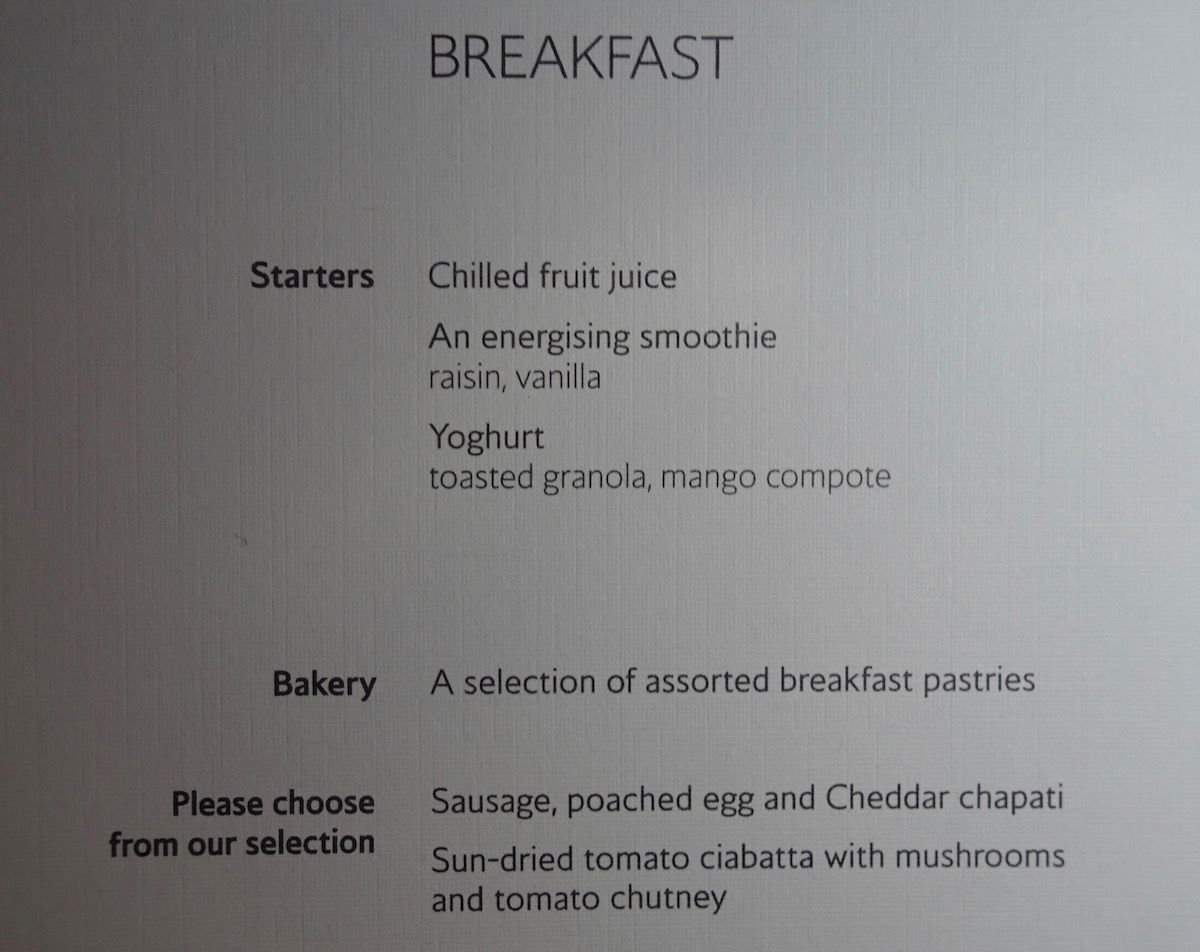 The drink list read as follows: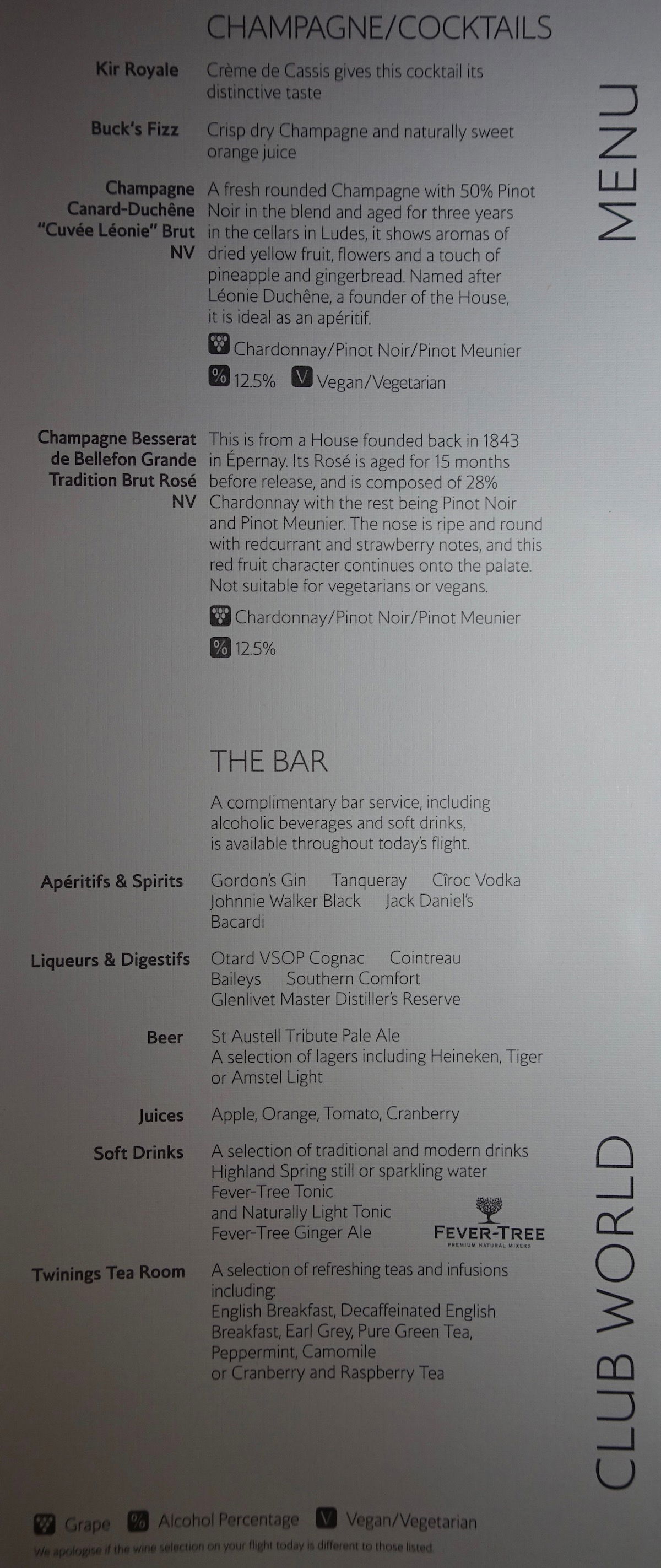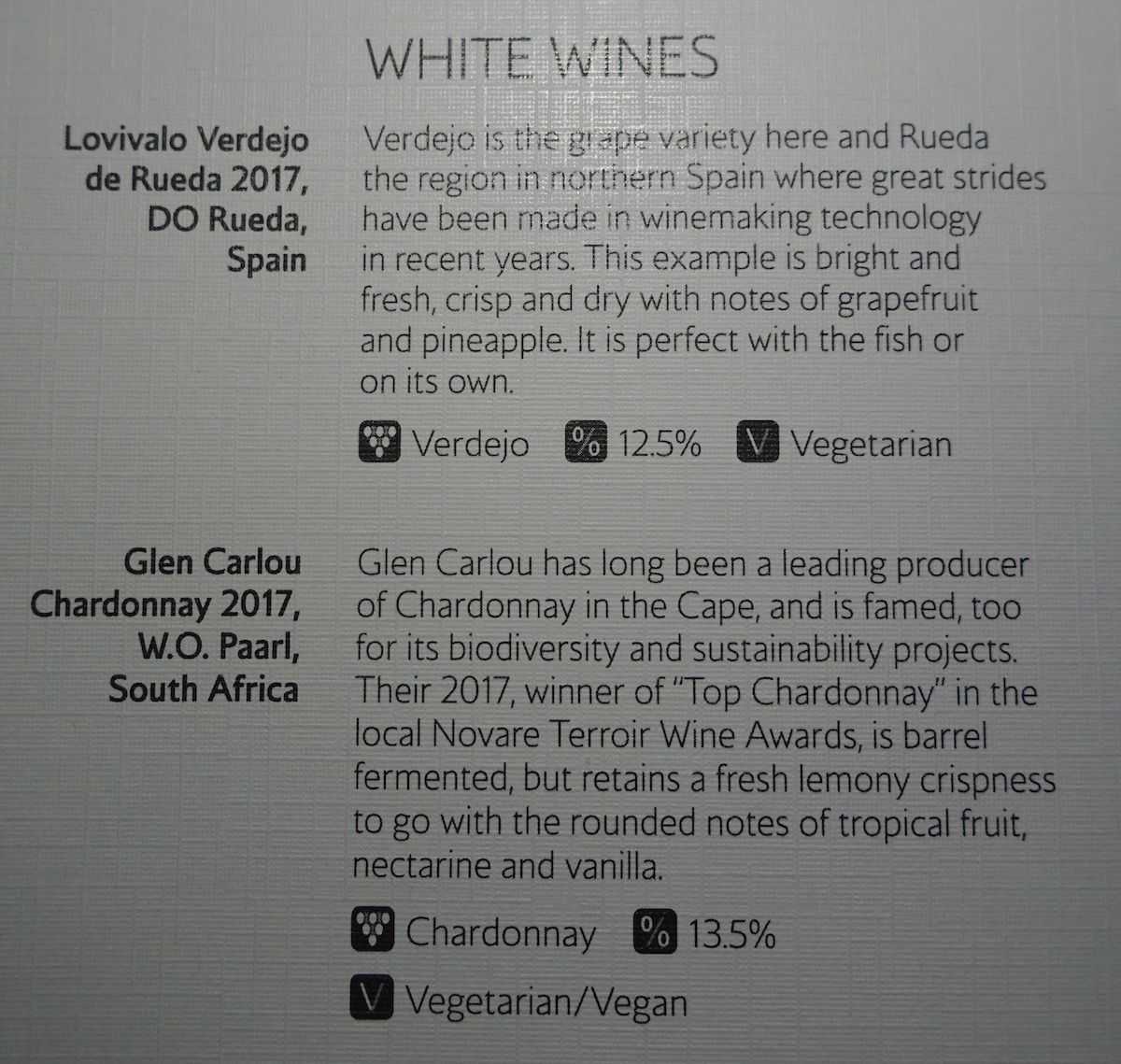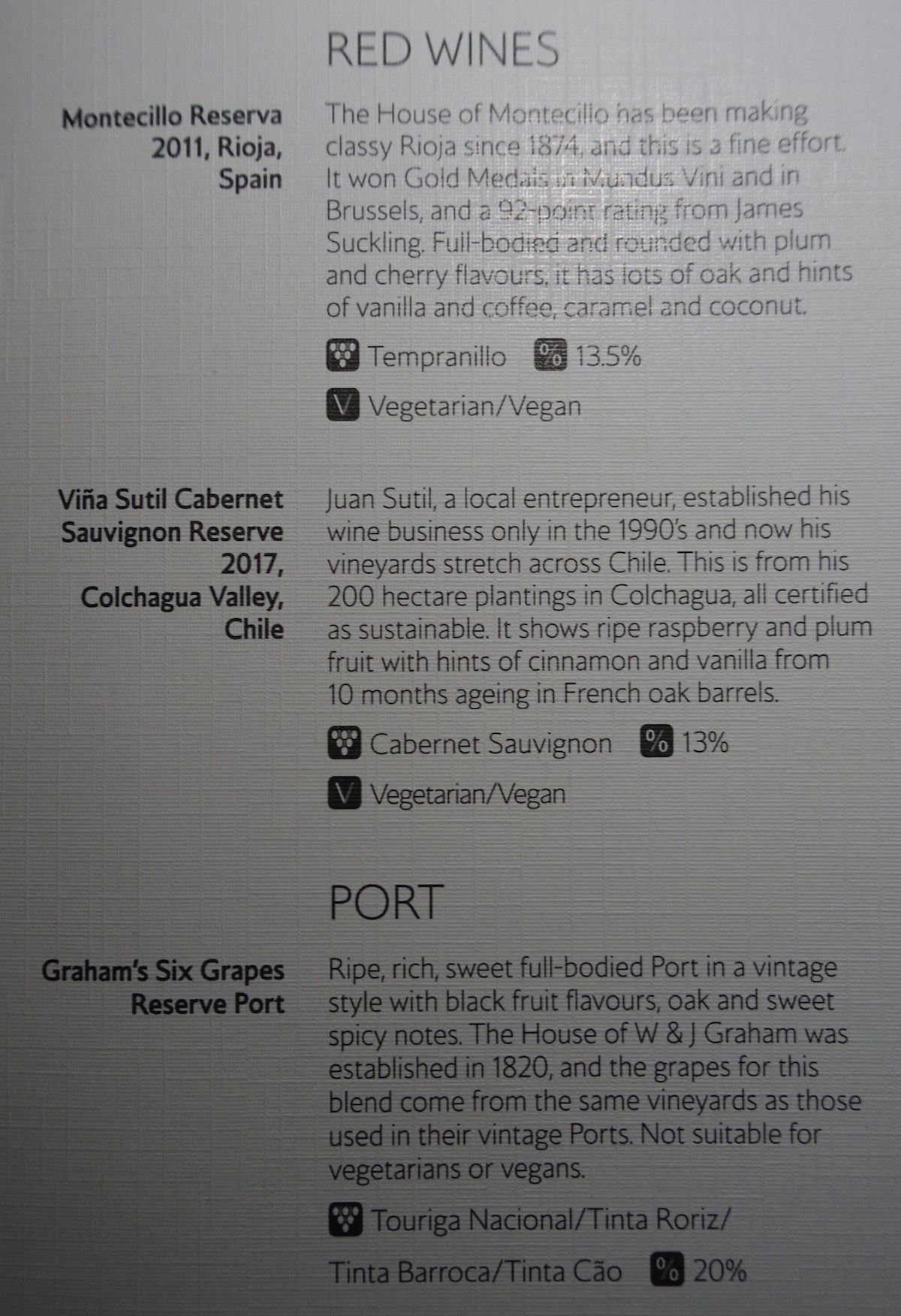 I was offered a warm towel 15 minutes after takeoff.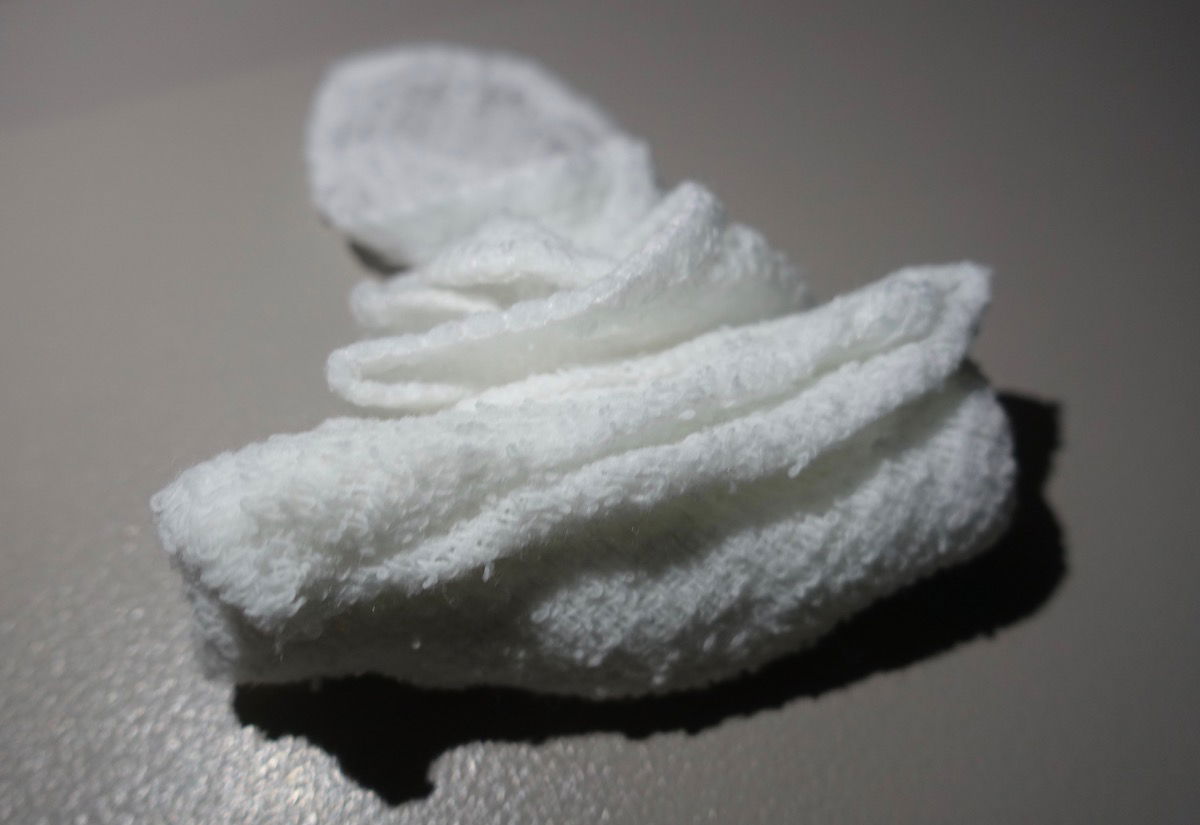 British Airways business class dinner — warm towel
I was served my first drink 50 minutes after takeoff. Since British Airways recently revamped their catering, I was looking forward to experiencing it. The drink was served on a cute little tray with some nuts. British Airways serves Champagne Canard-Duchene in business class, which is quite nice.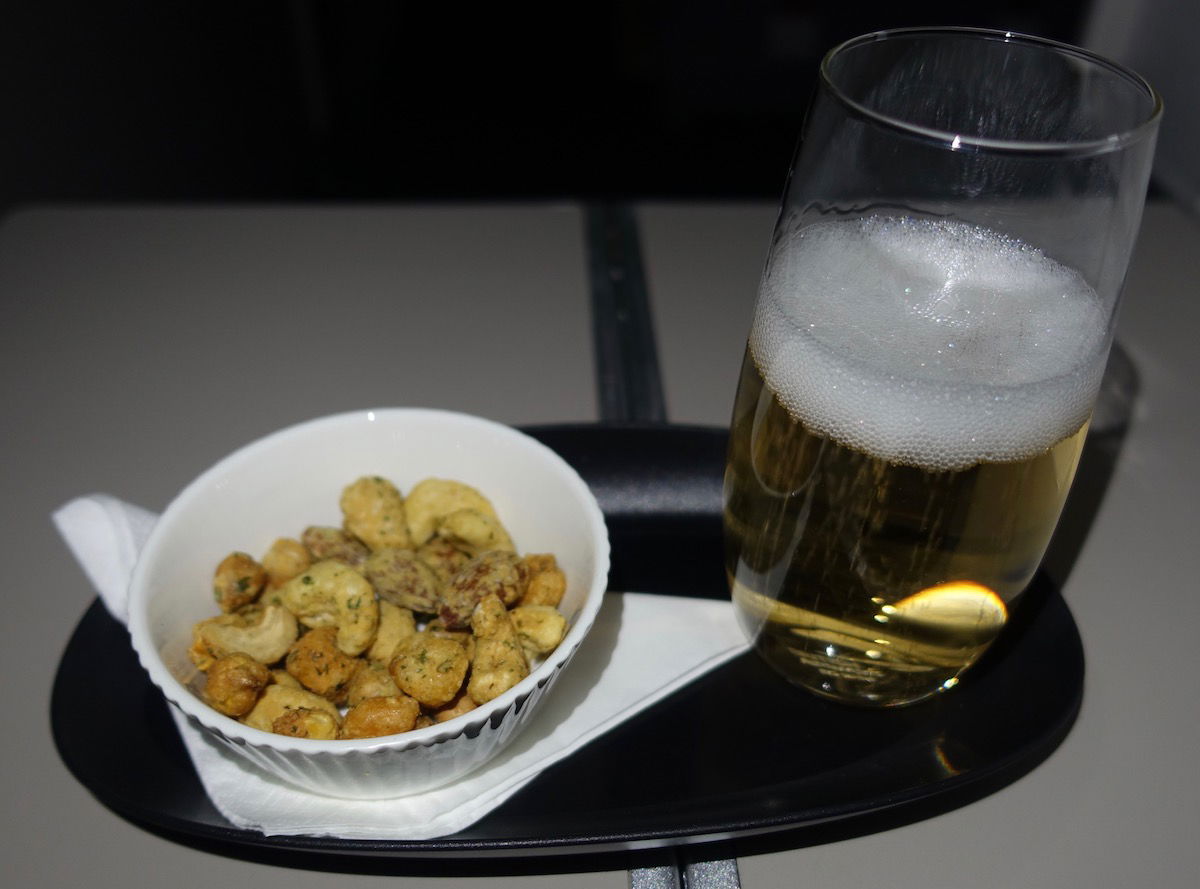 British Airways business class dinner — champagne and mixed nuts
65 minutes after takeoff my first tray was served. I ordered an appetizer and soup, and boy was it a big portion.
The tray had seafood tartare and grilled prawn, mushroom soup, and a fresh seasonal salad, along with some bread. Wow, that's quite a meal. The food was exceptional — while the salad was a bit boring, the appetizer and soup were both really good.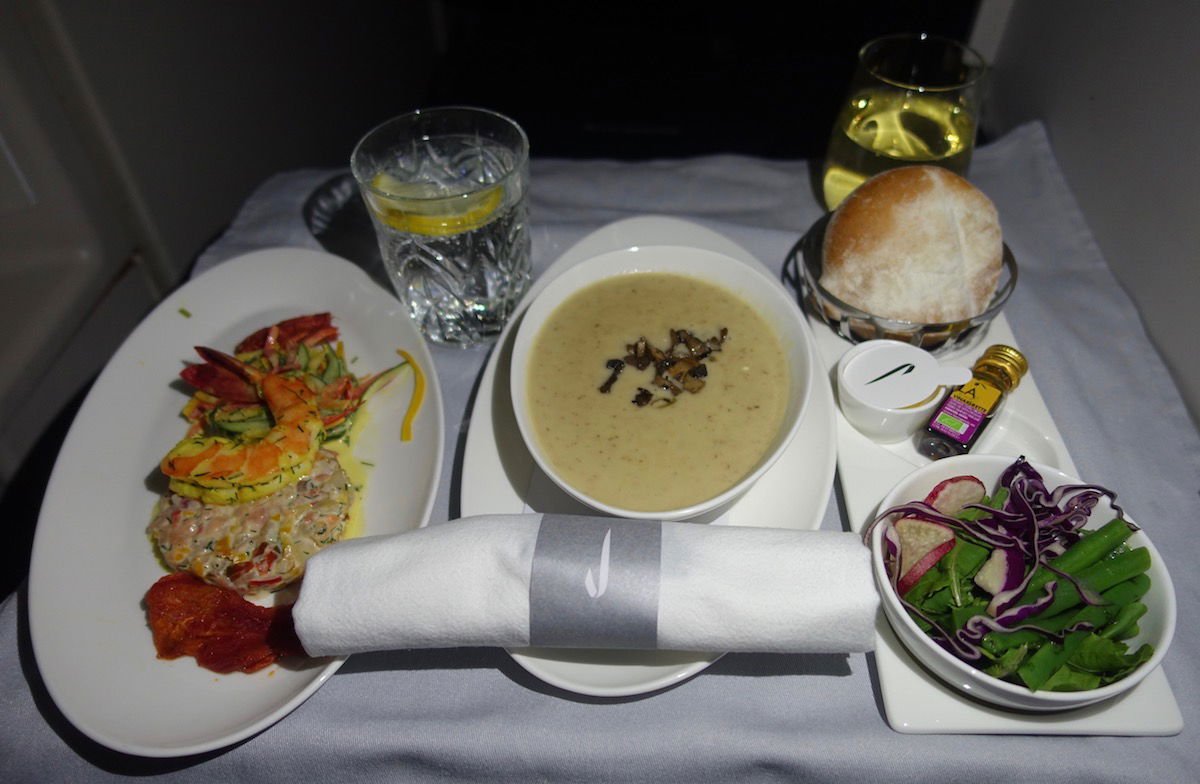 British Airways business class dinner — appetizer, soup, and salad
For the main course I ordered the pan-seared breast of chicken with mushroom sauce, herb orzo pasta, broccoli, courgette, and honey glazed carrots. The dish was excellent.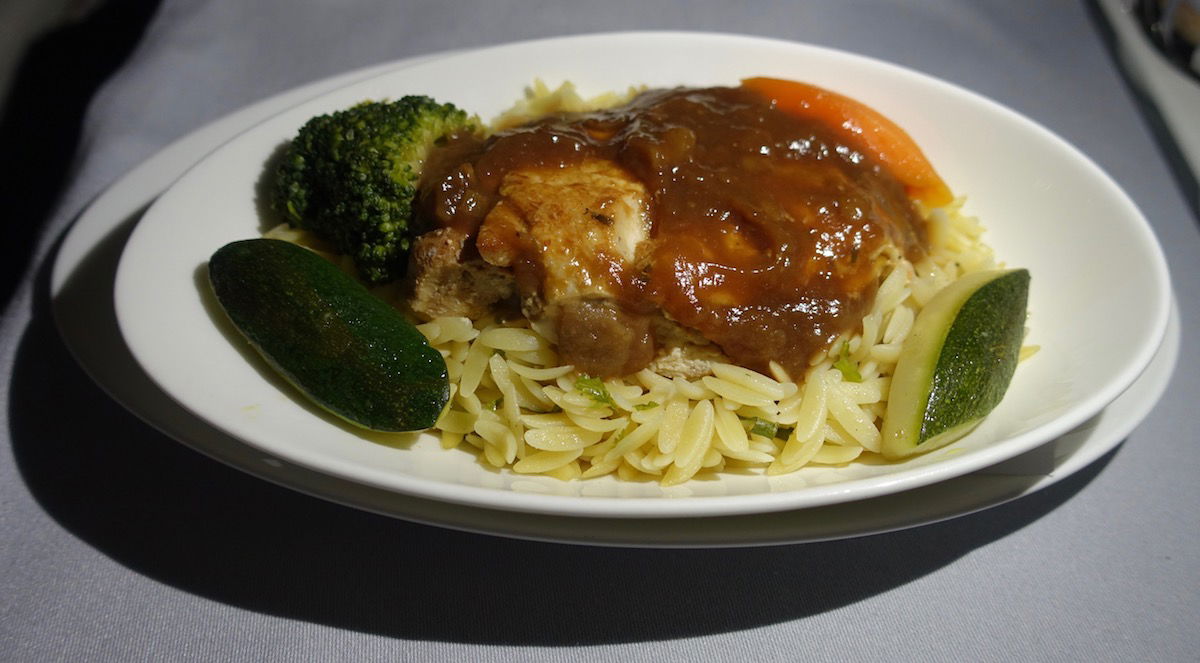 British Airways business class dinner — main course
Lastly for dessert I had coffee mousse cake with white chocolate.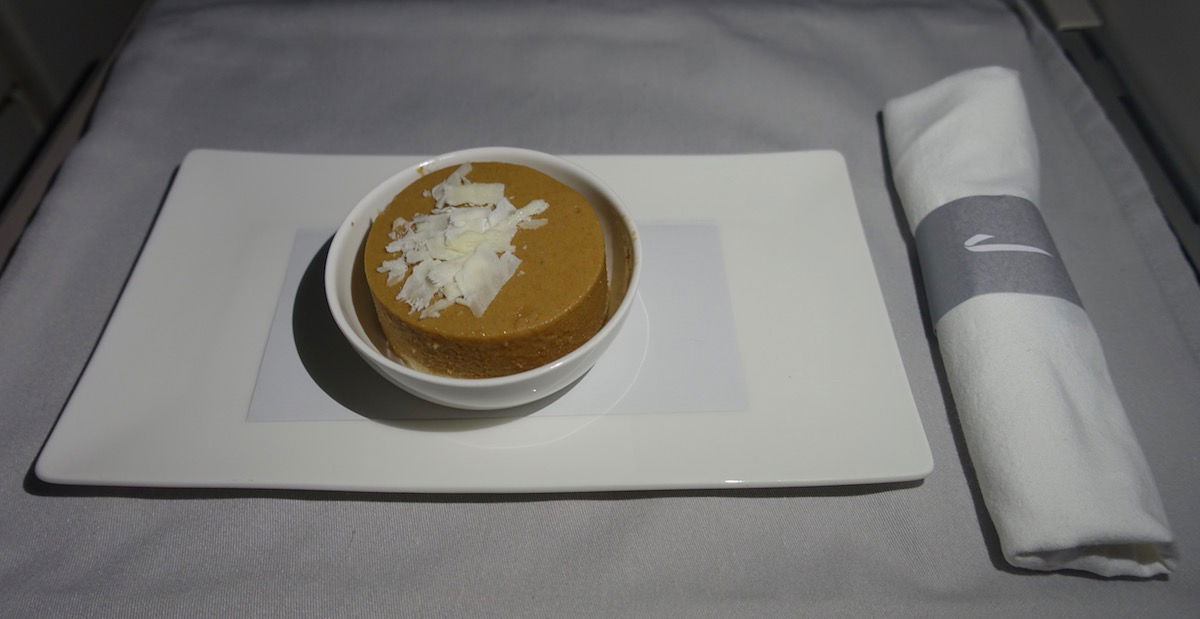 British Airways business class dinner — dessert
The food was incredible across the board. I couldn't believe I was flying British Airways.
The crew was friendly and efficient, and the meal was completely done less than 90 minutes after takeoff. I imagine this is another benefit of the upper deck, as they only have 20 passengers to take care of, and it seemed like at least half of the passengers went straight to sleep.
By the time I finished the movie we had about 6hr30min remaining to London, so I tried to get some sleep.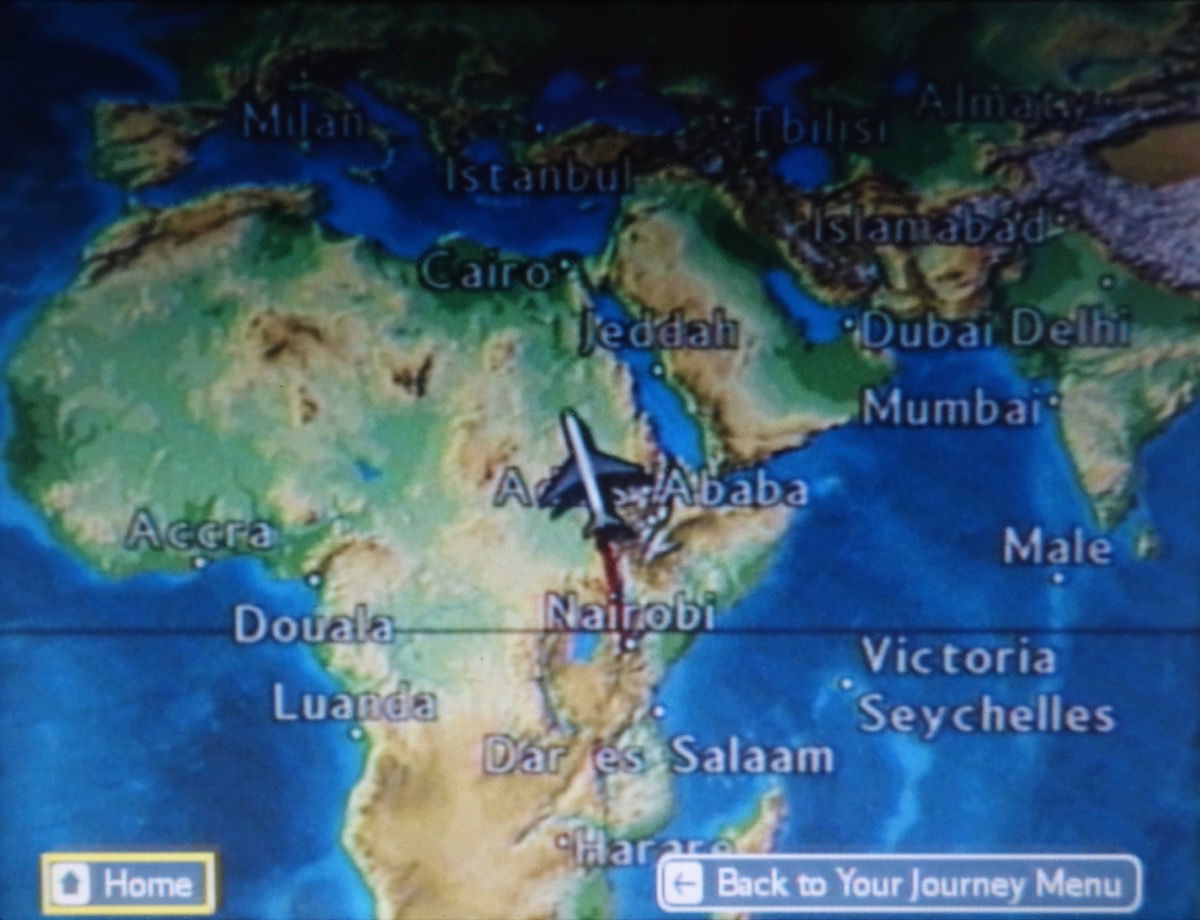 Moving map for flight to London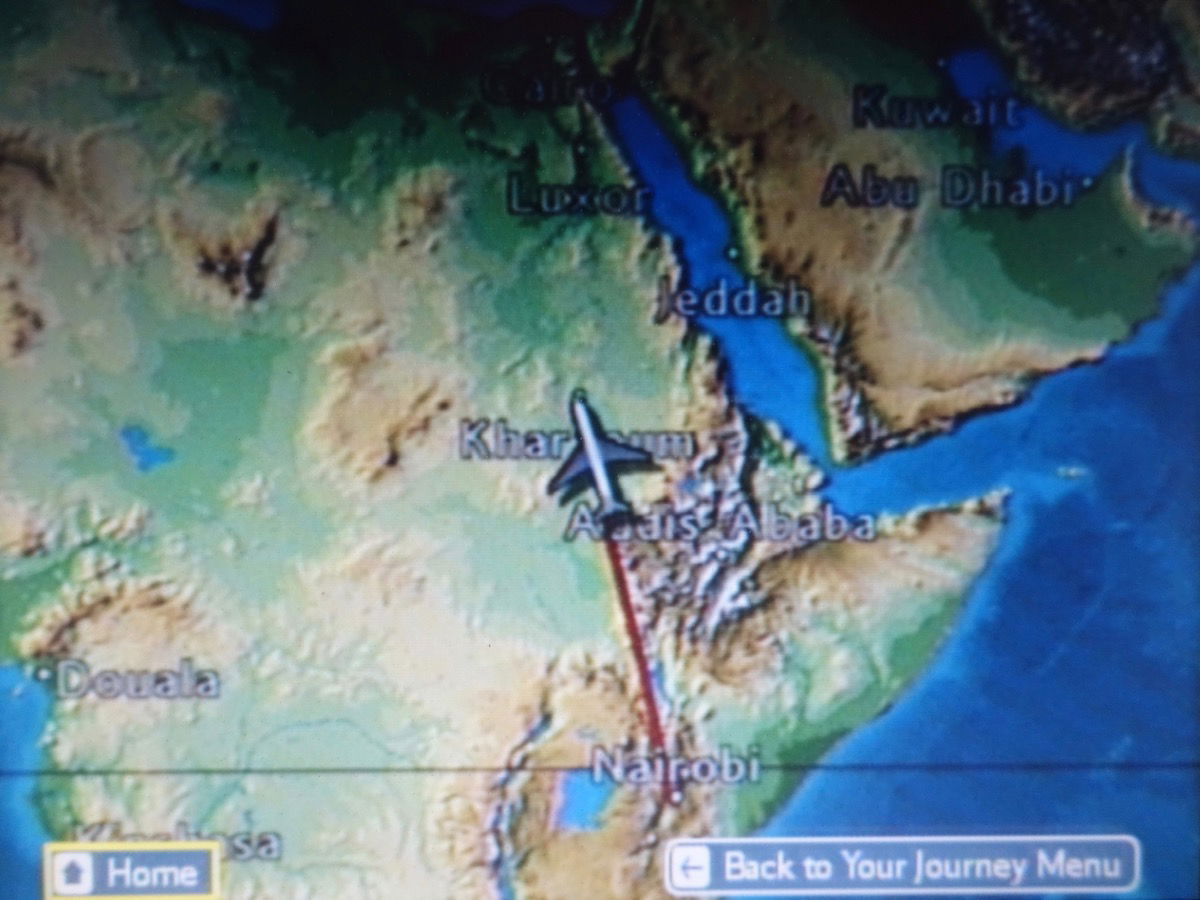 Moving map for flight to London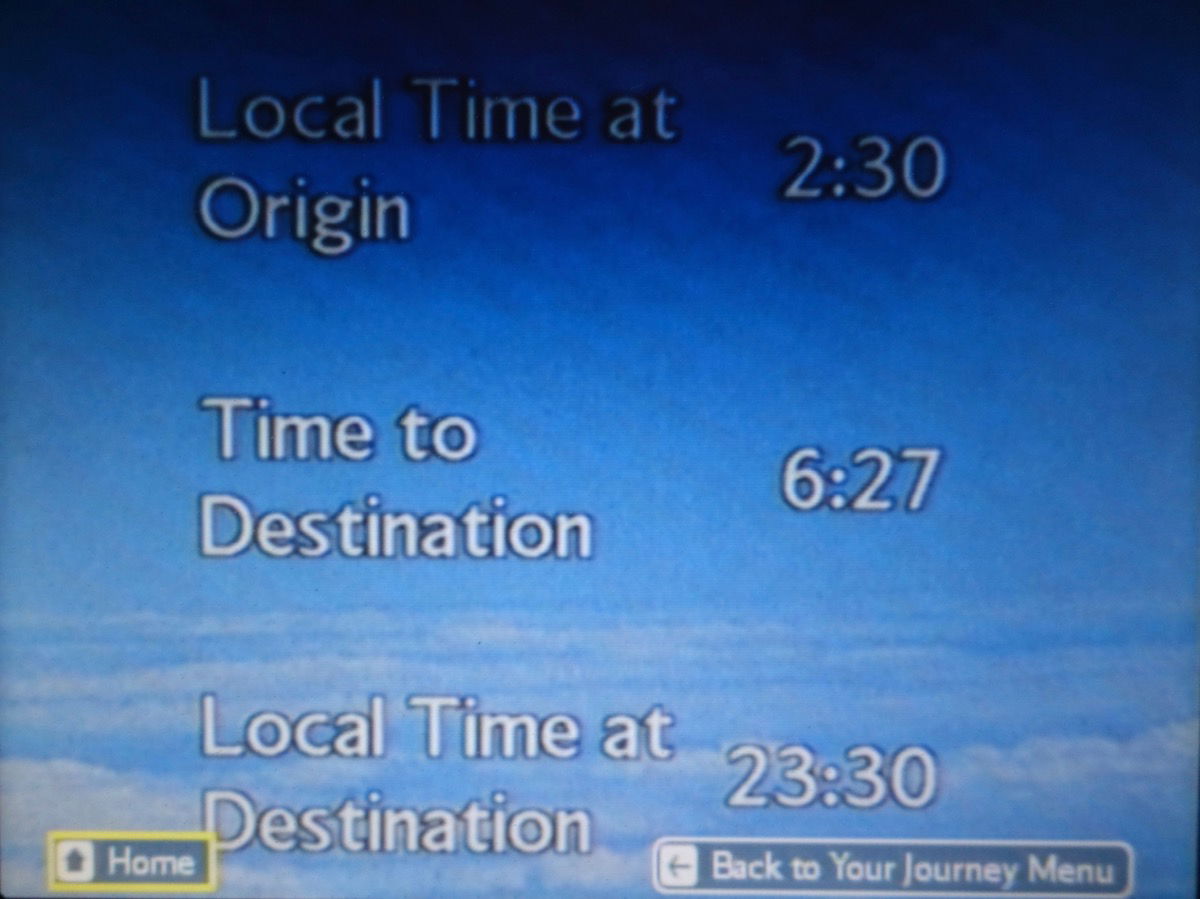 Moving map for flight to London
I first checked out the lavatory. There are two on the upper deck — one at the front and one at the back — and they look ancient.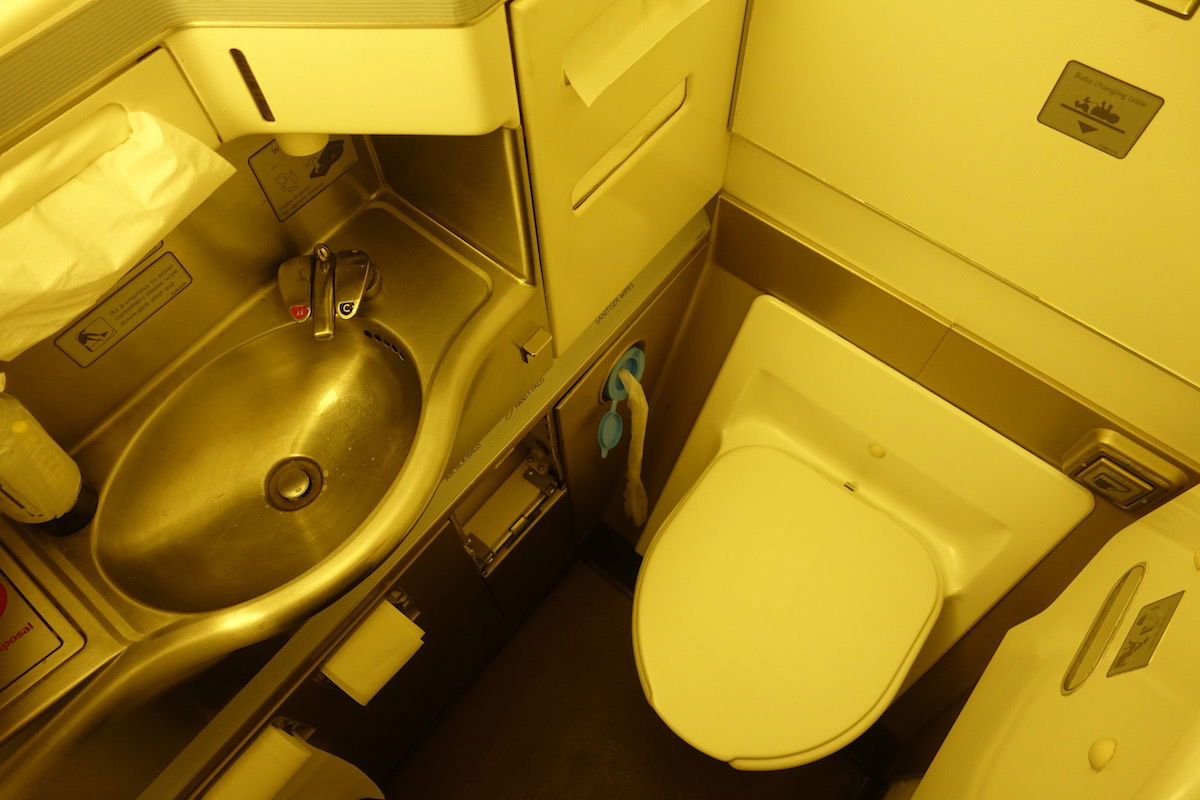 British Airways 747 lavatory
They had some basic products from The White Company in the lavatory.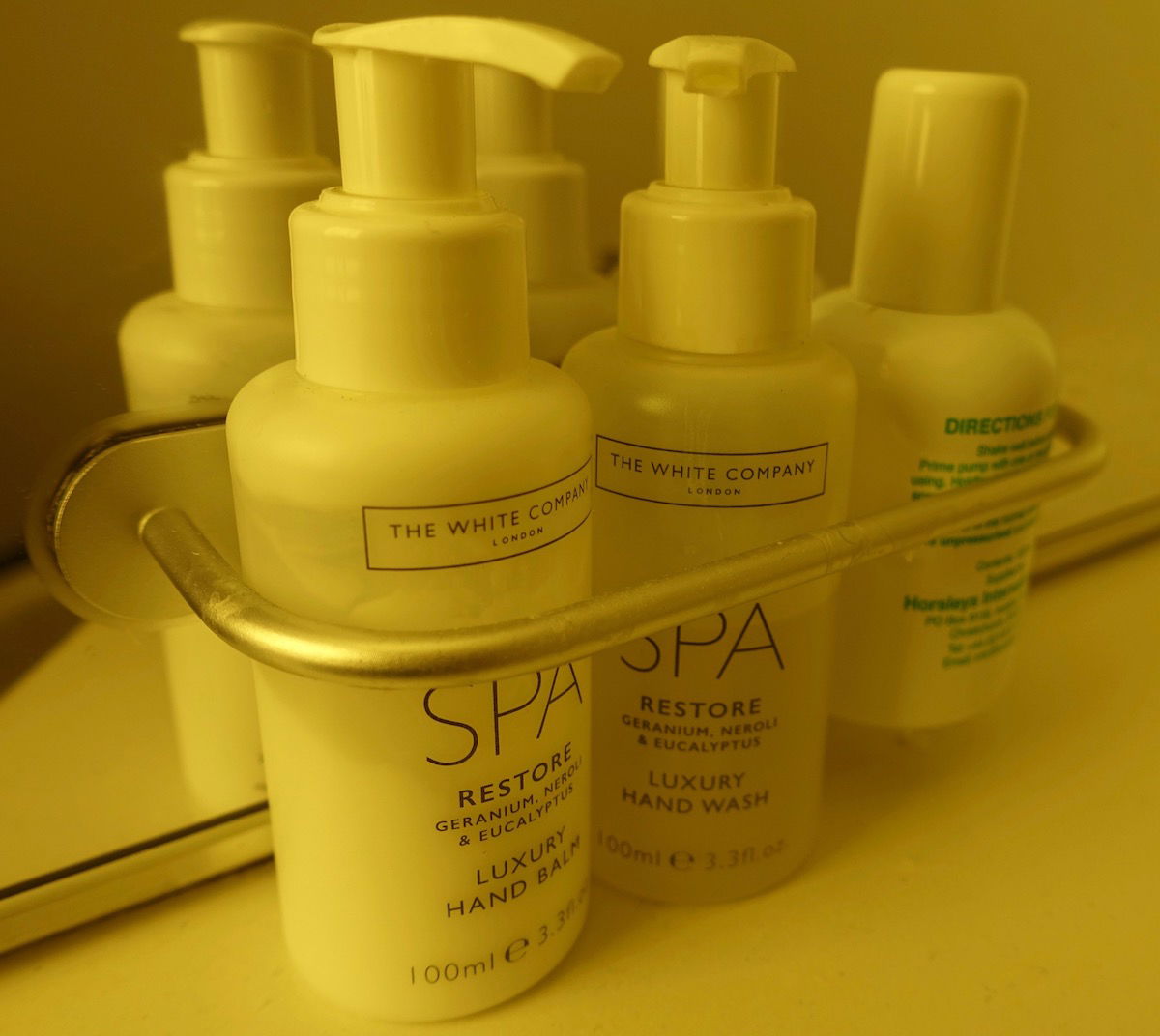 British Airways 747 lavatory amenities
With the divider up and the direct aisle access thanks to being in 62K, this was a really comfy cocoon. The one issue is that the ottoman wasn't quite at the same height as the rest of the seat, so there was an odd gap when laying down. This wasn't a huge problem, but did make it slightly uncomfortable in bed mode.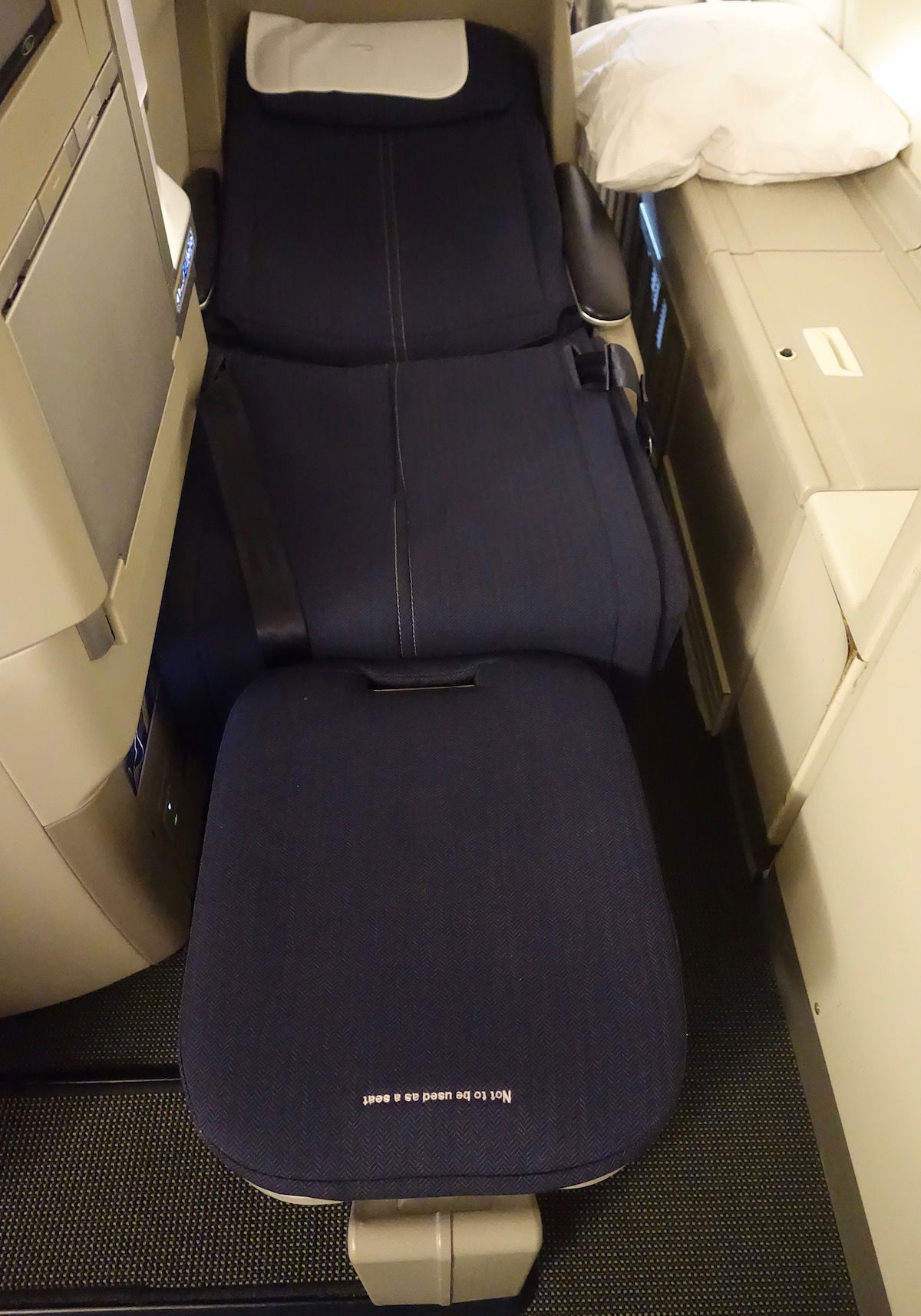 British Airways Club World flat bed
I got some solid sleep, and woke up about 90 minutes before landing.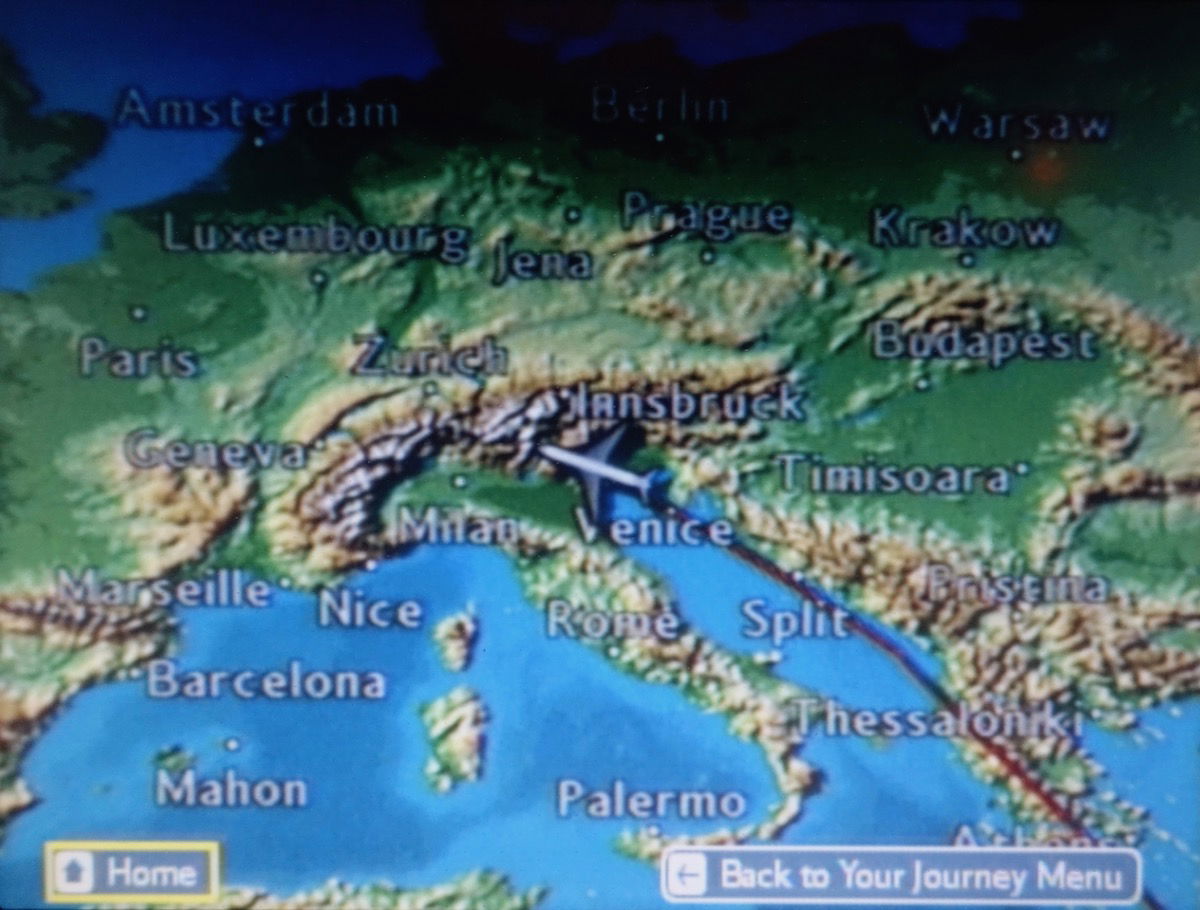 Map enroute to London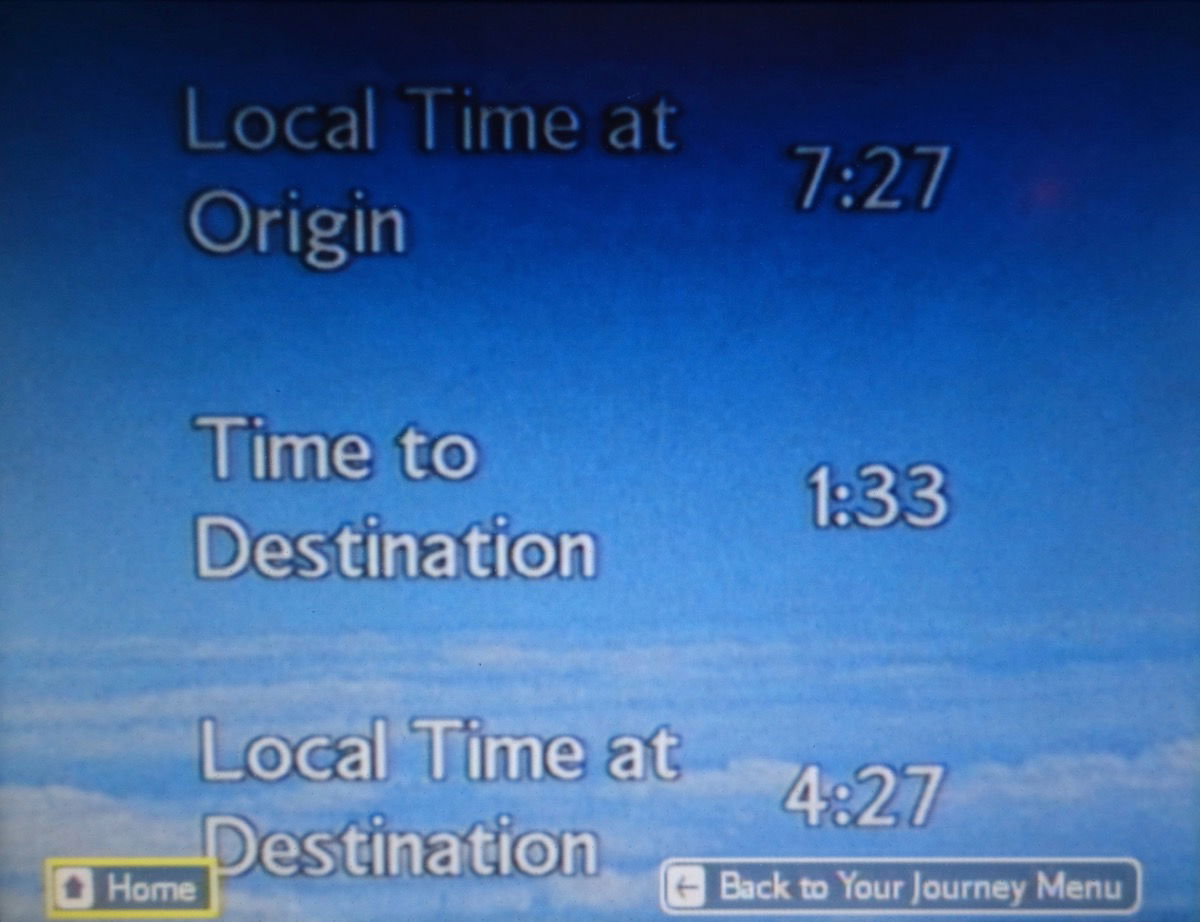 Map enroute to London
Within about 15 minutes a flight attendant appeared with my breakfast tray. On short overnight flights I like when they take meal orders in advance, since it minimizes the amount of time between when you wake up and when you're served.
The breakfast card read as follows: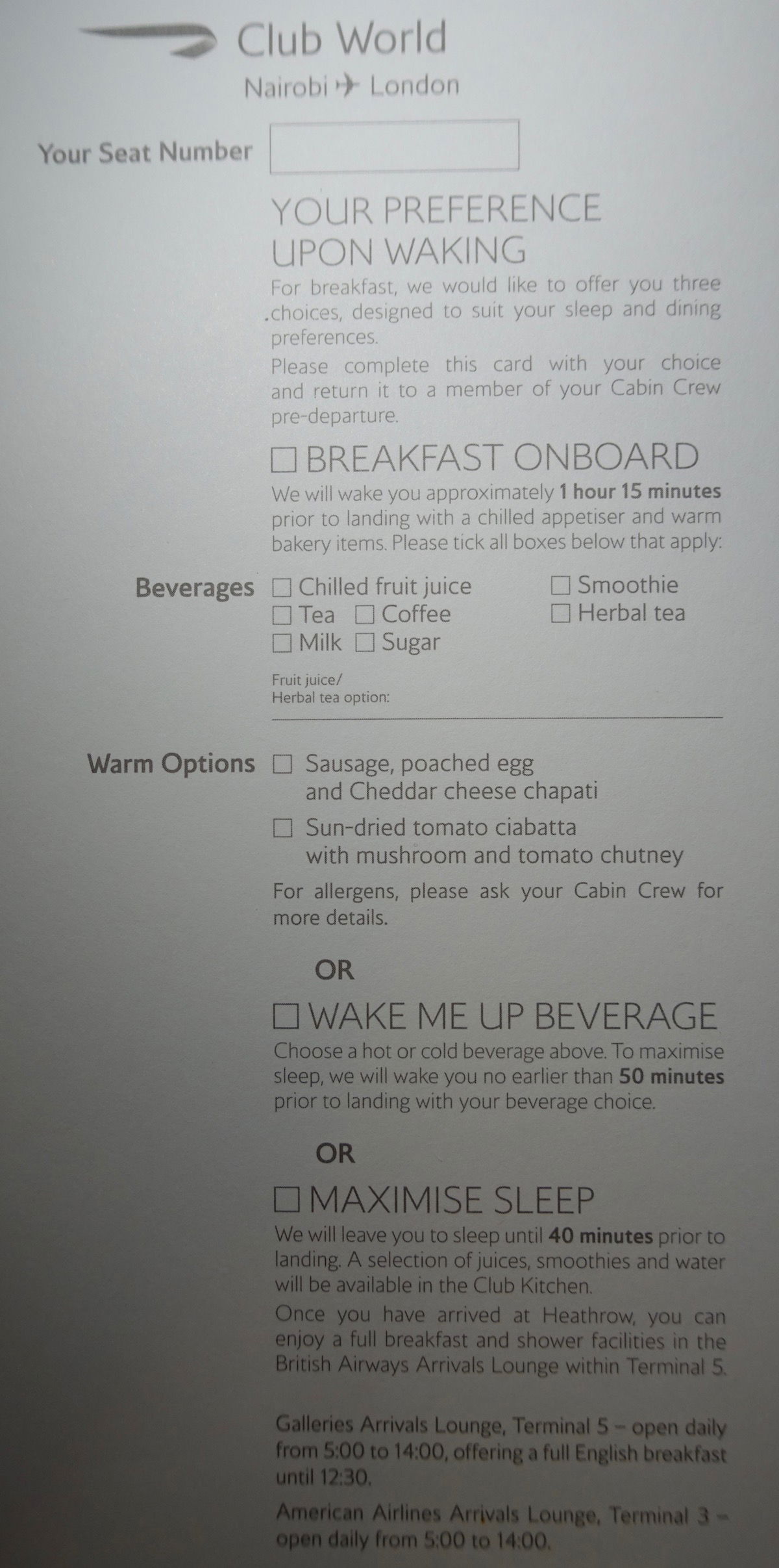 I wasn't that hungry given that I had dinner just a few hours earlier. I did really enjoy the smoothie and the yogurt parfait. British Airways has excellent coffee as well. For my main I ordered the sun-dried tomato ciabatta with mushroom and tomato chutney, which was just alright, so I didn't finish it.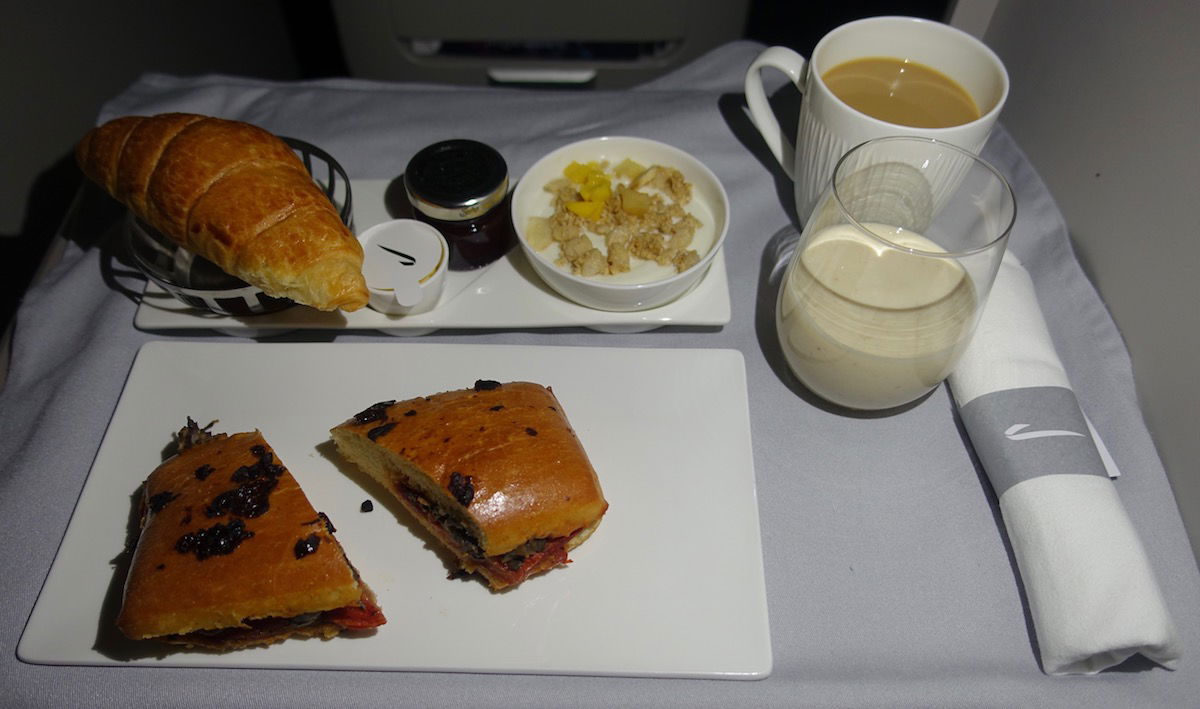 British Airways Club World breakfast
Over the next 30 minutes more people started to wake up and order breakfast. At around 5:20AM in London, the first officer announced that we'd be landing at around 6AM. 15 minutes later the cabin started to be prepared for landing. While it was still dark outside, I could see the sunrise in the far distance, which was beautiful.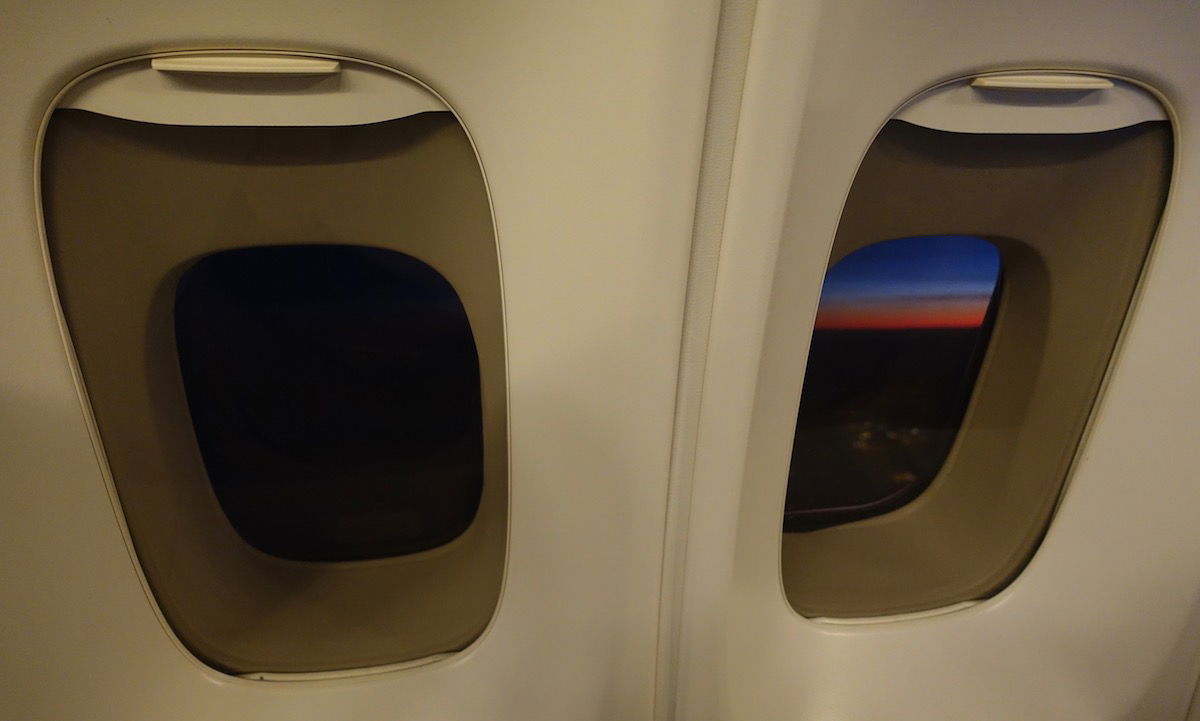 Sun slowly rising approaching London
We ended up touching down on runway 9L at 5:55AM, and from there had a five minute taxi to our arrival gate at Terminal 3, where we arrived at 6AM, and parked next to Cathay Pacific and Finnair planes.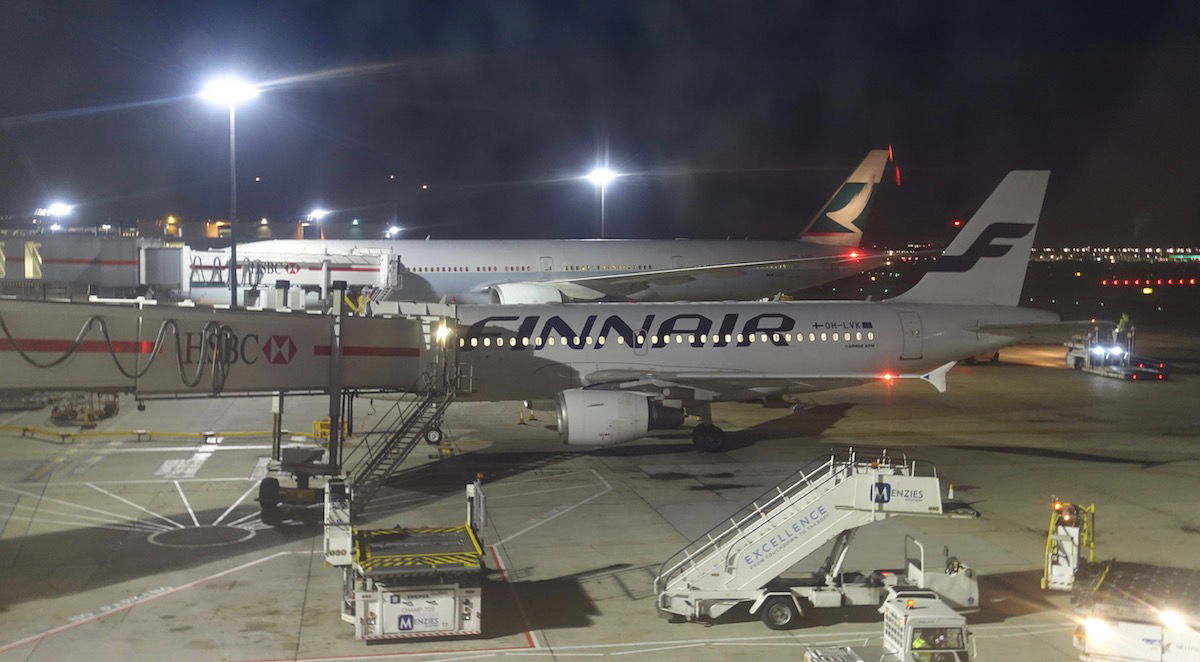 View at Terminal 3 arrival gate Heathrow
The first officer announced that we had a sick passenger onboard and asked everyone to remain seated until medical staff boarded. That took just a few minutes, and then the captain was at the door to say goodbye to everyone and thank them for their patience, which was a nice touch.
British Airways 747 business class bottom line
I've been a harsh critic of British Airways' business class in the past, though this flight really impressed me.
First of all, flying on the upper deck of the 747 felt like a completely different experience. The cabin feels so much more intimate, the storage lockers make a world of different, and in general I just love being on the upper deck of the 747.
On top of that, I think British Airways more or less hit it out of the park with their new soft product. The new food, bedding, and amenity kits are top notch, and such a contrast to my past experiences with British Airways.
Now we'll just have to see what their new business class seat is like.