In 2017, British Airways added two routes to compete directly with Norwegian: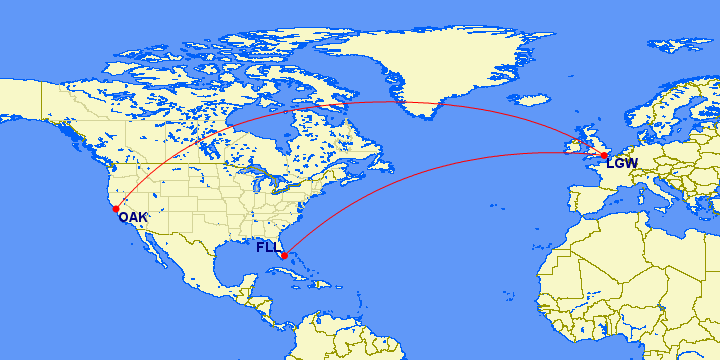 Both were routes that Norwegian operated as well, and this came at a time when Norwegian was viewed as a big competitor, and British Airways was even interested in taking them over (while nowadays Norwegian is hanging on by a thread).
Well, British Airways had already canceled flights to Oakland as of October 2018, which frankly didn't come as much of a surprise, given the amount of capacity the airline offers to both San Francisco and San Jose.
Now British Airways has closed reservations for their London Gatwick to Fort Lauderdale flight as of September 8, 2019. For what it's worth, the flight currently operates with the following schedule on Mondays, Thursdays, and Saturdays:
BA2169 London to Fort Lauderdale departing 10:20AM arriving 2:45PM
BA2168 Fort Lauderdale to London departing 4:55PM arriving 6:30AM (+1 day)
So the airline has now canceled both of the flights that they added to compete with Norwegian.
As I said at the time, Norwegian is losing a lot of money, and on top of that British Airways can't compete with Norwegian's costs, so I'm not sure how they thought these routes would work. I guess the goal was to try to take down Norwegian, and largely I'd say that has worked.
In the meantime I'm sure British Airways views Norwegian as much less of a threat. Beyond that, keep in mind that Norwegian's flights from London Gatwick no longer operate to Oakland and Fort Lauderdale, as they've swapped their services to San Francisco and Miami, respectively.
Bottom line
This is no doubt unfortunate news for those in the Fort Lauderdale area, given that nonstop options to Europe are limited without driving to Miami.
However, the writing was also on the wall for this. Launching a route to compete with a money-losing airline rarely works well, and with Norwegian having now even pulled out of Fort Lauderdale, this is even less surprising.
Are you surprised to see British Airways pull out of Fort Lauderdale?