In March 2017, British Airways added 4x weekly flights between London Gatwick and Oakland. British Airways has added an incredible amount of service to the US lately, seemingly with a couple of different purposes.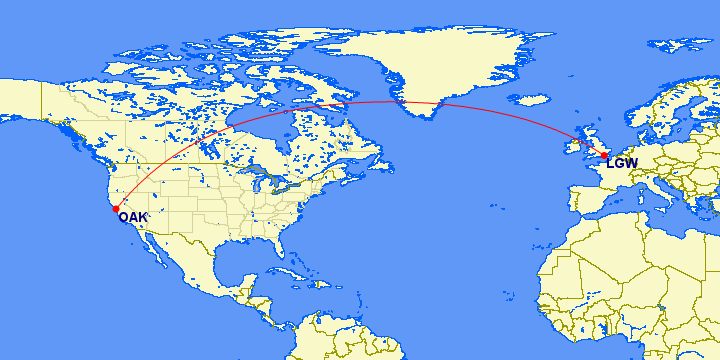 They've been successful adding service to some secondary markets out of London Heathrow, like Austin, Nashville, New Orleans, San Diego, and San Jose, for example. They've also tried to compete head on with Norwegian, by adding routes from London Gatwick to Fort Lauderdale and Oakland. While I think the expansion out of Heathrow has been brilliant, I've questioned their strategy of competing directly with Norwegian.
When you look at British Airways' service to California at this point, they fly to Los Angeles, Oakland, San Diego, San Francisco, and San Jose. That's an incredible amount of capacity, especially when you consider that Los Angeles gets 3x daily flights and San Francisco gets 2x daily flights.
I don't remember the last time that British Airways canceled a US route, though it's finally happening. British Airways will be canceling flights to Oakland as of October 20, 2018. The flight has been removed from the winter schedule, so it remains to be seen whether it will return at some point next year (though personally I doubt it). Many have reported that the loads on this flight have been extremely low, which doesn't come as much of a surprise.
British Airways also added flights between London Gatwick and Fort Lauderdale around the same time, and I wonder if that route is doing any better. They also fly to Miami, Orlando, and Tampa, so it seems like there's a lot of capacity there. However, Florida does have special appeal for Europeans, so maybe that route is a bit more sustainable.
I continue to question British Airways' strategy to compete directly with Norwegian. They can't compete on cost, so offering a slightly better (but still shabby) product while charging more just doesn't seem sustainable. That doesn't even address whether or not it actually makes sense to compete with Norwegian. Norwegian is cash-strapped and isn't doing well financially, so I'm not sure what British Airways is trying to gain here.
Are you surprised to see British Airways pull out of Oakland?
(Tip of the hat to Head for Points)