There are areas of my life where I'd like to think that I'm fairly competent (like writing 10 blog posts per day, knowing everything about 90 Day Fiancé, and taking good pictures of my dog). Then there are areas of my life where I'm a hot mess.
I'm a mess when it comes to anything material. I'm just a creature of habit, and I hate replacing things. Not because of the cost, necessarily, but rather because I'm someone who rarely knows what I want, but rather I typically only know what I don't want.
My entire travel setup is so bad right now. So bad. Both of my carry-ons are basically broken. My camera is basically broken. My MacBook Air is falling apart. My Bose headphones are basically broken… and that's only the beginning.
Both Ford and Tiffany have been telling me that I need to start replacing this stuff, and at this point I've basically been given an ultimatum to make a decision by this weekend, or else.
I need luggage advice
After doing quite a bit of research I'm not sure there's a perfect option out there for me. So I think I just need to be talked into something. Let me share my current setup, and then what I think I'm looking for.
I recently asked you guys for recommendations on a camera as well, and I really appreciate all the feedback, which has given me so much to think about. Tiffany pointed out that Sony is coming out with the RXII soon, which is supposed to be a significant upgrade from the camera I have right now. I've decided to wait until that comes out to make a final decision (given my familiarity with that camera), so hopefully that's not a mistake.
My current carry-on setup
Here's what I'm currently wheeling through airports: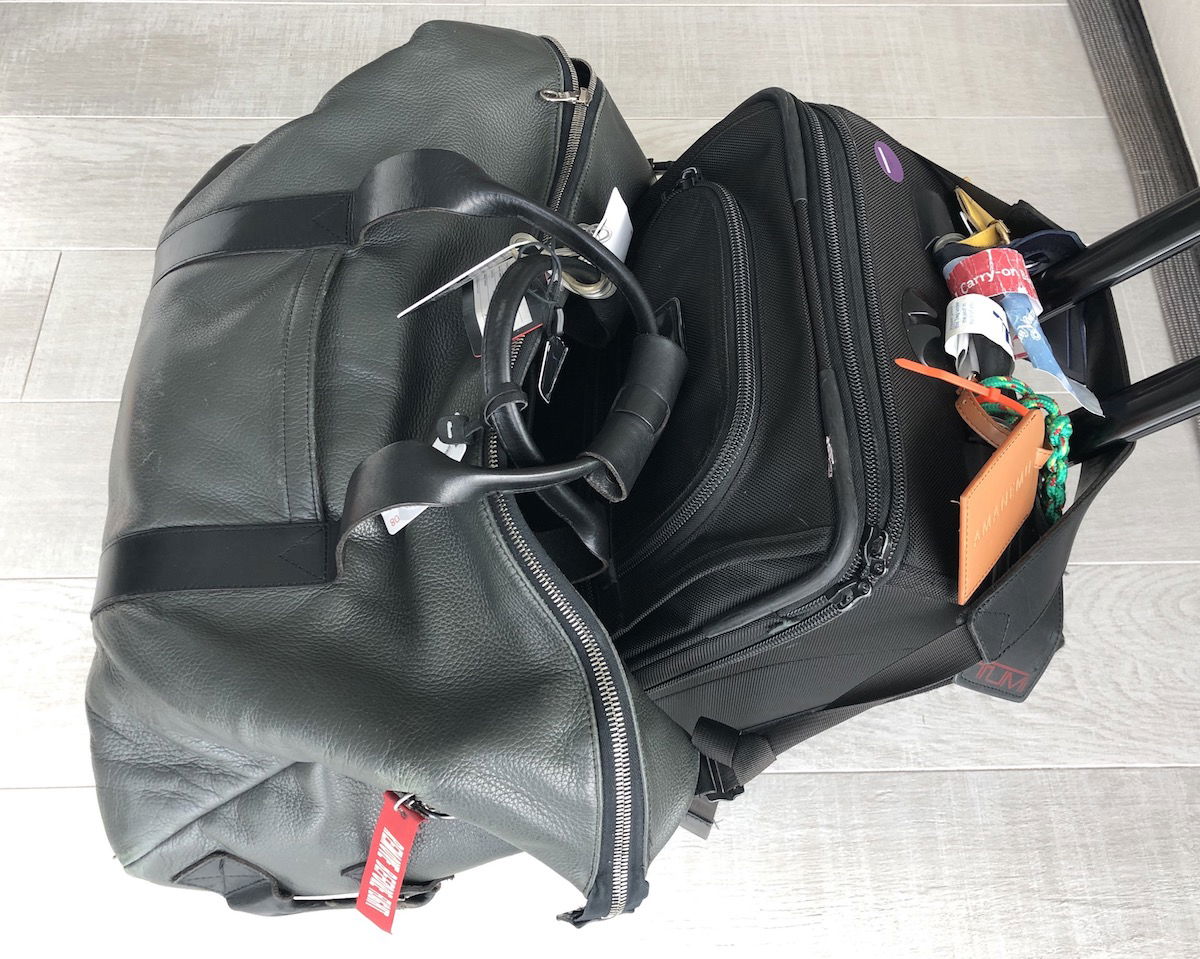 I've had the standard 20″ Tumi Alpha since 2013, and it has done the trick.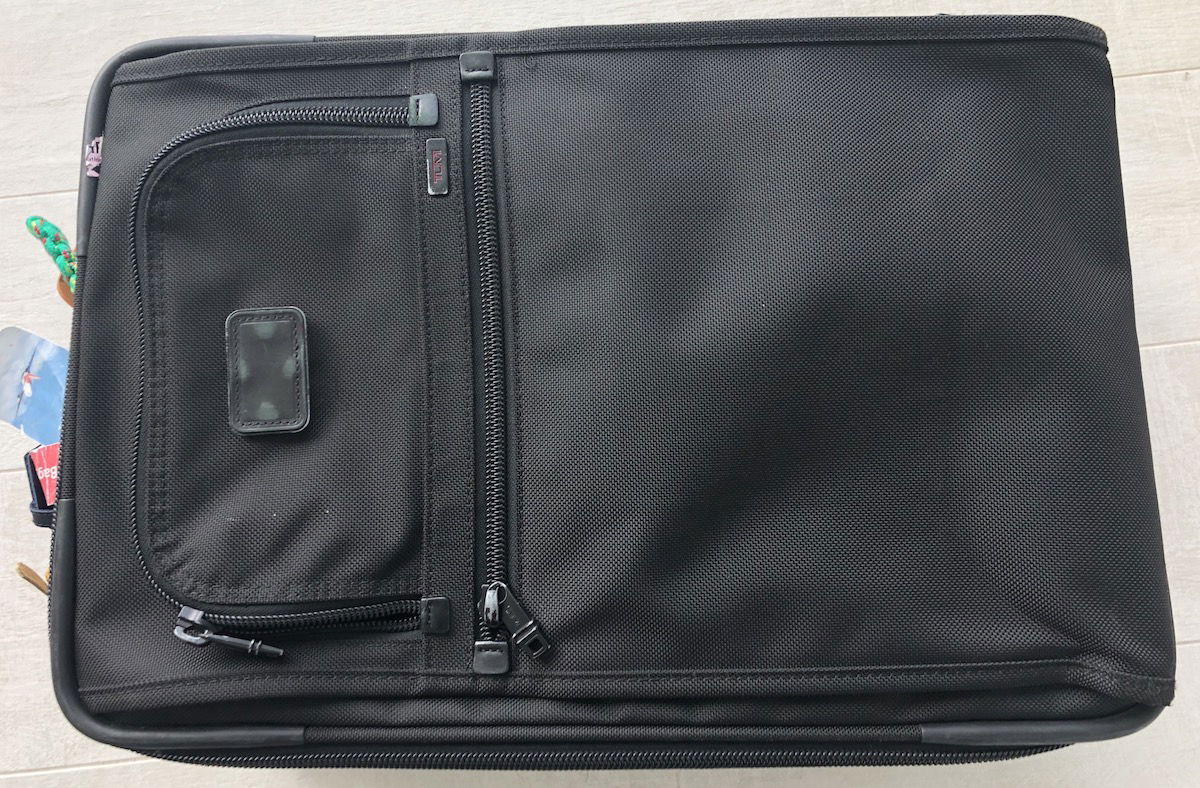 But at this point it's in awful shape. Several of the zippers have fallen off, including the ones to open the main part of the bag. Furthermore, when I roll the bag it makes horrible squeaking noises, and the wheel has quite a bit of resistance. It's just embarrassing at this point.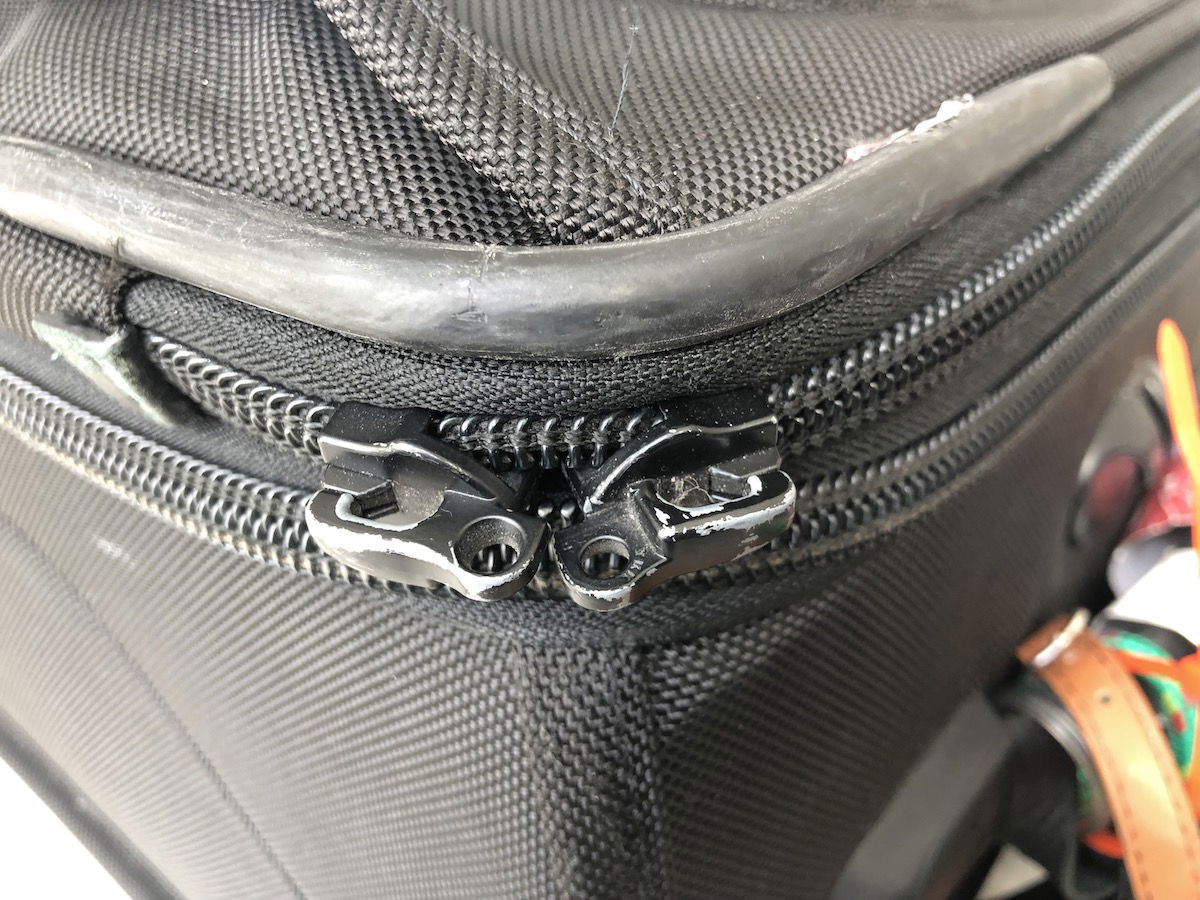 It would appear that Tumi has some sort of a five year warranty, though I guess I'm just outside of that, so won't get it fixed.
Then I also have a cool weekender bag I like. It has served its purpose, as I've had it for many years. One of the zippers is broken, and it also doesn't really meet my needs anymore.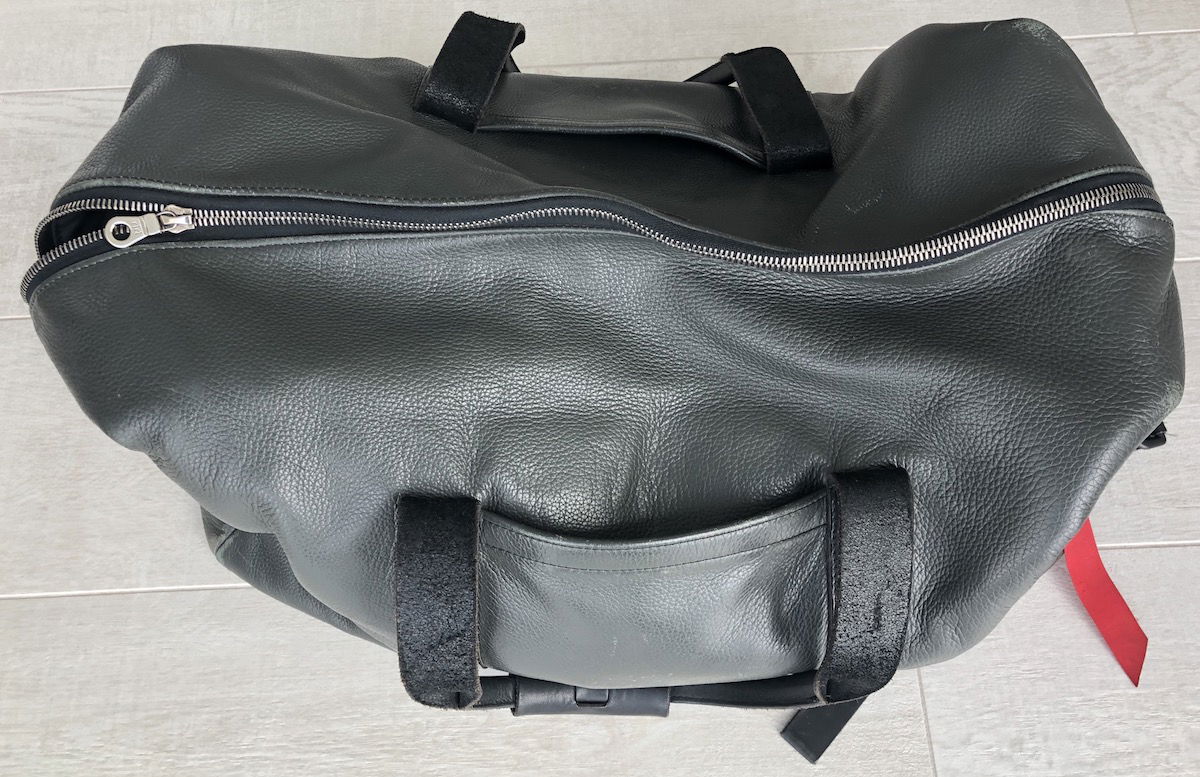 Why? Because when I bought the bag I lived in hotels full time, and my top priority was maximizing my carry-on space. The weekender bag is huge, and basically the size of my 20″ carry-on. Amazingly they consistently let me take both on a plane.
But nowadays I'm looking for a smaller bag, and also one with more compartments, so I can better stay organized (this one has virtually no compartments).
What I'm looking for in a carry-on
I can be talked out of this, but in general:
I like soft-sided bags, since they give me the flexibility to overstuff them if needed (and I even like expandable bags, since worst case scenario I can then check a bag if I'm carrying a lot)
I have a strong preference for two wheel bags over four wheel bags (I'll talk more about why below)
I can see everyone right now yelling at their computer screen saying "get Briggs & Riley, they're the best and have an amazing warranty," though I dislike the way their bags look; maybe I'm completely off base there, and it'll grow on me?
Why do I have a strong preference for two wheels over four wheels? Mainly because I have wrist pain (which I'm being treated for), and the act of dragging sideways hurts my wrists.
My current setup is perfect in that regard. I have my carry-on, and then I strap the other bag on the back. The weight balances out, and I could literally drag the whole thing with one finger and feel nothing. It's perfect. So I'd really like a setup that allows me to strap my personal item to the back of my carry-on.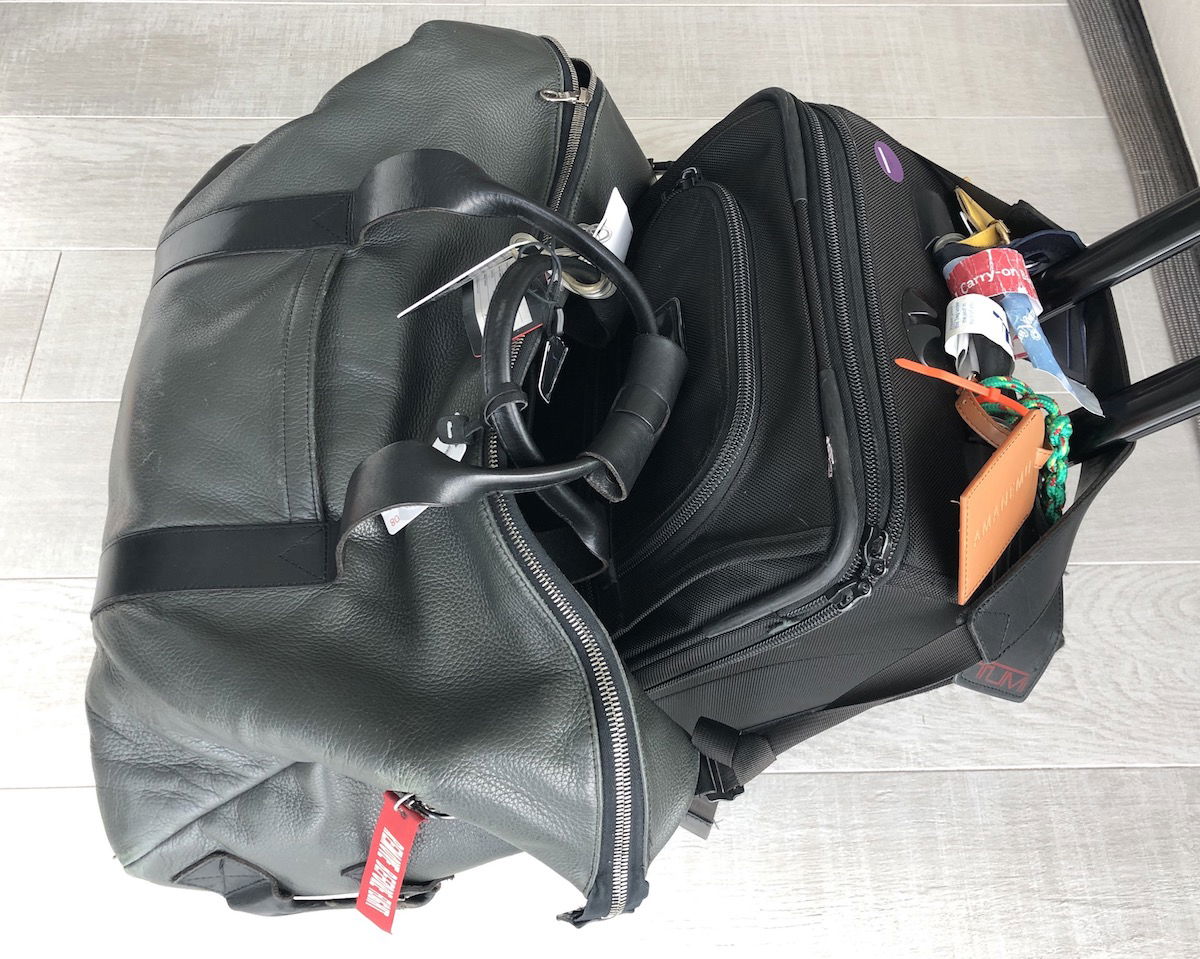 My recent trip to Japan reinforced my love of two wheel bags. Ford has a four wheeler and struggled because in Japan they seem to have those little yellow things that stick up from the floor everywhere, and that's a pain if you have four wheels, while it wasn't an issue at all for me.
I recognize you can just elect to use two wheels of a four wheel carry-on, but in my experience it's just not as practical as a two wheeler.
Then again, I do have an Amex Offer for Rimowa…
What I'm looking for in a personal item/backpack
I'm looking for a much smaller personal item that allows me to keep my electronics well organized. It only needs to have room for a laptop, headphones, chargers, a passport wallet, converter, etc.
I'd be happy having a much smaller bag than I currently have. Ideally it would also strap to the back of my bag, and wouldn't look horrible either.
I'm flexible as to whether that comes in the form of a backpack, a smaller duffel/weekender, or whatever…
Bottom line
I feel like I'm one of the few people who still prefers a bag with two wheels, which is a real challenge, because most new bags nowadays seem to have four wheels. It really does minimize the impact on my wrists to have two wheels, but it could also be that I'm just thinking of four wheel luggage wrong.
Then I try to complement that with a backpack or duffel or something, and then I get overwhelmed and get stuck with my current setup.
So, brilliant readers, please enlighten me! What do I do? For me this isn't a decision I take lightly, given just how much I use my luggage.