Some might claim that I'm a bit biased in my love of Lufthansa.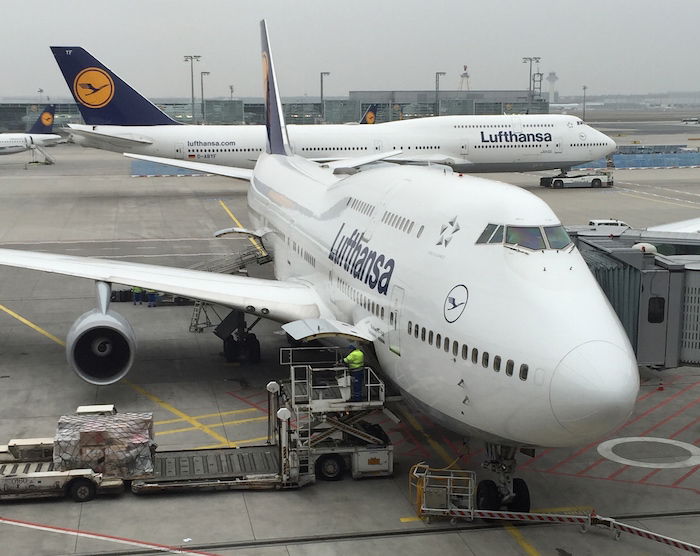 Lufthansa 747-400 Frankfurt Airport
I tend to think I'm pretty fair and balanced with them. 😉 I think they offer one of the world's best first class products, while their old business class product is abysmal. Like, truly abysmal, and among the worst transatlantic business class products out there. I flew it from Seattle to Frankfurt a couple of years ago, and had the following conclusion:
On the whole this flight was eye opening. Don't get me wrong, business class is always more comfortable than coach, and I'm incredibly appreciative to be able to fly business class on miles. But one of my goals with this blog is to compare products because I realize not everyone has as much "vacation time" as I do, and I want to be sure you're making the most of your time traveling. I think the assumption is always that business class on foreign carriers is better than business class on US carriers, and I kind of assumed that as well. In this case, however, I think business class on most US carriers beats Lufthansa business class in just about every manner from seat comfort to food to entertainment.
While I've done everything I can to avoid it, guess which product I flew from Frankfurt to Orlando today? Yep, Lufthansa's old business class. Why?
My mom and I were headed back to the US, and after her incident in Barcelona, I wanted to get her home as directly as possible
The original plan was that we would fly back to the US separately (since my mom lives in Florida and I have a commitment elsewhere this weekend), but I wanted to be sure I flew home with her to be with her at customs & immigration since she doesn't have a credit card, Green Card (though she does have a transportation letter from the consulate), etc.
First class award space wasn't available on the nonstop flight to Orlando
So we booked Lufthansa business class. And since the flight was operated by a Boeing 747-400, it featured Lufthansa's old business class.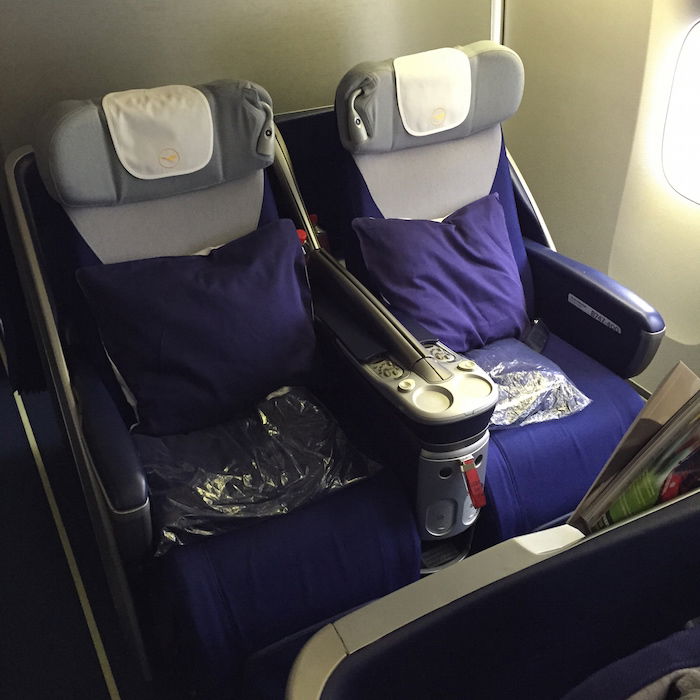 Lufthansa's 747-400 old business class
My gosh, the product really sucks:
The seats are so uncomfortable, whether you're looking to lounge, sleep, or relax
Not only are the seats angled, but there are middle seats, which is offensive in business class in 2015, in my opinion
The entertainment selection on Lufthansa has always sucked
The after takeoff meal service took over three hours, and food wasn't very good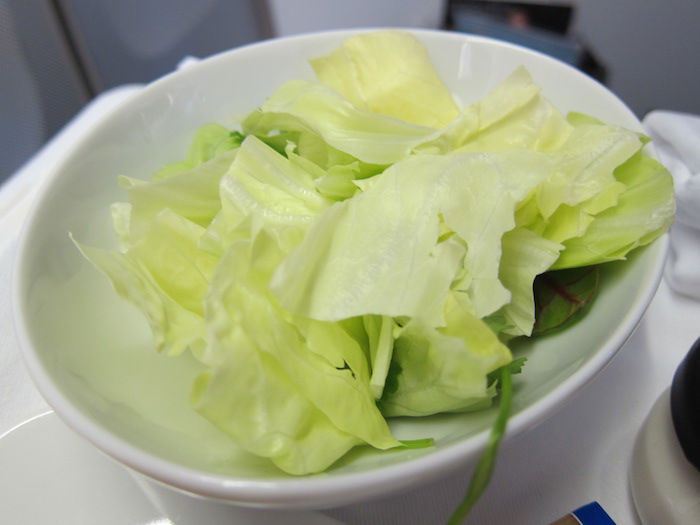 Lufthansa's delicious business class "salad"
But the product had one saving grace — the plane had Wi-Fi, and it was reasonably fast. So I had what I think was easily the most productive flight of my life. I didn't recline my seat once, only nibbled on some food, and worked for almost 10 hours straight. And thanks to the fact that the Wi-Fi wasn't fast enough to watch cat videos on YouTube, I was actually working productively.
It's much in the same way that I often arrive more well rested when flying business class rather than first class. In first class I typically overeat and get a little tipsy, while in business class it's all about the sleep.
Bottom line
So, thanks, Lufthansa! Your old business class product is so bad that it's almost… good? If the seat is so uncomfortable that I can't sleep or relax, if the entertainment is so bad that I don't want to watch anything, and if the service is so slow that I don't bother partaking in it, I might as well make the most of it! Give me shoulder space, Wi-Fi, and never-ending coffee, and you have a recipe for a super productive westbound transatlantic flight.
In fairness to Lufthansa, they are in the process of installing a new business class product throughout their longhaul fleet, and it is quite a bit better.