For those of you not up to date on the saga, see these posts:
Long story short my mom was robbed at the W Barcelona, and it got a lot more creepy than that — the guy made fraudulent charges to our room, and based on how much information he knew this wasn't just a random pick pocketing.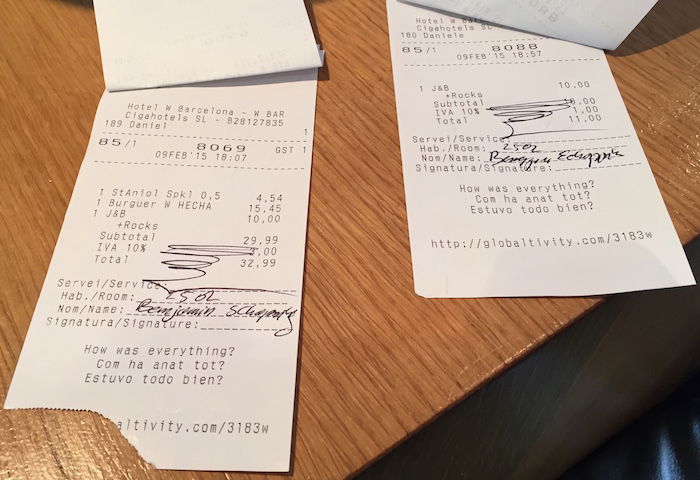 Stuff fraudulently charged to our room
Was the theft itself the hotel's fault? Nope. But in my opinion the hotel has a duty to take the situation seriously and to investigate when it happens on their premises, involves several security breaches, involves someone that claims to work for their brand (even if that was a lie), and they're part of a major global hotel brand, presumably with global safety standards/procedures.
Unfortunately the way the hotel handled the situation was beyond disappointing:
It was several hours from when we informed the duty manager of the situation until when security was made aware of it, despite us checking out that day
The duty manager promised to follow up with us, which never happened, despite us following up with him several times — not only did he not follow up, but he incorrectly conveyed the situation to security
When we sat down with the director of rooms, she was dismissive and borderline confrontational, despite the fact that you'd think hotel security would be a shared goal for both parties
A good friend that's a top travel advisor forwarded links to my blog post to the W Barcelona General Manager, Richard Brekelmans, suggesting he look into the situation personally. He CCed me on the email. We received the following reply at 8AM local time in Barcelona this morning:
Thank you for your message. We are fully aware of the incident which happened to Mr. Schlappig´s mother, and we thoroughly investigated the matter. Although we truly regret the incident, it was fully outside of the hotels influence.

Mr. Schlappig was at all times given all the attention and was offered full assistance from our Duty Manager and Director of Security.
I figured the general manager would be ashamed of the way his staff handled the situation, but instead he has decided that:
The incident has been "thoroughly investigated" (past tense), which directly contradicts what hotel security said, as they said they hadn't yet been able to investigate everything and were still working on it (if the "thorough investigation" is done, I'd love to hear the findings!)
It was completely outside the "hotels influence" — again, I don't think it was the hotel's fault, but I do think more investigation needs to be done to figure out what can be done to prevent this in the future on their premises
Most insultingly of all, saying that we were given "all the attention" and were "offered full assistance" with the situation
Are you kidding me?! Taking several hours to convey a theft to hotel security, and then doing so incorrectly is offering us full assistance?
This is a really unfortunate situation. We're over the theft as such — my mom lost a few hundred dollars, and she'll have to get her credit cards, Green Card, etc., replaced. But the outright apathy from the entire staff and even the general manager is appalling.
One of the reasons I stay at chain hotels is because there are certain standards you can expect no matter where in the world you are. Yes, with Starwood I may have to occasionally beg for upgrades, but at a minimum I've always felt like as a brand standard my safety was a top priority at their hotels.
Starwood Corporate, this is something that needs to investigated further, because surely this isn't what you stand for. Because if it were something you stood for, I wouldn't spend half my life at your hotels.
I'm truly at a loss for words here…