I've been wanting to visit Tibet for years. I visited Bhutan last year and had an incredible time, and I imagine I'd enjoy Tibet just as much. I love being outdoors and hiking, so it's something that has been high on my list for a while. On top of that, there's a St. Regis there that's reasonably priced, so it's a great opportunity to combine a points hotel with a destination I really want to visit.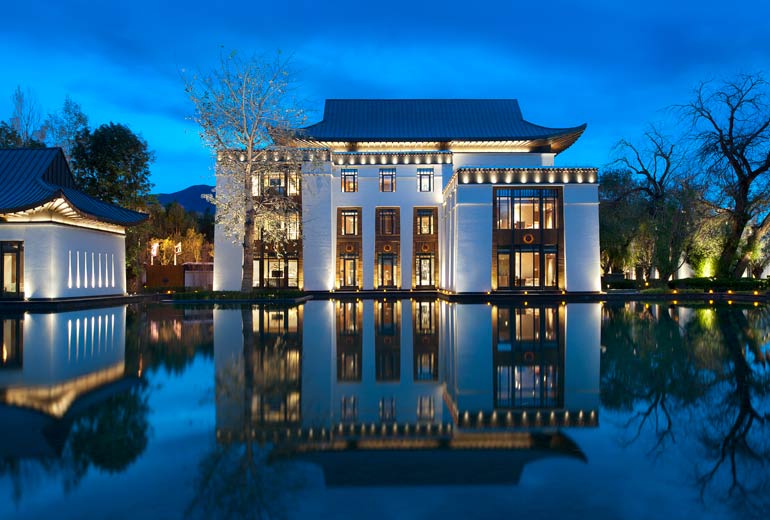 However, I must be missing something, because the process of trying to book a flight there is a total pain. You'd think this would be super easy, since there are nonstop flights from several Chinese gateways to Lhasa, so in theory you should be able to make it there in one stop.
Not so fast, unfortunately.
Getting to China is super easy
Ford and I still have all of our systemwide upgrades with American for this year, so getting to China couldn't be easier. Transpacific economy fares are as low as they've ever seen, so for under $600 roundtrip per person we could fly from the US to Beijing or Shanghai, and our upgrades would almost certainly clear.


I figured I was 80% of the way there, and the rest would be easy. Boy was I mistaken.
Getting from Chinese gateways to Lhasa is crazy expensive
Maybe the problem is just that we're spoiled by how cheap transpacific fares are nowadays, but it's shockingly difficult to find anything even remotely reasonably priced from Beijing, Shanghai, or other gateways, to Lhasa.
Want to fly nonstop from Beijing to Lhasa? The cheapest nonstop roundtrip economy fare on Air China is over $1,000. As you can see, fares just book into the full "Y" code. What the heck?!

Even with connections, the cheapest economy fare is over $1,000 roundtrip.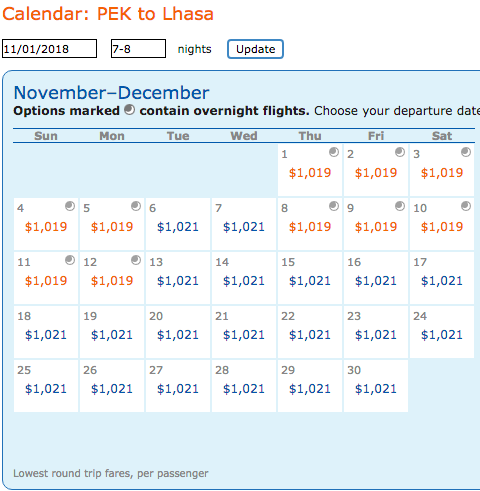 Fares from other gateways (which would require an additional connection), aren't that much cheaper. The short flight from Chongqing to Lhasa is a minimum of $600 roundtrip.

Then there's Tibet Airlines, which I've been wanting to review. They have A330s that they fly to Beijing, and unlike other airlines, they also fly nonstop from Shanghai to Lhasa. However, oddly their flights don't show through any online travel agencies, and their website is only in Chinese. When I use Google Translate and try to book a ticket, the following message pops up, which I believe is saying I'm not even allowed to buy a ticket?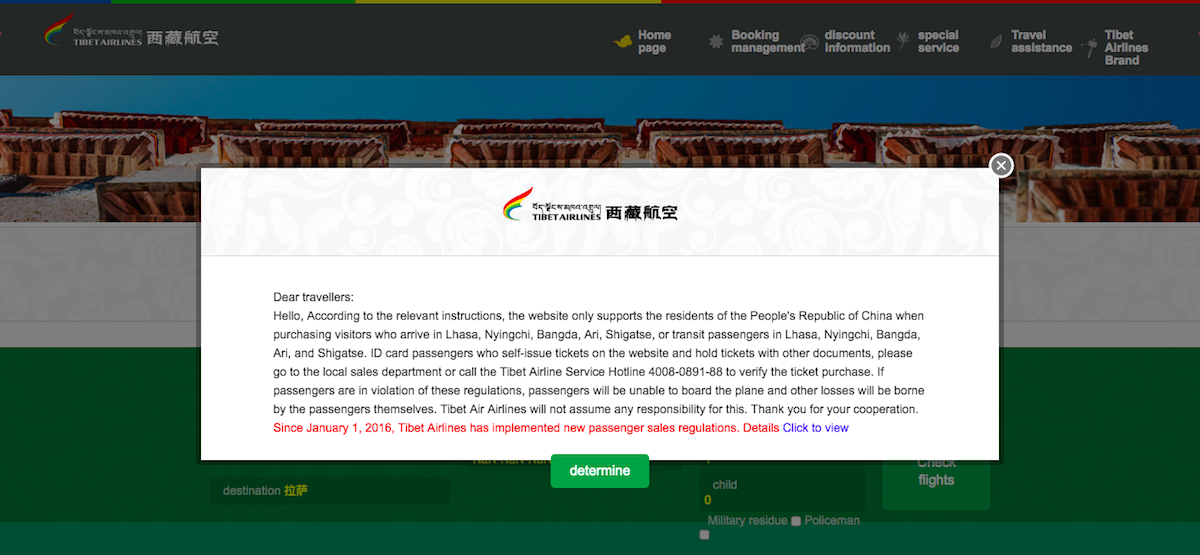 You know the worst part of all of this, though? If you were to just book an economy ticket from the US to Lhasa, it would cost just $650 roundtrip. You've gotta love airline pricing logic…
The catch is that this isn't bookable with the transpacific flight on American, so there's not a practical way to do this while upgrading.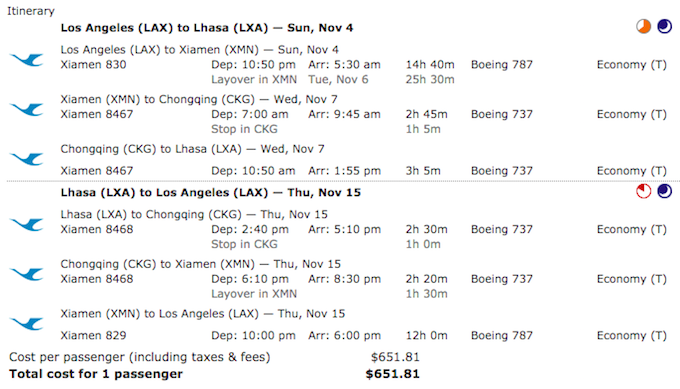 As if three segments in each direction isn't enough, the inefficiency of Chinese airline route networks is mind-boggling. For one day I searched, they suggested the following routing for $665 roundtrip. I wish I could say I was making this up.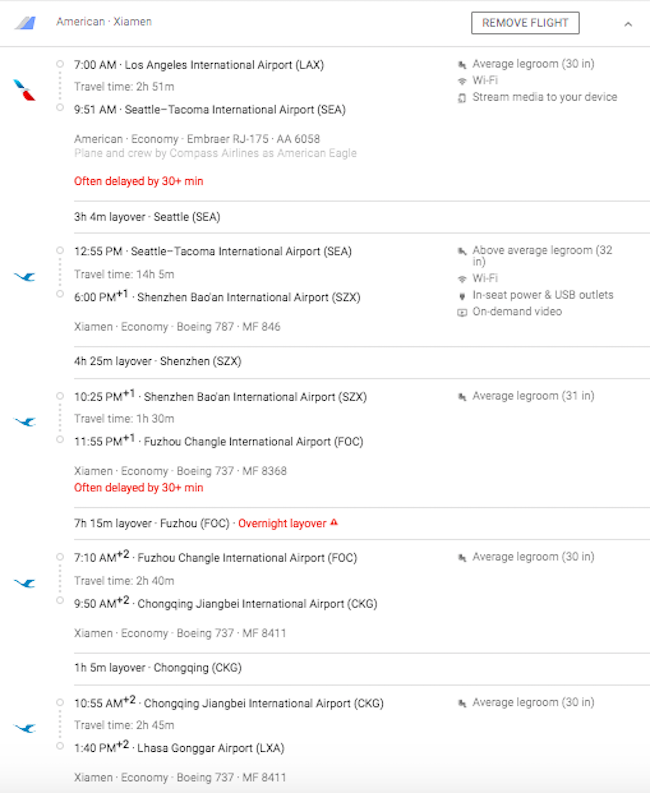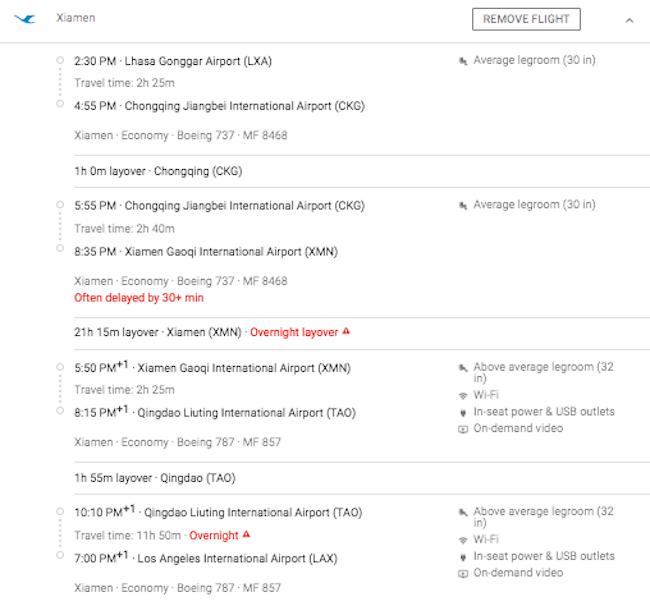 You'd think the natural solution here is to redeem miles. This seems like a perfect situation for which to do so. While it's a possibility, I'd note that there's virtually no premium cabin award availability, and there's very little award availability on the nonstop flight from Beijing to Lhasa, which only operates seasonally anyway. So while I'd take it if it were the only option, spending seven hours in Air China economy with an additional connection doesn't seem ideal. At least it seems to me like there should be a better way.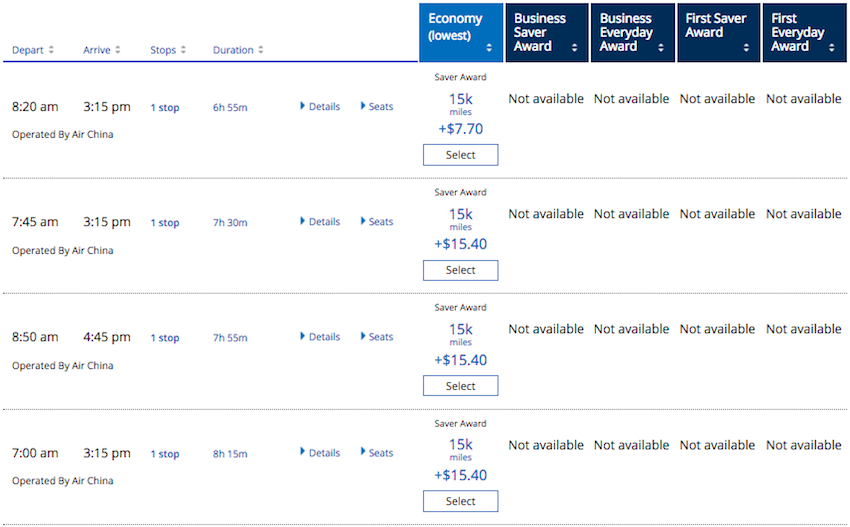 I know often flights are cheaper if you book when you're in China, but the issue here is that you need a special permit for Tibet, so you don't want to wait until you're in China to book your ticket.
So is there some secret I'm missing here? Is there a way to score cheaper fares, or to even see Tibet Airlines' fares to begin with from outside of China? Or are the only options to either book a super cheap economy ticket from the US all the way to Lhasa, or to redeem miles for an inconvenient routing in economy from Beijing or Shanghai to Lhasa?
I feel like I must not be the first person to have dealt with this situation. Like I said, the options that are available aren't the end of the world, and redeeming 30,000 miles from a gateway to Lhasa in economy isn't that bad. However, as someone who likes to maximize the tickets I book, I figured I'd ask you guys if I'm missing something obvious here.