Yesterday I shared the details of four review trips that I'm going to be taking over the coming months, and I just realized something sort of crazy.
My travel style varies significantly
Obviously my travel style varies significantly based on the type of trip I'm taking. When I'm actually going for the purpose of visiting a destination (or traveling with Ford), I take my time.
When I'm taking a review trip (flying for the sole purpose of reviewing airline products), I do everything I can to minimize my time on the ground and get in as many product reviews as possible, unless it's a destination I really want to visit.
While I like spending 2-3 nights somewhere, the worst thing for me is a one night stopover.
That's because when I travel I generally at least partly stay on US East Coast time due to my work. So a one night stopover might sound relaxing to many, but to me it means I'll get virtually no sleep.
That's why I often prefer turning right around rather than spending just one night somewhere. For example, that's what I did last year when I reviewed United's 777-300ER business class from San Francisco to Hong Kong, and then Singapore's 777-300ER business class from Hong Kong to San Francisco. That way I avoid jetlag and can sleep pretty well on the return flight.
And that's pretty mild by my standards. A couple of years ago Live and Let's Fly and I flew from Casablanca to Doha to Colombo to Jeddah to Manchester to New York to Los Angeles without spending a night anywhere. That was sort of insane.
Redeyes six nights in a row?!? Oops!
Well, there's something that just occurred to me as I was more closely looking at the travel I have planned over the coming months. I keep a spreadsheet that tracks where I spend every night, and I figured I'd get ahead a bit, and fill this out for the coming weeks.
As I did this, I realized that I'm scheduled to be on a flight for six nights in a row.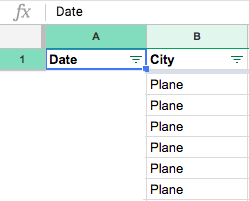 This was sort of a mistake, because I thought I had a night in New York, but had failed to account for the flight arriving the following day.
So, what all am I flying?
Washington to Abu Dhabi in Etihad's 787 first class (flat bed)
Abu Dhabi to Ahmedabad in Etihad's A320 business class (recliner seat)
Ahmedabad to Singapore in Singapore's A330 business class (angled seat)
Singapore to Newark in Singapore's A350 business class (flat bed)
New York to Nairobi in Kenya Airways' 787 business class (flat bed)
Nairobi to London in British Airways' 747 business class (flat bed)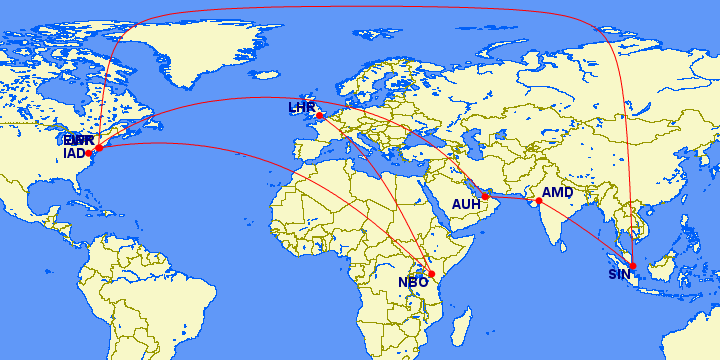 Now, in fairness, not all of these are total redeyes, in the sense that I'll still be getting some sleep on the ground. I have hotels booked in Ahmedabad, Singapore, and Nairobi, even though I won't be in the rooms overnight.
So wish me luck… if I'm a bit grouchy then, I apologize in advance, though I suspect I'll actually find it to be quite enjoyable, and there should be no shortage of content!