Virgin Australia's Velocity program has some unique airline partners, as it not a member of a global alliance. One of those partners, not surprisingly, is Virgin Atlantic. While Virgin Atlantic no longer flies to Australia (though they want to restart), it remains a good option for redemptions to and from London.
I've used Velocity points to book Virgin Atlantic Upper Class seats several times, and each time has been difficult but I've worked out a 'trick.'
I've had a few Australian friends ask me how to do it as they have ran into the same issues I have, so thought it was time to explain the process.
Step 1: Find availability
There are a few different ways to check Virgin Atlantic availability (as it doesn't show on the Velocity website). The best way I have found is to use either ExpertFlyer or delta.com.
Let's look at Hong Kong to London as an example, as I've booked this route a few times before. I have found availability on ExpertFlyer on this date:

If you don't have an ExpertFlyer membership (although I find its worth its weight in gold), you can search for free on Delta's website, as they also partner with Virgin Atlantic. Remember you are just trying to find a flight available to book with points/miles, but you won't be using Delta SkyMiles to book the flight in this example.
You'll need to choose 'Delta One' as the class to search for, which is the name of Delta's premium class (even though Virgin Atlantic calls their premium class 'Upper Class') and select 'search Delta and Partner Airlines' as Delta doesn't operate this non stop themselves.
Searching Hong Kong to London direct you'll need to find a flight operated by Virgin Atlantic (it should be the only direction option). Look for a VS flight number.
Ignore any one stop options showing, i.e. by Delta's SkyTeam partners such as the KLM option showing in the search results, as KLM is not a Velocity partner, so you cannot use Velocity points to book those flights.
If you are searching for Virgin Atlantic and an option solely on Delta 'metal' appears, that should be available using Velocity points as Delta does partner with Velocity.
Sure enough, the same date as shown on ExpertFlyer also shows on the Delta website as being available to book with points.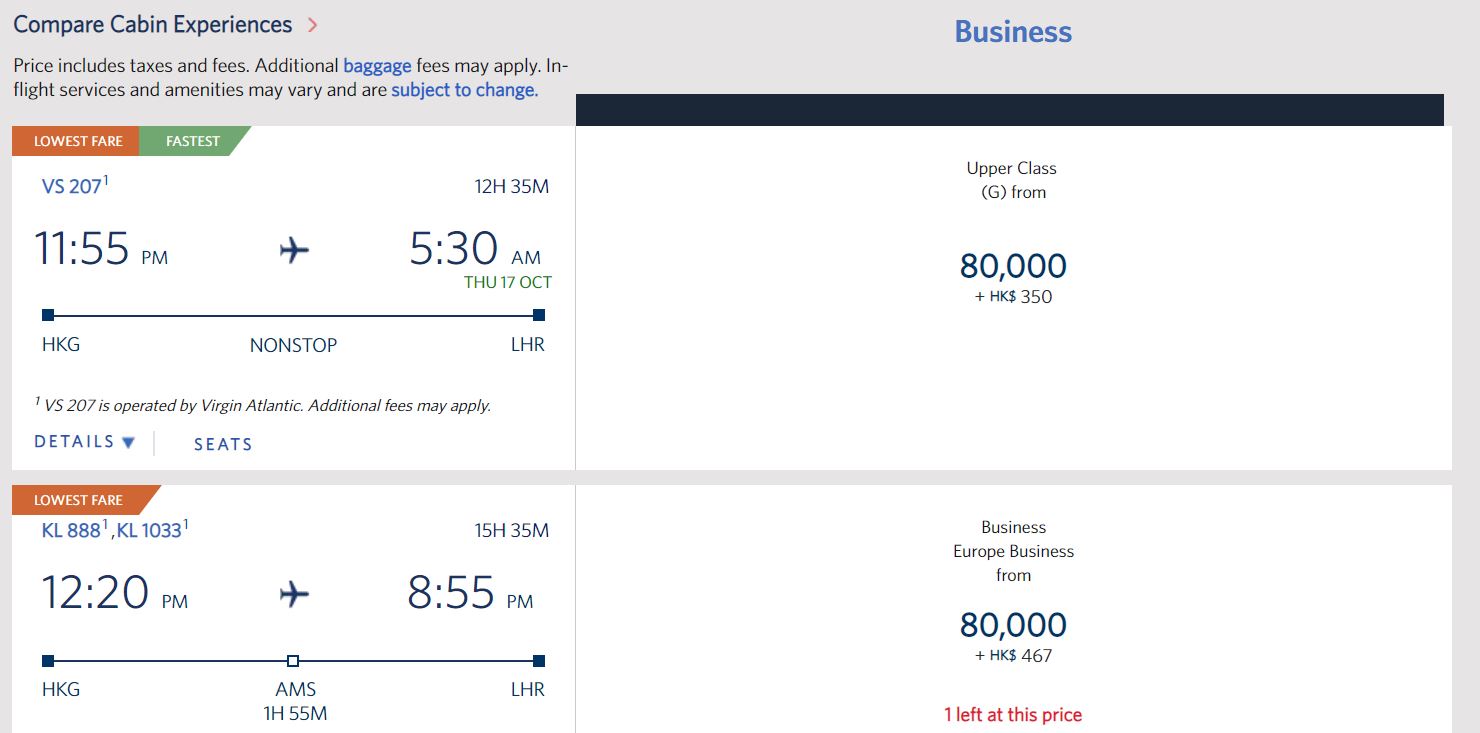 Ignore the 'miles needed' as you will be using Velocity points and they use different redemption amounts.
You will save yourself loads of time in Step 2 if you know exactly what flights are available.
Step 2: Call Velocity
Now I've been a big supporter of Velocity for years, and earned and redeemed millions of Velocity points, but there's no way to sugar-coat this: their international redemption call centre is terrible.
They outsourced this to Manila a long time ago and the staff there don't know much about Velocity partners, foreign airports, or redemption amounts.
What makes this even harder for Virgin Atlantic redemptions is that many staff don't seem to know how to book Virgin Atlantic seats in particular. It's a real lucky dip to find a good agent.
As with calling to book any other partner, give them the flight details you want. Don't waste time asking for them to find dates for you — take control of the call and say 'I'd like to book a business class seat on Virgin Atlantic from Hong Kong to London please — could you please check if flight VS207 on XX date is available?'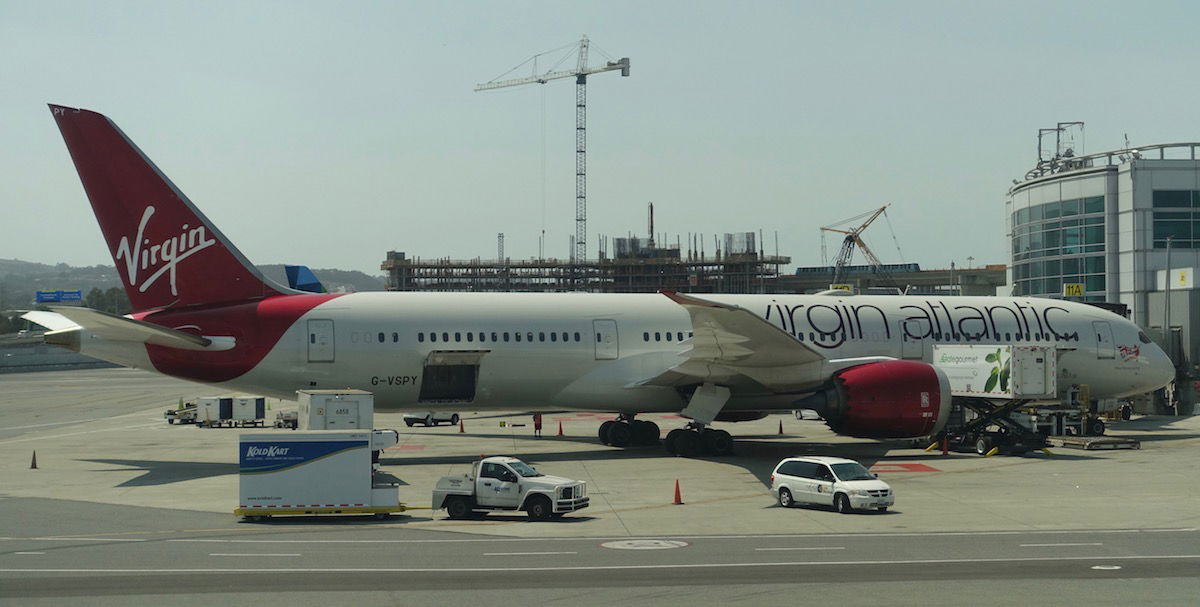 Step 3: Ensure the operator knows how to book Virgin Atlantic
Now the next part is the most critical, and the main reason I am writing this article.
If the phone operator does not ask for each passenger's full name BEFORE searching for the flight it is most likely they do not know how to search and ticket Virgin Atlantic redemptions.
If this is the case, Hang Up And Call Again, as you will both be wasting time while they put you on hold and eventually come back to tell you that date isn't available. I have had at least a dozen operators tell me the flight I know is available is not available, when they have not asked for the passenger details before checking.
I don't know why some operators know how to find and book the seats and some don't, but without fail, for me, those who don't ask for the passengers details don't.
If you do get an operator who does ask for the passenger details, stay on hold and they should come back with the flight you have already found in Step 1 above. They will probably say they need to request it from Virgin Atlantic, and they might use phrases like 'grab it' or 'release it'.
They may also say something like 'I can see it available but it's coming back unconfirmed from Virgin Atlantic'. If that is the case stay on the line and ask them to keep requesting it.
It usually takes some time for Virgin Atlantic to approve this, so you will probably be put on hold again, but if they can find the flight they know what they are doing and it should be worth the wait.
The hold time may be substantial — I've had savvy operators say they've asked Virgin Atlantic to release it multiple times while I've been on hold but if they knew how to find the seat they will likely know the remaining steps to actually ticket it.
I always try and stay on hold as long as possible rather than call back as I may get an operator who doesn't know what they are doing.
Velocity unfortunately does not allow redemptions to be put on hold so they can't create a PNR to request the seat(s) for you to then call back to check.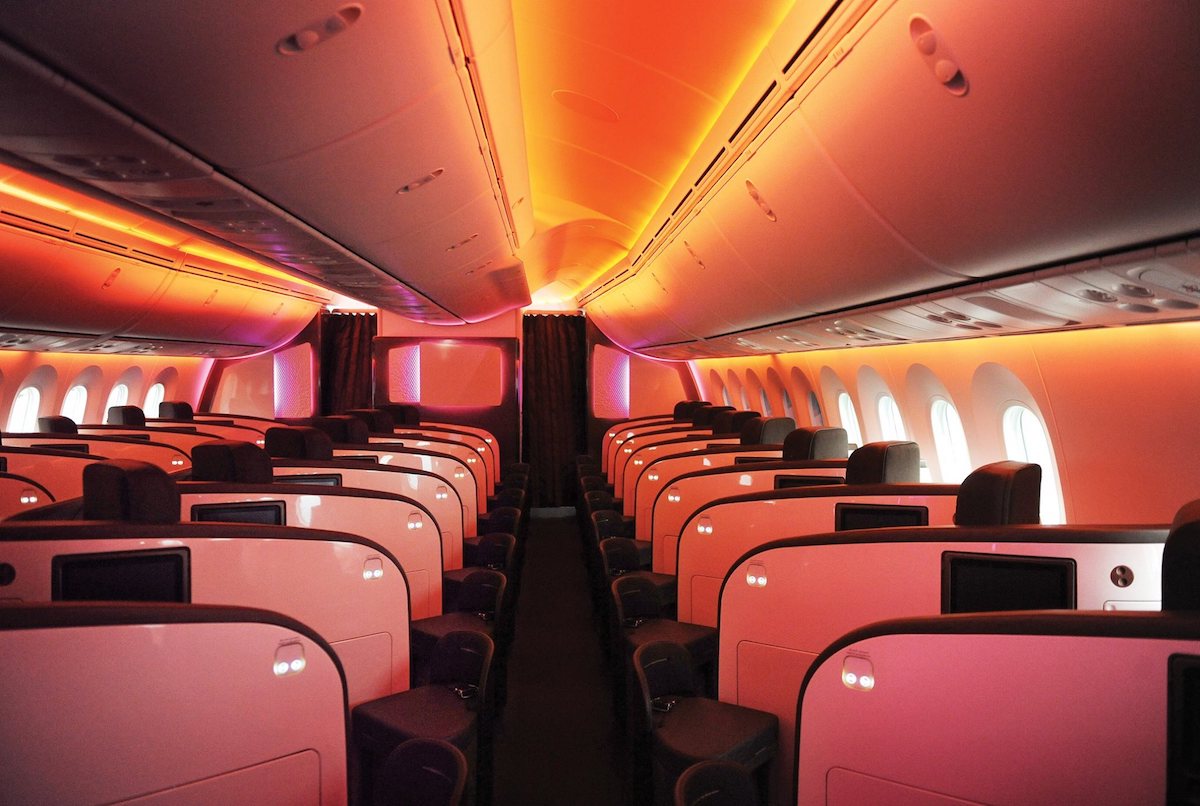 Step 4: Check the fees and taxes
Do you remember how I said the redemption call centre don't know the rules of the program very well? A real benefit of the Velocity program is that there are no fuel surcharges when redeeming for partner flights (aside from the mandatory surcharge for Etihad flights).
I have had Velocity agents try and charge me over USD$500 in taxes for a one way Virgin Atlantic flight. This was because they were incorrectly adding a fuel surcharge. If the taxes are high (they should be well under $100pp unless it's ex-London) ask them to break down the total and also ask if there is a YQ element.
If they say a fuel surcharge (YQ) is payable ask to escalate to a supervisor and insist that Velocity does not impose fuel surcharges on Virgin Atlantic flights.
The operator may say 'my supervisor will tell you exactly what I just did,' but insist anyway. The operator will magically come back with much lower taxes and fees (my $500 reduced down to $13.70). I wasn't given an apology, just that 'we have recalculated the total and the new amount is $13.70.'
If you are booking Virgin Atlantic flights departing from London, the UK APD Tax will be payable (it is a tax, not a surcharge) so expect the taxes to be high, but do check they're not adding a YQ fuel surcharge as well.
I wanted to take the agent to task about whether they had been incorrectly charging other customers but didn't want to risk them hanging up on me given how long it took to get this far.
I feel sorry for other Velocity members who may not know that Velocity does not impose fuel surcharges on Virgin Atlantic flights and pay a huge surcharge just because the hopeless agents don't know the rules of their own program.
Once you have paid fees and taxes an itinerary should be sent immediately. It's a good idea to ask for (and write down) the PNR for your booking just in case you don't receive the email.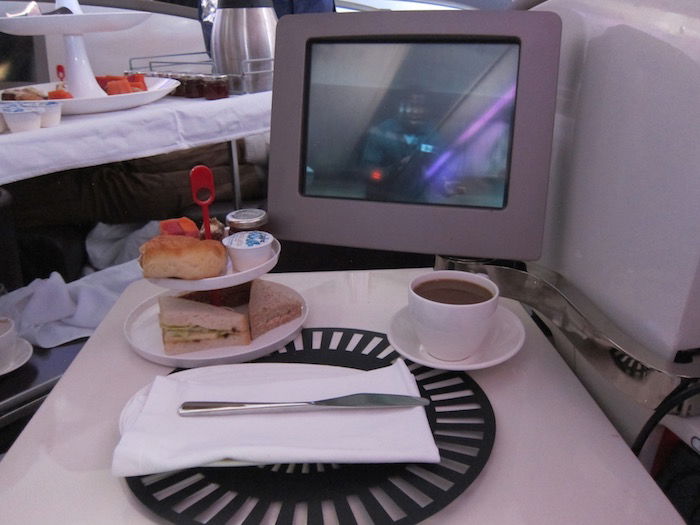 Bottom line
Each time I've booked Virgin Atlantic with Velocity points it has taken about five calls, the first four being because the agent didn't know how to find the seats, and each time would say 'there's nothing available' even though I had already performed Step 1 to confirm there was.
I don't know why some agents know how to 'grab' them and some don't, but in my experience if they don't ask the magic question of the passenger names before checking, they don't know how to book them.
Have you redeemed Virgin Atlantic flights with Velocity points?