PDX Priority Pass Awesomeness
---
After having a great time at the House Spirits Distillery PDX, we headed over to Capers Cafe Le Bar, which is the sit down restaurant at PDX that belongs to Priority Pass. Capers Cafe Le Bar is open daily from 4AM until 10:30PM, so no matter what flight you're on, this place should be open.
Capers is located in Concourse C, right past the security checkpoint. It's only maybe a three minute walk from House Spirits Distillery, so it's super easy to visit both on the same trip. Keep in mind that you can use Priority Pass lounges either before or after your flight.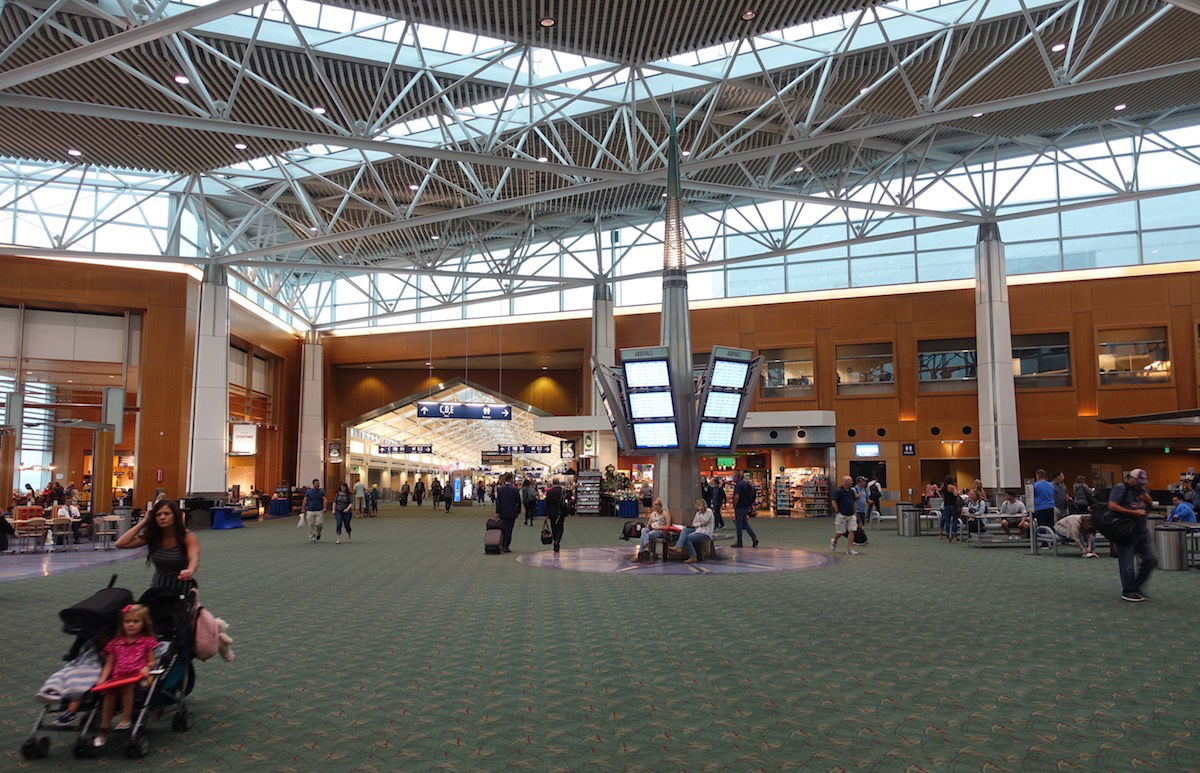 Portland Airport Concourse C
Capers opens up into the rest of the terminal, and has a few different options for diners. There's a sit-down restaurant area, you can just get something to go directly at the counter, or there's a wine bar in the far corner of the restaurant.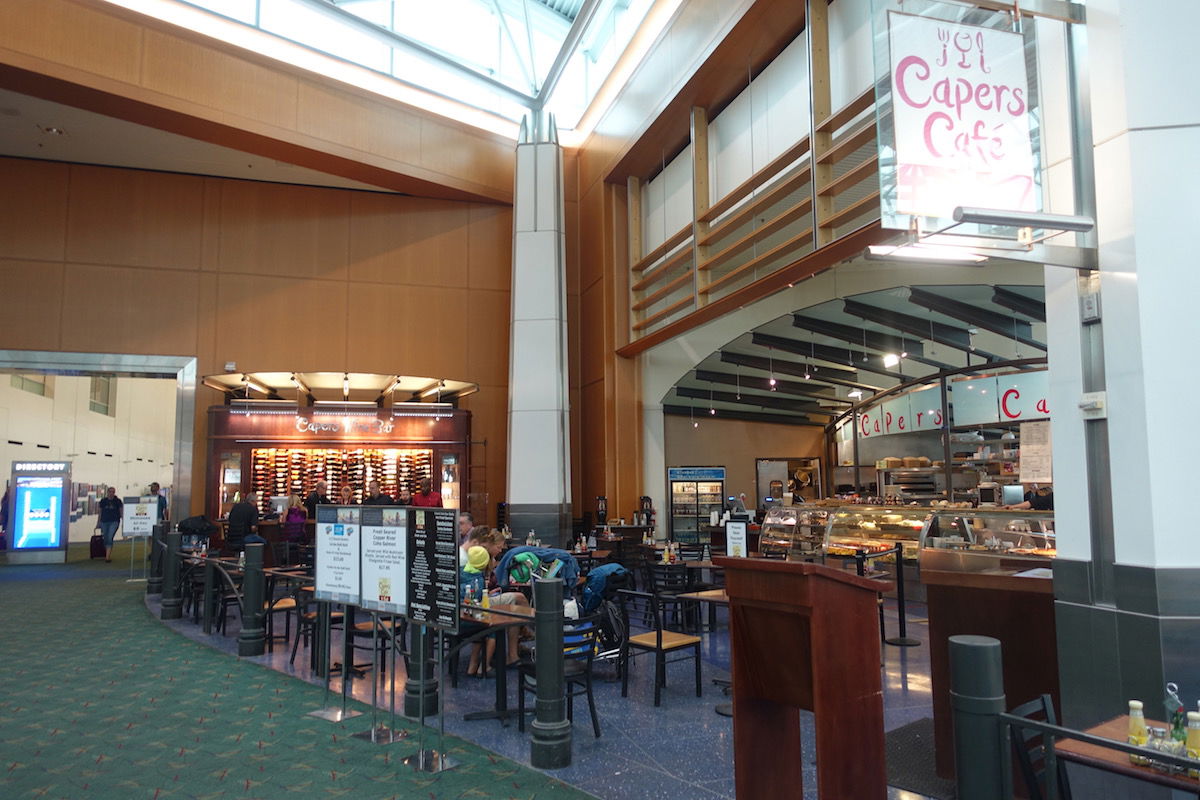 Capers Cafe Le Bar Portland Airport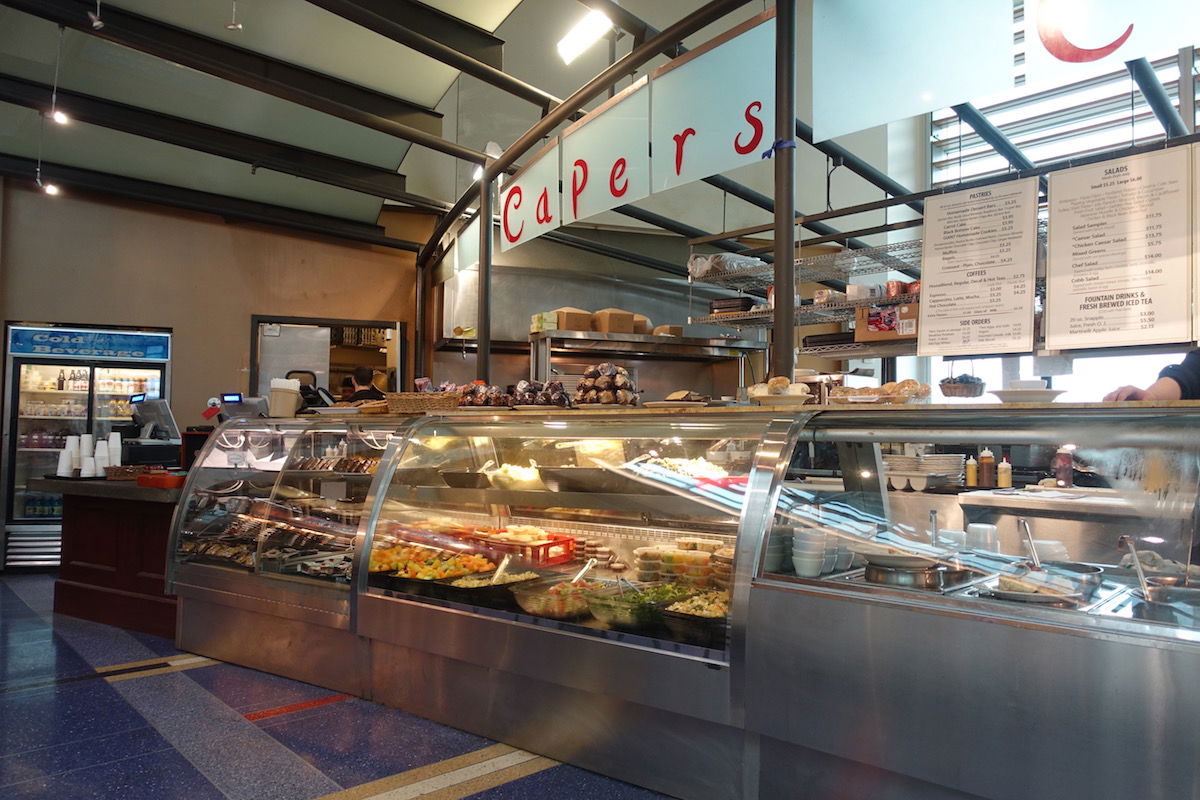 Capers Cafe Le Bar Portland Airport
Since we had time, we had a sit down meal. We visited twice — on Wednesday afternoon it was totally empty, while on Friday afternoon it was packed (and almost all the other diners were through Priority Pass as well).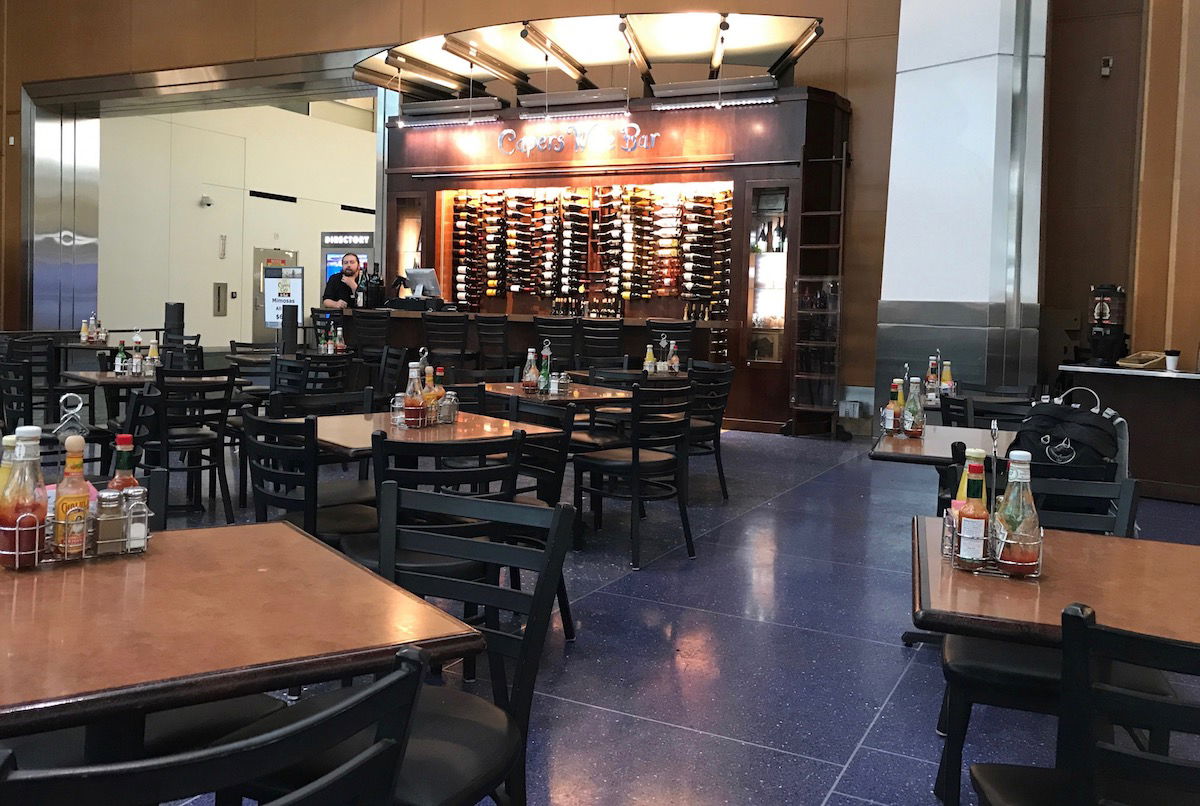 Capers Cafe Le Bar Portland Airport
If you order directly at the counter, there's some food on display.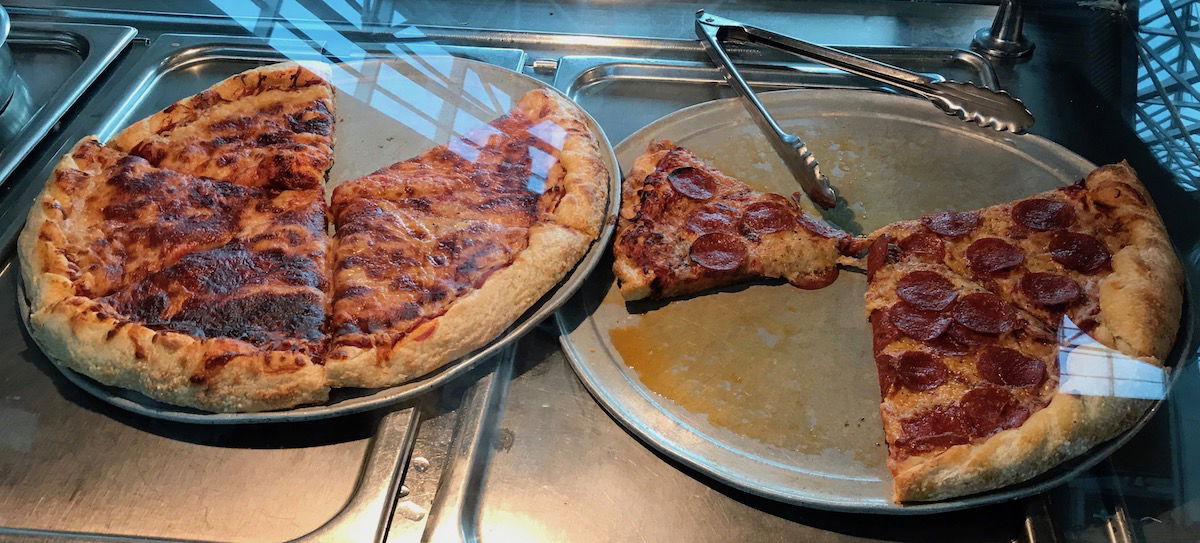 Capers Cafe Le Bar prepared food selection Portland Airport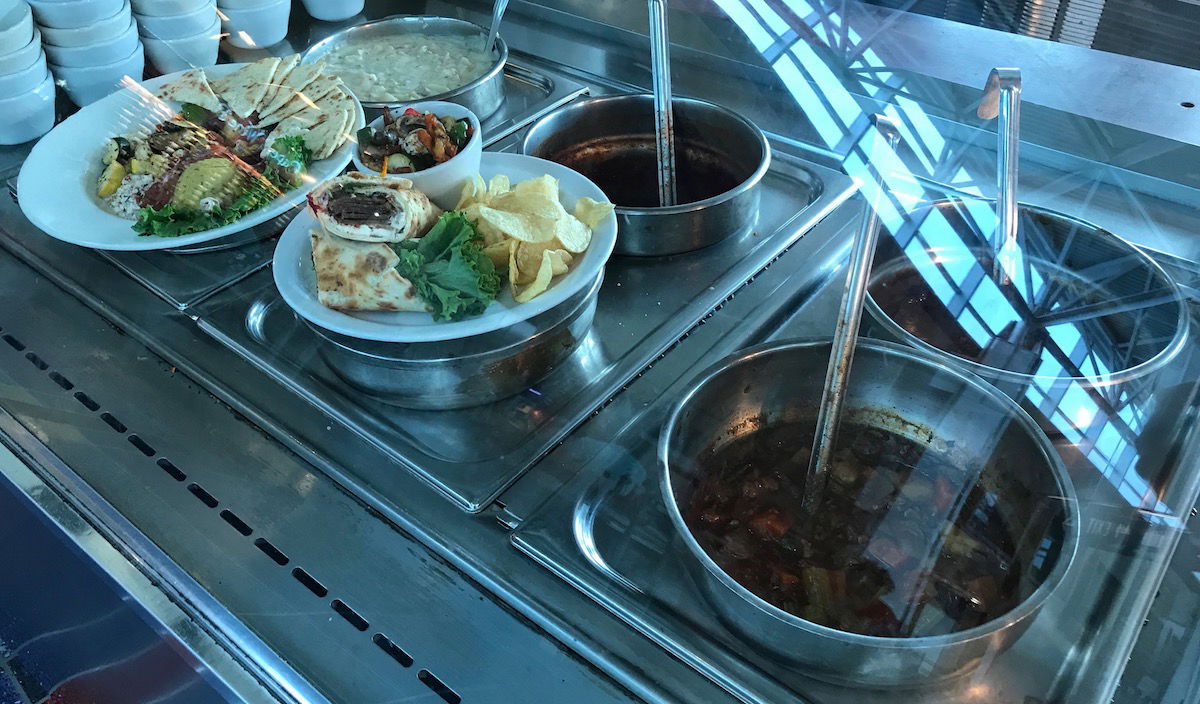 Capers Cafe Le Bar prepared food selection Portland Airport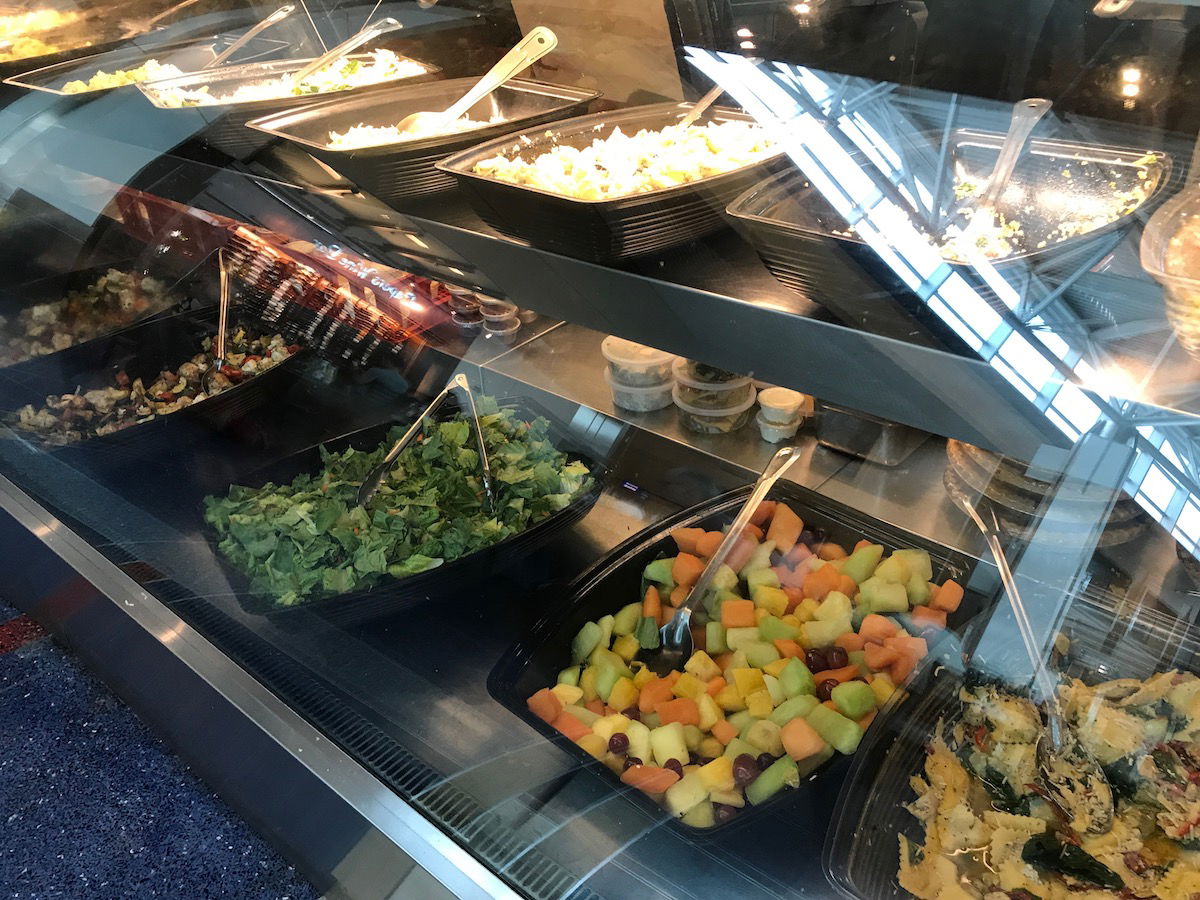 Capers Cafe Le Bar prepared food selection Portland Airport
Of course in the sit down restaurant there's a full menu and wine list. The menu read as follows: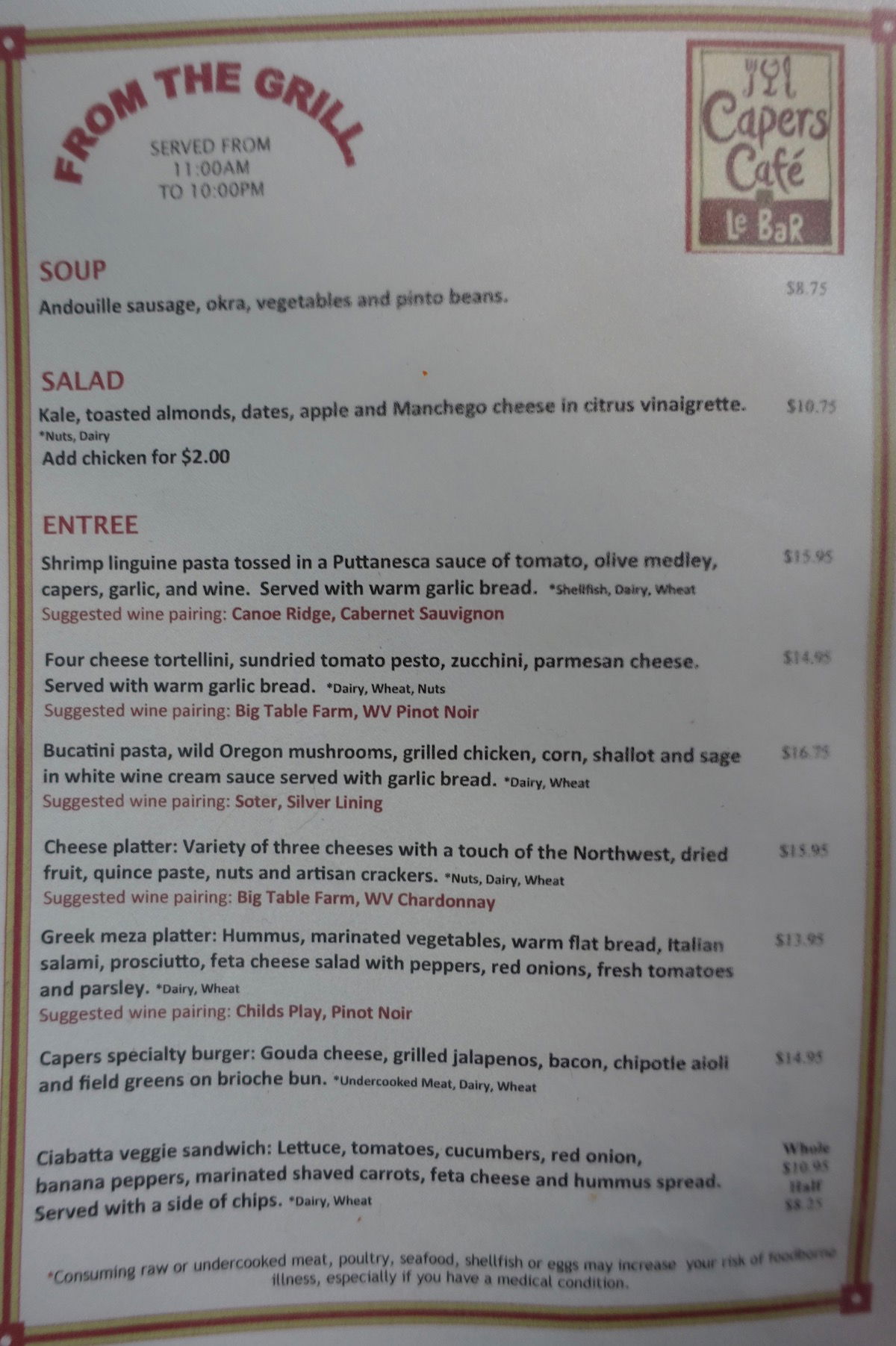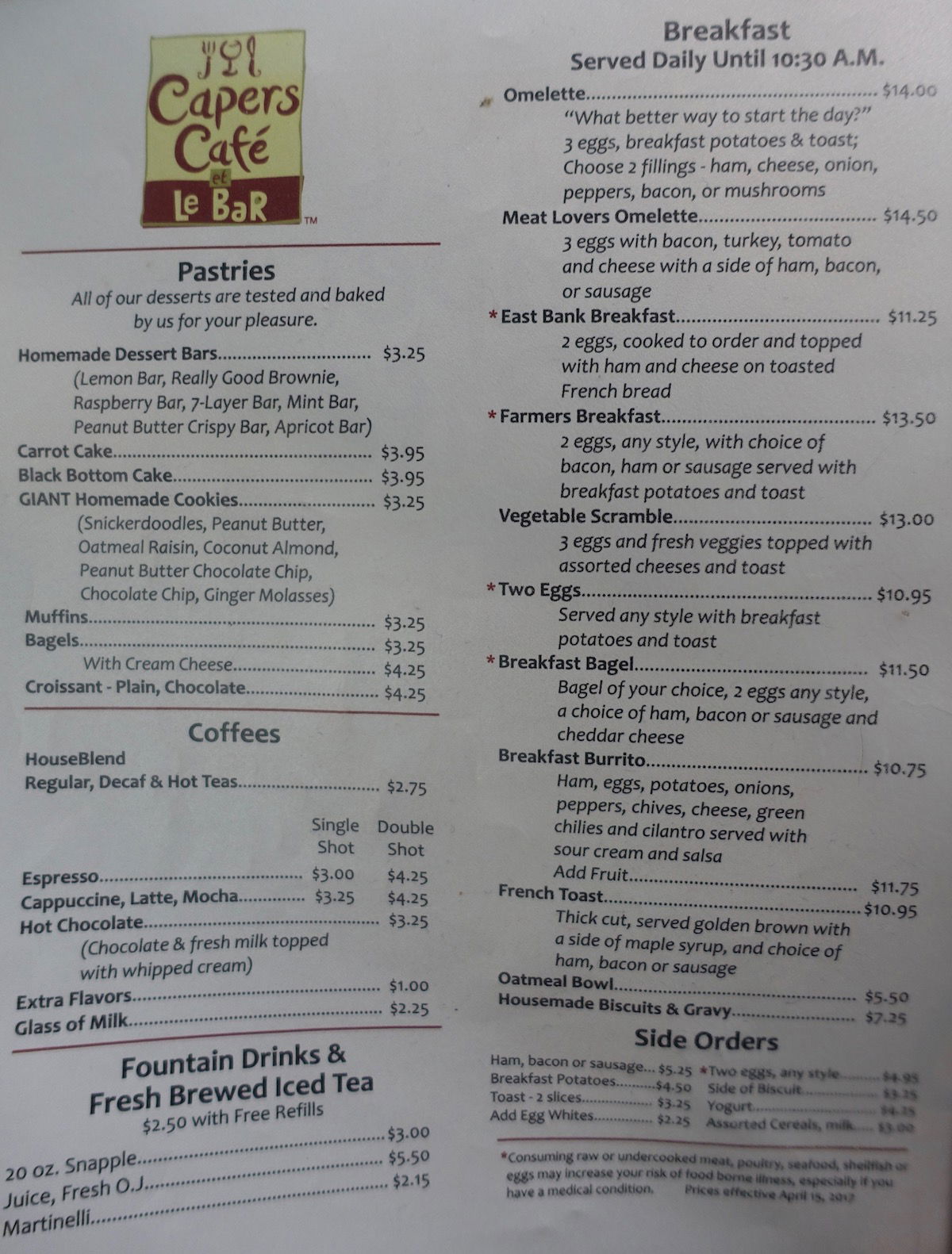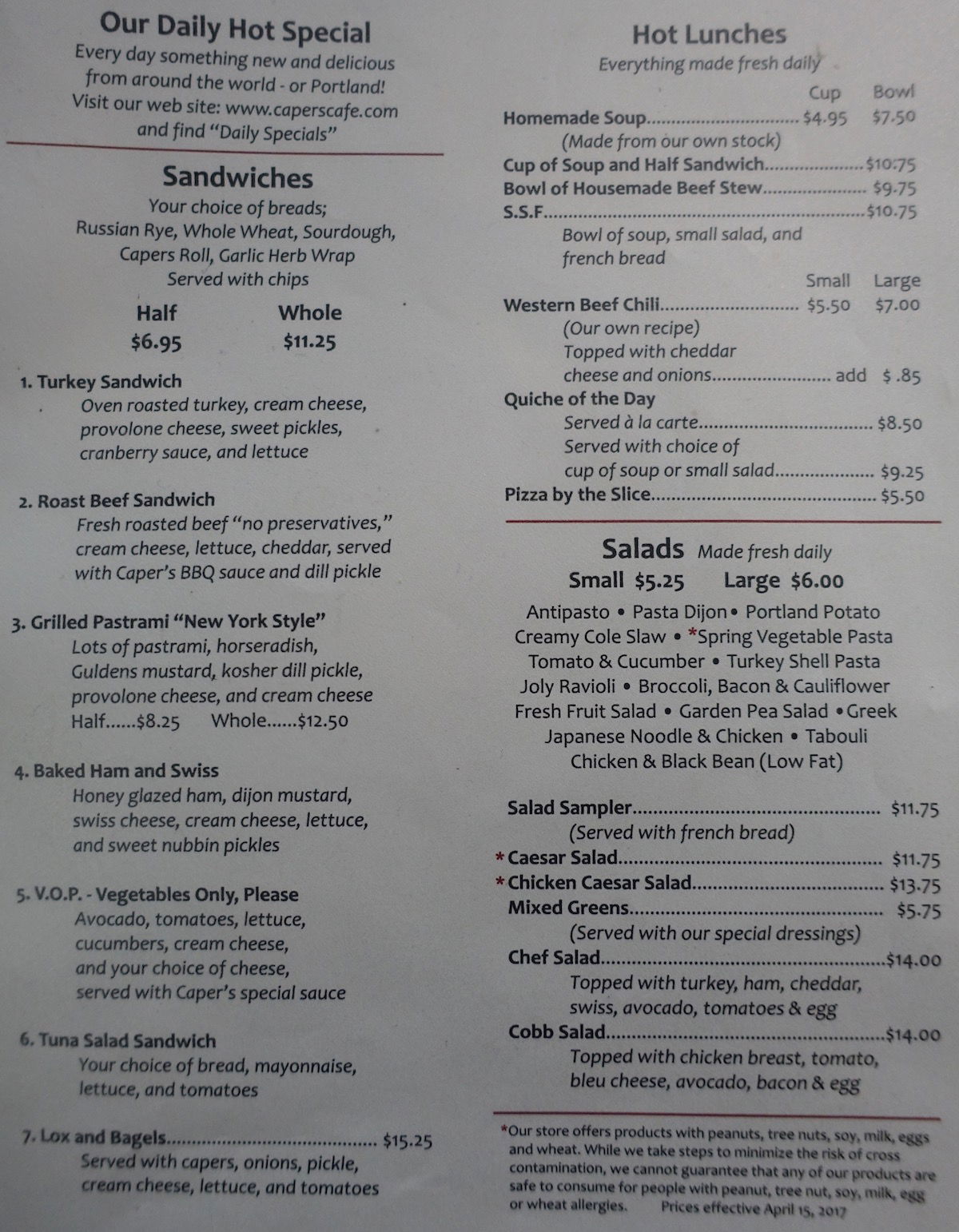 The wine list read as follows: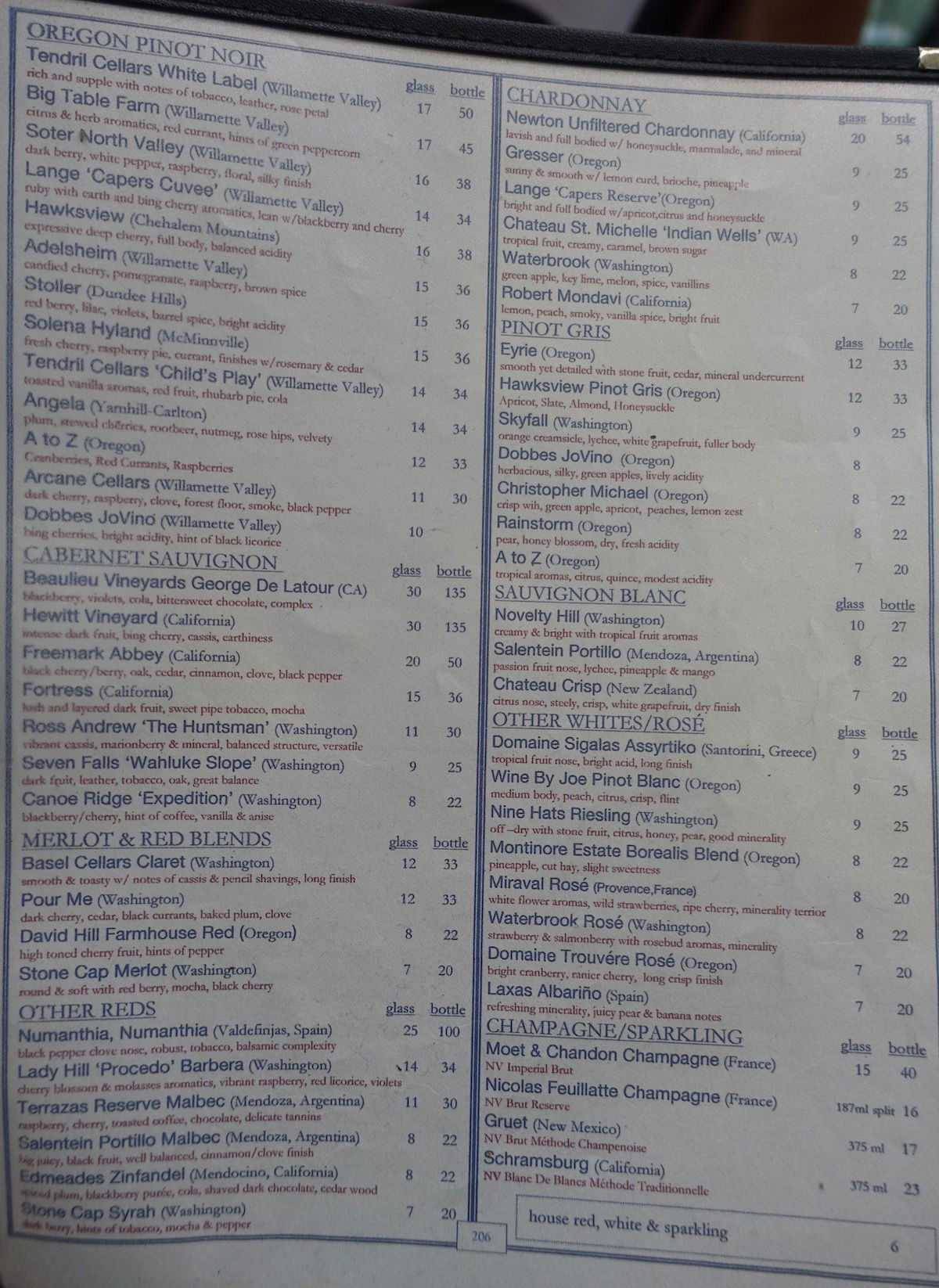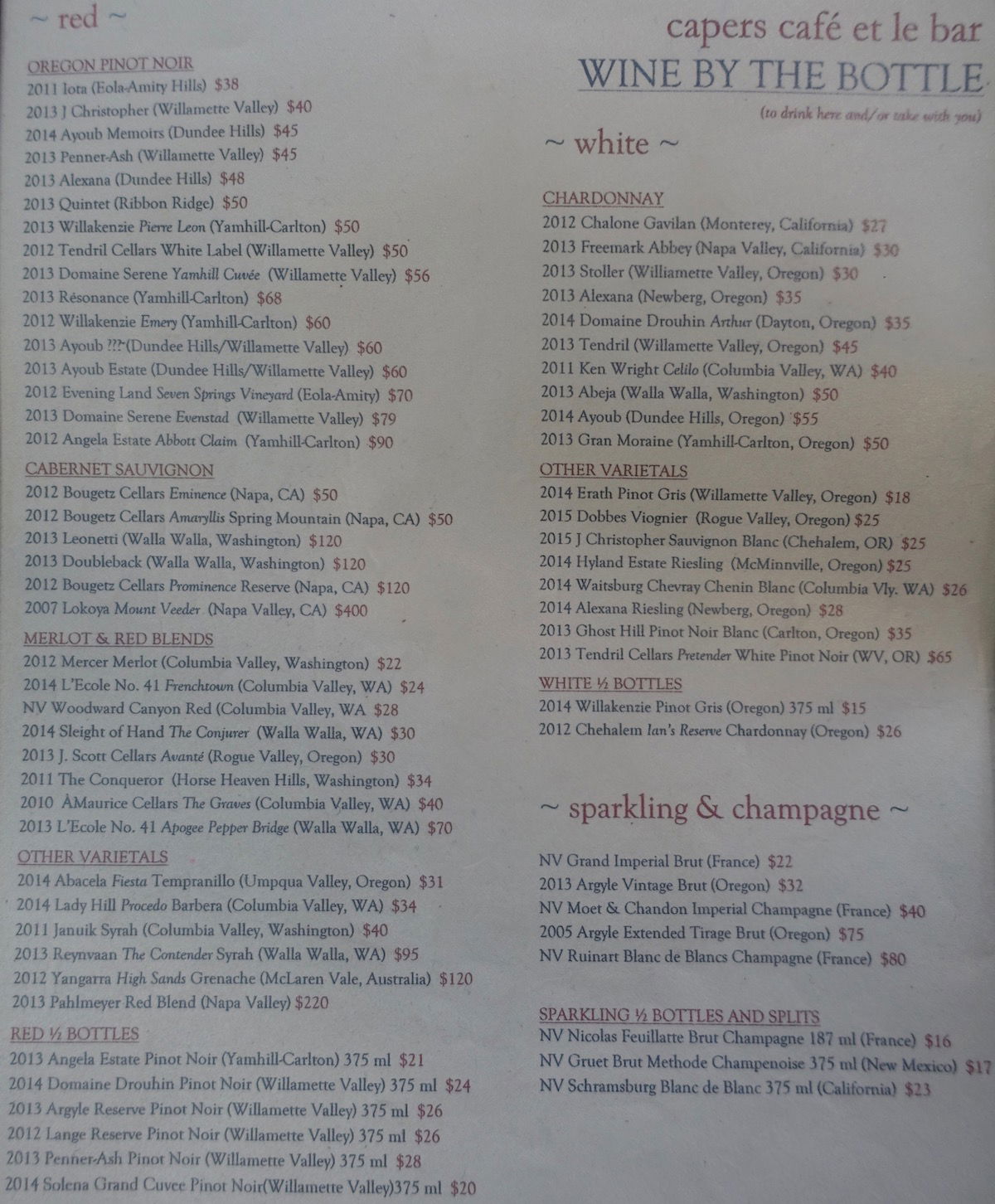 Let me start by saying that the wine list was exceptionally well priced. Ford and I had the Chateau Crisp New Zealand sauvignon blanc, which was great for $7 per glass.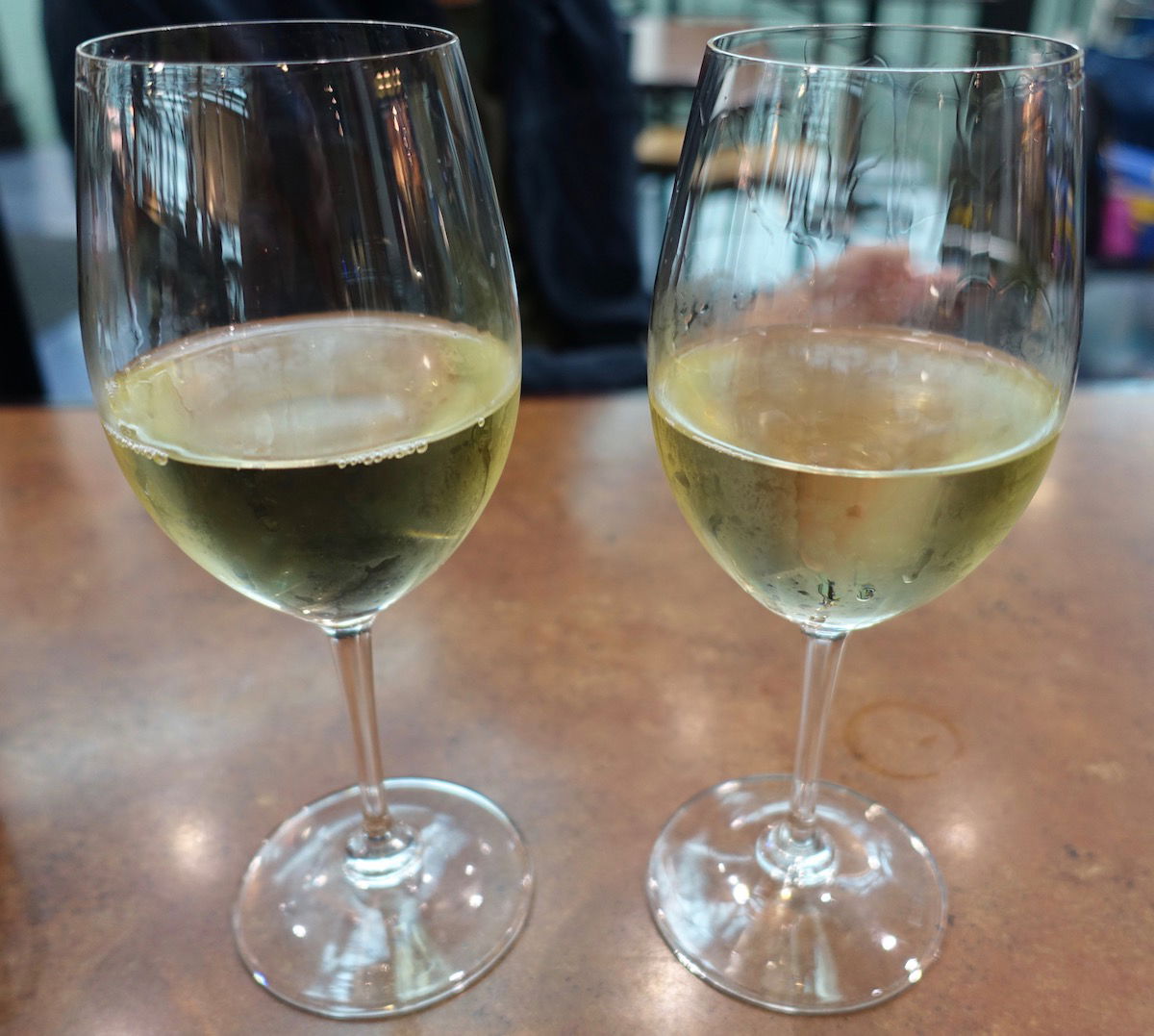 Capers Cafe PDX — sauvignon blanc
Keep in mind that Priority Pass gets you $28 off your bill at Capers per person, and you can have anything in the restaurant or to go. So for example, they charge $80 per bottle of Ruinart Blanc de Blancs champagne. That's very close to the retail cost, which is unheard of for a restaurant, let alone an airport restaurant. Frankly if I were with two others I might just consider going here and sharing a bottle of what's an exceptional champagne for "free."
Alternatively, if you're looking for something a bit more local, they have a huge selection of wine from Oregon. For example, the 2013 Domaine Serene Evenstad retails for $60 per bottle, and the restaurant charges $80, which is a very reasonable markup for a restaurant. If you just want a glass of wine with a couple of friends, that's tough to beat.
There's a reason I'm recommending the wine here over the food. 😉
In fairness, the kale salad with chicken we had was actually good, and easily the best thing we had here. It was healthy and tasted great.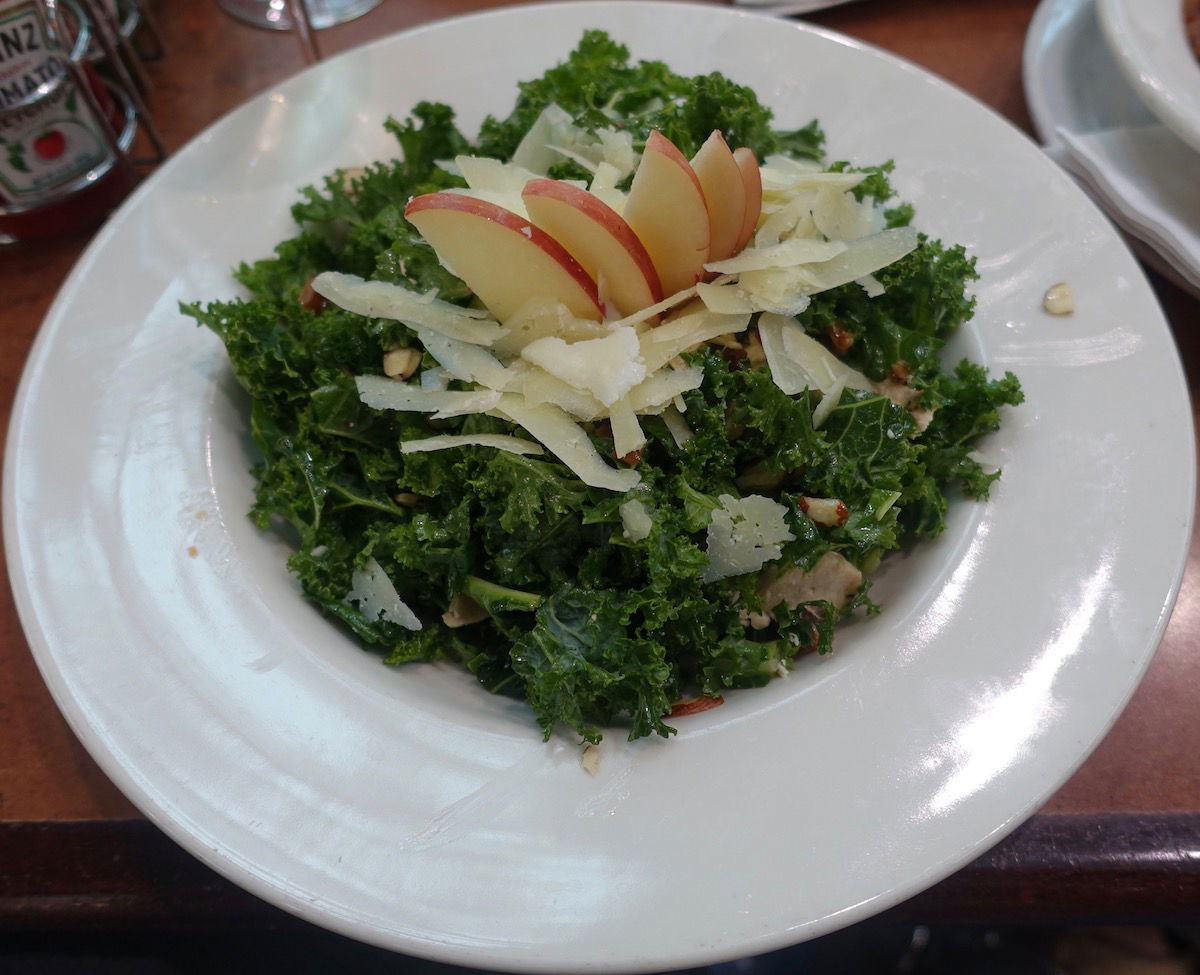 Capers Cafe PDX — kale salad with chicken
Everything else was just fine. It wasn't bad, it wasn't good. I guess I'd say it's roughly what I'd expect from room service at an airport Sheraton in the US, if that gives you a sense of the quality. We had the western beef chili, which was fairly good, though a bit bland.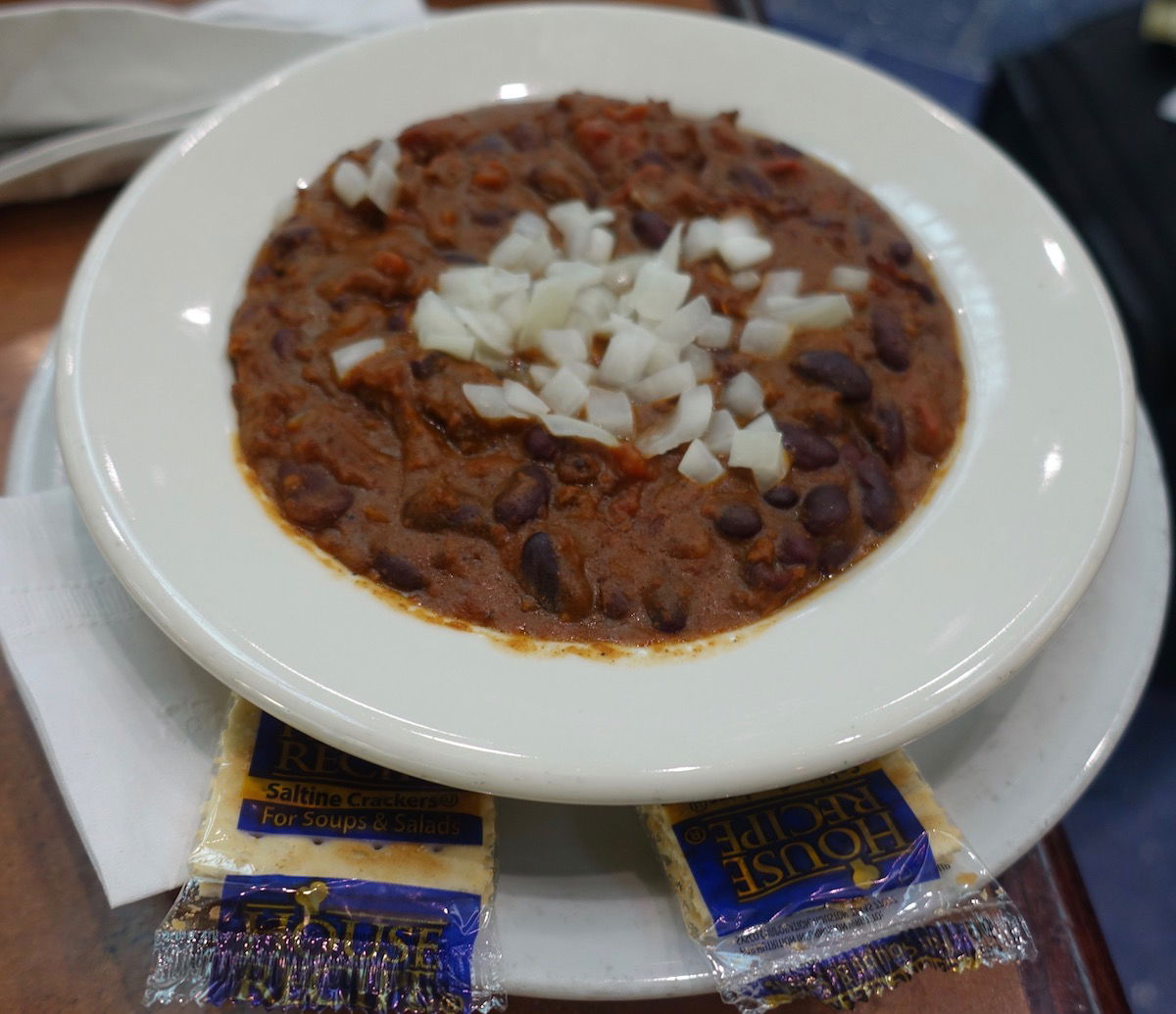 Capers Cafe PDX — western beef chili
For that visit (Ford and I each had the salad, chili, and a glass of wine), the total came to $55, which meant we were within our $56 allowance.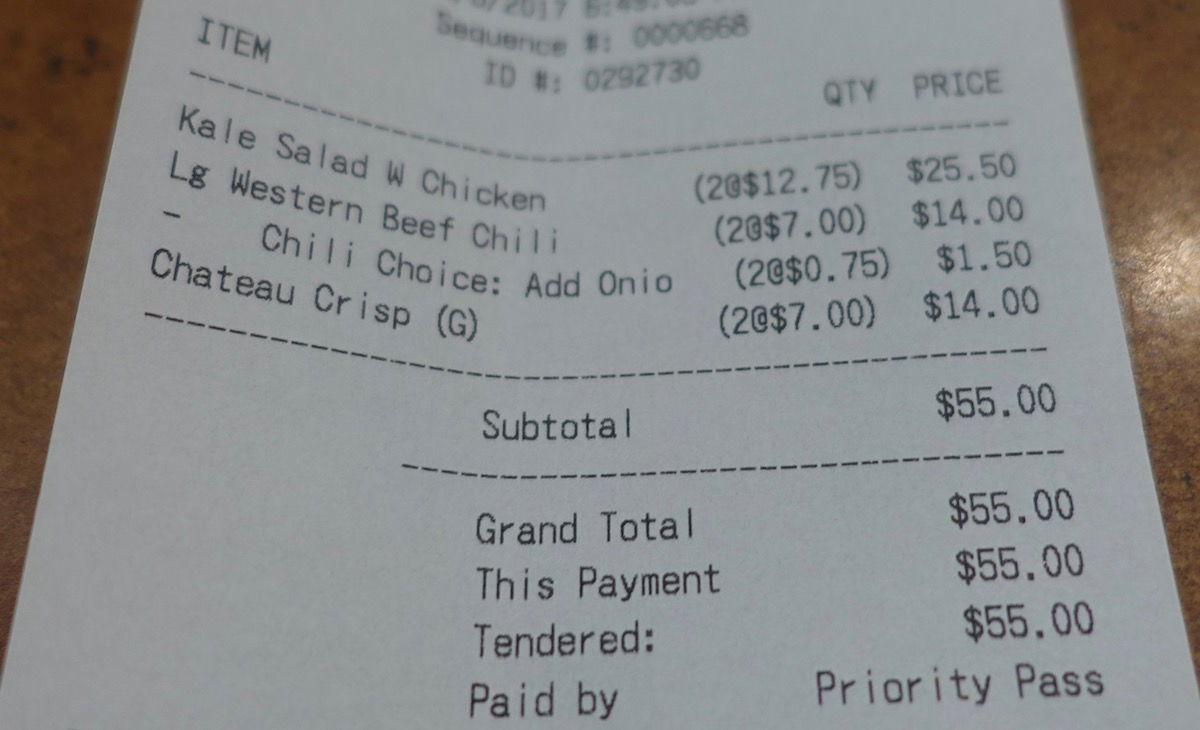 Capers Cafe PDX bill
A couple of days later we came back with Tiffany, and each had a glass of wine.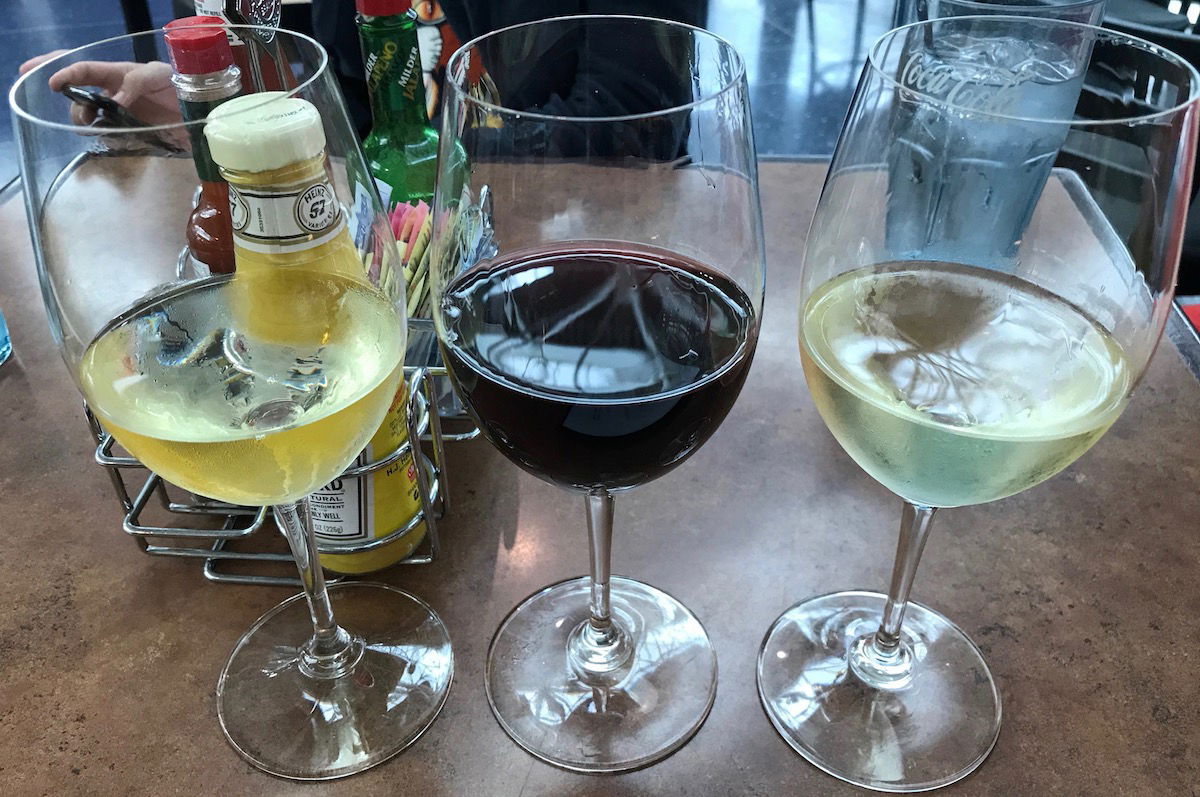 Capers Cafe PDX — wine
I ordered a cup of the tomato soup and the quiche of the day, both of which were reasonably good, though unmemorable.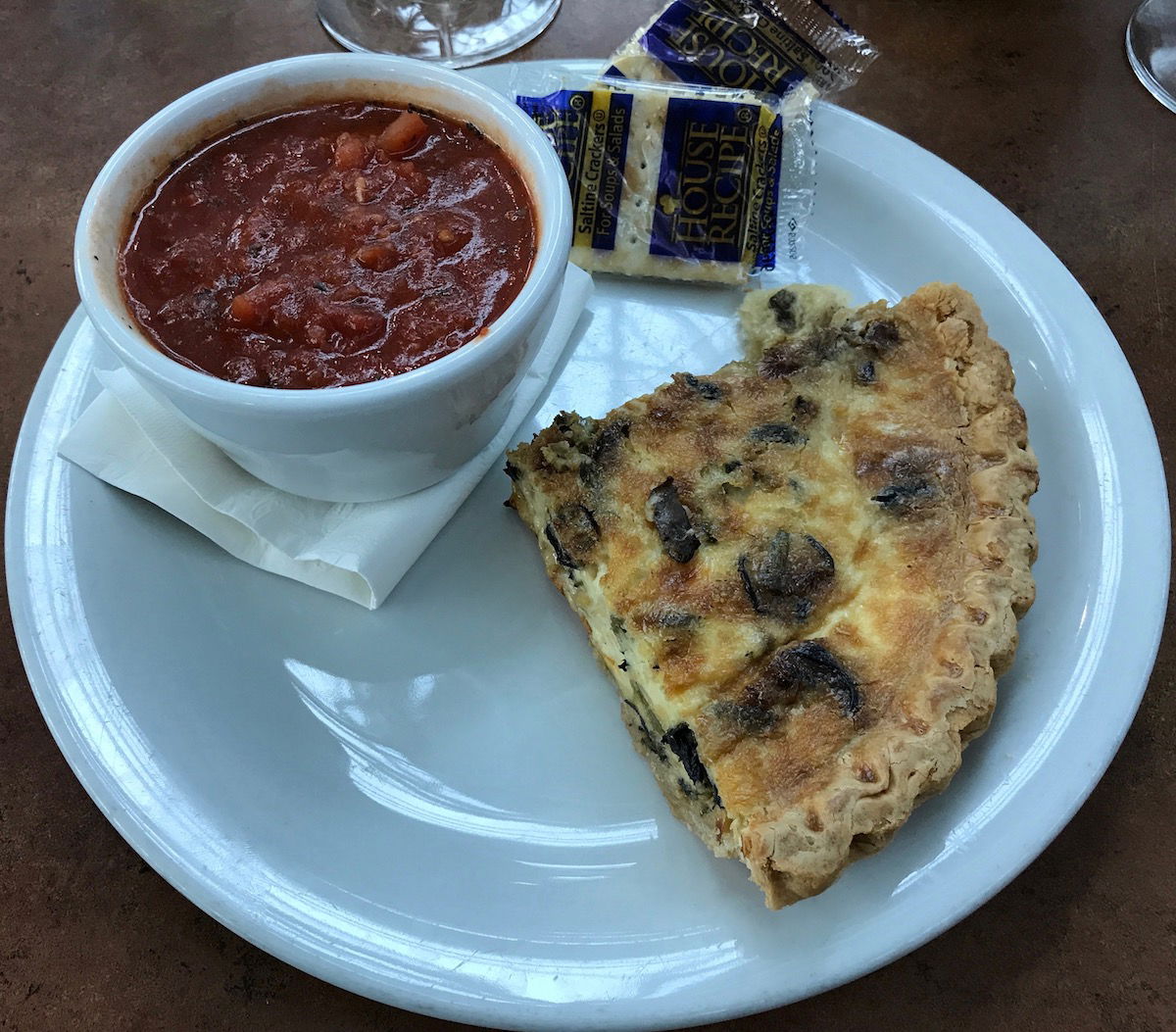 Capers Cafe PDX — quiche and tomato soup
Tiffany had the mezze, which personally I wouldn't order at an airport in Oregon, but…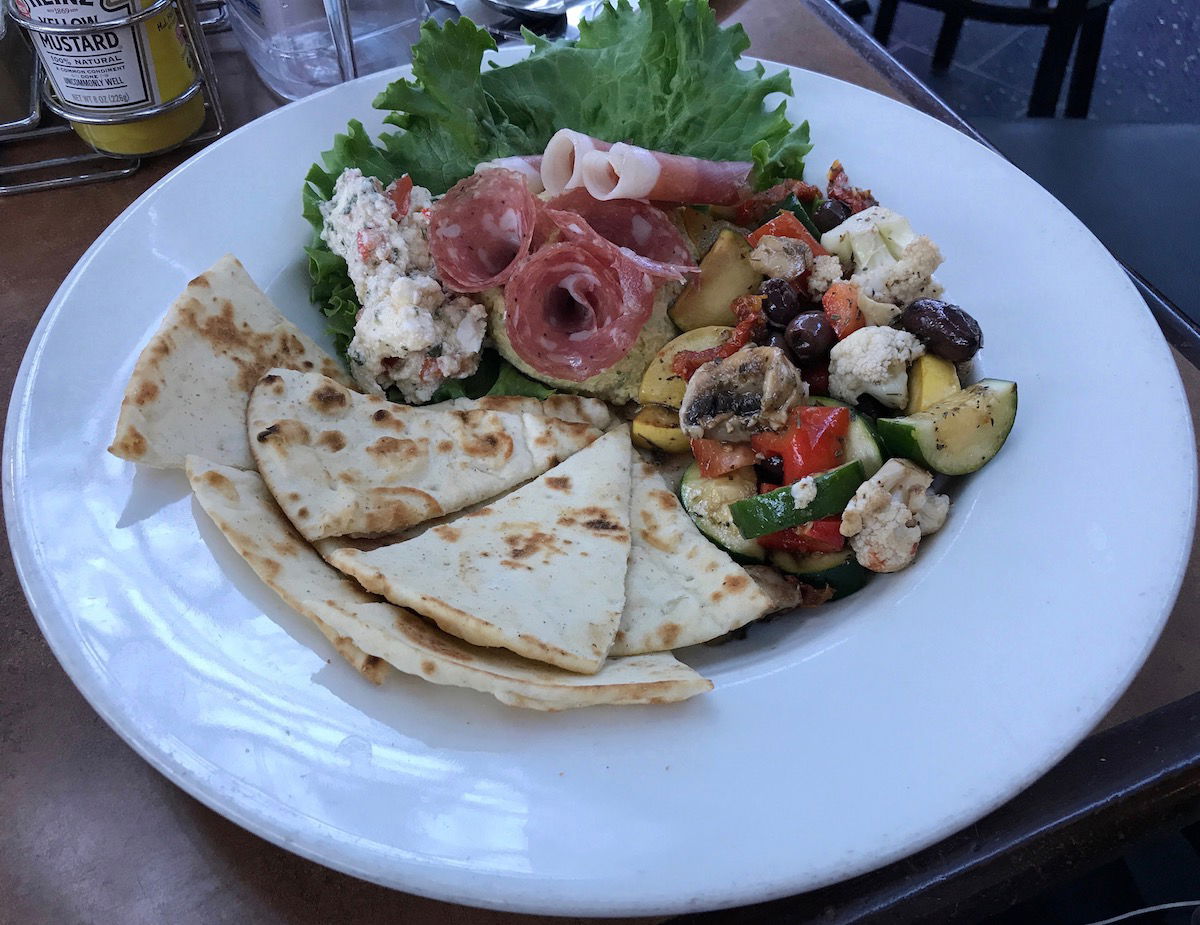 Capers Cafe PDX — mezze
Ford wasn't very hungry. He ordered a slice of pizza, which didn't look or taste very good.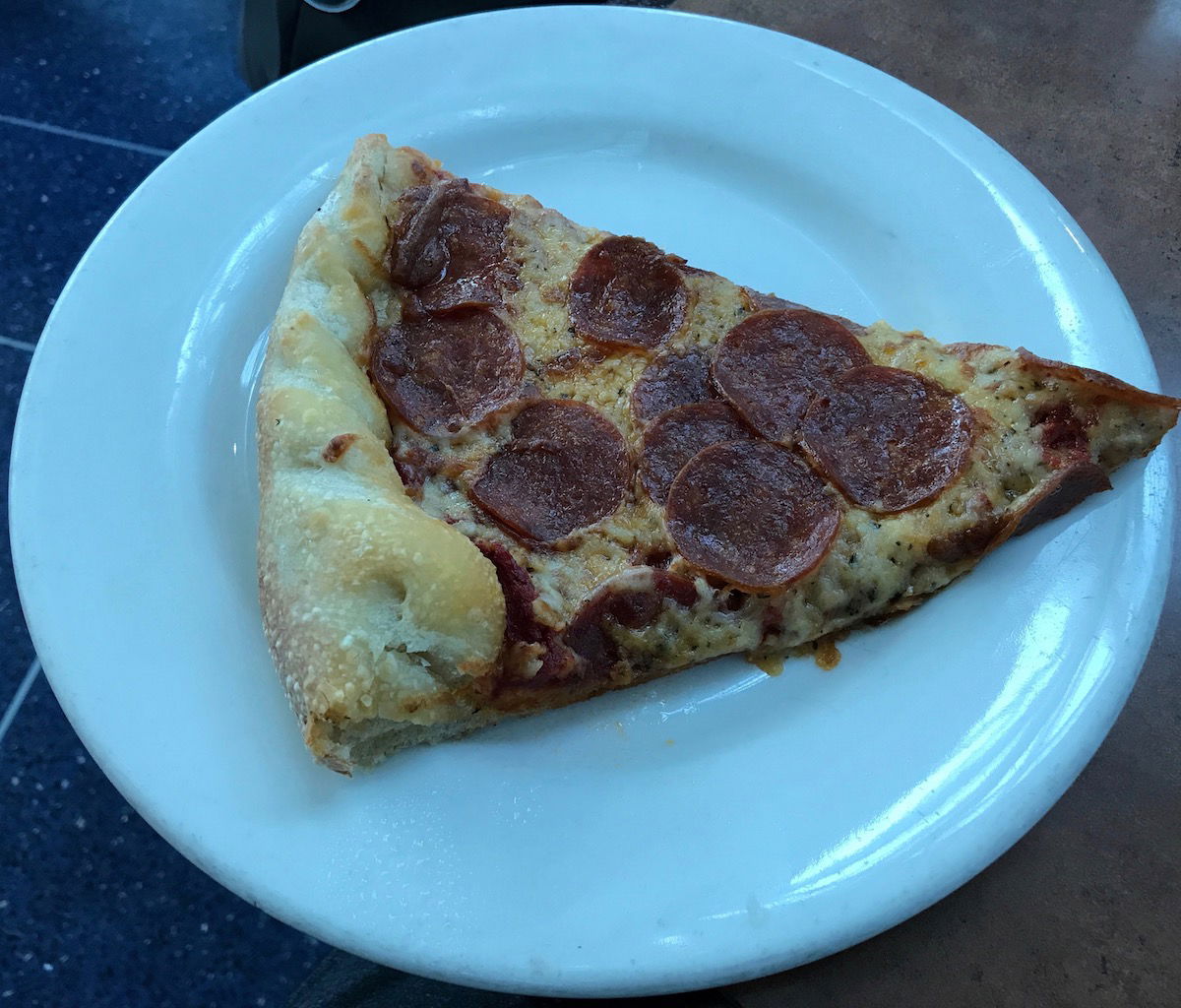 Capers Cafe PDX — pepperoni pizza
Then Tiffany had an Americano, and we shared a piece of carrot cake, which was… meh.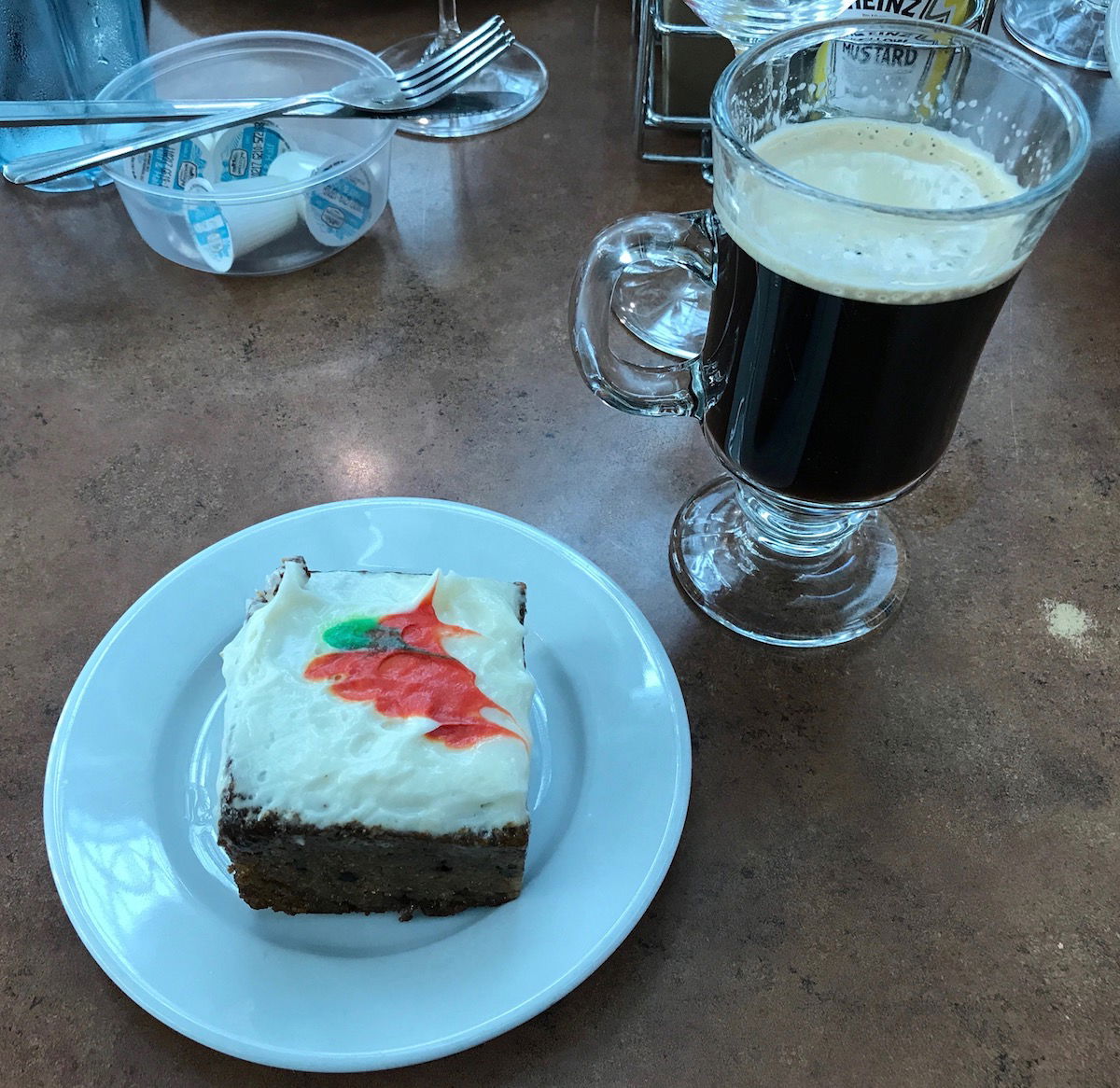 Capers Cafe PDX — Americano and carrot cake
The total came to $65, well within our $84 limit.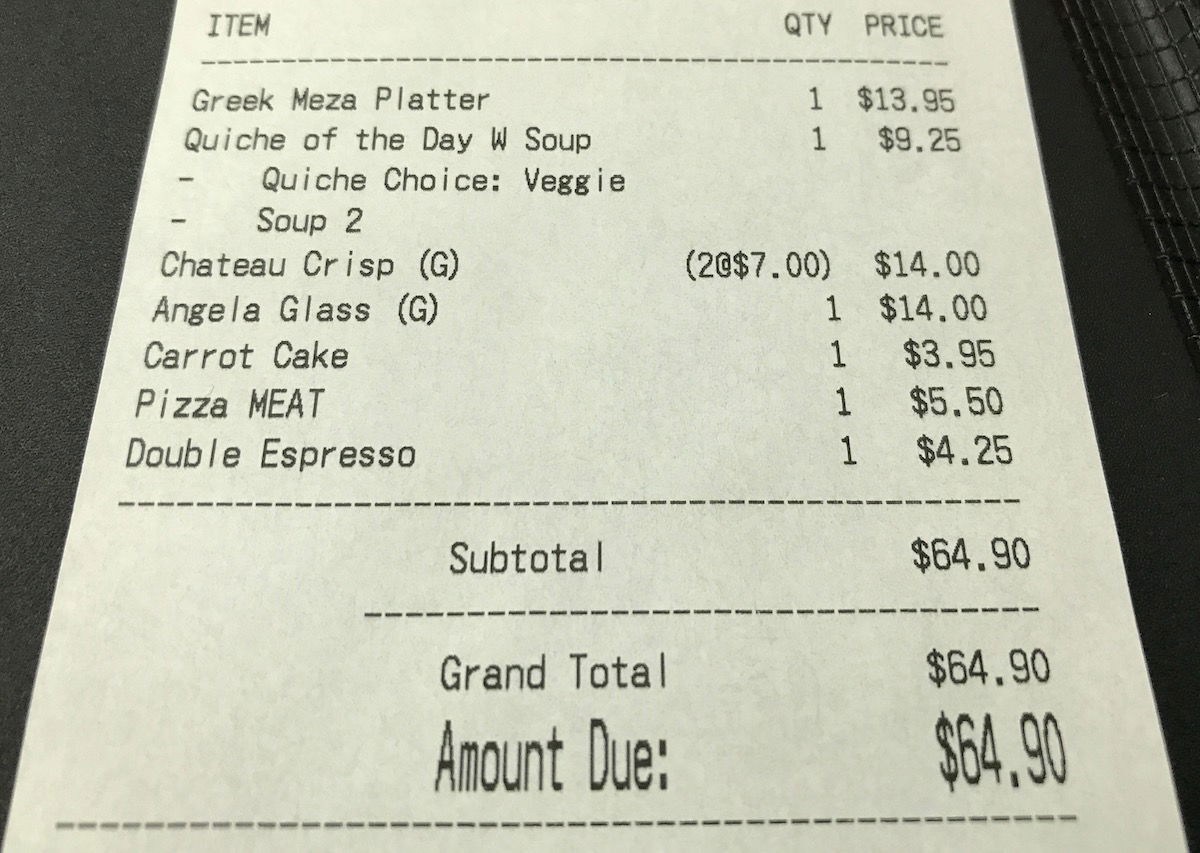 Capers Cafe PDX bill
If you do have a meal here at the sit down restaurant, please consider tipping. The servers here seem to have a real problem with Priority Pass. Obviously it has brought a ton of new business to the restaurant, but it seems like people aren't tipping servers, so they're angry. I shared my experience with this in a separate post.
For another data point, reader DavePDX shared the following anecdote from Capers:
I was told at House Spirits Distillery that they receive $26 per $28, which seems pretty good. Of course, as you mentioned in another post, the servers seem to hate Priority Pass as the users usually don't tip. In fact, at one point, my husband and I heard the bartender at Capers Market loudly proclaim to a coworker that he hated Priority Pass while about six other Priority Pass users were near. A previous time we were there, the same bartender was talking about how he's taking his money out of Chase because this model was unsustainable; he had no idea other banks also hand out Priority Pass. Either case, this guy is such a downer that we no longer visit this one location at PDX. He was rude and a downer each of the two times…even though we tipped him $10 each after using $22 of our credit.
The number of Priority Pass members has increased greatly the past couple of years, since now there are quite a few credit cards with lounge access. If you want access to Priority Pass lounges, the following premium credit cards come with memberships:
Capers Cafe Le Bar PDX bottom line
It's great to have access to a sit-down restaurant with Priority Pass. Capers isn't at risk of being a Michelin-starr restaurant, but the food is alright. I'd say the salad was the best thing we had, while the rest of the food is probably only worth eating if you're hungry and don't have access to better options. Then again, given that this is at an airport, it may still be better than what you'll be served onboard, if anything.
I think what's potentially really interesting here (at least for some) is the ability to order some great wines at a reasonable cost. You should even be able to take bottles to go. When we visited with Tiffany, I sort of regret that we didn't instead have a bottle of Ruinart. Then again, given that House Spirits Distillery is nearby, that may be too much of a good thing.
The following links will direct you to the rates and fees for mentioned American Express Cards. These include: The Business Platinum® Card from American Express (Rates & Fees), and The Platinum Card® from American Express (Rates & Fees).